Instagram is among the most popular social networking applications in today's digital world with over 1 billion people using Instagram every month. From influencers showcasing their talent and skills to individuals marketing businesses to just plain folks sharing their images and short videos with friends, Instagram turned into a virtual world in itself. In fact, Instagram is indispensable when it comes to the list of social media do's and don'ts as you can see by the rapid increase in time spent on the platform, surpassing growth in other major social platforms. Yet, your posts are nearly invisible unless you master the Instagram algorithm, which controls who sees your posts. Due to its ever-evolving characteristic, many find the algorithm interferes with achieving their marketing goals.
From eliminating reverse-chronological order (newest first) in 2016 and termination of the automatic refresh button in 2018 to giving relevance and recency more importance in 2021, the Instagram algorithm keeps marketers on their toes. As a result, it's tricky to develop strategies to reach the target group, enjoy organic reach, and leverage the platform to the fullest. We know the Instagram algorithm is subject to change. Big time. However, after analyzing and observing the performance, there were three key factors that can help direct marketing strategies, irrespective of the additions or omissions in the algorithm.
Master the Instagram algorithm
The Instagram algorithm is based on keeping users happy by limiting their feeds to content likely to interest them. So, your goal must align with the Instagram algorithm. By focusing on user interest, user relationship building, and posting content consistently, you stand the best chance of showing up to Instagram users.
Here are a few tips you can use to outsmart the Instagram algorithm and make sure your content is performing the way you want it to.
Best strategies to keep the Instagram algorithm happy 
Keep in mind that, when it comes to strategies, everything doesn't work for everyone. It's best to attempt a trial and error method to identify what's working for your brand or profile.
1. Focus on building relationships 
If you are just focused on reach, you're playing the wrong game. Instead, focus on building relationships with the audience. Their loyalty and engagement are what will help you achieve success on this social platform. It also helps your posts reach on top of users' feeds.
Find opportunities to start a conversation or maybe post something that prompts your users to share their insights. Stimulate as many user-generated posts (UGC) as possible. This means posting photos that your users clicked and shared on their profile. This encourages more customers to do the same and helps expand your reach to those in your audience's social network. You can even leverage interactive and community-building posts like Tag-a-friend or share on stories contests.
Who doesn't like free goodies? Contests and giveaways are great ways to expand the reach and get the desired traction. These tactics help build a community and also generate plenty of UGC when crafted with care.
2. Work on the quality of your content
Great content wins. Always. The better content you curate and share, the more visibility you gain. Now, what exactly is 'good' or 'better' content? You must understand that Instagram is a platform that's famous for visuals. Thus, it's crucial to keep the visual appeal of your profile and content at a high priority when strategizing.
Create posts that are visually striking, like the one below from an actor who successfully built an audience by hacking the Instagram algorithm.
Use bold colors and thumb-stopping photos of great quality (pixel and shot-wise both). Make sure you add professional-looking visuals and photographs to your profiles every now and then. If possible, do it for every post. Keep this in mind, great visual design and content take time (image the time the actor took to apply makeup and get this shot just right) but they help you get more engagement and consequently, generate quality leads.
Some espouse the notion that no one reads your captions. That is a misconception. You should work to make your captions gripping. Try to make them more interactive and magnetic for more engagement. You can try asking questions in the comment section. This is a great way to start healthy, insightful conversations with your audience.
Although, ensure you don't add questions to every post you publish, as this might earn punishment from the Instagram algorithm. Try to add engagement-based captions wherever they fit naturally. Don't go overboard.
3. Employ Instagram Stories 
Stories are probably the best feature of Instagram. In fact, the algorithms for posts and stories are different so that your stories get more attention. Using Instagram Stories helps you build a loyal audience and personalize your page. And personalization is where success is hidden. You should add a branded hashtag sticker. Make sure to add your brand's name to it. By doing this, you attract your audience to static posts that use the same hashtag.
If you see someone mention your name in their story, reshare it. It can be done with just one click. Also, encourage your customers to share your posts as their stories. It aids in discoverability. Lastly, make your stories more interactive. Use question stickers, poll stickers, and even emoji stickers. Make sure to share your own posts as stories to get more traction on your feed.
4. Engage with content from other relevant users 
Social media is, by its very nature, interactive. Hence, by engaging with users on their posts, such as posting a comment, like, and sharing posts that are relevant to you and your brand you build a loyal community. These users could be your potential customers, related businesses, or influencers from your industry. If you don't know where to start, try commenting on profiles with a large following. This way, your comment and consequently, your account get more visibility.
Although, use care. Don't just start engaging with any account with a large audience. Think of those profiles that your target audience likely follows. Engage with their content and leave considered, valuable insights on the posts. Also, avoid public sales pitches and generic responses. And, be yourself.
Businesses that respond to as many comments as possible and as quickly as possible gain more traction from users. This helps build social proof, which encourages other users to engage with your content. You might get follow-up comments, as well, which help build relationships and a loyal audience. This entire thread of conversation further increases your engagement and helps expand the reach.
5. Leverage the carousel feature
The carousel feature by Instagram is fruitful for many brands. These posts get higher engagement, so they get more love from the Instagram algorithm and are rewarded by expanded organic reach. Carousel posts bring 3 times the engagement and 1.4 times the reach compared to other forms of content. You can use this feature to share more details and multiple angles on a theme.
6. Add videos 
Short videos, called Reels, are Instagram's answer to TikTok, which is growing by leaps and bounds (1 billion users in just 4 years). The best thing about video is that it auto-plays when someone scrolls past them or around them. Moreover, videos require your audience to spend more time on your profile. This works in your favor as according to the Instagram algorithm, which rewards increased time on your profile.
Suppose you are an SEO marketing agency, you could use behind-the-scenes, motion marketing updates, and client testimonials to create short videos. Or. if you are selling a product, you can add time-lapse and maybe reviews/unboxing videos of your product.
7. Post when followers are most active
Timing your Instagram posts matters a bit too much. Make peak hours your best friend. Recency is a factor in gaining visibility. Make use of this feature. It's best to post when your audience is most active, as this increases engagement. The best way to determine which times work best is by a trial and error method and monitoring performance to optimize timing. To access Instagram insights go to Insights > Audience Tab. Here, you can see the needed information according to the days, hours, or even specific days to assess performance.
8. Go live more often 
Instagram gives you an option to engage with your audience in real-time through a feature called 'Live Video'. While live videos don't really have any impact on the algorithm, it is still a great feature to generate notifications to your followers that bring them to your profile, which does matter to the Instagram algorithm. Your followers also see your profile first in the Stories tab when you go live.
This spontaneity makes your page look more authentic and enticing. The kind that customers prefer in today's digital world. You can go live anytime you want. Feeling comfortable and confident comes with practice. Don't wait for the right moment to kick in.
9. Stay consistent 
Post consistently is something that everyone knows impacts the Instagram algorithm, as well as other social platforms. Posting consistently helps master the Instagram algorithm. It helps to expand your reach, improve engagement, and increase your follower count. BTW, until you reach a follower count of 10,000 on Instagram, you can't include links in your posts, which seriously dilutes the impact of your efforts (Instagram recently eliminated this restriction for Stories).
Below, you can see the recommended posting schedule across some popular social media platforms, including Instagram. To make it easier, you should work on a social media calendar. This makes it easy for you to remain consistent with your efforts.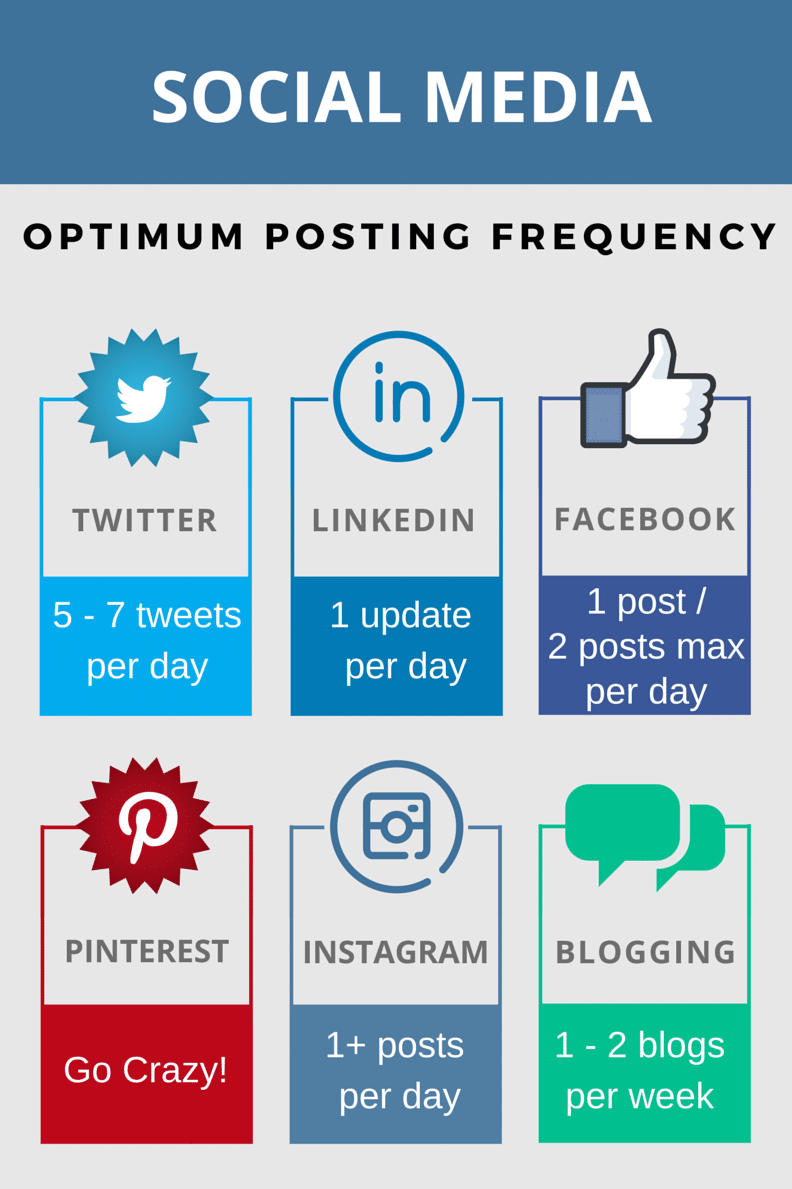 It's understandable that thinking of new content to post every day is daunting. Or, sometimes you spend a lot of effort creating content but it doesn't get the desired traction. This is the time you repurpose your old content. If you think there was a post that performed well in the past, you can start by reposting it with a little spin, such as new hashtags or an updated caption. It reaches your new followers and even those who missed out on it the first time around.
10. Leverage the power of  hashtags
Hashtags are what drives reach. These are simply the perfect way to attract plenty of eyes to your post. Adding appropriate hashtags makes your content more discoverable and easily searchable. In order for your hashtags to work for you, you need to plan your strategy by adding a mix of branded, industry-based, product-based hashtags, and special event/seasonal hashtags. Instagram allows you to add 30 hashtags. Don't shy away from using all 30, however, don't use spammy ones.
If you want a more effective hashtag strategy, add hashtags that match searches by your target market. Consider adding community hashtags to your posts, as well. They aren't that popular, yes. Yet, these are the kind of hashtags that help build connections and are used by those who are genuinely interested in the community or topic to build engagement and expand your follower count.
Such hashtags vary from one industry to another. You should also engage with other posts that use this hashtag. It can help to get more profile views.
11. Avoid the dark side
If you believe that buying likes and followers helps amp up your game, you're wrong. Such practices don't work. In fact, you may see a penalty imposed by the Instagram algorithm for such tactics. Instagram is a smart app, trained to find violations. Instead of spending time planning these scammy methods, why don't you work on building relationships, sharing stories, and maintaining authenticity?
12. Keep up with the updates and use new features to the fullest
Instagram is a platform that believes in giving more to the users (in terms of features). It started off with just a platform to share photos. But today, Instagram offers plenty of features including feed posts, stories, live videos, reels, IGTV, highlights, and more. These last three features are the latest additions and you should consider implementing them with other tactics.
Reels, in fact, are the most favored type of content, with a large number of views and boosts on the platform. However, your competitors also use Reels to help them improve reach. No, posting 5-7 reels a week is not a guaranteed method for success. However, posting a show-stopping, really amazing Reel definitely earns your more traction and engagement.
One thing to keep in mind is to stay clear of TikTok's watermark by reposting them on Instagram. Also, make sure you always frame your videos vertically and use filters or camera effects, and some really good music in the background.
13. Use direct messages
For those of you who fear the number 13, sorry. But, here goes.
Direct messages or 'DMs' are a great instrument that's gaining popularity. Leverage this feature to engage with customers directly, solve their queries, and personalize content based on their interests. You can have long conversations to build and nurture your consumer relationships using this tool. When you connect with your audience privately, you build a connection with them and they likely return the favor by engaging with your content.
Conclusion 
To wrap it up, we can say that wooing Instagram's algorithm takes quite an effort. But it also helps you understand your audience more and offer them what they want. Building a relationship with your users goes a long way. Instagram is a medium to build a loyal audience, solve customer queries, and showcase authenticity and the Instagram algorithm helps both you and your audience.
You should make sure you leverage all forms of content and the newly added features of Instagram to stay ahead of the curve. Embrace diversity for the win.
Va
ibhav Kakkar is the Founder and CEO of Digital Web Solutions, a globally trusted agency with a full suite of digital marketing services and development solutions. Vaibhav believes in building systems over services and has helped scale up agencies from scratch to niche leaders with million-dollar turnovers.
Need marketing help to support business growth?
We welcome the opportunity to show you how we can make your marketing SIZZLE with our data-driven, results-oriented marketing strategies.  Sign up for our FREE newsletter, get our FREE guide to creating an awesome website, or contact us for more information on hiring us.
Hausman and Associates, the publisher of MKT Maven, is a full-service marketing agency operating at the intersection of marketing and digital media. Check out our full range of services.