Folks constantly ask me how to get started with digital marketing, especially if they can't afford to have someone like me do it for them. Here are some proven digital marketing tools to get you started and explode your business performance.
While digital marketing is pretty challenging, here are some steps and marketing tools* to make your challenge easier and more productive.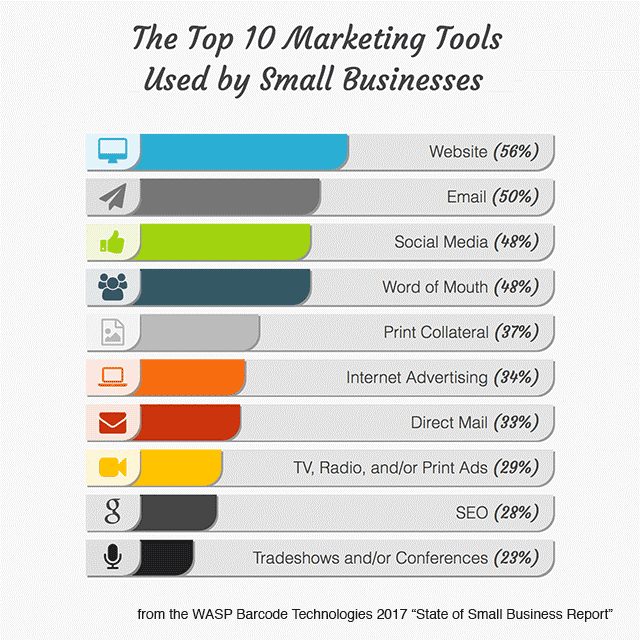 Learn and plan
Learning and planning are the first steps and one of the most important marketing tools out there to help make your digital marketing successful. I provide lots of help on this website to guide you through the planning process. I hope you'll find the following posts helpful:
Create a marketing plan
To start, you need a marketing plan, including SMART goals to help prioritize activities, set budgets, and keep things moving in a positive direction. Once you have a plan, you're ready to consider the tools and hacks necessary to implement your strategy and today we introduce a number of proven marketing tools you need to make your job easier.
Choose proven digital marketing tools
There are lots of proven digital marketing tools and this is just a small list of the ones I use as a small business and recommend because they're cost-effective and provide good performance without too much setup. If you'd like recommendations beyond these for proven digital marketing tools with a little more sophistication and a higher cost, I'm happy to oblige. Simply enter your request in the comments below.
For ease of use, I organized this page by task rather than simply creating a huge list of digital marketing tools. Also, I combined my recommendations with some background information to help get you started.
1. Website
I really think a website is a must-have for doing digital marketing. Sure, social platforms are important, but it's hard to sell from Facebook, Twitter, etc., even though Facebook and Instagram platforms recently introduced tools to sell without leaving the platform. If you don't believe me, check out the infographic above that shows that 64% of small businesses own a website and that most of those without a website, want to build one. According to their research, Blue Corona found the following statistics for small businesses that have a website compared with those without one.
Earned two times as much revenue per employee
Experienced revenue growth over the previous year that was nearly four times as high
Were almost three times as likely to create jobs over the previous year
Had an average employment growth rate of more than six times as high
Having your own website gives you complete control over your messaging; unaffected when social platforms change their algorithms or eliminate features. Thus, having your own website offers many advantages, including the control you have and your ability to communicate and sell on the same platform.
The key to operating an effective website is creating valuable content on a consistent basis — I normally create blog posts about 5X a week and there's evidence that your performance improves dramatically the more frequently you publish valuable content. See below for the results of the study.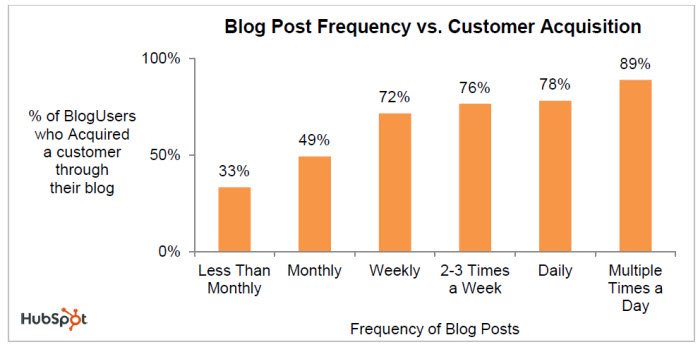 Building a website
If you've never created a website before, it can seem pretty scary. But there are plenty of websites with valuable advice on how to create a site. Here are some tools to help get you started (also my ebook walks you through the necessary steps with many screenshots to guide you through the process). You can create a website for around $100/ year, so there's nothing stopping you from adding this proven digital marketing tool to support your strategy.
Find a domain, which should relate to your business name or brand name. A domain name is your online name. Keywords used to be incredibly important in finding a good domain name. Now, you can easily choose a name based on other criteria such as easy to spell, easy to remember, etc. Keywords still make a great addition to your domain, so use the Google Keyword Planner to help understand what folks are searching for (don't worry, it's housed within Google Ads, but you can use the planner without paying for Google Ads).
Buy your domain for at least a couple of years. I use Domain.com because it's easy, and I've even arranged for some

discounted domains

through this provider. Hosting companies often offer free domains when you pay for their hosting. I recommend you buy your own domain name from a domain company to maintain your independence as you might change hosts later and may encounter problems getting your domain back from them. [This happened to several people who downloaded my ebook and complicated their struggle to build their own website].
Get hosting, which is a physical location on the internet for your files to hang out. Look for someone with a good track record for being up. There's a big difference in website performance between 99% and 99.9%. I've used HostGator and it's cheap and has a good record. Now, I'm using Siteground because it was recommended by someone I respect. Blue Host has some Black Friday deals you might find to save you a few bucks, so check them out. You'll need to link your domain to hosting (again, I include instructions in the ebook).
Install WordPress. It's FREE and you can install it from within your hosting, often from your host's C-Panel. Instructions are in the ebook.
You'll need a theme. I've tried lots and found Genesis the most reliable. You'll likely want both the theme and a child theme, although the theme is somewhat expensive for both the theme and a child theme. Alternatively, try Themeforest, which offers a bunch of themes organized by industry and most are fairly inexpensive.
Modify the theme and you're off to the races. Create unique content your target audience finds valuable.
2. Email marketing
Email marketing is another one of the proven digital marketing tools we recommend. And, the infographic below shows why.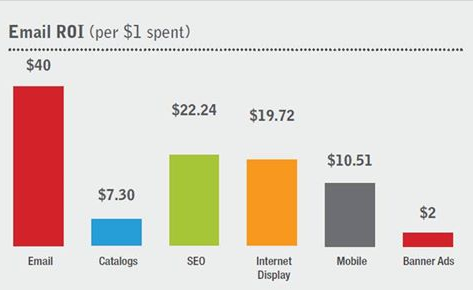 The ROI of email marketing explodes your business by providing tools to stay engaged with customers and nurture leads until they convert.
Your first task in email marketing is choosing a provider. I recommend Constant Contact and Mailchimp, which are free under certain conditions and limitations. Another good option is Moosend email.
3. Create social platforms
You'll likely want several social platforms — Facebook, Twitter, LinkedIn, YouTube, Instagram, TikTok, Pinterest …..
Each requires a cover image and user image (each social media platform might use different names for these critical elements). You'll need images that fit the specifications of the particular platform — if you don't know, simply search the site for the required image sizes. I use Photoshop to create and edit images, but you can use Canva for free (although it's a little quirky and offers less flexibility and customization than Photoshop).
Don't know which platforms to use? Here's a handy review of what you get from each platform, as well as recommendations for successful post types on each. I realize this post is a little old, but still provides a great overview of the social platforms. Also, here's an image containing more up-to-date information (from 2018) on posts across different platforms.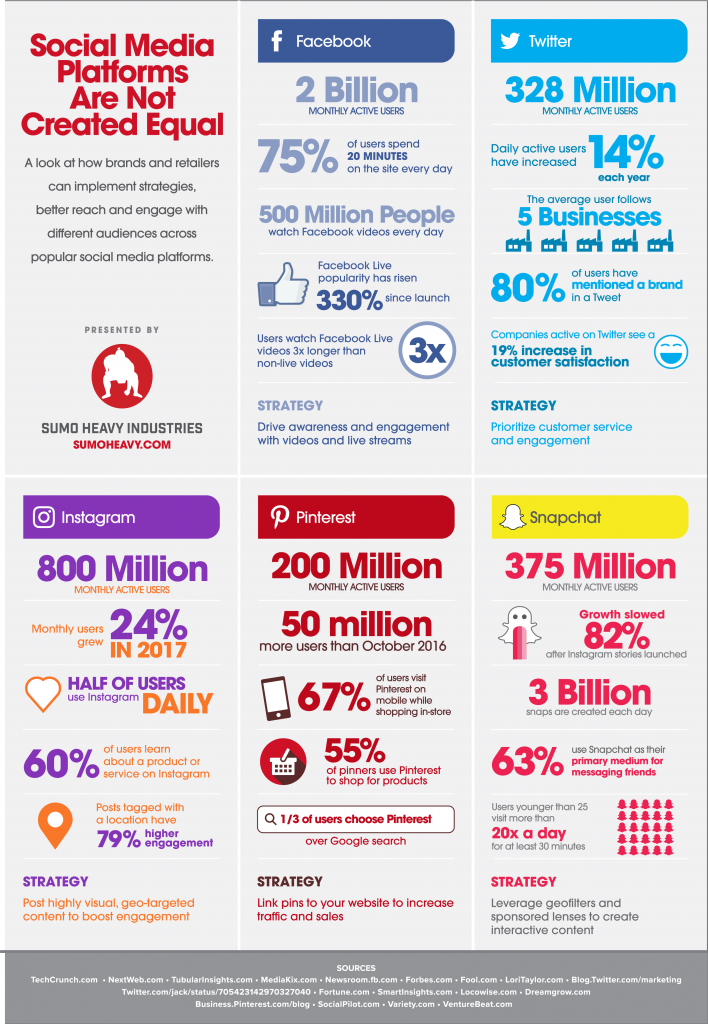 4. Post
Keeping up with sharing content on various social platforms is challenging, especially without a good automation tool. I use Hootsuite and Buffer to automate my task, as well as schedule posts at the times when they're most effective. I use Pro, but you can use the free version, although you won't get as many features. If you want to give the Pro version a try,  HootSuite Pro offers a free trial – Free 30-day trial
Writing blog posts is time-consuming, but necessary, as we discussed above. You can use a company to help create blog posts, although I think this costs you in terms of creating an image as an expert in your area, encouraging user-generated content, or writing posts yourself.
Companies like Fiverr and similar sites for freelancers offer cost-effective options if all you need is content and don't need someone who's an expert in your field. There are also sites to find more professional freelancers you can find by Googling them. You can even use computer-generated content through services such as this.
User-generated content is great if you have the right audience and market. For instance, companies host recipe contests to generate content from users that encourages others to buy their ingredients or a lifestyle brand might solicit user-generated content about their brand, especially things like Instagram photos showing their clothing or YouTube videos on how to apply their makeup. I have a lifestyle website for women 50+ to share their stories and I use a plugin to capture those stories without them having to log in or access another site. An additional benefit to gathering user-generated content is these content creators bring their own network to support your brand.
If you choose to write your own blog posts, here's a great post to help improve your performance. Add images, graphics, and video to support your digital marketing efforts. check out Adobe Express, a free forever tool with some of the functionality available through their paid Adobe Creative Cloud software.
5. Analytics
You must understand what's working and what's not then derive marketing strategies based on these insights. Install Google Analytics (a free plugin) on your website and use Facebook Insights to see what's going on with your Facebook page. Monitor metrics related to the goals you set for your social media marketing program using these tools.
In addition, Webmaster tools from Google provide insights into which posts perform best and how you're doing in terms of keyword strategy. Once you know what's working, try creating more content of the type that outperforms other types of content.
6. Digital advertising
Digital advertising is a proven digital marketing tool to gain awareness and, in certain cases, to nurture visitors to become customers or remind customers to buy again.
There are 2 general types of digital advertising: search and social. Search ads appear when users enter terms into the search bar on Google, Bing, etc. Social ads appear on social media platforms based on segmenting users to find those most interested in your brand. Both types of advertising are generally pay-to-play rather than pay-for-space like traditional advertising. Thus, you get charged when a user clicks on your link or watches your video, or sees your ad on a social platform.
7. SEO
SEO or search engine optimization takes advantage of algorithms used by search engines to rank results. The better your SEO, the higher your content shows up in searches. This matters because users commonly select links near the top of the search results. See below to demonstrate the number of clicks received by content based on which page contains the link.
SEO is fairly complex so the tools recommended here are really more for advanced users. Moz and SEMRush are probably the leaders in this space and they have various plans involving different costs. However, in my experience, you need to know a lot about SEO and understand website architecture at the code level to get much value from these tools.
Final thoughts on proven digital marketing tools
I know this is a lot of material. I hope you try some of my proven digital marketing tools and tips.
By reading my ebook and posts created on this site every week, you'll learn more about how to create a successful digital marketing campaign. If you still feel overwhelmed, we're here for you. We offer everything from coaching to completely implemented solutions. So, whether you just want a social media marketing plan or someone to provide analytics reports, or a complete solution, we can help.
Need marketing help to support business growth?
We welcome the opportunity to show you how we can make your marketing SIZZLE with our data-driven, results-oriented marketing strategies.  Sign up for our FREE newsletter, get our FREE guide to creating an awesome website, or contact us for more information on hiring us.
Hausman and Associates, the publisher of MKT Maven, is a full-service marketing agency operating at the intersection of marketing and digital media. Check out our full range of services.



*note: Some of these links are affiliate links, but I only recommend products I've used and love.