Did you know you can't just throw up a profile on any old social media platform? And, choosing the right social media platform saves you valuable time and money over the wrong or too many social platforms
Did you know you can't just post the same messages on every social media platform? Instead, you must modify content to match the requirements and best practices for each individual platform.
So, how do you choose the RIGHT social media platform for your brand? And, how do you modify your posts to optimize effectiveness on EACH social media platform? Well, read on and we'll share insights on choosing the right social media platform from the experts.
How to choose the RIGHT social media platform?
Check out the infographic at the bottom of this post. It contains valuable information not only on making the choice of the right social media platform for your business, your target market, and your bandwidth but also on how to be effective on your chosen platforms.
In the next sections, we'll go through much of this infographic to offer suggestions to improve your social media marketing strategy. [tip: use the table of contents to skip to the section you need]
I once heard a talk by @SimaSays who described the different social media platforms this way (sorry, Sima, I'm paraphrasing):
LinkedIn is like the boardroom
Facebook is like a backyard bar-b-que
Twitter is like a cocktail party — the heels are higher and shorter skirts
To extend her analogy,
TikTok is like your old home movies
Pinterest is like the bulletin board in your dorm
Now, I'm not sure these analogies are totally accurate, but they're interesting. In fact, I have more success on Twitter (the cocktail party) than on Facebook. But, LinkedIn is my best social network. So, take these characterizations with a grain of salt.
The point of making these analogies is that different platforms favor different approaches, different voices, and different approaches to creating posts, ie. some are very visual, like Instagram, while others are more text-based, such as Twitter. You'll find more success by crafting posts that "fit" the expectations of users of that platform.
Where's my target market?
Well, the question you must ask yourself in determining the right social media platforms for your business is whether your target audience is on a specific social platform. I mean, it's great that Facebook has nearly 3 billion active users, but that doesn't help if your target market isn't there. For instance, as Facebook attracted more older users, younger users, especially Gen Z users, either never joined the platform or abandoned the platform for others that better matched their needs.
For instance, Gen Z users (those between 8 and 23) never joined Facebook, and their slightly older millennial friends and family aren't on Facebook much anymore. They're hangin' on Snapchat. Or Instagram. And, while baby boomers are finding Facebook (maybe that's why teens are leaving), they're not on Twitter, yet.
Here are some stats on platforms by generation from Marketing Charts:
The research found that nearly three-quarters (73%) of Gen Z adults (ages 18-23 years old) actively use Instagram, followed by Snapchat (63%) and YouTube (62%). Facebook does, however, remain the most used platform for Millennials (74%), Gen X (68%) and Boomers (61%).
Younger Gen Z users in the 8-18 range use YouTube more than either cable or broadcast TV, which has huge implications for traditional advertising as well as your choice of a social platform. These young Gen Z users have significant influence, which will only increase over time.
Plus, as you can see from the graphic below, each generation uses social media platforms for different reasons. Gen Zs tend to use social platforms for interaction and inspiration, with a healthy dose of following and attempting to become influencers, while Boomers share pictures and other passive activities.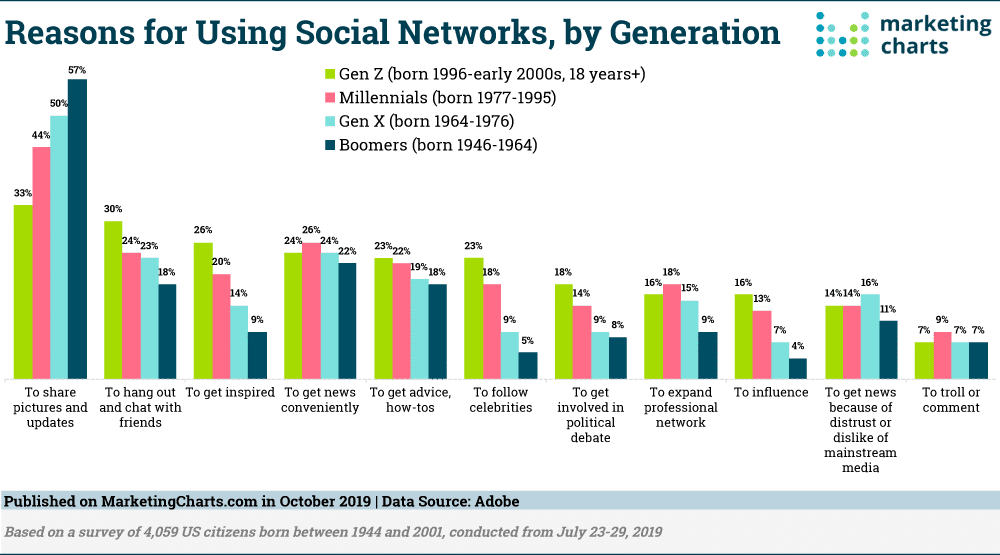 If you're a B2B firm, LinkedIn is still your best bet, closely followed by YouTube, especially for explainer videos.
YouTube is great if you can provide entertainment or instruction. But, creating high-quality videos is time-consuming and may be expensive. That's where TikTok comes in, although most brands haven't figured out this platform yet.
Differences in gender, education levels, and other factors also vary across different social media platforms — see the infographic from specifics. For instance, Pinterest skews female. Education is high on LinkedIn, as you might expect given the platform is dedicated to business connections. And sites such as QQ, WeChat, and Baidu are popular outside the US, as you can see in the infographic below.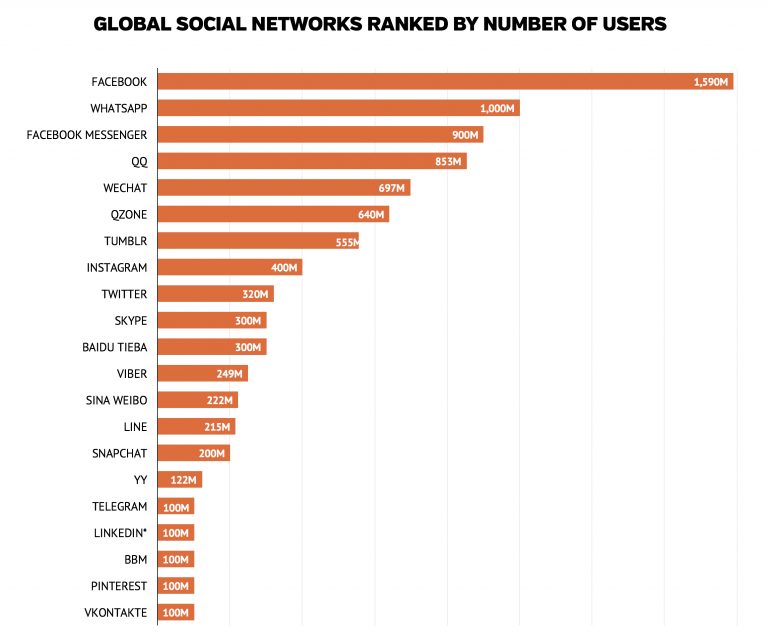 Hence, while Facebook boasts the highest number of engaged users, it might not be the right social media platform for your brand.


What are the benefits of different social platforms?
Next, figure out which social platforms help reach your marketing goals.
Social media platforms differ in their ability to help you reach your goals. For instance, if you want to drive traffic to your website, Facebook, Twitter, and social bookmarking sites, like StumbleUpon and Reddit, work best (personally, I find Reddit particularly valuable at sending traffic to my website — but, be careful. Don't send every post to Reddit or you'll actually lose traction).
If your goal is to create engagement, Reddit and StumbleUpon are pretty weak. Instead, use SlideShare, Facebook, and Instagram. If your goal is to improve SEO, then YouTube, Twitter, and Facebook rank on top.
Let your social media goals guide your choice. Of course, you can join multiple different social media platforms to support multiple goals. Just be sure you can commit to publishing consistently on these platforms you choose, see the graphic below for guidance on how frequently you should publish on each platform.
Remember, your blog is your primary focus for your content marketing strategy, so don't choose so many social platforms you skimp on creating content for your blog. Maybe you should start with one social platform, work toward understanding that platform well and ensure you have the bandwidth to handle it before moving on to additional social platforms.
What type of content to share on different social networks?
Of course, you shouldn't share the same content in the same format across different social networks. One reason is that you likely have folks following across different platforms and you want them to see something a little different. Another reason is that different types of content perform better on different platforms.


Pinterest
Pinterest content is highly visual. So using big, engaging graphics is important. You only have a few words to supplement the image.
Instagram
Instagram doesn't allow links in your images so a sound strategy involves changing your profile link frequently to match the images you share. Hashtags are critical for a successful Instagram strategy and should contain a mixture of heavily used hashtags and branded hashtags unique to you. Using multiple hashtags is the best strategy for Instagram, 11 hashtags are the sweet spot and you shouldn't use more than 30.
LinkedIn
LinkedIn does better with an article link and text because folks use LinkedIn to stay on top of changes in their industry. Focus on creating valuable content to share on LinkedIn or actually creating long-form content on the platform. Provide depth to get engagement and visits from LinkedIn.
Facebook
Facebook does well with a wide range of different content types, but still, performs better when there's a large image with some pithy text to drive interest to read the article on your website. Memes also do very well on Facebook. Holiday posts do well on Facebook when compared to other platforms. Facebook performs better if you focus on building a community by sharing valuable content and using storytelling to drive engagement.


Do you have the right skills?
As I discussed in my post yesterday, there's a huge skill gap in social media marketing right now. So, evaluate whether your firm has the skills necessary to compete effectively on a particular platform. It's great if you can support a variety of social media platforms effectively, but don't sacrifice quality by spreading yourself too thin to perform effectively on any platform. As a new firm, you might also consider starting with 1 or 2 social platforms, then building out as you master the first few.
Need marketing help to support business growth?
We welcome the opportunity to show you how we can make your marketing SIZZLE with our data-driven, results-oriented marketing strategies.  Sign up for our FREE newsletter, get our FREE guide to creating an awesome website, or contact us for more information on hiring us.
Hausman and Associates, the publisher of MKT Maven, is a full-service marketing agency operating at the intersection of marketing and digital media. Check out our full range of services.