Almost nothing is more critical for your digital marketing strategy than content marketing. Yet, nearly every digital marketer struggles to upload valuable content on a consistent basis. Without this sustained content marketing effort, your SEO strategies will fail and you won't effectively drive the visitors you do attract down the marketing funnel toward conversion. A sustained content marketing strategy requires a great content marketing template to keep you on track, a marketing automation tool such as Buffer or Hootsuite (plus a host of more full-featured tools like Hubspot if you can afford the price), and a dedicated staff with skills in both writing and your market niche. To help you along your content marketing journey, I developed this complete content marketing template containing everything you need to ensure success in driving your digital marketing.

The role of content marketing
Content marketing includes content produced for and distributed on your website, your social media platforms like Facebook and LinkedIn, email broadcasts, and evergreen content like ebooks and videos designed as lead magnets to drive subscriptions. As the world becomes more digital, content marketing outstrips the impact of traditional marketing tools such as advertising in driving your market performance. For this reason, recent data shows that 91% of B2C and 86% of B2B marketers consider content marketing a core element of the marketing strategy.
We talk about content marketing as inbound marketing since the goal is to drive traffic to your website then convert that traffic. Thus, one element of content marketing is to generate awareness, which you do either using a social platform or ranking high on a search engine so users choose your link from the query results (SERPs). We call the first element SMM (social media marketing) and the second element SEO (search engine optimization). As you can see below, there's a strong correlation between your rank and traffic visiting your site.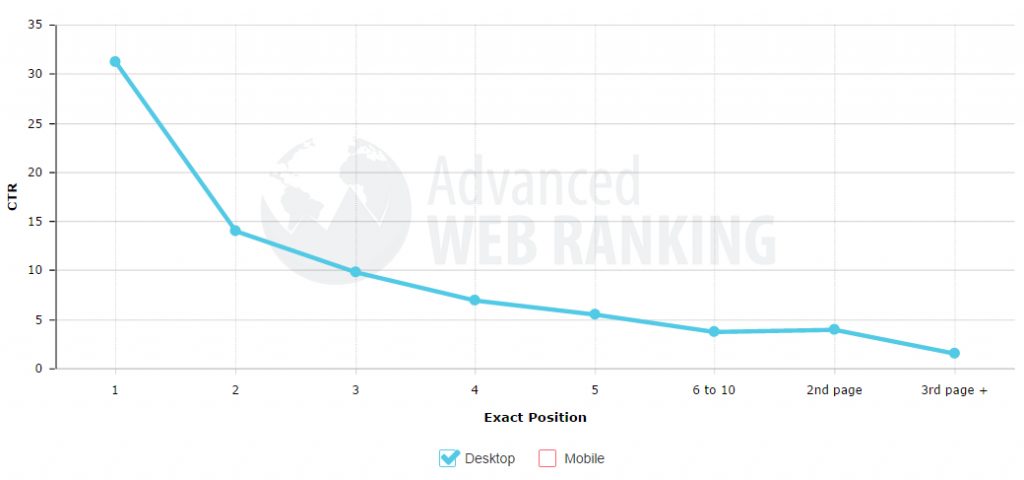 Once you drive visitors to your website, the focus of content marketing shifts to encouraging visitors to make a purchase. That lead generation often starts with productive landing pages with a clear, engaging call to action and elements such as images, reviews/ recommendations, results, and other elements that encourage visitors to trust your brand. Lead generation continues with email marketing to ensure you reach out to visitors to encourage purchases or repeat purchases. A logical and simple conversion process also discourages shopping cart abandonment, becoming a critical element of the lead generation process.
Content marketing is the perfect tool for building social proof. What's social proof, you ask? Social proof consists of social signals that support your marketing efforts, such as reviews and recommendations, that encourage others to follow the actions. For instance, if you see a product with a 5-star review, you're much more likely to purchase the product over one with a 4-star review. From an SEO standpoint, search engines use social proof as a signal of content value and rank such content higher. Metrics indicative of value include engagement with content, time on site, backlinks to content, repeat visitors, etc.
Why do you need a content marketing template?
Despite the impact of content marketing on the success of your brand, content marketing is seen as a huge challenge, as you can see below.

While a content marketing template won't do much to help you measure the ROI of your content marketing, it really helps with the other challenges facing digital marketers: producing engaging content and producing content on a consistent basis.
Maybe one of the best parts of the template is it means you can outline an entire month's worth of content in an afternoon. When it comes time to actually write the content, you no longer face a blank screen, which is deadly for many people as it induces writer's block.
Similarly, the template makes it easy to manage teams.



Producing engaging content with a content marketing template
Several problems contribute to the challenge of producing engaging content. First, you must match your content across various social platforms including your website, email marketing, and social media platforms. You may even include advertising as a channel for your content marketing efforts. A content marketing template helps ensure you use similar content across platforms by displaying links to visual assets, internal and external links, and topics. Having all this information at your fingertips is especially critical if you assign different team members to different aspects of your content marketing. Now, everyone is on the same page and uses the same assets/ topic to build posts on the same day. Using colors to identify the platform is great when you have a team with members working on different platforms because they can quickly identify their tasks.
By identifying the persona targeted by the content, you help everyone produce content that is built around the needs/ wants of folks making up that persona. For instance, if you have a persona built around young small business owners, you write content that directly addresses their needs using a voice designed to match their preferences. Identifying your persona for each piece of content also ensures you don't forget to create content for each persona over time. I use colors to help identify the various personas so you can see at a glance if you've created too much content aimed at one or too little content aimed at another.
All social platforms don't attract the same personas nor do they provide support for the same tasks across the marketing funnel. Here's a nice infographic to help you decide which social platform(s) to choose, the tasks they're best at, and who is on each platform to help you with your content marketing template.
I also use colors to designate keywords used to build content. You should have 20-30 keywords you use frequently (adapting each by adding long-tail extensions so that each piece of content uses a unique keyword) and, again, the colors help you to ensure you create content around each keyword.
Finally, the content marketing template contains tools to help you stay on track by assigning tasks to team members and offering the ability for approval if your business requires that. As an agency, each post crafted for a client requires client approval before I publish it to ensure the client is involved in the process of building their brand.



Producing content consistently
One of the most important aspects contributing to the success of content marketing is consistency. We already mentioned consistency when it comes to producing content across platforms to ensure you send the same message and that each piece of content supports your goals, now let's talk about producing content according to best practice schedules.
Below, you can see the recommended frequency and best times to post for publishing across various social platforms. Unfortunately, video platforms, like YouTube and TikTok aren't on this list.
Other elements of content marketing
Beyond content for your social media and blog, you have other content marketing tasks. You should add these to your content marketing template as either different colors within your daily or weekly schedule (ie. email messages) or as separate tabs (ie. evergreen content and ad campaigns). Let's talk about how you might use these tools to keep you on track for other content marketing tasks.
Email marketing
Email marketing is important as it helps transition leads from your website or social media, into sales by sharing targeted information with subscribers. When it comes to marketing using email, you get the best results by segmenting your subscriber list based on product interests, demographics, psychographic, or other differences among your subscribers then sending messages that meet the needs of that particular persona.
To generate returns, you also want to experiment with key elements such as subject lines, calls to action (CTAs), timing, and other key elements to optimize open rates, click rates, and conversion (you can track conversion on Google Analytics by using tracking codes as part of the CTA).
Add email messaging as an additional row in your content marketing template and choose a unique color to highlight this tactic. Send messages on a schedule between once a day to once a month. Track metrics to determine which schedule works best for your list.



Evergreen content
Evergreen content supports your long-term marketing goals and produces results over time. For instance, a lead magnet is a piece of gated content only available to subscribers and is designed to encourage visitors to subscribe. You might produce a single lead magnet or produce additional pieces shared with subscribers periodically. Commonly, lead magnets are reports, guides, videos, infographics, or long posts, such as ebooks. My current lead magnet is a DIY website design ebook that walks you through every step needed to build a website from scratch.
If you're interested in getting a fillable content marketing template, fill out this form. As a bonus, you'll also get my ebook.
Backlink builders
Custom graphics, infographics, video, and other specialty content are great for building backlinks from your website. These backlinks help you reach new audiences as well as improve your SEO. Focus on creating valuable content and share it with other bloggers. Don't expect that everyone will include a link to your blog but some might. If you focus on sending your link to website owners as a replacement for a broken link, you'll likely have more success.
Another form of backlink builder is guest posting on other websites. Most websites need fresh, valuable content to meet their own content marketing goals. Supplying content may just fill their need. Reach out to website owners with a proposal to build content for their website. Include links to prior posts, especially those on high-quality websites, a topic, and the expected completion date. If the website owner agrees, produce well-researched content according to any guidelines provided, and deliver the content as promised.
Not all backlinks are created equal. Some backlinks from suspicious or poor-quality websites actually hurt your SEO and reputation. You can ask search engines to remove these poor links using a term called disavowal.
Digital advertising
You also need content marketing for your digital advertising campaigns. Of course, digital advertising isn't as easy as just writing copy for your ads themselves. You also need landing pages that correspond to each ad campaign. In Google Ads, consistency between your ad copy and your landing page improves your quality score which reduces your CPC (cost per click) and improves the performance of your ads by featuring them more prominently, such as on the first page of results.
Other types of digital advertising, such as display ads and those on social media also need copy as well as images. Again, ensuring consistency between the content marketing on your website and your ads is important for achieving your marketing goals.



Adding automation
To make it even easier to manage your content marketing, add an automation tool, like Buffer, or Salesforce (if you have a larger budget) to automate part of the content process. It's really hard to stop what you're doing to put up a social post at the right time. You lose time by interrupting your workflow and you likely miss some time slots because you forgot or someone was out.
Automation allows you to enter an entire day, week, or month's worth of content in an afternoon. It also makes it easy to share syndicated content from other websites with your followers, which is always a good idea.
Conclusion
Today, we discussed the importance of content marketing for achieving your marketing goals and I shared my content marketing template that I think helps ensure you have high-quality content and produce the content on a consistent basis. I suggested ways to edit the content marketing template to meet your own unique needs by adding other forms of content and creating tabs for elements such as digital advertising and evergreen content. I even offered a fillable version of the template to get you started. I hope you find these elements valuable.
Need marketing help to support business growth?
We welcome the opportunity to show you how we can make your marketing SIZZLE with our data-driven, results-oriented marketing strategies.  Sign up for our FREE newsletter, get our FREE guide to creating an awesome website, or contact us for more information on hiring us.
Hausman and Associates, the publisher of MKT Maven, is a full-service marketing agency operating at the intersection of marketing and digital media. Check out our full range of services.