Running a successful business is tricky and, at times, complicated by competing demands for your time, money, and other resources. During the pandemic with its shutdowns, persistent fear, and economic challenges, many companies were forced to adapt their marketing, operations, even their supply chains; further straining scarce resources. And, recovery hasn't been easy through a combination of supply shortages, labor shortages, and financial shortages. In an effort to survive (even thrive) more businesses shifted to digital marketing tools as a way to reach customers efficiently and effectively.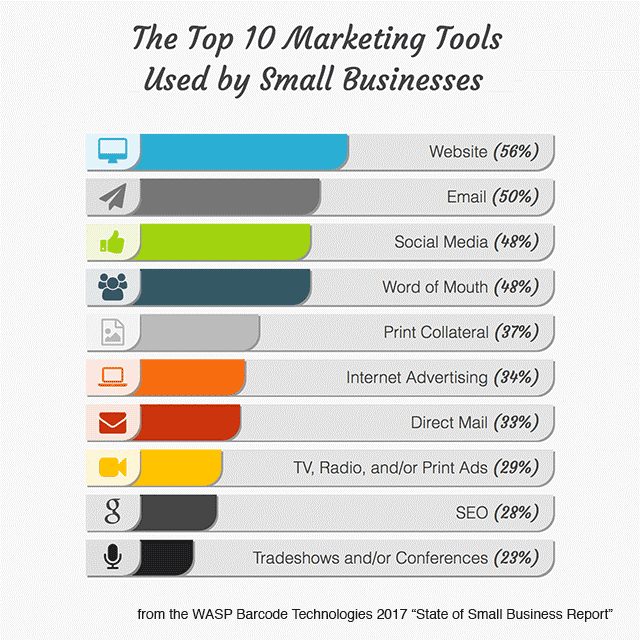 Above, you see the most common digital marketing tools used by small businesses pre-pandemic. Note the shift from traditional advertising, like broadcast (only 29% of small businesses use this tool) and tradeshows (23%). The pandemic shifted much of even this small budget from traditional to digital marketing tools, such as a website, email marketing, and social media.
During the pandemic, it sometimes seemed many businesses struggled just to achieve the basics necessary for survival, such as finding conference room chairs and other office supplies needed for remote workers or those still forced into the office, keeping up with monthly rent and utility payments, or even reaching and converting customers who feared leaving their homes. This struggle resulted in many businesses ignoring the future but now is the time to rejoice in successfully surviving the worst pandemic and economic condition in 100 years and to look toward the future with hope.
As you turn your focus to thriving in the post-pandemic world, don't simply return to "business as usual". Take the pandemic and the vast changes wrought as an opportunity to rethink your operations, especially your marketing, to insulate your business from future dangers while ensuring you're poised to take advantage of business opportunities. Today, we'll focus on one of those opportunities — digital marketing — by introducing some digital marketing tools you need and sharing some advice on how to help your business rock by using these tools correctly.
Why you need digital
There's no denying that the pandemic changed the way consumers interact with brands and it's unlikely that things will ever go back to pre-pandemic levels.
Just check the image below, from McKinsey, which shows how digital transformation accelerated during the pandemic, advancing digitization 3-4 years faster than at any time in the past. And, don't expect things to revert to pre-pandemic levels. Sure, companies will start phasing out curbside pickup and some stopped processing to-go orders in favor of the more profitable in-restaurant seating, but e-commerce is here to stay. And, although folks may substitute some shopping in physical stores, they came to love the convenience and rich product choices available online. Digital transformation accelerated to the point where users don't even trust a brand without a digital presence.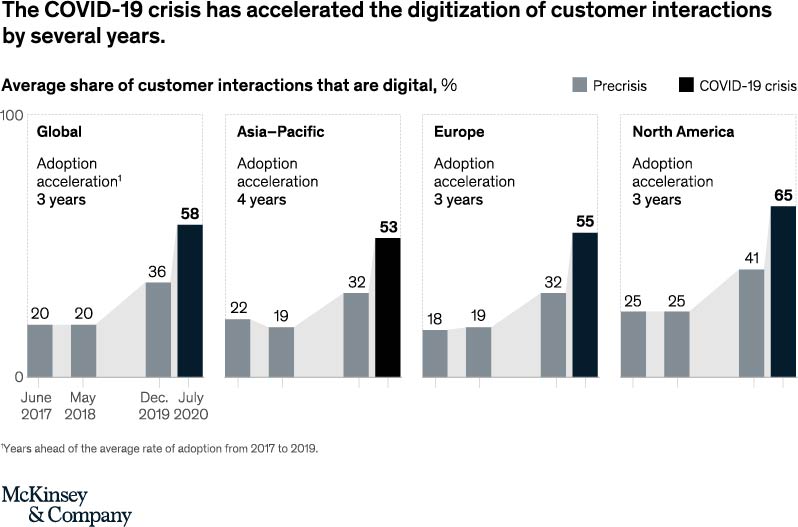 Top digital marketing tools for 2021
Websites
Fifty-six percent of users don't trust a brand without a website, yet 40% of small businesses still don't have one and 28% say they're not interested in building a website in the future. Why the disjoint? How can a business ignore the imperative of having a website in 2021?
Sorry, don't ask me to explain the unexplainable.
A likely culprit in this aversion by small business owners to operate a website is fear. They don't know how to build a website, what to put on one, how to maintain a website, or even how much it costs to build a good website. This fear of the unknown is simply laziness, as a ton of useful tools and advice exist to aid small businesses in building a website that rocks.
Building a website might appear a daunting task, but they're an essential tool to help you reach a larger audience, build trust, and help drive business to your physical location. With the appropriate domain and keywords, a website does wonders for your business. While some businesses opt to concentrate on social media, websites remain a great tool to showcase and publish unique content.
Beginners might be tempted to use website builders such as Wix, Squarespace, Weebly, and GoDaddy as they seem to be less technical. But, they're actually much harder to use, despite claims and the fancy examples provided. Plus, they all look pretty cookie-cutter and can cost you big time when it comes to SEO (search engine optimization). And, changing your mind later on is expensive and time-consuming.
So, instead of opting for a website builder, choose a self-hosted website, which is much easier even than using a website builder. Building a website using a CMS (content management system) like WordPress, finding a theme, and creating content no longer requires you to write a single line of code. There are even page builders that all the drag-and-drop functionality offered by website builders without the downside.
If you want a little help, I created an ebook to guide you through the process of building a website. Armed with this ebook and about $150, you can build your own custom website in no time.
Email marketing
Never underestimate the power of email. It is a digital marketing tool that keeps customers engaged and informed while nurturing them toward conversion at a low cost. In fact, email marketing offers the highest ROI of any marketing tactic, as you can see below.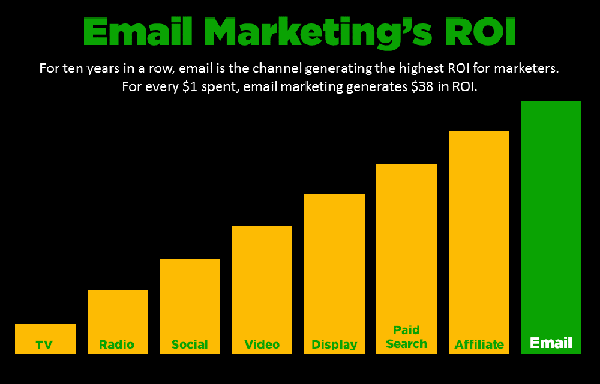 Email marketing is really a 2-step process. First, you collect emails from customers, site visitors, webinar attendees, or pretty much anywhere else where you can get permission. Buying email lists is now illegal in much of the world.
Next, you create email messages designed to educate, entertain, and inform subscribers. You can send email messages daily, weekly, or monthly newsletters to subscribers about products, discounts, new reviews, links to explainer videos, and the like. With email, you have the liberty of sending longer messages to a segmented audience, tracking behaviors, and building a better understanding of their needs.
Social Media: Instagram, Facebook, Twitter, & More
Social media is a powerful resource for expanding businesses. Engaging users on these platforms amplifies your message to reach new audiences and acts as tacit recommendations for your brand. By utilizing the SEO provided by engagement on these social platforms, you appear higher in search results and drive many new visitors to your website. However, to ensure the best results, you must post consistently and work hard to interact with your community.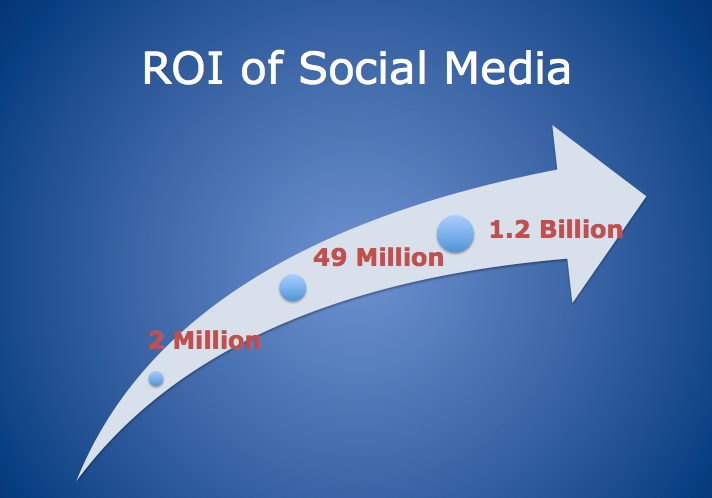 Whether you promote your business on Facebook, Twitter, TikTok, Instagram, Snapchat, or other social media platforms, you gain traction with your target market.
Digital advertising 
Your business is sure to grow if you invest in digital advertising. Unlike other forms of advertisement, with digital advertising, you only pay when a user clicks on your content. And, because digital ads are highly targeted, you gain traffic at a very reasonable price.
Conclusion
Expanding a business takes delicacy and patience. So, if at first, you don't see results give it time. Growth doesn't occur overnight and it certainly requires constant attention. On average, it takes 6-12 months to see meaningful results from your digital marketing campaigns.
Recognize that using these digital marketing tools isn't an either/or proposition. Instead, experiment with them until you find the optimal combination of tools that support your brand.
Need marketing help to support business growth?
We welcome the opportunity to show you how we can make your marketing SIZZLE with our data-driven, results-oriented marketing strategies.  Sign up for our FREE newsletter, get our FREE guide to creating an awesome website, or contact us for more information on hiring us.
Hausman and Associates, the publisher of MKT Maven, is a full-service marketing agency operating at the intersection of marketing and digital media. Check out our full range of services.