What is digital marketing and how is it different from Internet marketing or social media marketing?
Good question. If you look around various sources, you'll see the terms used interchangeably, which leads to a good deal of confusion. And, the implications of the differences go well beyond semantics. So, today, we'll:
Discuss what is digital marketing and how that definition varies across other terms that seem synonymous
Talk about integrating across the elements that comprise digital marketing
Suggest ways your firm can use digital marketing as part of your integrated marketing communications strategy
Be sure to read to the end of this post for a great infographic from Melissa Ralph Consulting.
What is digital marketing?
According to Wikipedia, digital marketing is:
Digital marketing (also known as data-driven marketing) is an umbrella term for the marketing of products or services using digital technologies, mainly on the Internet, but also including mobile phones, display advertising, and any other digital medium.
To highlight how digital marketing is different from the other terms, let's look at definitions of them, as well.
Again, here's the Wikipedia definition:
Internet marketing, or online marketing, refers to advertising and marketing efforts that use the Web and email to drive direct sales via electronic commerce, in addition to sales leads from Web sites or emails.
Notice, internet marketing, while it uses the internet, focuses on direct sales or e-commerce. Hence, digital marketing, which includes both e-commerce and offline sales, is the broader term. In addition, digital marketing includes activities, such as brand building, that focus on factors that are outside the sales funnel, or at least very high in the sales funnel.
Although you might not need the definition of social media to help distinguish it from digital marketing, I'm including Wikipedia's definition for completeness:
Social media marketing (SMM) refers to techniques that target social networks and applications to spread brand awareness or promote particular products.Social media marketing campaigns usually center around: Establishing a social media presence on major platforms.
So, we can see that digital marketing is the umbrella term and internet marketing and social media marketing are under that umbrella.
What is digital marketing — tactics
Digital marketing is composed of various tactics, not all of them distinct from tactics used in Internet and social media marketing. In fact, almost all the tactics work regardless of the goal (e-commerce versus offline) and platform (social media or another electronic platform). Also, many of these tactics trace their roots to traditional marketing, so an understanding of traditional marketing concepts guides optimization in the digital marketing world.
Tactics involved in digital marketing include:
content marketing or, more generally copywriting
SEO or search engine optimization
social media marketing — see it's a subset of digital marketing tactics
managing the marketing funnel
analytics necessary for optimization
email and mobile marketing
web and graphic design
advertising
online customer service
listening and reputation management
Content marketing
Jason Demers in a post for Inc calls content marketing "evergreen content" that keeps bringing in new prospects, builds your reputation, helps make conversions, generates trust in your brand and works synergistically to make other tactics work better.
There's an entire section of this blog devoted to content marketing, but here are the high points:
producing valuable content on a consistent basis is a must
use 80/20 where 80% of your content is non-promotional
push customized content through a variety of social platforms
use visual content, including video, infographics, and images to add interest to your content — see the infographic below for some examples on how to use various types of content to reach educational and commercial goals
SEO
Search engine optimization makes new prospects aware of you and your products.
In the bad old days, SEO was the purview of developers who built SEO into their code. Later, when content became important, marketers got into the SEO game by stuffing keywords (terms users entered into search) as many times as possible, whether they made sense in the context or not.
Today, those strategies don't work. In the post-Panda era (this refers to a change in the Google ranking algorithm), only creating valuable content on a consistent basis matters when determining where your link shows up in a Google search (Bing and other search engines use similar algorithms).
Earning the 1st position, which gets the most traffic from search, requires writing great content and using the right keywords — now normally keyword phrases, rather than individual words. For instance, the keyword for this post is "what is digital marketing".
Social media marketing
Social media marketing potentially amplifies your messaging when content gets shared, RTed, Liked, or garners comments on social media. All these actions bring your message to the attention of users who never heard of your brand or forgot about your brand. Social media is a great way to influence users (when friends interact with your brand, it tells others in their social graph that you're one of the good guys), drive them toward purchasing your brands, build a reputation (good or bad, so beware), let users know about specials, and make your brand more accessible to users.
Sharing the right content with the right people at the right time is key to success in social media. Buffer has an entire post devoted to what, when, and where to share your message. Here's a piece on when to share on Facebook:
Obviously, not every group of followers responds the same and not everyone has the same goals for their social posts — somewhat engagement, some sharing, some click-through. Hence, you can use the information in the Buffer post as a guide, but you still need to do A/B testing to determine how your particular community responds to your posts across different social platforms.
Managing the marketing funnel
The marketing funnel, or conversion funnel, it's a tool for gathering a group of prospects and feeding them through to conversion. It's more like a sieve where the marketer's role is to plug up holes so prospects don't leave without buying your product.
Digital marketing plays an important role in plugging up holes and ensuring returning visitors get content appropriate to them and where they are in the funnel.
Again, the notion is the right content, right time, and right platform so potential buyers don't forget to buy your product, get their questions answered, and can return seamlessly to continue their shopping experience.
Notice that a relatively small increase in flow-through generates a huge increase in conversion.
Analytics
Analytics is truly the heart and soul of digital marketing and Google Analytics underpins most analytical efforts.
The diagram below is just 1 example of the information available to guide marketers. It shows how visitors move through the website and lists where visitors came from, what page they visited first, second, third. Google Analytics provides information about visitors (demographics, interests, technology), which campaigns brought them to your site, and what they did after leaving your site. Using this information, a marketer optimizes their websites to encourage and enable users to meet goals without obstructions.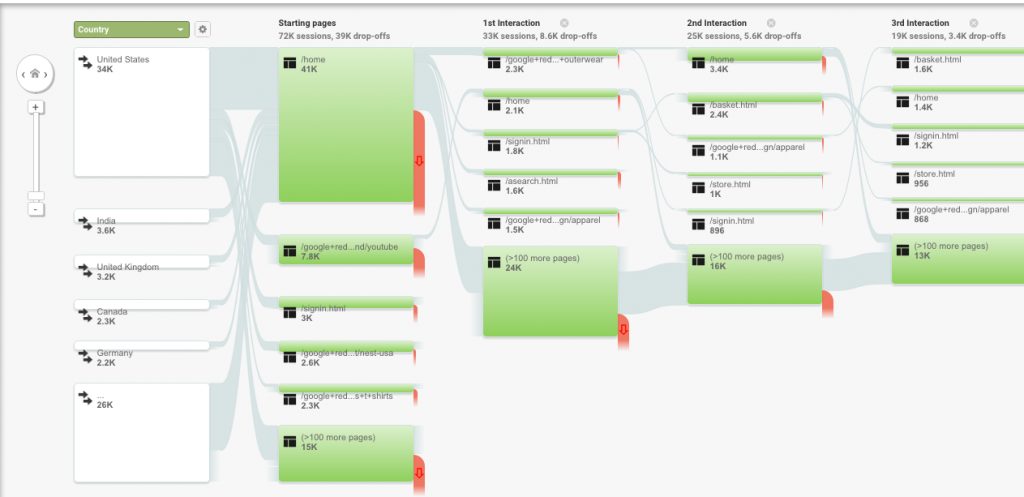 Email and mobile marketing
Email marketing and mobile are two very different strategies, but I combine them together here to show that not everything you do in digital marketing happens on your website, although there's likely interplay between your website and these other tactics.
Email marketing is the most important tactic when it comes to driving conversion, according to this image from Data Mentors. Mobile also makes a big contribution to ROI.
Email marketing is really a two-pronged strategy involving both list building and messaging. You'll need some incentive to gain more subscribers. For instance, I offer a couple of different white papers and a template for constructing a digital strategy that works well for building my list.
As far as messaging, the notion is to share stuff with your subscribers they can't get from your website or social media. So, while I share my blog posts with my subscribers — I group several posts together and send them out — you need unique content — offers, insights, etc — that you share only with your subscribers. Otherwise, why would they become — or remain — subscribers.
Web and graphic design
No one likes a boring website or social share and adding graphics helps perk things up. Using tired, old stock images makes you look like everyone else out there, so creating some unique images help boost your brand.
Some brands have a host of designers, so that's not a problem. If you're trying to create great images on a shoestring, like me, here are some ideas.
As to web design, the costs are even greater. A good website will cost thousands or tens of thousands of dollars and a cheap website is worse than no website at all. Also, easy-to-use design platforms like Wix, Square, and others make it look easy to have your own website, but you'll pay for it in opportunity costs — those sites have almost no SEO potential. That's fine for a site with its own community, as a club, but it doesn't work well for most commercial sites.
But, you don't have to break the bank to have a great website — it's definitely a DIY project. You can build a great website if you invest a little time to learn some rudimentary coding (I recommend Codecademy where you can learn some CSS and HTML), invest in a good theme (the shell of your website — and I recommend the Genesis Framework with any of their themes), and some killer images and copy.
You'll also need a good domain name and hosting, although I don't have good recommendations for either.
A website isn't a set-it-and-forget-it project. Standards change over time, as do technology and tastes. You'll need to update your content constantly and update your theme as new styles become popular.
Advertising
Online and offline advertising are important for digital marketing, as you can't count on getting all the traffic you need through social and SEO. The downside of advertising is that it's advertising and users hate ads. An alternative to traditional advertising and banner ads is to make your advertising resemble content — for instance, Facebook's and Twitter's promoted posts. Because they masquerade as regular content, they offer less interruption to users and don't get as much hate.
You can get other benefits from advertising and, while Google denies it, advertisers do appear to get a bump in SEO.
Online customer service
A new trend in digital marketing is providing customer service right from your social platforms. Some businesses even post hours of operation for customer service on Twitter or Facebook. Consumers with questions, comments, or complaints are welcome during these hours with the knowledge that someone is available to help them.
On websites, more businesses offer chat so customers and prospects can reach an agent immediately with questions and concerns. Part sales and part support, these chats offer a great way to build your brand's reputation.
Listening and reputation management
Speaking of reputation, digital marketing also requires careful reputation management. In the old days, not so long ago, brands owned their image because their message was the loudest. After all, they had advertising, while consumers only had word-of-mouth, unless things go so bad that news media took up the fight.
Today, consumers own the brand with their loud voices on social media. A single individual can spread good, or bad, about the brand instantly. Look at the situation surrounding the passenger on United who was forcibly removed from the plane. It was shared on social media to the point where it went viral. In this case, the news media simply added to the case.
Brands need to constantly scour and respond to negative (and positive) comments online. A quick correction, fix, or explanation goes a long way toward repairing your reputation.
But, you shouldn't just listen for brand mentions. Social media is a great way to learn about consumers; what they like, what they don't, and what problems they face. These conversations offer great opportunities for brands to build products that better satisfy the needs of consumers — which generates increased revenue.
Need marketing help to support business growth?
We welcome the opportunity to show you how we can make your marketing SIZZLE with our data-driven, results-oriented marketing strategies.  Sign up for our FREE newsletter, get our FREE guide to creating an awesome website, or contact us for more information on hiring us.
Hausman and Associates, the publisher of MKT Maven, is a full-service marketing agency operating at the intersection of marketing and digital media. Check out our full range of services.