Whatever your niche, you likely face vast competition. And in a world of growing online businesses, it's challenging to stay ahead of your rivals that no longer face geographic boundaries. The challenge is especially great for SMEs (small and mid-sized enterprises), as they often lack the resources and economies of scale that broaden the toolbox available to boost online marketing or even traditional marketing.
Yet there are numerous affordable ways to boost online marketing to a level that allows you to not only thrive but to grow and expand. For instance, search engine optimization alone offers a considerable benefit since almost half of the small businesses don't invest in SEO.
Boost online marketing
Online marketing is particularly attractive to SMEs as the costs are much more reasonable than those involved in traditional marketing. For instance, while a Super Bowl ad may cost $5.5 million of a 30-second spot and a radio commercial, where costs vary greatly by market, can reach well over $1000 for 30-second spots. Both traditional options involve pretty hefty production costs in addition to these transmission costs to cover talent, music, locations, post-production, etc.
A bigger problem even than the cost of traditional advertising is the lack of selectivity. Your Super Bowl ad reaches millions of viewers watching on TV and live streaming services. Unless you have a massive, diverse market, you're wasting most of the money you spend on the ad.
In contrast, online marketing allows you to reach a very select group of users who represent your best opportunities to make a sale–your target market. Not only does online marketing offer selective reach, but it also allows you to customize messages to groups of users or even to a single individual. Such personalization increases sales (called lift) by up to 30% (for 13% of marketers), while 84% report some level of lift achieved by sending personalized messages. The image below shows other positive aspects achieved by offering personalized messages.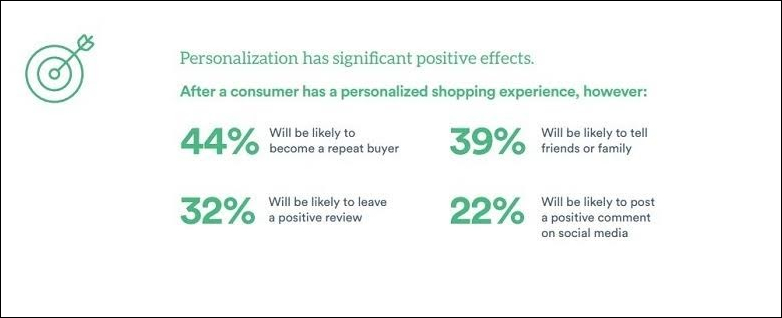 Next, let's turn our attention to specific tools available to boost online marketing results.
Understand the market
With millions of websites and online storefronts, the internet is a vast space filled with options. Whether you are competing with a very successful blogger, an eCommerce guru, or a large corporation, you face the challenge of helping your market find you, since there are 24 million active e-commerce sites alone. Massive e-commerce sites, like Amazon and eBay, dominate the internet world and don't require as much effort to attract visitors (more about this later). As an SME, you face an uphill battle gaining a foothold in the global online world. To compete, you need to develop a detailed marketing plan that builds insights from research on the competition, economy, consumer culture, technology, and legal aspects affecting your business.
Two key elements dominate your potential for success and deserve special attention as you build your marketing plan. 
Sustainable competitive advantage is the first of these elements. Developing a competitive advantage requires you to define those elements where you outperform your competition. We call these your USPs or unique selling propositions. Maybe you offer a unique product that isn't an option for other companies such as bespoke furniture. Maybe your USP is offering only sustainably sourced products. Or maybe you offer superior customer service that makes consumers trust you and keeps customers coming back.
The key is to understand that competitive advantage must be sustainable. In other words, your USP must be hard to copy.
Develop a defined target market. There are billions of consumers out there and the number grows every year. Trying to be all things to all people usually means you have no defined position in the minds of consumers so you don't offer a USP that encourages them to choose your product.
Instead, segment the market based on variables that affect their purchase decisions. Here are the common bases used for segmentation:
Demographic variables like age, income, gender
Geographic variables like city, country, urban
Psychographic variables such as attitudes, lifestyles
Behavioral variables such as usage amount (ie. big dogs consume much more food than tiny ones), usage occasion (ie. holiday versus every day)
Once you create segments, you must choose those segments representing your target market, which consists of those consumers most likely to buy your product because they have the need, authority, money, and desire for the product.
This information helps you position your products to directly appeal to them. It also helps you boost online marketing by targeting those individuals in your online advertising campaigns (see options below for targeting on Facebook advertising platforms.
Implement effective SEO
Search engine optimization (SEO) is a critical element of helping your audience find you among the billions of web pages out there. We call this organic traffic and, as you can see below, organic search drives more traffic to your site than other online traffic builders, like paid advertising

Fresh, valuable content is the key ranking factor that determines where you show up in search. Since you know that most users click on links near the top of the search results based on your own behavior, you must strive for the top. You must focus on on-page, off-page, and technical SEO for your SEO implementation. SEO services for small businesses are helpful to boost online marketing as some of this is fairly technical and requires constant monitoring. An agency focused on SEO can propagate reviews, write formal product descriptions, configure rich snippets, and handle technical aspects such as speed.
Local SEO is beneficial to physical stores but not valuable for online businesses. Studies show that 63% of shopping starts online while 77% of diners check out a restaurant website before visiting a new one. Most local SEO happens on a mobile device so think mobile in designing your website.
Cultivate inbound leads
Fresh, high-quality content that is relevant to your niche generates inbound leads. If, for instance, a user clicks on a link to your PlayStation games store on a gaming site such as IGN, the click takes them to a related product page on your site. You should design your landing page to highlight your USP and motivate visitors toward making a purchase using a variety of methods for inbound marketing. 
You might develop additional pages to drive visitors toward conversion after the click creates awareness, such as the one below produced by Google Analytics.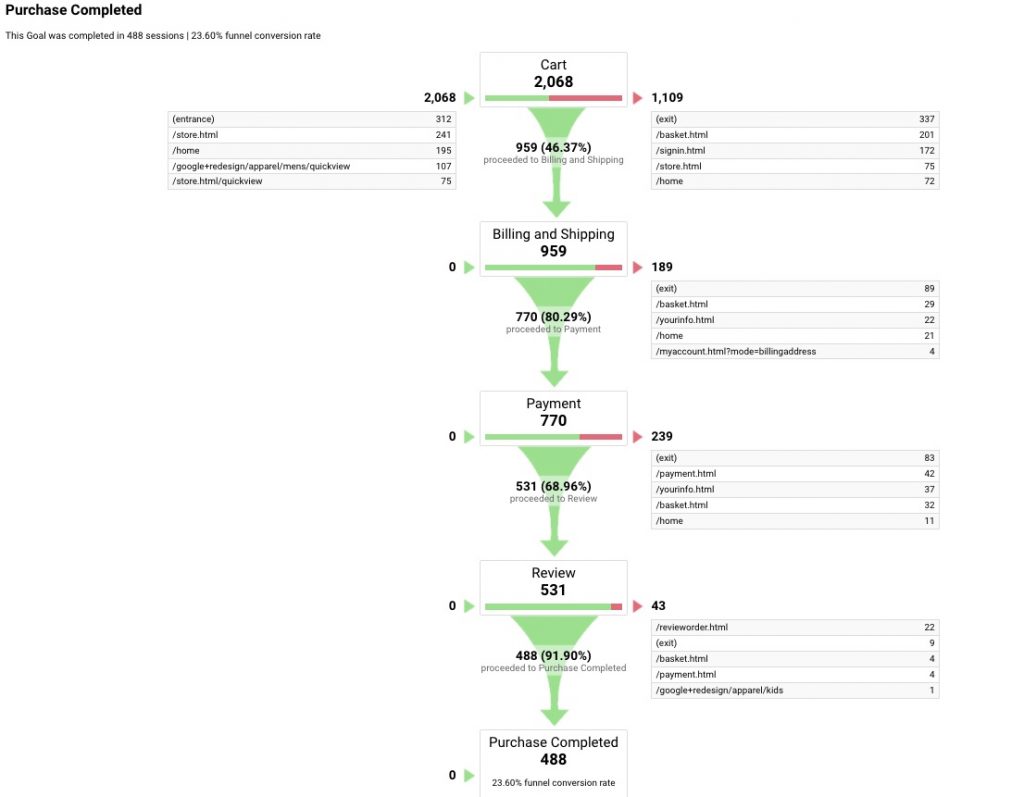 But, don't stop there. Since a purchase often involves multiple touches (7 according to this source), you need a multifaceted strategy to gain more touches. For instance, collect email addresses from visitors that you combine with customer emails and email addresses acquired through other tools, then send a series of email messages designed to help convert subscribers. Or, use remarketing, which involves showing advertising selectively to those who already visited your website.
Develop a PPC campaign
Pay-per-click advertising is another crucial component to boost online marketing. PPC technically involves using Google Ads to drive traffic to your site and gets its name from the fact that you only pay for the ad when someone clicks it. Social media advertising isn't technically PPC since there are multiple payment options, such as paying for impressions, but the realities are very similar for both types of online advertising.
Operating a PPC campaign involves choosing keywords reflecting an intention to buy your products then crafting structured text ads using those keywords to encourage website visitors. A new option for PPC ads is to increase effectiveness by adding user variables like geography to increase selectivity.
In contrast, social advertising relies on a nuanced selection of users to see your ad based on a variety of personal characteristics.
Don't ignore engagement
While organic reach on social platforms declines due to restrictive algorithms, you should still embrace social media tools as they impact attitudes as well as awareness of your brand.
Each social platform offers analytics and advertising in addition to free posting. A smart marketer can leverage these to support their brand.  Engagement is the key to making social media work to boost online marketing. For example, as a brand or company representative, you can interact with your followers as well as encourage followers to interact with their peers.
Engaging consumers is one of many effective strategies that build trust and loyalty. Additionally, engagement leads to effective data gathering combined with direct interaction and social media tools like polls and Q&A sessions. Data like these are invaluable when developing a demographic-based strategy that the competition might overlook.
Conclusion
If you're an SME owner, I know you feel overwhelmed with all that you must do to support your business. However, without marketing, all your other efforts are wasted. If you don't have time to implement any of these tools designed to boost online marketing, consider hiring an agency to help you, especially if you didn't have the expertise to do online marketing. You'd be surprised how affordable it is to hire an agency and achieve the sales you need to survive and grow.
Need marketing help to support business growth?
We welcome the opportunity to show you how we can make your marketing SIZZLE with our data-driven, results-oriented marketing strategies.  Sign up for our FREE newsletter, get our FREE guide to creating an awesome website, or contact us for more information on hiring us.
Hausman and Associates, the publisher of MKT Maven, is a full-service marketing agency operating at the intersection of marketing and digital media. Check out our full range of services.