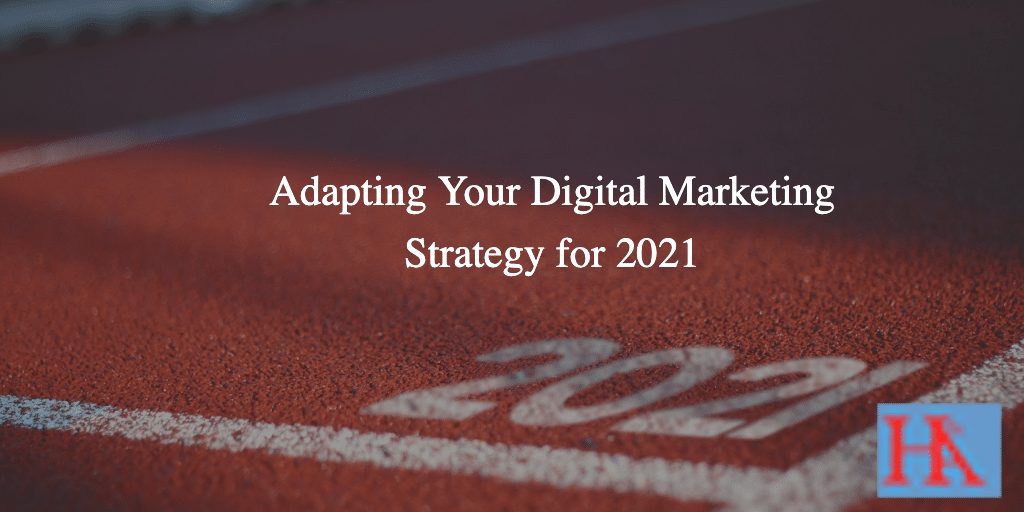 Scanning posts from some of the top digital experts, we see 2021 promises a host of changes from SEO to marketing priorities. The question for digital marketers is, how are you adapting your digital marketing strategy to accommodate these changes and grow your digital business?
While we won't have much time to discuss how you adapt to the changing environment surrounding digital marketing strategy, we'll spend today discussing some of the changes you must consider when building or adapting your digital marketing strategy in 2021.
Adapting your digital marketing strategy
First, it's important to say that none of these changes are really "new". Rather, most changes involve an evolution to emphasize what should be core aspects of your digital marketing strategy carried over from past years. The differences, for the most part, is how businesses and consumers implement their decisions and the impact of those decisions on how you operate your business.
Focus on customer experience
Customer experience (CX or UX) was a priority for businesses since the early days of the Internet and Google (as well as other search engines) long tied their success to delivering search results that met users' needs. In fact, nearly every update to the Google Algorithm was accomplished to improve the user's experience beginning with its increased emphasis on critical user aspects such as valuable content, site speed, and mobile usability.
From that standpoint, changes Google plans to roll out starting in May are nothing new and shouldn't cause a huge change in your digital marketing strategy, if you've considered UX a critical feature of all your digital efforts up to now. Of course, for brands that didn't place a high priority on UX, this will cause much consternation and require adapting their digital marketing strategy significantly.
Termed Core Web Vitals, these new metrics reflect performance on delivering a better page experience to visitors, which includes:
Site speed, something implemented in an earlier version of the algorithm but gaining new prominence in the coming version
404 results — or "page not found". Thus, use redirects rather than eliminating pages to avoid throwing off a bunch of 404 results
Orphan pages
Mobile usability, again a feature for prior algorithms gaining new impact
Security in the form of https rather than http
Link structure
Core web vitals is a means for measuring the performance of your content to ensure visitors don't wait for content to load and is divided into 3 areas:
Largest contentful paint
First input delay
Cumulative layout shift
Don't worry if you don't know what these three aspects of technical SEO mean or how to impact performance against these metrics. They don't have a great impact on your website performance. What they do, however, is signal that Google takes UX seriously so you MUST prioritize UX in your digital marketing strategy now and in the future. That way you're ready for anything Google does to the algorithm. 
So, what are the takeaways from this Google update? Likely very few for most business websites so adapting your digital marketing strategy is pretty straightforward.
Create valuable content, do it consistently, then do it some more
Monitor performance on Core Web Vitals through Webmaster Tools once added and fix whatever problems discovered by the platform, if possible
Get in the habit of redirecting pages versus simply deleting them
If you haven't already, purchase security for your website and shift to redirect all links to the secure version of your website — ie force https
User privacy
The privacy concerns voiced by users grows louder every year. The EU passed stricter regulations and California followed suit to help protect users' privacy online. What does this mean for businesses? Much less flexibility in collecting, using, and selling data about users and, by 2022, elimination of third-party cookies. It's unclear how these changes will impact advertisers that rely on 3rd party data for targeting but companies must focus on building 1st party relationships with users, such as subscription lists.
In addition to privacy, building one-on-one relationships with users offers other benefits, the chief of which is delivering personalized content (read this as more in-depth personalization than simply adding a subscriber's name to an email) designed specifically for that individual's needs and wants. There are a number of benefits from personalized content but chiefly, personalized content improves conversion.
Among the benefits of 1st party data, according to Measurence, are:
More focused on your individual company needs. For instance, rather than the limited knowledge provided by 3rd party data, you know which specific product you sell attracted the visitor's attention.
It builds trust between the user and the company.
Reduces problems with regulators since the data comes from existing relationships driven by offers.
It's often cheaper than 3rd party data.
Selling through social
The impact of social media isn't anything new. Businesses always recognized the impact of message amplification, user engagement, attitude formation available by harnessing the power of social media. Adapting your digital marketing strategy to changes in 2021 offers an additional use of social media: selling.
Social commerce started on Facebook/ Instagram in 2020 through shops. Experts expect to see a continuation of this trend as the option opens on other social platforms. Not only does social commerce shorten the time to conversion but it eliminates the need to leave the social platform. While that might not seem like a big advantage, consummating a sale without leaving the social platform figures prominently in the algorithm social platforms use to determine which posts show up for users.
According to Big Commerce:
It's far more streamlined and, thanks to chatbot checkouts and autofill for payment and delivery details, means purchases rarely take more than a handful of clicks.
The resulting conversion funnel looks very different from that seen on your website, as shown in the graphic below from Big Commerce.
The result: significantly higher conversion rates — 35 versus 1 from the same starting number despite using a lower conversion rate for chatbot checkout.
Voice search
Voice search is rising, offering great opportunities for those who adapting their digital marketing strategy to include a focus on voice.
Although slowly growing since its introduction in 2011, voice search is poised to explode as more devices penetrate the marketplace (ie. Google Home, Alexa, and Facebook devices) and more users choose voice search on their smartphones and watches.
Here are some stats for voice search in 2020:
27% of the global online population use voice search
50% of smartphone users employ voice search
Gartner predicts 30% of all browsing sessions included voice search
According to an Adobe survey, 46% of voice requests were for online search
Go live
You've probably seen these LIVE events popping up in your social feeds and this trend is expected to continue. Once the preview of social influencers, more businesses now use the live streaming feature offered on many platforms such as Instagram, TicToc, and even the staid business platform, LinkedIn, jumped on the bandwagon to offer live-streamed events on the network.
If you never considered live streaming events, which really grew by leaps and bounds during the pandemic, here are some suggestions:
Prepare
Just because the event is live-streamed, doesn't mean you don't plan for the event. In fact, live events take a serious commitment to planning from script development and rehearsing to taking care of the technology. Adequate preparation reduces the nervousness that's natural when anyone performs while allowing you to focus on viewers rather than what you're gonna say next. The trick is to appear natural and unrehearsed even when you spent hours practicing in front of a mirror.
You need to be natural in a live stream so it doesn't look like a commercial for your brand. Be a real person, not a stuffed shirt, admit when you make a mistake to show you're human and tell a story that people find interesting.
Above all, don't live stream for the sake of creating a video. Share valuable content your viewers will enjoy. For instance, you might share a trick to make using your product easier, faster, or more effective.
Embed a call to action (CTA) within your event to ensure the event delivers value to your brand as well, but don't overdo it with strong-arm tactics. Instead, use small asks such as a request to share this with your friends or visit a page/profile to learn more.
Equipment
You need some "stuff" if you want your live stream to look good. But, you don't have to spend thousands of dollars to buy the kind of setup common in professional settings, like movies and TV. Here's what you'll need:
a high-quality video device such as the new iPhone or a separate video camera
directional microphone able to capture high-quality sound while reducing outside noise
lighting that makes your subjects look good. A ring light is great so don't think the only way to get great lighting is to invest in expensive options
a green screen, which allows you to superimpose a great setting or a great background for your shots
Engagement
Remember your goal in live streaming an event is to engage with your audience so allow time for questions and carefully monitor how your audience engages with you during the live stream. If you start to see a bunch of negative reactions or a slowdown in reactions, change things up to get better engagement. Reacting to the comments made by viewers is a great way to build engagement.
Augmented and virtual reality
These new technologies offer a nearly infinite number of options for brands savvy enough to capitalize on them. The classic implementation of AR (augmented reality) is showing remodeling projects or new decorating elements within your existing space, such as adding an island in your kitchen or new cabinets in the bathroom.
But, think creatively about the options for AR in adapting your digital marketing strategy to 2021. Travel is a great option where AR might entice visitors to a place like the Louvre, which offers virtual visits to the museum. Afterward, once travel is possible, the strategy will likely drive increased visits in person.
Not only does AR entice customers to buy, but it also reduces costly returns.
Of course, the downside is that AR is fairly expensive and doing it badly is worse than not doing it at all. Hence, AR isn't for the budget-minded or faint of heart.
Conclusion
Adapting your digital marketing strategy to new technologies and marketing options available in 2021 and beyond ensures your brand continues to grow and meet your marketing goals.
If you enjoyed this post, please leave a message in the comments section. Also, if you have suggestions for future posts or questions about digital marketing, please let me know.
Need marketing help to support business growth?
We welcome the opportunity to show you how we can make your marketing SIZZLE with our data-driven, results-oriented marketing strategies.  Sign up for our FREE newsletter, get our FREE guide to creating an awesome website, or contact us for more information on hiring us.
Hausman and Associates, the publisher of MKT Maven, is a full-service marketing agency operating at the intersection of marketing and digital media. Check out our full range of services.