If you're a modern brand, your online presence is everything and goes far beyond what you offer on your website to the content you offer on social media. The stories you tell every day on all the different social platforms to engage and build a relationship with your audience define how your brand is perceived, its level of exposure, and ultimately its level of success. Today, we'll share our 4 tips used to amplify your brand on social media to achieve marketing goals.
Through the ever-evolving and shifting world of social media, it seems like the rules constantly change and you seem to struggle to try to hit a moving target. However, the standard practice is that if you offer content of value on your social platforms, format that content to optimize performance on that specific platform, and share content at the correct time, you'll hit your marketing goals. The ever-changing part of the equation, then, is how you create and manage your content to achieve that goal.
With that in mind, here are some easy, quick-fix tactics that give you a bit of a head start when it comes to engaging with your audience to amplify your brand on social media:
How to amplify your brand on social media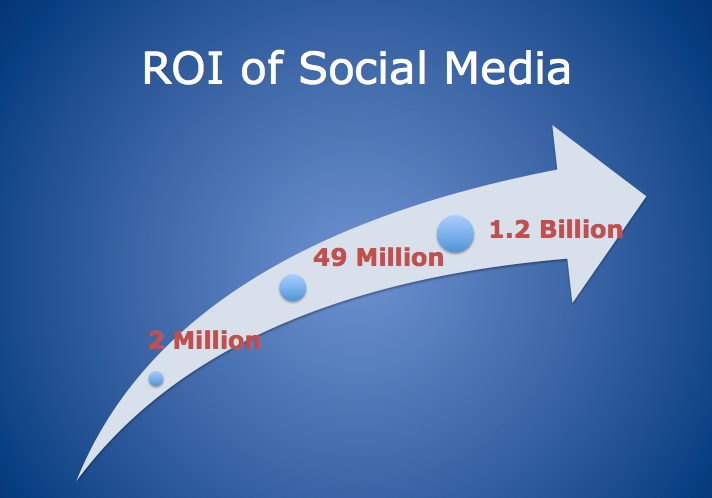 First, what do we mean when we discuss amplification on social media. As you can see in the image above, when you amplify your brand on social media you extend your message reach beyond your initial audience (your owned media or those directly connected to your brand) to additional audiences through engagement. Each time someone in your connected audience engages with your message by liking, retweeting, comments, etc, they share your message with their own connections. And, this message amplification continues through new audiences when subsequent connections engage with the message.
The above example uses the case of Facebook. You start when your message reaches your 2 million followers. If 10% of your followers engage with the message, it reaches their average of 338 friends (although changes to the Facebook algorithm significantly limit reach). Thus, in the "second-generation", your potential reach is 49 million and, in the "third-generation", reach potential is 1.2 billion.
Since all social platforms work in an analogous way, that's how you amplify your brand on social media and it's incredibly powerful in efforts to reach your marketing goals.
#1 Change your linking strategy
In recent times, the trend on social media platforms is to reduce the reach of posts that have very little content and are based on getting the reader to click a link. Not that this tactic will get you banned (well, not currently anyway), but it does mean the offending posts don't get as much exposure as your usual content.
You can understand the rationale behind this strategy on the part of platform owners, as they don't want people leaving their platform. This decision increased the functionality of posting videos and more in-depth content (like threads on Twitter) to keep more users on the initial social platform. So, any excuse you had for redirecting that engagement to another source is now muted.
Adopting the strategy of more in-depth, self-contained content, with fewer off-platform links (and using links less often) gets your brand more exposure in the long-term. To compensate, your audience is more likely to visit your other accounts and, ultimately, your website as part of the developing relationship you have with them if you keep providing them with valuable content. LinkedIn posts are an especially good example of using content to build relationships that drive visits to your website.
#2 Manage your brand ambassadors and influencers
One way to gain access to an instant audience for your brand content is to engage a brand ambassador or influencer, who already has a host of followers and a profile of their own. Your strategy for engaging these individuals varies greatly according to your brand needs and your budget, but once you have engaged influencers/ ambassadors, you must ensure they promote the right message at the right time.
Managing creative people, especially those with their own large profile is challenging. However, companies like Greenfly exist to help you with this task through their tools to manage and distribute the content that these individuals created to amplify your brand on social media. The practical side of their efforts is that it presents a greater level of control over the process and also improves your long-term relationship with the influencer or ambassador by allowing them to create the content according to their own agenda and timeline.
Of course, using influencers or ambassadors has a downside, as well. For instance, when PewDiePie posted antisemitic content a few years ago, he damaged the brand image of those sponsoring his content and they rushed to drop their sponsorship before he did major damage to their brands.
#3 Repurpose your content
If, however, you create your own content you must share that content effectively across your social networks using a schedule like that shown below Then you need to make the most of everything you have to reach the widest audience possible, including building your follower base and building engagement with followers. This tactic is also extremely useful for small businesses that do not have a dedicated social media team or individual and are trying to amplify their brands while also running a business.
Using this tactic, you repurpose a single piece of original content in different formats to post across several platforms. If done correctly, rather than sounding repetitive to your audience, this tactic re-emphasizes the same message over the various channels your audiences follow.
For instance, if you start from the basis of a 500-1000 word blog post (which you don't even necessarily have to write for yourself), you potentially generate a great deal of additional content. A summarised version of this blog post may form an effective email for your subscribers, and if it is evergreen content (for example, not based on a current event like Christmas), you might use it as part of a welcome sequence of useful content for new subscribers.
Next, adapt that blog post to form a 2-4 minute video (based on the average reading speed of 200-250 words per minute) you post on YouTube, or in parts across other platforms. Also, share a few snippets that work well in TikTok or Instagram Reels.
#4 Post live content to show who you are
If your style is not one that lends itself to blog posts, you can always just point your phone camera at yourself and just say whatever comes to mind. Live streaming content is not for the faint-hearted but does allow your audience to view your brand in an unfiltered manner. In an age when your brand image is more than just about the products you sell, live streaming creates a stronger bond (and more engagement) if you also allude to your stand on various political and environmental issues. Or, better yet, use live streams to highlight the social responsibility efforts of your brand, such as staging a beach cleanup or helping with vaccine distribution efforts.
Live streaming also means that people in your audience who align with those beliefs become stronger advocates for your brand, as they endorse your ethos as well as your products. This approach to relationship-based marketing is nothing new, but the 24/7 nature of social media output and consumption takes advocacy to an entirely new level.
Final thoughts
As you see, all of these tips involve low or no-cost solutions to an ever-evolving problem. However, maintaining a level of control over the content at your disposal (whether generated by yourself or by other individuals) means that you can more easily adapt to the changes as they happen, rather than having to go back to the drawing board each time.
Need marketing help to support business growth?
We welcome the opportunity to show you how we can make your marketing SIZZLE with our data-driven, results-oriented marketing strategies.  Sign up for our FREE newsletter, get our FREE guide to creating an awesome website, or contact us for more information on hiring us.
Hausman and Associates, the publisher of MKT Maven, is a full-service marketing agency operating at the intersection of marketing and digital media. Check out our full range of services.