The digital or information age revolutionized how we experience the way we interact with brands and enhanced our ability to share negative attitudes with an ever-growing number of people. Technological advancement puts all the information in the world and every communication channel right at your fingertips (and in your pockets). According to Statista, there are approximately 4.66 billion active internet users across the world, and the number is expected to continue growing. This accessibility increases expectations of fast customer service that's always on — making outstanding customer service the minimum expectation from brands.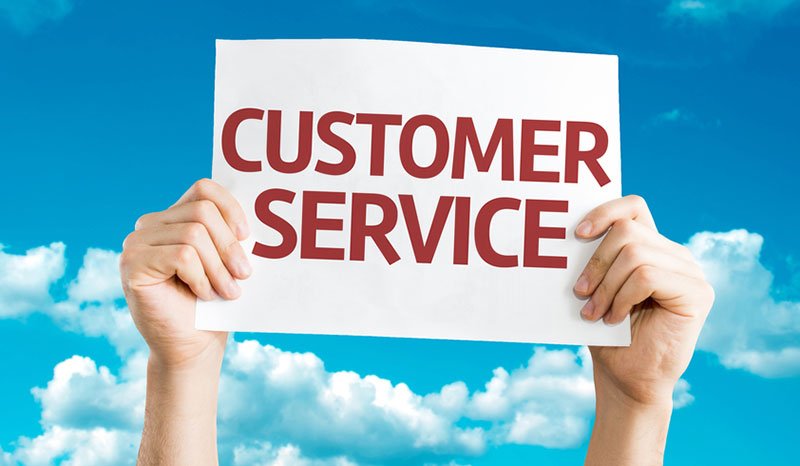 While an online presence is important now more than ever before, the way businesses handle customer service changed dramatically with new technologies that allow brands to respond quickly to customer issues and complaints regardless of holidays, weekends, and business hours of operation. According to the Harvard Business Review, a brand's customer service strategy is integral to its success, especially when it comes to generating repeat business. Continue reading this post to explore more important factors necessary to deliver outstanding customer service.
5 strategies for delivering outstanding customer service
1. Listen to your customers
If you want to improve your customer experience, then the first thing you need is an effective listening strategy to detect complaints, criticism, and questions as quickly as possible. The faster you address concerns, the easier it is to eliminate the complaint. For instance, a passenger Tweeted that he didn't receive his meal since he was asleep when the flight crew did food service. The airline "heard" his complaint and delivered his meal to his seat lickety-split, turning a complaint into a compliment.
There are different tools and approaches you can use to monitor what customers say about your business, products, or services. For instance, you can set Google Alerts to listen to your customers or use one of the paid tools available for social listening When you set up alerts, you get an email or notification when a customer mentions your business. You must use the feedback to not only make the customer "whole again" but improve your products and services in the future.
Otherwise, if you don't listen to your customers, you may lose their trust, and they choose another option next time they need a product you sell. Moreover, their online complaints grow more vocal and spread fast through social networks, like Twitter, to damage your reputation among other customers or would-be customers.
You may also listen to what customers say about your rivals so that you improve your offerings with benefits your competition doesn't provide to address unmet needs.
2. Keep your customers in the know
We are now in the information age, which means customers want to know your plans, especially when those plans impact them. For instance, if you plan to discontinue a product (like Tab did recently), let customers know in advance so they can stock up on beloved brands or if you anticipate delivery delays (such as happened over the holiday season), they can plan to purchase early so as to avoid the delays impacting their plans.
Below are some tips to keep your customers informed
Share offers and sales in emails
Your customers want to know when your business offers new products and when your business offers a sale or special offers on products they like. In the current digital age, your business should build a subscriber list and send sales, offers, and product updates regularly to subscribers.
Offer FAQs
While it's important to provide your customers with information, they also want to find that information on their own without using your customer service people, which is also less expensive. Seventy percent of customers fancy self-service over human assistance when possible, a value that varies by region. Therefore, your business should include an FAQ page on your website to provide answers to some of the common questions that your customers may have.
Provide your customers with shipping and delivery updates
After making a purchase, your customers want to know where the item is and the anticipated delivery date and time. Therefore, you should strive to provide tracking for all your shipments, as well as email or text updates on the location of the package. Amazon recently added a notification that follows your delivery on the map as it makes its way to your doorstep that people find fascinating.
3. Chatbots
"Support@" and "help@" email addresses are common in the customer service industry. However, in the current digital era, chatbots made these technologies obsolete. Your customers don't have time to wait for a response email or to sit on hold for hours waiting for a human response. Instead, they want instant responses, which is why you should consider chatbots. Delivering outstanding customer service means being there when customers need you with an answer.
Chatbots are an automated text-based technology that enables consumers to get answers to their immediate concerns, questions, and complaints using artificial intelligence to anticipate customer needs and provide appropriate answers. Advanced chatbots use machine learning so they get better over time by learning how your customers ask questions and which answers to provide to best address their questions.
Chatbots mimic human conversation so users often don't realize they're not speaking with a real person. Chatbots also offer advantages by providing quick and accurate answers to customer queries or complaints at a fraction of the cost needed to staff customer service 24 hours a day, 7 days a week.
Recognize that chatbots can't handle all complaints or answer all questions, so you still need a human backup to handle less routine issues.
4. Keep a human touch
Now that everything is digitalized, why do you need the human touch? And how do you do it? Technology advancement led to various options for businesses to interact with consumers. Companies not only have 13 numbers but other contact avenues that allow customers to contact them whenever they want and however they want for countries outside Australia.
However, consumers want more than the digital experience. According to marketing experts, customers value the personal experience they get from a human touch. So, to deliver outstanding customer service, don't treat customers as if they're cogs in a big wheel but that they matter to your business.
This is why big brands like Apple, Google, Amazon, and Facebook connect with consumers on a personal level. Keep in mind that cultivating a human touch isn't just for big companies; it's for all businesses regardless of industry or niche.
How do you keep a human touch in the current digital era?
Keep social media interactions personal and human
Ensure your social posts are personal rather than using more formal, impersonal forms of communication common in press releases and other channels of communication.
Here's what Social Media Today says about being personal on social media:
Businesses do not have emotion. People do. People want to be a part of something bigger than themselves. People want to feel something. People want to be included. People want to understand. But people are also humans, and with that comes mistakes. Missteps. Failures.
Some businesses opt to create a humorous online presence on their social media platforms. Even some official police Twitter accounts often have a joke with their followers. However, if humor doesn't suit your niche, that's fine. While humor is good, it isn't the only way for you to create a human touch. In order to create a human touch, some businesses now encourage their marketing personnel to sign tweets with their names. This helps followers have a feel of the real person and increases engagement.
For instance, here's a Tweet from Tim Cook, CEO of Apple that's both personal and strengthens his relationship with customers.
Create lasting and memorable experiences
Customers are more attached to experiences that are rewarding, engaging, memorable, and unique. Therefore, ensure that your customers remember their experiences with your business. You can do this by offering surprise gifts to your customers, offering a personal customer care experience, and maintaining a unique social media presence, among others.
Start or update your company blog
A company blog is a great way to inform your customers about your business and the values you represent. While most businesses describe their values, goals, missions, and visions on their "About US" page, it shouldn't be the only area where you discuss them. Instead, you may want to share how you intend to achieve your values and goals through your blog. When you do this, your customers hold you accountable, and this builds their confidence in your business through your transparency. Below are five other reasons why you should have a company blog:
Approximately 60 percent of consumers make a purchase based on a blog post.
Brands that have blogs get more inbound links than competitors that lack blogs.
Blogs are an important part of content marketing, which helps grow your online traffic.
B2B businesses with blogs get 70 percent more leads than blog-less businesses.
Sharing posts on your blog help keep customers engaged.
Also, providing honest reviews and descriptions that match your product benefits on your blog manages customer expectations, which are critical for delivering outstanding customer service.
5. Personalize customer experiences
When it comes to building relationships with your customers, the one-size-fits-all approach no longer works. Today, you need a tailored message when talking to your customers; one that matches their needs and wants. Most customers want to make a purchase from brands that recognize them by name, recommend suitable products based on their buying history, and offer customized customer service based on their purchases. For instance, delivering outstanding customer service means offering easy returns without forcing customers to search for order numbers and other information that you should store with their customer records.
Tips on how to personalize the customer experience
Encourage customers to create profiles on your website
To personalize the customer experience, you must encourage customers to create user profiles within your customer relationship management software (CRM). Once the customer creates their profile, your CRM software records data from email or phone exchanges, purchase history, contact information, and demographics captured during signup. Next, use this information to enhance and personalize the customer experience; from sending birthday cards or gifts to sending alerts about new products, to making recommendations when they login to your e-commerce platform.
Delivering outstanding customer service means knowing your customer, so offer inducements to encourage them to signup rather than using a guest option when making a purchase. For instance, Dominos pizza encourages app users to log in by offering points for each purchase. They then use this information to provide outstanding customer service by offering easy reordering for past purchases.
Create a customer loyalty program                           
Personalizing your customer experience means better customer retention, which means repeat purchases, improved ROI, and growth. For this reason, you may want to implement an effective loyalty program for your customers. According to PR Newswire, 15% of consumers are more likely to purchase products or services from a business that have loyalty programs. Therefore, customers that purchase products from your business have a better conversion rate, and they will purchase more items in a single shopping session.
Maintain a superior digital presence
Although most of your customers' interactions are motivated by the quality of your content, don't forget the importance of the technology behind your content. Ensure your website loads fast, it's optimized for mobile devices, and it's displayed suitably on all browsers. It's also important that you have the right hosting and servers that are secure, efficient, and able to support your website.
Bottom Line
Delivering outstanding customer service is one of the most influential components of a business's success. In fact, most customers make a purchasing decision depending on the digital customer service experience they receive. Therefore, if your business can adapt to the changing expectations for outstanding customer service, you have the best chance to succeed.
Need marketing help to support business growth?
We welcome the opportunity to show you how we can make your marketing SIZZLE with our data-driven, results-oriented marketing strategies.  Sign up for our FREE newsletter, get our FREE guide to creating an awesome website, or contact us for more information on hiring us.
Hausman and Associates, the publisher of MKT Maven, is a full-service marketing agency operating at the intersection of marketing and digital media. Check out our full range of services.