Content marketing methods are designed to help businesses reach their target markets, and multi-purpose content marketing tactics extend the reach even further. Businesses can create content in multiple ways to ensure their message is seen and heard by the broadest possible audience. As you can see in the content lifecycle, you create content suitable for different stages along the conversion funnel, sharing that messaging with prospects and customers using various content channels to generate higher revenue.
Multi-purpose content marketing methods: What are they?
Multi-purpose content marketing focuses on creating content your business can use in multiple ways, such as online articles and blog posts, podcasts, infographics, e-books, and videos. By leveraging various mediums, businesses can better engage their target markets and communicate the value of their products to a broader market more efficiently. For instance, a multi-purpose content marketing strategy might include an article with accompanying visuals, such as infographics and videos. This type of approach helps to create a more comprehensive and immersive experience for readers, helping them gain a better understanding of the message being communicated.
Additionally, multi-purpose content marketing helps businesses reach new audiences, as the business can share this enriched content across multiple platforms by adapting to meet the norms of the individual platform, giving it a broader reach than traditional methods.
What are some of the top multi-purpose content marketing methods for start-ups?
Blogging, email newsletters, webinars, podcasts, and social media are the top content channels brands and businesses can use for more than one purpose. For instance, whenever you create a blog post, you should share it on your social media platforms and with newsletter subscribers. Next, think about creating a podcast or video from the content. Moz, a recognized SEO expert, creates a post called blackboard Friday where they go in-depth on some tactic like monitoring the conversion funnel in GA4 (Google Analytics 4). The post goes up on their blog, it's shared on YouTube, a link is shared on their social platforms, and they send a synopsis out to newsletter subscribers. Let's understand in detail some of these multi-purpose methods of content marketing.
Blogging
Blogging, a type of long-form content, is an effective way to create content that appeals to various targets at various stages in the conversion process. Start-ups and small businesses can use blogging to inform, educate, and entertain readers to ease visitors down the conversion funnel.
Blog posts help drive traffic to your website by improving the rank of your content in users' search results, a process called SEO or search engine optimization. As you can see below, blogging on a consistent basis with high-value content delivers revenue. Additionally, blog posts answer questions and provide arguments that help drive decisions so you can convert a higher percentage of those visiting your website.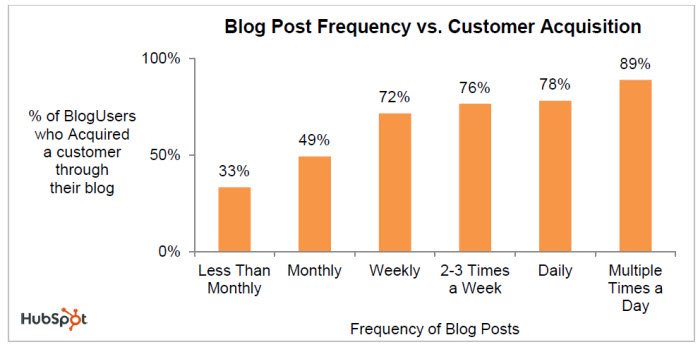 Email newsletters
Email newsletters are a great way to reach a broad audience and send regular updates about your brand. They can include information about upcoming events, product launches, and other related news. Additionally, start-ups can use email newsletters to promote content from their blog or website to reach a larger audience. Lead nurturing involves following up with your contacts (from website subscription forms, webinars, and other sources) to deliver content that keeps you top of mind and offers incentives to convert.
For this reason, email marketing offers the highest ROI (return on investment) of any digital marketing tactic.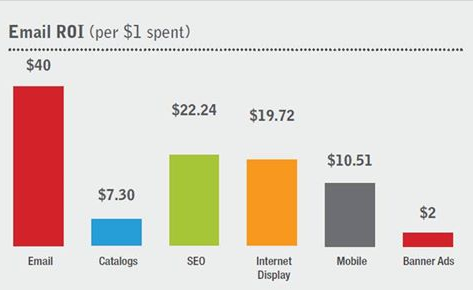 Webinars
Webinars are content marketing strategies that allow you to reach more potential buyers with educational or promotional content. You can structure a webinar as a tutorial, Q&A session, or interactive presentation. Webinars also increase customer engagement and provide valuable information to your target market.
Podcasts
Podcasts gained popularity over the past few years, due to the low production cost and ease of sharing, and are an effective way to reach a large audience. Start-ups can use podcasts to promote specific products or services while providing valuable information about their industry.
Additionally, podcasts are an effective way to build relationships with customers and other industry professionals.
Social media
Using social media for digital content marketing effectively engages customers and promotes your brand. As a start-up or a small business, you can use social media to inform, educate, entertain, and interact with your target audience. Additionally, you can use social media to promote content from your blog or website, which helps you drive traffic to your site. Social media is a low-cost and effective tool for businesses of all sizes.
Takeaway
Therefore, as a start-up, you can use content marketing methods such as blogging, email newsletters, webinars, podcasts, and social media for multiple purposes. They are practical tools for driving website traffic, building brand awareness, and improving SEO.  Further, you can use content marketing methods to promote products or services, reach a broad audience, build relationships with customers, and provide valuable information. With these methods, you can create content that resonates with readers and effectively impact your business.
Benefits of multi-purpose content marketing methods
For start-ups, using multi-purpose content is an effective way to maximize resources and make the most of each piece of content. These methods are highly beneficial for start-ups and small businesses, as they provide many advantages.
Reduce overall marketing costs
Using multi-purpose content formats helps to save on production costs since you can reuse them for different platforms and campaigns. For example, creating an image or infographic helps promote your website and attracts attention to your social media posts. Because you only create the content once, then modify it for various platforms, you only have the cost of creating a single piece of marketing collateral. And using multi-purpose content marketing methods also reduces the strain to produce fresh content on a consistent basis so you optimize performance across channels. If you need to produce daily content for your Twitter, LinkedIn, and Facebook pages, you can produce a single blog post and then share this content across the other platforms. You can even find tools like AddThis that make it easy to automatically share blog content on social media. This is especially beneficial for start-ups with smaller budgets that likely find it hard to afford the cost of creating different content for every campaign.
Reach a larger target market
Furthermore, businesses using this strategy can leverage the same content across multiple campaigns and channels, allowing them to reach a larger target market; improving the reach. By sharing on multiple platforms, you also increase the frequency for users on multiple platforms, which increases the chances they'll convert.
Quickly experiment with new ideas
Another advantage of multi-purpose content marketing methods is that your business can use them for both short and long-term campaigns. This allows businesses to test new ideas quickly without devoting a lot of time and resources to creating separate content for each campaign. You can experiment with slight variations across channels to quickly determine which structures work best with your target market. For instance, you might test a blue CTA (call to action) button on Facebook and a green CTA on LinkedIn to see which does better.
Build lasting connections with your target market
Additionally, businesses can use these methods to build relationships and develop meaningful connections with their customers over time through consistency.
Better able to compete
Multi-purpose content marketing methods also help brands stay on top of their competition. By sharing relevant content on a regular basis, brands can keep their audience engaged and ensure that they remain up-to-date with industry trends. This helps them stay ahead of the competition and remain visible in the market.
Better cope with emerging changes in the market
Content marketing methods that fulfill multiple purposes enable businesses to stay updated with the latest trends. By leveraging content across multiple channels, they can quickly adjust to changes in the market and ensure their products and services remain relevant to customers.
Enhanced brand awareness and credibility
Finally, multi-purpose content marketing methods are highly effective for building brand awareness and credibility. By providing high-quality content tailored to their target audience's needs, businesses can establish a strong reputation and generate brand loyalty. This can help them build trust with their customers and gain more conversions in the long run.
Overall, multi-purpose content marketing methods are highly advantageous for start-ups and small businesses. Not only do they save time and money, but they also improve brand awareness, credibility, and loyalty. This makes them an essential tool for businesses looking to increase their customer base and drive higher conversions.
Tips to create multi-purpose content for start-ups
When it comes to content marketing, start-ups have unique challenges. As a new business, you need to create content that resonates with your target audience, but you also have limited resources.
That is why creating multi-purpose content can be a great way to maximize your marketing budget and efforts. Here are a few tactics and tips to help you create content that can be used in multiple ways:
Research Your Audience- Doing research on your target audience can help you determine the types of content that resonate with them. This will ensure that your content is relevant and helpful to your readers.
Create Long-Form Content- Creating longer content pieces such as blog posts, white papers, and eBooks can help you cover a variety of topics and provide deep insights. This type of content can be used in multiple formats, such as email newsletters, blog posts, social media posts, and more.
Reuse Content- Do not be afraid to repurpose your content into new formats. For example, you can turn a blog post into an infographic or short video for social media.
Leverage Your Network- If you are working with influencers in your niche, look for ways to collaborate and repurpose their content. By leveraging their network, you can reach a wider audience and increase your visibility.
Automate Your Content- Use tools like Hootsuite or Buffer to schedule and automate your content. This will help save time and ensure that your content is being shared regularly.
Monitor Your Content- Track the performance of your content and adjust your strategy accordingly. For example, if a certain type of content performs well, you can invest more resources into creating similar content.
Optimize Your Content- Optimizing your content for SEO, and social media can help you get higher levels of engagement and visibility. If you want to maximize the reach of your content, make sure to include relevant keywords and add links to other related content.
Creating multi-purpose content for start-ups requires dedication and strategic planning. By following these tips, you can get the most out of your content marketing efforts and generate more leads, customers, and revenue.
With the right approach, you can create content that resonates with your target audience and position yourself as a leader in your industry.
Ending thoughts
Content marketing is a dynamic field that keeps evolving with each minute. But with the correct data and statistics from the past, we have researched and boiled down to predictions for 2023.
These predictions will not only help you understand the market and plan the right strategy but will also help you stand apart from your competitors hence, ensuring that your brand is on its way to becoming the industry leader while also instilling a sense of trust among your customers.
Need marketing help to support business growth?
We welcome the opportunity to show you how we can make your marketing SIZZLE with our data-driven, results-oriented marketing strategies.  Sign up for our FREE newsletter, get our FREE guide to creating an awesome website, or contact us for more information on hiring us.
Hausman and Associates, the publisher of MKT Maven, is a full-service marketing agency operating at the intersection of marketing and digital media. Check out our full range of services.