Not all businesses require a lead generation strategy to create successful marketing programs but those businesses are rare. Instead, most businesses need a strategy to not only create conversions over time but follow up with visitors who left the conversion funnel sometime during the purchase process (especially through cart abandonment), remarket to visitors who left without making a purchase, and build a relationship with customers that keeps them coming back. And that's a lead generation strategy, whether you ever heard that term or not.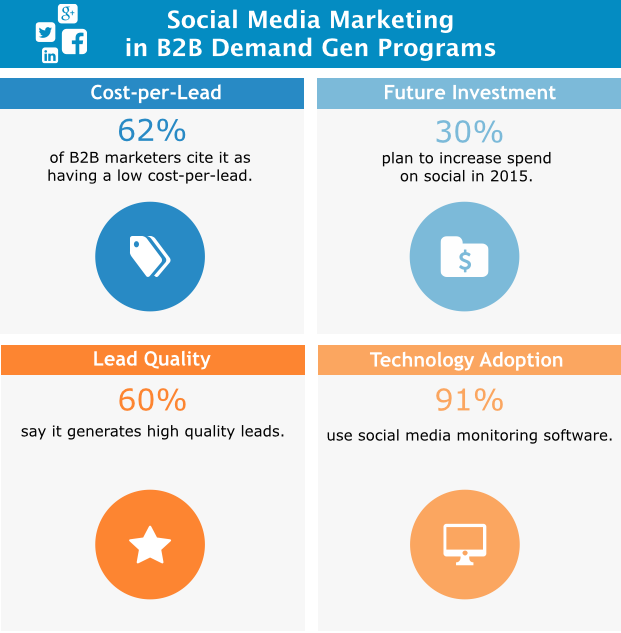 Whether you're a B2B (business to business) firm generating leads through social media or a B2C (business to consumer) e-commerce site generating sales through your website, a sound lead generation strategy expands your opportunities to make a sale.
Lead generation strategy
Lead generation commonly refers to a strategy for converting prospects into customers. In B2B, where long sales cycles dominate, optimal lead generation strategies determine the difference between success and failure. In B2C markets, we see lead generation for large purchases such as buying a home, car, or life insurance. In the pre-digital age, we didn't think too much about lead generation strategies in retail because folks visiting your store were anonymous unless you used a store loyalty card. Even in that case, stores didn't use the cards to effectively market to customers by, for instance, sending coupons for products purchased during earlier visits.
A lead generation strategy attempts to take all the folks leaving your funnel in the image below, and encourage them to flow through the bottom of the funnel to convert. Optimizing your funnel by as little as 1% can increase your leads by 50% — which has a huge impact on your bottom line.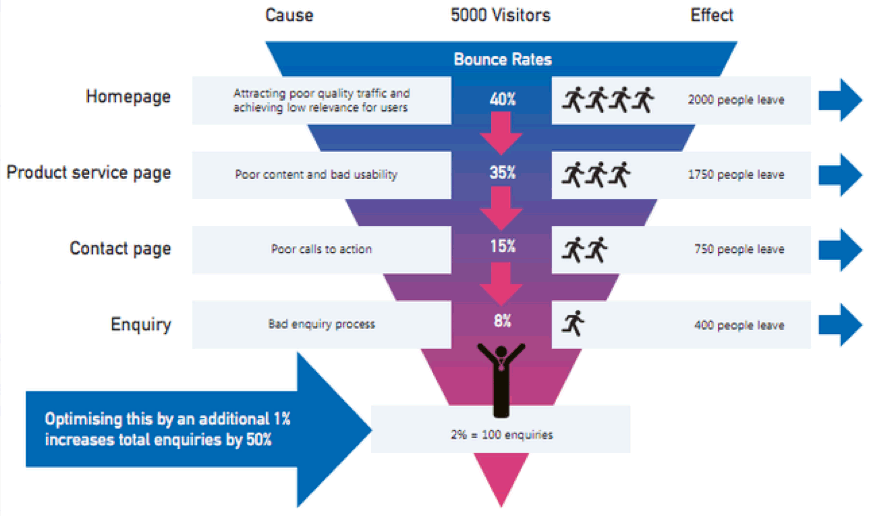 In the digital world, all that's changed. Now we have tools to interact with visitors to our website and connections made on social platforms with the notion of converting them in a subsequent visit. Common elements of your lead generation strategy should include:
Email marketing to build and sustain a relationship with visitors. With this type of lead generation, you use targeted lists to send messages relevant to the visitor based on their browsing behavior (cookies) or their journey through your website.
Remarketing is a tool for engaging with users who visited your website or mobile app. Remarketing allows you to display ads selectively to users on search, display, and social ad platforms. Since these users visited your website, their conversion rate is higher and campaigns more successful than when marketing to users who never visited your website. Ad effectiveness increases the more times the ad is shown during a remarketing campaign.
Exit intent. Exit intent strategies detect when visitors intend to leave your site. Once detected, a popup appears to entice users to stay and make a purchase. According to this source, exit-intent strategies increase conversions by 2-4% over not using the technology.
So, what is keeping your business from making sales and improving performance? Find out if these common lead generation mistakes are hurting your business.
Insisting, not persisting
There is a thin line between being persistent with pitching your product or services and insisting that people buy. And unfortunately, most business owners tend to cross that line and do the latter. There are few things more annoying to a potential customer than facing strong-arm tactics to almost forcing a purchase. An aggressive marketing approach, in general, does your business more harm than good, as it will turn away prospective clients and generate a poor image for your brand.
On the opposite extreme are brands that don't follow up with prospective buyers enough. Maybe they send an email or maybe they don't do anything to follow up with website visitors or social media connections. A lot of small brands I work with only post content rarely and their social media pages lack more than a few posts. As we saw earlier, remarketing and other tactics offer great tools for increasing conversion that increases with the number of ads shown to visitors after they leave your site.
Not defining your ideal customer
Attempting to sell your product to just anyone available online isn't a sound lead generation strategy nor is it an effective marketing strategy in general. No matter how many people you manage to reach, if they lack need, authority, money, or desire for your product, nothing you do will encourage them to make a purchase.
Thus, the first step in your lead generation strategy involves identifying your target market, or, better yet, building rich personas (like the one below) that encapsulate more than just the demographics of your ideal customer.
Once you know the characteristics of consumers most likely to buy your brand, you develop communications, pricing, and products designed to meet their needs and wants.. Defining your ideal customer helps make your lead generation strategy more accurate and target-specific. For instance, targeted emails designed to engage and convert specific subscriber segments far outperform generic messages to the entire subscriber list.
Targeted lead generation also helps you create more personalized marketing strategies, which are very effective in attracting new customers and converting existing visitors. To identify who your ideal client is, take the time to research the common traits shared by your current customers and segment subscribers or other visitors based on these traits. Then design your pitch in a way that targets the decision variables used by these prospective customers.
Not including a call to action on every page
Make a call to action (CTA) is prominent on every page on your website helps guide potential customers along the "right" customer journey; one that both results in conversion and meets their preferred means to navigate a purchase.
Ensure that all your pages have a single CTA because it makes it easier for your visitor to know exactly what action takes them along the right pathway without forcing them to navigate to a prior page or search for the right conversion pathway. You can also target certain pages of your website for first-time visitors or even offer unique premium or downloadable content for your returning site visitors. Additionally, when creating your business website, consider using a new kind of website builder that allows you to create a better user experience for your site visitors and makes it easier for them to follow your call to action.
Spending on marketing activities that do not produce returns on investment
Marketing activities, like excessive image advertising and graphic design, do not necessarily produce returns on investment (ROI). Instead, focus on direct sales marketing, remarketing, irresistible opt-in opportunities, clear landing pages, attractive sales offers, etc. These strategies produce higher returns on investment, give your lead generation strategy a needed boost, and ensure that you turn those leads into paying customers.
Final thoughts
Lead generation strategies often get lost in planning for the rest of your marketing campaign but you should bring these strategies to the forefront because they produce superior market performance. To make the most of your lead generation strategy, avoid the mistakes listed above. If you want to see more about lead generation, check out this link on sales development. Enjoy
Meanwhile, I'd love to hear from you. If you have questions, comments, or suggestions for future posts, please use the section below to enter your thoughts. Thanks.
Need marketing help to support business growth?
We welcome the opportunity to show you how we can make your marketing SIZZLE with our data-driven, results-oriented marketing strategies.  Sign up for our FREE newsletter, get our FREE guide to creating an awesome website, or contact us for more information on hiring us.
Hausman and Associates, the publisher of MKT Maven, is a full-service marketing agency operating at the intersection of marketing and digital media. Check out our full range of services.