As the world shifted online, the tools used to find new products and, ultimately, purchase them moved online, as well. Especially during the pandemic when lockdowns forced consumers online for safety. After adhering to new purchase patterns for over a year, much of this change is likely permanent. Website content allows you to take advantage of this transition to online behavior by bringing new traffic to your website (through effective SEO) and works hard to convert traffic once it lands on your site. As you can see in the graphic below, companies that optimize their website content achieve superior results.
A company's website speaks volumes about your brand, your products, and your commitment to customers. In fact, consumers don't trust companies without a website and they don't look kindly on websites without a great customer experience on both desktop and mobile. Entrepreneurs may believe that throwing in indiscriminate information about their company on one page is enough to drive conversion online and off. However, strategizing website content means a great deal to the overall appeal not just of your website but your product as well and exerts a vast influence on your performance.
In this article, we'll list some of the most important improvements you can make to make your performance rock.
How to improve your website content
Use homepage real estate wisely
Your website is the door to connect with your customers and clients. Use every part of your webpage strategically to show your clients what you can do without throwing in everything including the kitchen sink. A one-page website with only a homepage isn't the right choice for most businesses. Instead, create an attractive homepage as a teaser to entice visitors to delve deeper into your site. From an SEO perspective, a 1-page website has a 100% bounce rate that tells search engines your website isn't viewed favorably by any visitors.
A company's website is basically their portfolio and reflects their online identity. Carefully consider whatever you include on your company's website to represent your brand. For instance, here's a template for a home page that organizes website content into logical areas with links to drive visitors deeper into the website.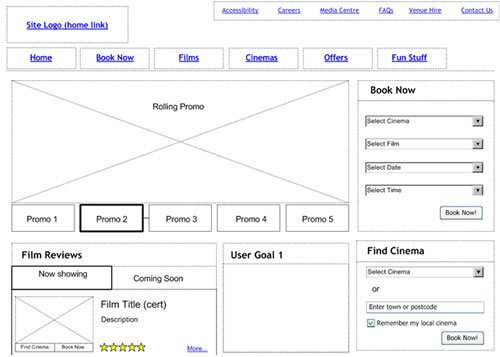 Obviously, you must customize your homepage to fit your niche and your target market but carefully consider the UX (user experience) to make the site work for visitors.
Optimizing website content means easy search, as well. For an e-commerce site, you should also allow users to filter results to avoid a long list of options that encourages visitors to leave without making a purchase. You can hire product description writing services and turn these descriptions into filters to make search more effective for shoppers.
In addition to including pictures and videos on your website, good descriptions also go a long way toward gaining conversion. Product descriptions using adjectives that matter to visitors and include answers to issues such as compatibility make the difference between conversion and exit. There are often characteristics not conveyed by pictures or videos alone.
Testimonials are your friend
Most online shopping websites such as Amazon and eBay utilize testimonials to boost profits. As you can see in the graphic below, reviews form a critical tool in customer decision-making.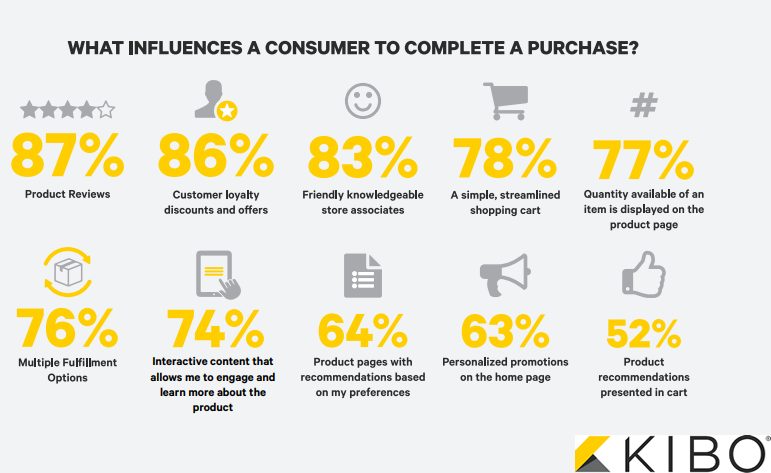 Customer reviews influence 87% of purchase decisions, according to this graphic. Encouraging reviews from customers requires a sustained effort rather than a simple process of adding an option for reviews. For instance, Amazon achieves reviews by repeat emails to buyers requesting a review of their purchase and making it easy to submit the review. On Instagram, a brand might host a contest asking users to post an image of them using the product with prizes for random submissions or awarding prizes based on the amount of engagement the user receives for their image.
A thorny issue related to reviews revolves around fake reviews where a brand asks friends and relatives to post reviews or encourages employees to post fake reviews. Some brands go so far as to employ a bot to cycle through random words to compose thousands of fake, positive reviews. Screening against these scams requires a consistent effort and sophisticated tools, but it is essential if you want customers to trust reviews posted on your website.
White space is not an enemy
Website content not only consists of words and images but white space, as well. White spaces are just as important as your website content as it keeps visitors from feeling overwhelmed and helps them find what they're looking for more easily. A website filled with too much content easily overwhelms your viewers and encourages them to bounce, which damages your SEO.
White spaces also help direct visitors to important content. Other design elements also contribute to great website content. For instance, using too many colors is distracting as are weird fonts used indiscriminately. If you hope for a simple, yet well-designed interface, white space, clean lines, a few colors, and the judicious use of fonts are your best friend. Placing the most crucial button or information at the center of your webpage also serves as a funnel to direct your viewer to the right path.
Mobile-friendly interface
Your webpage should not only adapt content to fit the size of a desktop but look great on mobile devices, as more folks now use a smartphone for product or store search, especially when out and about. If your website only works well with a desktop interface, it won't cater to your potential customers' needs. If you invest in providing a mobile-friendly interface, you can reach more possible customers, which in turn boosts your profits.
Mobile-friendliness involves more than simply opting for a responsive website that adjusts website content to the smaller size of a mobile device. It means accommodating the needs of a mobile user, which are often different from what a desktop user needs. For instance, a mobile user likely wants website elements such as phone number and address more urgently than a desktop user as they want to find the business now. Hence, including this mobile-critical information on your homepage makes sense if you operate a physical location. Even better, linking this information to Google Maps and integrating your phone number to allow 1-click calling to increase your performance.
Keep your website up-to-date
Over time, your webpage needs upgrades. Keep your webpage exciting by providing new content and consider a homepage refresh sometimes, although don't change your pages without due consideration. For instance, a homepage containing a slider demonstrates you don't care to stay up-to-date with trends, since this design strategy went the way of the dodo when site load speed became a ranking factor in SEO.
Old website content also requires evaluation over time. For instance, if you have old blog posts that no longer reflect the most recent trends in your industry or your product line, get rid of them (just use a 301 redirect to ensure visitors never get to a page that's no longer available). I know it hurts to get rid of content you sweated to create, but old content hurts your performance.
Conclusion
Remember, the true test of your website content comes from users. Try testing your website on different browsers and screen sizes to ensure the load time is fast and the website looks great on every option. Check your menu to ensure it redirects users to the right content and make sure your content matches the conversion funnel most often followed by visitors.
Always make your visitors your top priority, not only on your website but in everything you do, and your performance will explode.
Need marketing help to support business growth?
We welcome the opportunity to show you how we can make your marketing SIZZLE with our data-driven, results-oriented marketing strategies.  Sign up for our FREE newsletter, get our FREE guide to creating an awesome website, or contact us for more information on hiring us.
Hausman and Associates, the publisher of MKT Maven, is a full-service marketing agency operating at the intersection of marketing and digital media. Check out our full range of services.