If you know how, you can monetize your website to turn this asset into cold, hard cash. Beware to avoid over-commercialization, though, or you face possible SEO penalties from search engines and/ or annoying your visitors. However, monetizing your website isn't as easy as setting up a website and waiting for the money to come your way. You need to work hard to monetize your website by first building a stellar site and then driving sufficient traffic to your site so that you can make money from this traffic. The good news is that there are plenty of different ways you can make money from your website. With that being said, continue reading to find out more about how you can make money from your website.
Building a website that you can monetize
Before you can monetize your website, you must first build a great website and drive sufficient traffic to your site. That's because all the forms of monetization rely on visitor actions taken on your website so that the more visitors you have, the more potential visitor actions taken on the site with each earning money. It may take some time, effort, and money before you have a website that pays for itself, let alone generates a profit. So, let's start by discussing how you can build a website that you can monetize.
Designing a website
You need a great website or never attract enough traffic to make your website attractive to supporters. That means crafting a website that's:
Valuable to some segment of the online population. Focus on a niche, then create useful content around that niche. For instance, I focus on digital marketing here, although I also include some discussion of related topics such as entrepreneurship and innovation. Over the last 10 years, I've built a loyal following by posting fresh content every couple of days, at a minimum. Posting fresh content likely means adding a blog to your website.
Designed with users in mind, so you build a great user experience (UX) with attractive images, lots of white space, easy navigation, etc.
Well researched, so you are seen as an authority within your niche
If you've never built a website before, you might hire an expert to build one for you or check out my ebook for creating a website yourself. This ebook is full of step-by-step instructions with images that walk you through the entire process. If you decide to build your own website using my instructions or other assets you find online, it'll cost you about $200 for hosting, domain, a template, and a few plugins (most are free). Hiring a web designer varies greatly depending on the skill and experience of the designer and the degree of customization you want, but it varies between about $2500 and $100,000.
Market your blog effectively
In order to make more money from your website, you need to know how to market it effectively. You can learn more online about the different marketing channels you can use to attract more people to your website and make more money in the long run. For instance, you likely want to add email marketing, social media marketing, and online advertising to your bag of tricks to build a loyal following for your website.
You might also use guest blogging to attract more visitors to your website. This tactic involves reaching out to the owners of other websites in your niche to offer a guest post on their site in exchange for including a link to your own content within the post. I accept guest posts, but I have limited space to accommodate guest posts, so I can only accept those representing exceptional quality related directly to digital marketing. I also face a backlog of 30 days or more before your submission bubbles to the top of my consideration list. Likely, you'll find a similar situation at other websites that can help you get your website out there.
SEO
Most traffic (approximately 53% of traffic from all sources) to your website is called organic because it comes through a user's click on your content from search engine results to their query. SEO or search engine optimization is the process of improving your rank to garner more user clicks. Since search engines work hard to show the top results to users first, your overarching goal is to deliver high-quality content. Then, it's a matter of demonstrating that characteristic to search engines. As you can see in the image below, most clicks go to content near the top of the results page.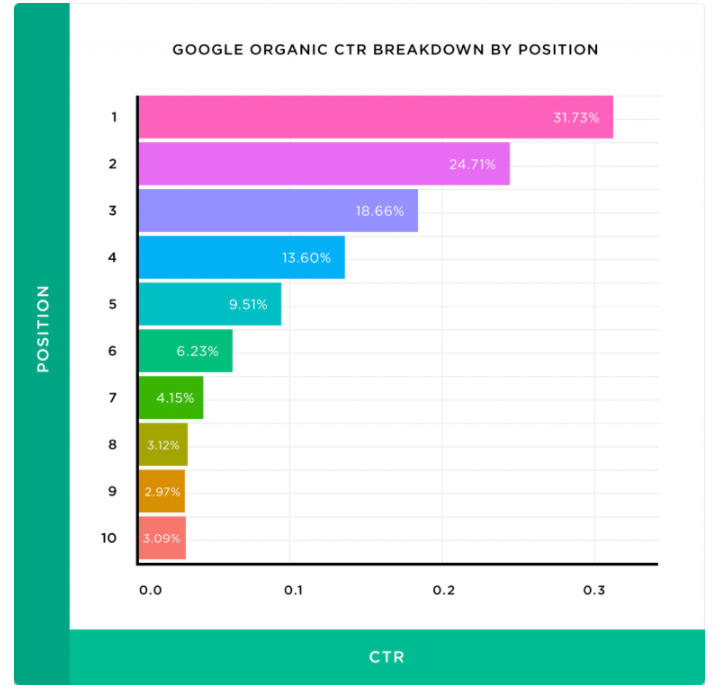 Among the actions with the biggest impact on your rank are:
Quality signals are represented by the number of backlinks achieved on the page, dwell time, repeat visitors, engagement on social media, etc.
Load speed
Mobile-friendliness
Consistency, for instance, posting regular updates to your website. Longer posts do better than shorter posts, all things being equal. You must strive to post fresh content on your website at least once a week.
Security and privacy signals
Ways to monetize your website
Once you have sufficient traffic, you're now ready to start monetizing your website with these tactics
1. Ad placements
There is only one place to begin, and this is with ad placements. This is one of the most popular ways that bloggers make money through their websites. There are two popular forms of advertising for your website. The first is CPM Ads. These are ads whereby an advertiser pays a fixed amount based on the number of people that few the advertisement. You also have PPC and CPC adverts, which are ads where you are paid based on the number of people clicking on the advertisement. You can sign up for these ad placements from Google through Adsense.
Setting up these ads is very easy, and, once added, they make money effortlessly.
2. Sell digital products
Aside from advertising, another way to make money through your blog is by selling digital products. This includes selling anything of value to your visitors, such as themes, plugins, apps, videos, images, online courses, online workshops, and eBooks.
Selling courses and workshops is increasingly popular as a means to monetize your website. However, you likely face some additional marketing challenges selling courses and other digital products as it takes more than simply sending traffic to your website. You might consider paying for some advertising specifically to market your digital products.
3. Affiliate links
One lucrative way of making money through your blog is by getting paid for selling products produced by others. Similar to ad placements, this form of monetization posts an ad for the company's product on your website. You may integrate these ads into a general post on the matter, or you could even write an entire review – whatever suits your style the most. You then receive a commission whenever someone clicks on your link and makes a purchase. Some companies credit you with a sale if made during a certain timeframe, while other companies pay only if the purchase comes from the initial visit to your website.
You can also add affiliate links to your social media accounts and email messages. Payment from advertisers from affiliate links is usually pretty high when compared with the very small payments you receive from ad placements.
4. Membership site
Another option to monetize your website is to host a membership site where some content is sequestered behind a paywall. I've seen this done effectively by financial advisors where they share their stock tips with investors through a member newsletter or membership site, but you can certainly do the same with other products. For instance, some training sites offer a few courses for free but charge for more advanced training.
5. Supplement all of the above with other online revenue streams
There are many different ways to make money online today, including those that do not directly relate to your website. It is always a good idea to look into these further to make extra money to supplement any periods when traffic to your website is quiet. Make sure you do some research, as some opportunities are not worth the effort.
Conclusion
As you can see, there are many different ways that you can make money from blogging. There is no denying that you will need to put the work in and a little bit of patience can go a very long way. Nevertheless, if you sit around and put all of these actions on the back burner, you will never get anywhere, so a proactive approach is necessary. Good luck!
Need marketing help to support business growth?
We welcome the opportunity to show you how we can make your marketing SIZZLE with our data-driven, results-oriented marketing strategies.  Sign up for our FREE newsletter, get our FREE guide to creating an awesome website, or contact us for more information on hiring us.
Hausman and Associates, the publisher of MKT Maven, is a full-service marketing agency operating at the intersection of marketing and digital media. Check out our full range of services.