Last week we sat down with Brian Solis after his Keynote at DC Week. He discussed the connected consumer in his address, highlighting challenges inherent in the transformation of consumers' use of technology. We discussed these connected consumers and his new book, The End of Business as Usual" Rewire the Way you Work to Succeed in the Consumer Revolution.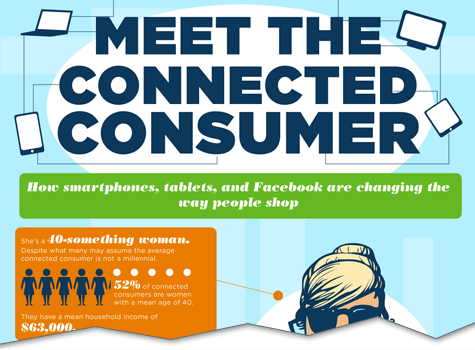 Brain talks about a different type of consumer, and, whether you work in B2C (business to consumer), B2B (business to business), or government to constituent the way connected consumers interact with the internet impacts your approach to marketing online. This connected consumer requires a different business model to successfully reach them in their fragmented and multi-tasking world. Connected consumers aren't just on social networks, like TikTok and Instagram.  (Although, with nearly 3 billion users, Facebook is now bigger than the entire internet in 2004.).
What are connected consumers?
According to experts:
The "Connected Consumer" isn't an imaginary person, but a term that fairly accurately describes what the individual, digitally engaged consumer has come to expect from brands today. Consumers are more used to digital channels, connected devices and adopting new technologies on a daily basis.
Connected consumers are on their smartphones (nearly 7 billion users as of March 2023) and other mobile devices, such as tablet computers constantly. Often, a user's mobile is the last thing they see at night and the first thing they access in the morning; sometimes checking their phone for notifications in the middle of the night. With use explosion of smartwatches that instantly bring notifications to your wrist, users are constantly surrounded with information from online activities. Mobile access to the internet represents nearly half of all access to the internet and will surpass access via desktop computers (including laptops) within the next 5 years.
So, what does this mean for businesses? According to Brian Solis, it's not about technology, it's about how technology impacts the consumer, affecting everything about consumer behavior from how they learn, to how they make decisions, to how they're influenced.
Meet the connected consumer
As you can see in the infographic below, the connected consumer is constantly online, whether it's watching a morning program via streaming TV while getting ready for work, buying one of the discount deals using the QR code features on the screen, or adding the shirt advertised with a click from the Amazon page. At work, you're on a desktop (laptop) device for work, while checking email and social media notifications that ping your phone throughout the day. During lunch, you shop online for items you saw in social media advertising. Before heading home, your smart refrigerator sends a message letting you know your supply of milk is below your preset amount, so you add stopping at the grocery store to your list or build a shopping cart to pick up on your way home.
You make another stop on your way home to buy new cleats for your son who starts soccer practice next week and a beacon notifies you about a discount coupon you can redeem if you add another item to your cart before heading to the checkout. In the evening, after you get the kids in bed, you settle down to watch your favorite TV program, likely streaming from an internet provider rather than through your cable (who has cable anymore?). While you watch, you scroll through your notifications that piled up while you had some family time and remember you need to book a haircut, which you do by using the online app developed by your salon.
Before bed, you brush your teeth using an app created by your dentist to ensure sufficient brushing. Then, you prop yourself up to scroll through social media one more time before plugging your device to charge next to your bed. First thing when you wake up to the alarm on your phone, you check notifications, answer SMS messages, and see what happened on the new app overnight before checking your email and social media for anything of interest.
Connected consumers create new touchpoints
So, you need to look at your organization and how it's structured to optimize marketing to the consumers who are constantly accessible online. Brain Solis argues that there's a significant gap between your business and connected consumers that costs you money in terms of lost sales. Brian points to how businesses currently use social media to highlight this gap.  Companies use social media the same way they use traditional media —
Take a message, take a value proposition, take a contest, take a campaign and push it. Customer service, yeah, we'll respond to you, but we'll put you back into the machine because that's how we're structured to deal with you.  We don't have enough people to deal with you here.
They share everything — what they're watching, what they're doing, what they're feeling. They're quite literally connected; not just to technology, but to each other and brands. Businesses must connect with the hearts and minds of these connected consumers if they hope to succeed with this group of consumers that's growing rapidly and, as more Gen Z enter the workforce with their buying power, the necessity of connecting with them only grows. This starts with knowing your target market.
Know your customer
Your customer is no longer a member of a nuclear family (mom, dad, and 2.5 kids sitting around the dinner table every night enjoying a home-cooked meal like some Norman Rockwell painting. They're connected consumers plugged in to each other 24/7, even texting family to let them know dinner is ready (Dominos has an app that notifies the entire group when the pizza is nearly there).
If they watch TV at all, it's with a laptop sitting on their lap or while texting on their phone — people don't really call each other anymore and the only calls you get are from telemarketers so you don't answer. SMS and text are the way you communicate. Entertainment is YouTube, TikTok, or streaming video, so those expensive commercials you painstakingly created and paid dearly to transmit don't reach your intended audience unless converted to newer streaming content or via online video platforms.
This not only affects your ability to reach connected consumers, but it means a different business model because while I'm shopping your store, I'm also checking out the prices and product availability of your competitors. I'm comparing your store price with the one you offer online and using my phone to scan barcodes for a price. If you want my business, you're gonna need to WOW me with offers catering to my personality and needs and offer options for in-store access to the internet.
Maintaining a consistent brand across devices and channels is also a problem that's exacerbated by differences across platforms. Creating a consistent brand with a singular voice across devices amplifies your message and creates a consistent attitude toward the brand.
Integration
One message I heard across a number of speakers is that mobile is a bridge between real and virtual worlds, so don't think you can reach me in one or the other.  The connected consumer demands:
make the real world and virtual world work together to give me what I want
I wanna know where my friends are hangin' out, so I can join them
I wanna know where to get a pair of boots like the ones I just saw some girl at the next table wearing and who has the cheapest version of the exact brand of jeans I'm wearing right now
I wanna see all the information you put on your website about the car I'm thinking of buying while I'm in the showroom getting ready for a test drive
And, I wanna ask my friends what they think about it before I sign the papers or hand over my credit card
Giving the connected consumer what s/he wants means ubiquitous WiFi, QR Codes, and apps that let me take a picture of a product, then find it and give me information about it including where I can get it nearby and how much it'll cost. And let me pay for it without standing in line at the register — using my smartphone to charge my account.
The connected consumer wants an information-rich shopping
experience, connectivity to their social network,
and simplified exchange.
As you can easily imagine from this discussion, integrating across all the touchpoints available to consumers is essential for success. Nothing has a higher piss-off quotient than when consumers find a different price in your store versus online. Another major annoyance is not having access to enough information to make a decision. We've all had the experience of shopping for a product only to find we must look up the product online for details and specifications. Or, when the information from multiple sources doesn't match.
Plus, they want to continue the journey even when they change devices, so the journey I started on my mobile, I want to continue on my desktop without any need to repeat the steps already accomplished. You don't want to produce a customer journey like the one below.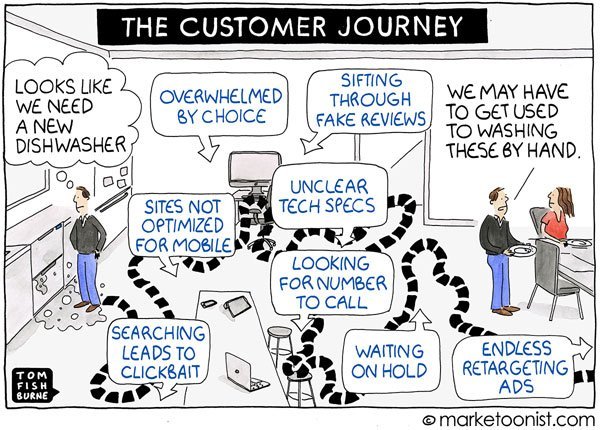 Integrating across devices is more challenging now with the imminent elimination of 3rd party cookies, although 1st party cookies will likely be around for the foreseeable future. For now, pixels can help integrate advertising across multiple devices and channels when installed on your website and social platforms.
Become a social change agent
Brian lays out 2 paths to meeting the demands of the connected consumer — you can get online and engage the customer (the topic of his last book, Engage) or you can become a change agent to adapt your organizational customer to connected consumers.
Digital Darwinism reflects the natural selection imposed on companies that fail to meet the expectations of connected consumers — the ways they learn, share, and engage with companies.
In businesses, organization, things are just evolving and you can either evolve with them or be subjected to natural selection and disappear.
Conclusion
Over the last week, I spent a ton of hours with some really smart people learning about cutting-edge strategies in tech as part of DC Week.  One thing that really resonated is the idea of a connected consumer — not just one using social media or mobile devices, but a truly connected consumer who's digitally plugged in all the time.
How do the insights from these speakers translate into strategic opportunities for your business? Share your ideas below.
Need marketing help to support business growth?
We welcome the opportunity to show you how we can make your marketing SIZZLE with our data-driven, results-oriented marketing strategies.  Sign up for our FREE newsletter, get our FREE guide to creating an awesome website, or contact us for more information on hiring us.
Hausman and Associates, the publisher of MKT Maven, is a full-service marketing agency operating at the intersection of marketing and digital media. Check out our full range of services.