According to articles in the Huffington Post and Forrester, crafting a better customer experience has benefits flowing directly to your bottom line, including:
reduced churn (going to a competitor) – 85% of this churn is preventable with better customer service
cost savings – Sprint saved $1.7 billion through fewer service calls when it improved its customer experience
increased profits – it's 6-7X more expensive to replace an unhappy customer than to keep that customer happy
higher revenue – 55% of respondents say they're willing to pay more for a good customer experience
less negative word of mouth – only 1 in 26 unhappy customers will complain, the rest leave and tell their friends about poor customer experiences
increased referrals – while 72% of happy customers share the brand with 6 or more people
better employee satisfaction and less turnover – no one wants to be criticized by customers
No wonder customer experience is the new battleground where brands fight for sustainable competitive advantage. Yet, most fail. And, for many others, they're focused on addressing customer complaints quickly rather than eliminating them (or reducing their frequency).
While it's possible to survive and maybe even flourish, with poor customer experiences, it makes the firm vulnerable — to competition, to substitutes, to alternatives. And, once someone comes along to challenge a firm providing a poor customer experience, it's nearly impossible to survive or recover, according to Forrester.
Ignore opportunities to provide a better customer experience at your peril![Tweet "Ignore customer experience at your peril #customerexperience"]
Crafting a better customer experience
First, let's identify what we mean when we talk about customer experience. According to Gartner, it is:
the practice of designing and reacting to customer interactions to meet or exceed customer expectations and, thus, increase customer satisfaction, loyalty and advocacy
Next, let's take a look at the 4 steps involved in creating a better customer experience:
Develop persona(s)
Craft a customer journey map or maps (if multiple paths to purchase)
Identify the critical path(s) through the customer journey including the use of different devices and uncovering roadblocks
Optimize customer experience
Notice that I don't include failure recovery strategies in my list of steps. That's because providing a better customer experience DOESN'T mean fixing problems when they occur, but eliminating or reducing the potential for customer failures.
Step 1. Develop persona(s)
You'll never build a better customer experience unless you understand your customer — what's important; how they live their lives; what devices they use and how they use them, etc? Don't assume you know what they want just because you know what you want.
For instance, I recently had an accident requiring a lot of X-rays and medical treatments. It's really cold in winter when your only clothing is a skimpy hospital gown. Sure, employees are comfortable with the temperature, but I'm freezing. Your experiences as a business owner or employee don't necessarily reflect the experiences of your customers.
While you can understand customers without building a persona(s), it's a great exercise that benefits other customer outreach activities. So you might as well do it as part of your customer experience program.
Why customer persona rather than target market? Because industries developed target markets using relatively anemic tools focusing on demographics rather than the more important psychographics that drive customer behavior. But, both mean essentially the same thing.
You can't create a persona or personas without doing some research. Sources of information include:
Digital analytics such as Google Analytics and Facebook Insights
Original research on customers using social media and/or traditional research methods
Asking customer contact personnel for insights
Hubspot offers a free template for creating buyer personas. Just be careful to research data for the template rather than simply filling it in based on your own perceptions — which are likely wrong.
Step 2. Customer journey mapping

If you can't see the details of this rather elaborate customer journey map, click on the image to make it larger.
This customer journey map for Rail Europe identifies each stage in the passenger process from researching options to post-travel to identify critical elements of the process at each stage and devices used to accomplish goals for the stages. For instance, search and shopping are commonly accomplished on a device such as a laptop or desktop computer, while subsequent stages rely more heavily on phone and mobile devices.
Critical paths and roadblocks along the customer journey
Identifying activities customers employ to accomplish their goals helps organizations provide for just what they need when they want it on the device they're using at the moment. A superior customer experience anticipates what the traveler wants and what information is most salient at that moment.
For instance, a traveler en route wants information on whether their train is on time and activity options when they arrive at their destination. The fewer clicks necessary to get that information and displaying it in an easily read fashion improves the customer experience. Not providing accurate and timely information destroys customer experience. Also, explaining any delays and providing the customer with options reduces dissatisfaction and improves the customer experience.
I was once stuck in an airport for 8 hours. Customer service personnel had limited information and couldn't estimate when the flight would take off. Certainly, bad weather makes such estimates challenging, but when delays are caused by controllable factors, such delays create poor customer experiences. Had I known I would be stuck in the terminal so long, I would have options, but not knowing meant I had to stay near the gate — missing meals and enduring uncomfortable seating — when I could have left the gate to enjoy a meal in another terminal, shopped, or even left the airport and returned at a later time.
Better customer experience comes from clear, accurate communication.
Here are just a few common issues that contribute to a good customer experience:
Logins – make logging in optional or easy for customers
Easy payment – often I don't have my credit card nearby when ordering online. Offering PayPal means I don't have to retrieve my card. I also have protection from unscrupulous websites which increases my trust in your site
Calling options – many customers use a mobile device to make calls. Using letters instead of numbers worked when people used landlines, but they're a nightmare for mobile customers. Also, if done correctly, users can make a call by selecting their number from the website without having to copy and paste it into their phone. Make your contact information — phone, address, email — easy to find on your website.
Electronic options – searching for a place to print out your boarding pass, receipt, or ticket is annoying. So is finding an envelope and stamp. Or entering useless information multiple times on a form. Make sure you offer an electronic option for customers and saving information from 1 screen to the next.
Atmospherics – if you've ever tried having a conversation in most restaurants today, you know it can be challenging. Between the hubbub in the kitchen, other conversations, and the ubiquitous music playing too loud, you can't even hear yourself think, let alone hear fellow diners. Poor traffic flow means you're constantly jostled, inconvenienced (think IKEA), or can't find what you want. Long lines mean you can't plan your time effectively. Poor lighting or layout in parking lots makes them a death trap. Inconsistent signage makes it difficult for customers to find you.
Optimize the customer experience
Before you can optimize the customer experience, you need to measure it.
A service audit is a perfect tool for identifying failures and creating a better customer experience.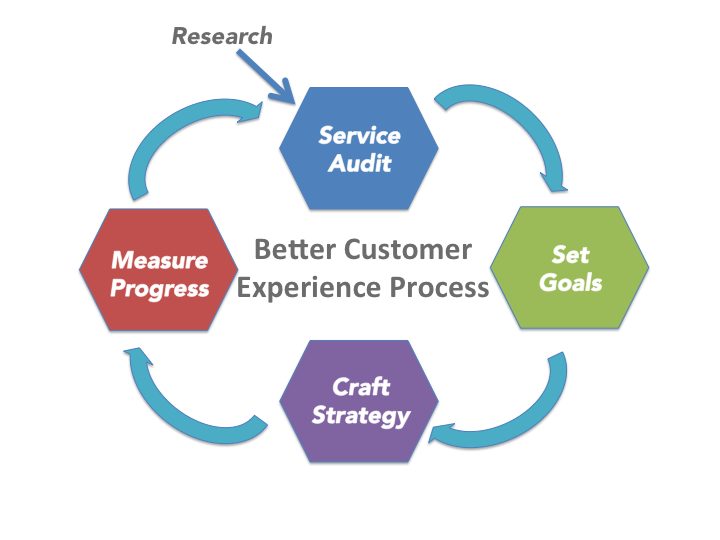 A service audit quantifies performance across points of contact in the customer journey — see why mapping is so important.
Here are examples of elements you'd include in the service audit of the Rail Europe journey displayed above:
how many clicks does it take to research and buy a ticket?
how long does it take to reach a customer service rep by phone?
what percentage of social media complaints are handled within 20 minutes?
what percentage of trains arrive on-time?
what percentage of trains offer food?
what percentage of passengers rate the cleanliness of trains and stations as good or better?
how do customers rate the performance of the mobile website?
The process for optimizing the customer experience. 
Once you have data to complete your service audit, your next step towards a better customer experience is to set goals, such as increasing on-time arrivals by 15%. Next, craft a strategy for reaching each goal identified and a plan for implementing it, including allocating the budget necessary. Finally, develop a plan to assess performance on a consistent basis.
Need marketing help to support business growth?
We welcome the opportunity to show you how we can make your marketing SIZZLE with our data-driven, results-oriented marketing strategies.  Sign up for our FREE newsletter, get the 1st chapter of our book on digital marketing analytics – FREE, or contact us for more information on hiring us.
Hausman and Associates, the publisher of MKT Maven, is a full-service marketing agency operating at the intersection of marketing and digital media. Check out our full range of services.