Sometimes, outsourcing makes sense and sometimes it doesn't. In this guide, we offer 15 situations where outsourcing makes sense. There are a lot of important aspects to running a successful business, and you can find it hard to juggle everything on your own, especially if you have a small team. Many business tasks take specialized training and experience and a small team likely lacks the totality of skills necessary to run a business without help. In other cases, you just don't have enough hands to go around to accomplish everything you need to get done on a routine basis.
That's why outsourcing is such a popular option for busy business owners. Outsourcing makes sense when it expands the ability of your firm to operate successfully but the cost of outsourcing doesn't make sense when you manage the tasks yourself. When you outsource, you delegate tasks to other people or businesses so that you can focus on the most important parts of running your business. This can free up a lot of time and energy, which you can then put toward growing your business.
There are a lot of different areas where business owners can outsource, and the decision of what to outsource and what to keep in-house depends on each individual business owner's needs, skills, and preferences. However, there are some areas that are commonly outsourced by businesses. These options offer a great place to start in determining whether outsourcing makes sense for certain functions.
Here are a few examples of when outsourcing makes sense
1. Social media marketing
Social media is a great way to connect with customers and promote your business. However, managing social media accounts can be time-consuming. And, just because you use Facebook or Twitter for your personal communications with friends and family, it doesn't mean you have the chops to manage the social media accounts for a business.
To run a successful social media campaign, you need:
To understand the types of posts that build a community and create engagement with your brand
Which social media platforms offer the best options for your business
How to read analytics reports generated by various social media platforms and 3rd party providers
Know how to use social media automation to maintain consistency and quickly respond to social media users
Determine the optimal number of posts per day and the best times to post to achieve your marketing goals
Create content that fits with the chosen platform and with your target market
Setting up paid social media campaigns that deliver
That's why many businesses choose to outsource their social media marketing to experts who can handle everything from creating content to interacting with customers. In fact, you might find it is cheaper to hire an agency versus trying to do social media marketing yourself.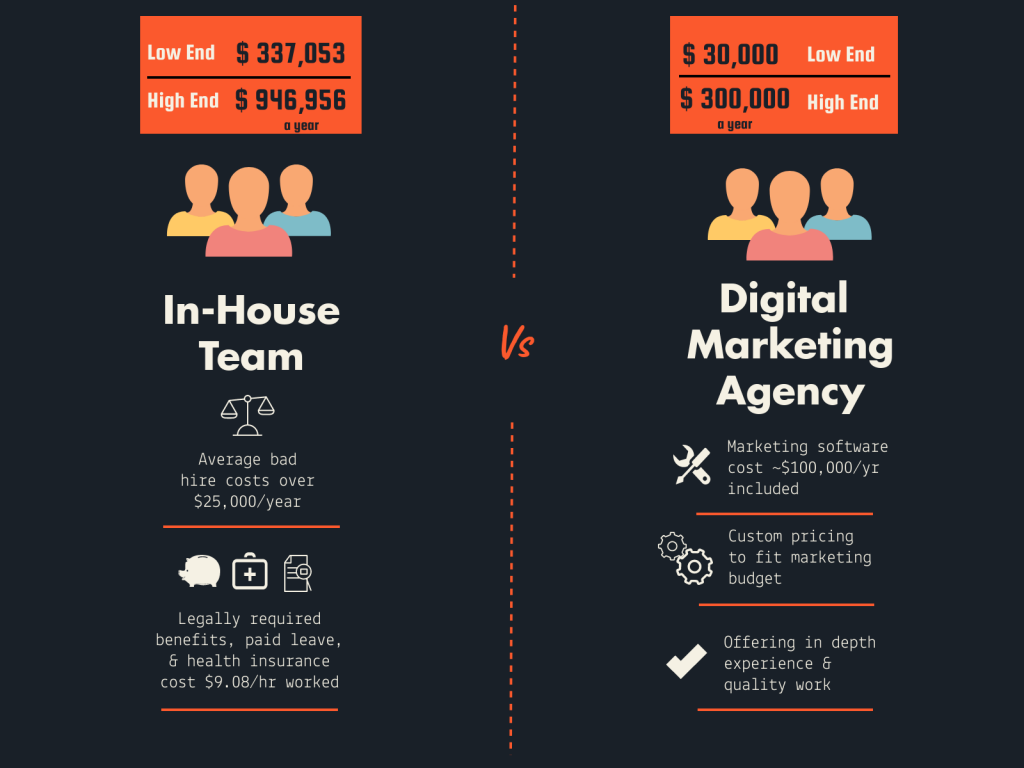 2. Customer service
Customer service is another area where outsourcing might prove helpful. Delegating customer service tasks to someone else can help you free up time to focus on other aspects of running your business. Additionally, outsourcing customer service can also help improve the quality of your customer service since you work with experienced professionals.
Chatbots are AI-enabled tools to automate routine customer service tasks such as answering questions by simulating human communication. But, training and maintaining a chatbot isn't something you can do by yourself unless you're an AI expert.
3. Bookkeeping and accounting
Bookkeeping and accounting are important tasks for any business, but they involve specialized knowledge on topics that vary over time, especially when it comes to taxes. That's why many business owners choose to outsource these tasks to professionals. This can help take some of the pressure off of you and ensure that your finances are in good hands.
4. SEO
SEO (search engine optimization) is another important aspect of running a successful website. It involves optimizing your website so that it appears as high as possible on search engine results pages. As you can see below, showing up higher in search results drives more traffic (called organic traffic) to your website, resulting in more opportunities to reach your goals.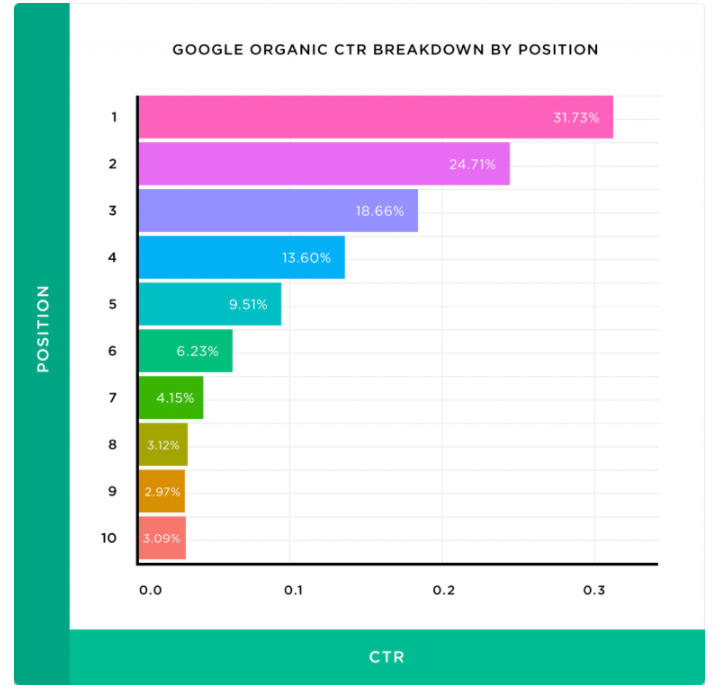 However, SEO is a complex and ever-changing process. It's also very technical once you really get into the nitty-gritty, such as increasing site speed and setting up security protocols, so it's often best to outsource SEO to experts.
5. Lead generation
Generating leads is essential for any business that wants to grow. However, it's sometimes tough to generate leads on your own. That's why many businesses choose to outsource lead generation to professionals who can help them create targeted campaigns and reach potential customers.
6. Content marketing
Content marketing is a great way to promote your business and attract new customers. It's also essential for companies who want to improve their organic traffic as creating valuable content on a consistent basis is the #1 factor impacting website rank.
However, creating high-quality content several times a week takes time and effort, especially when it comes to long-form content such as your company blog. If you don't have the resources to create content yourself, consider outsourcing this task to experts who can help you develop a content marketing strategy and produce high-quality content on a regular basis.
7. Email marketing
Email marketing is a great way to stay in touch with your customers and promote your business. It's also the key element in any lead nurturing program that turns leads into paying customers. However, managing an email marketing campaign is time-consuming. Email marketing involves both building your subscriber list, then sending segmented and personalized email messages to list subscribers.
That means using some type of lead magnet to encourage subscribers, segmenting your list so you can send the most influential messaging to subscribers, and crafting messages to subscribers that get opened and gain clicks. If you don't have the time or knowledge to handle your email marketing yourself, consider outsourcing it to professionals who can manage everything from creating email content to sending out campaigns.
8. Data entry
Data entry is an important task for any business that wants to stay organized. However, it is time-consuming and tedious. If you don't have the time or resources to do data entry yourself, consider outsourcing it to professionals who can handle this task quickly and accurately.
Also, consider outsourcing to a software development firm that can automate a lot of what required data entry in the past or purchase software that fits this role. Automation not only reduces your data entry needs but reduces errors.
9. IT support
If you have a computer or network in your business, you'll need managed services at some point. IT issues are complex and time-consuming, so it's often best to outsource IT support to experts. This can help you avoid downtime and keep your business running smoothly.
10. Telemarketing
Telemarketing is a great way to reach potential customers and promote your business. However, telemarketing is much harder today than at any time in the past. First, consumers have more options to reduce the access of telemarketers to reach them. Plus, consumers are more prone to hang up on telemarketers today than at any time in the past. Surprisingly, telemarketing also requires software to work properly.
If you don't have the time or resources to handle telemarketing yourself, consider outsourcing it to professionals who can manage everything from making calls to setting up appointments.
11. Event planning
Event planning is a great way to promote your business and attract new customers. However, it is tough to plan an event on your own. If you don't have the time or resources to handle event planning yourself, consider outsourcing it to professionals who can help you plan and execute a successful event.
12. Recruiting
If you're looking to expand your business, you'll need to find and hire new employees. However, recruiting is a time-consuming and complex process. You can handle recruiting yourself or outsource to firms like Glassdoor that handle much of the heavy lifting for you. Some online recruiting tools can even administer tests or filter candidates based on the skills you need so your task is much easier.
13. Public relations
Public relations is a great way to promote your business and attract new customers. However, to get the media coverage you need to know how to create the kind of press releases likely to get published and you need established relationships with the media or your PR goes nowhere. Hiring a public relations firm gives you these needed skills.
14. Market research
Market research is an important tool for understanding your market so you can better market to them. This involves understanding product gaps you can potentially fill, how they feel about your brand and your competition, and other consumer insights that help drive your business.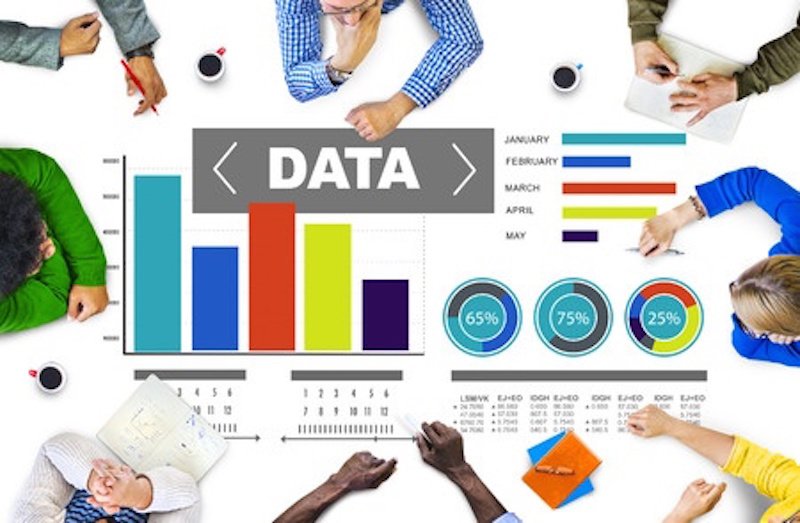 But, doing market research badly is worse than having no information to guide decisions. You need only look at some really bad decisions made by top firms to know the dangers inherent in bad data. Analyzing data also involves technical skills you can't fake.
15. Copywriting
Writing copy that converts isn't an easy task. It takes experience and expertise to create good copy, as well as knowledge of how to reach specific markets via certain channels. Hiring a skilled copywriter saves time and money while still helping you reach your goals.
In Closing
These are just a few examples of the many areas where business owners can choose to outsource. When you're running a business, it's important to focus on the most important tasks and delegate everything else to someone else. This will help you save time and energy so that you can grow your business.
If you're considering outsourcing, there are a few things to keep in mind. First, you need to make sure that you're working with a reputable company or individual. There are a lot of scammers out there, so it's important to do your research before hiring anyone.
Additionally, you'll need to clearly communicate your expectations to the person or company that you're outsourcing to. This will help ensure that they understand what you want and need and that they can deliver the results you're looking for.
Need marketing help to support business growth?
We welcome the opportunity to show you how we can make your marketing SIZZLE with our data-driven, results-oriented marketing strategies.  Sign up for our FREE newsletter, get our FREE guide to creating an awesome website, or contact us for more information on hiring us.
Hausman and Associates, the publisher of MKT Maven, is a full-service marketing agency operating at the intersection of marketing and digital media. Check out our full range of services.