If, like many businesses around the world, you resorted to working remotely throughout the pandemic and might consider making this a more permanent arrangement, here are the skills you must develop in your staff to ensure remote work delivers the same high performance over the long run.
Whereas the last year was all about making the best of a bad situation during the pandemic, keeping employees and customers safe, it's now time to think about whether to require staff to return to the office or, if not, how to make remote working effective for the foreseeable future.
Working remotely
First, let's turn our attention to why working remotely is the right answer to your staffing needs, even when separation isn't required for safety. I mean, the world is starting to return to normal and offices in many places can now safely open their doors to employees and customers. So, why wouldn't you want everyone back in the office?
A great reason to continue working remotely is that your staff really likes working in a virtual environment, at least part of the time. Check out this recent survey and you can see that almost all employees want to work from home, at least part of the time, forever.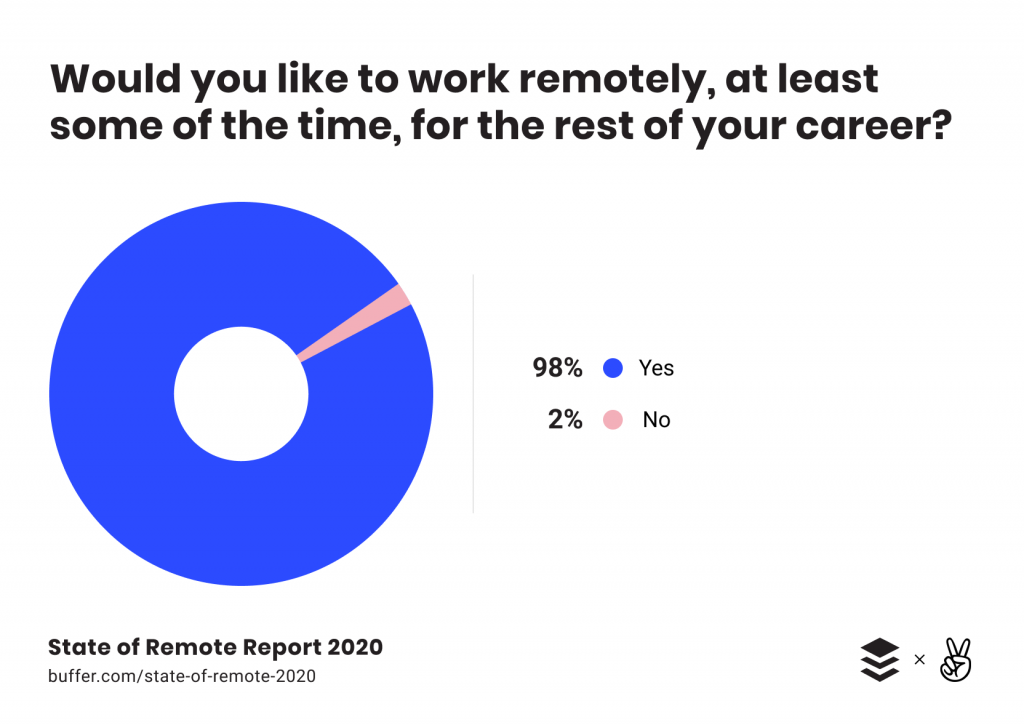 It's easy to see why employees might like working from home as it affords them a better work/life balance while eliminating wasted time commuting to a central location. But, why should employers choose this environment over more traditional workplace options requiring employees to work together in an office?
Productivity gains
While this seems like an oxymoron, employees actually show productivity gains of between 35% and 40% over those working in an office. Turnover among workers given the flexibility to work from home was 12% lower and absenteeism showed a 41% improvement, according to Forbes.
Lower expenses
Office space is expensive, especially in desirable locations such as New York City and Palo Alto California. Pre-pandemic, office space in NYC commanded as much as $100/ sq foot if you could even find appropriate space. And, while renters are in the driver's seat when it comes to negotiating rent even in the most desirable cities, rents are rebounding quickly as the world recovers. With most of your staff working remotely, you no longer need dedicated office space to house your entire staff. Instead, downsize to accommodate meetings and occasional in-office activities with shared spaces and stagger employees to match your smaller footprint.
Employees also suffer from your choice of office location as housing and other living expenses, such as child care and food, are also expensive in those cities. Not everyone wants to live in these cities and face the stress associated with resulting crowding on top of high costs. This limits your opportunities to hire the best people for your firm.
Requiring employees to live within a practical commuting distance of an office often means you must pay top dollar to attract the kind of talent necessary for a given role. By allowing workers to work remotely, you can offer lower salaries without sacrificing the quality of your employees.
Environmental aspects of working remotely
Working remotely is also good for the environment, saving millions of gallons of gasoline no longer needed to commute to and from work. According to the US Census Bureau, the average daily commute in the US is just under half an hour. That means workers spend 2.5 hours of useless time per week driving to and from their jobs, consuming gasoline in single-passenger vehicles, for the most part. The environmental impact of all that gasoline on greenhouse gases, poor air quality, and other issues related to burning fossil fuels just doesn't make much sense.
Plus, commuting means most families need 2 or more cars and the manufacture and disposal of all these cars, their tires, waste parts, and oil changes, further contribute to the degradation of the planet.
Will we continue to work remotely?
That's not to say you're never going to have physical interaction between your employees anymore. Many offices allow employees to work from home or the office as we emerge from the pandemic. Certain careers don't lend themselves to remote work, such as the court system where everyone must work together. But, many jobs where we never considered remote work possible are indeed effectively completed remotely. Even for companies where working remotely is the new normal, they will still have regular get-togethers and celebrations that mix company updates and training with social events using custom flags and corporate branding everywhere so that people still feel like they're part of a team, not just a name in a chat window.
Companies may also have teams work in the office one or more days a month to maintain the social capital that greases the wheels of industry. Working in the same space also promotes creativity and innovativeness.
To work effectively in this fluid environment, employees must develop certain skills to thrive. Here are the main skills that will serve them and your company well.
Skills for working remotely
Self-discipline
With no boss looking over their shoulder, employees must manage their workload independently and take charge of completing tasks on time. They won't receive as much hand-holding, so you need systems for project management that work in a remote situation.
Similarly, avoid programs that track time spent on task, such as video monitoring or keystroke capture programs as they tell employees you don't trust them. Instead of increasing productivity, these strategies often tank efforts to boost productivity as employees seek ways to trick your monitoring efforts.
Time management
This isn't the same as self-discipline. Time management is much harder when you're working from home with many distractions. Sure, it works well to throw in a load of wash while you wait for a program to crunch some numbers or to take a walk when you feel stressed, but feeling the siren call of Netflix kills productivity.
By offering training on time management you'll find team productivity increasing.
Tech skills
Many companies found themselves adopting digital technologies at a rapid pace during the pandemic. Team members had to quickly master the art of the Zoom call and learn to access what they needed from the company server remotely. We all went through the inevitable barrage of questions and folks who couldn't seem to join calls or who never remembered to mute themselves when they weren't talking.
With team chat and video conferencing becoming the norm, employees must adapt to this new way of communication and the nuances of each platform.
Emotional intelligence & empathy
The best managers are those who show empathy and emotional intelligence in their roles. It helps them understand the challenges in front of people and how to navigate these and drive forward.
Working remotely challenges a manager's ability to work with employees, especially those who aren't good with technology or tend to stalk meetings rather than participating fully. Training managers to draw out reticent employees so they understand the issues facing each employee makes for a more successful team.
Motivation
Many roles involve communicating and persuading colleagues and customers to come around to your way of thinking and ideas. This is more difficult when done in a remote setting which makes these skills even more in demand.
Conclusion
Now that it looks as if working remotely is here to stay at least as a part-time option, it's time for both employers and employees to up their game in the skills that are needed to make remote work effective.
Need marketing help to support business growth?
We welcome the opportunity to show you how we can make your marketing SIZZLE with our data-driven, results-oriented marketing strategies.  Sign up for our FREE newsletter, get our FREE guide to creating an awesome website, or contact us for more information on hiring us.
Hausman and Associates, the publisher of MKT Maven, is a full-service marketing agency operating at the intersection of marketing and digital media. Check out our full range of services.