E-commerce marketing mainly involves selling your products online, which is much cheaper than building a physical retail business and, thus, offers a high ROI (return on investment). However, starting your own e-commerce business is much more complicated than simply adding an e-commerce plugin like WooCommerce to your website. You must consider both front-end operations (such as acquiring the right products to sell and warehousing them) as well as back-end operations such as fulfillment and shipping. Hiring an agency that specializes in e-commerce marketing helps ensure your business works efficiently and delivers on its promise of revenue.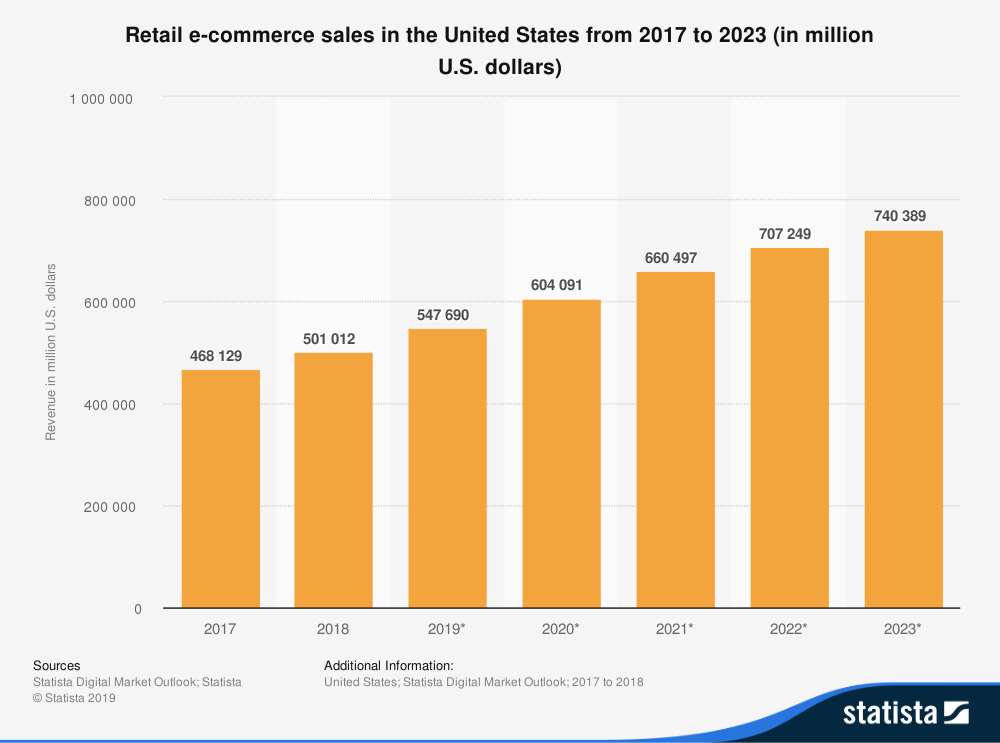 As you can see in the image above, e-commerce has grown by leaps and bounds. Note that this data was produced before the Covid shutdowns and, thus, underestimates the true growth of e-commerce brought on by the pandemic. Experts predict these pandemic gains in e-commerce will continue. E-commerce is more that just selling online. It includes data and monetary transactions through the internet, online marketplaces, online auctions, subscription-based businesses, wholesalers, online stores, sales of software, eBooks, audio, video courses, etc., and crowdfunding platforms are all part of e-commerce. Hence, starting or expanding your e-commerce business makes financial sense, even though it isn't all that easy.
Ecommerce marketing is the marketing effort you put into promoting general sales in your online store. E-commerce marketing involves the following;
Customer acquisition and customer retention
Positioning your brand to meet its target audience
E-commerce marketing drives traffic to your website
Converts your site visitors to new customers
It stimulates massive and regular orders
Keeps your old and new customers up to date with your company's latest offers and provides relevant information about your company
Enhances post-purchase experience to drive loyalty and heighten your customer's shopping experience
Why hiring an agency specializing in e-commerce marketing makes sense
An agency specializing in e-commerce has the right marketing technologies and skills to help your online stores generate massive sales and traffic. E-commerce marketing agencies like Forge Digital Marketing combine branding, influencer marketing, social media, email marketing, search engine optimization (SEO), and more. Implementing these elements of e-commerce means you enable your company to rank higher in search engine results and boost your online presence to not only attract visitors but convince them that buying from your e-commerce store makes sense. All of this helps grow your business faster with less cost as an agency is often less expensive than doing it yourself.
I know it sounds counter-intuitive to expect a lower cost from hiring an agency than doing it yourself but it's true in many cases. That's because an agency subscribes to high-priced tools like Adobe Creative Cloud to optimize your product images and reporting tools such as SEMrush to handle your SEO. The agency then apportions these costs across all their clients so you gain the advantage offered by these tools without the high cost inherent in purchasing them yourself. As we'll see later, hiring an agency offers other cost-effective tactics for your e-commerce business.
Below, you see how these costs add up to make a digital marketing agency more cost-effective. The same holds true for an e-commerce marketing agency.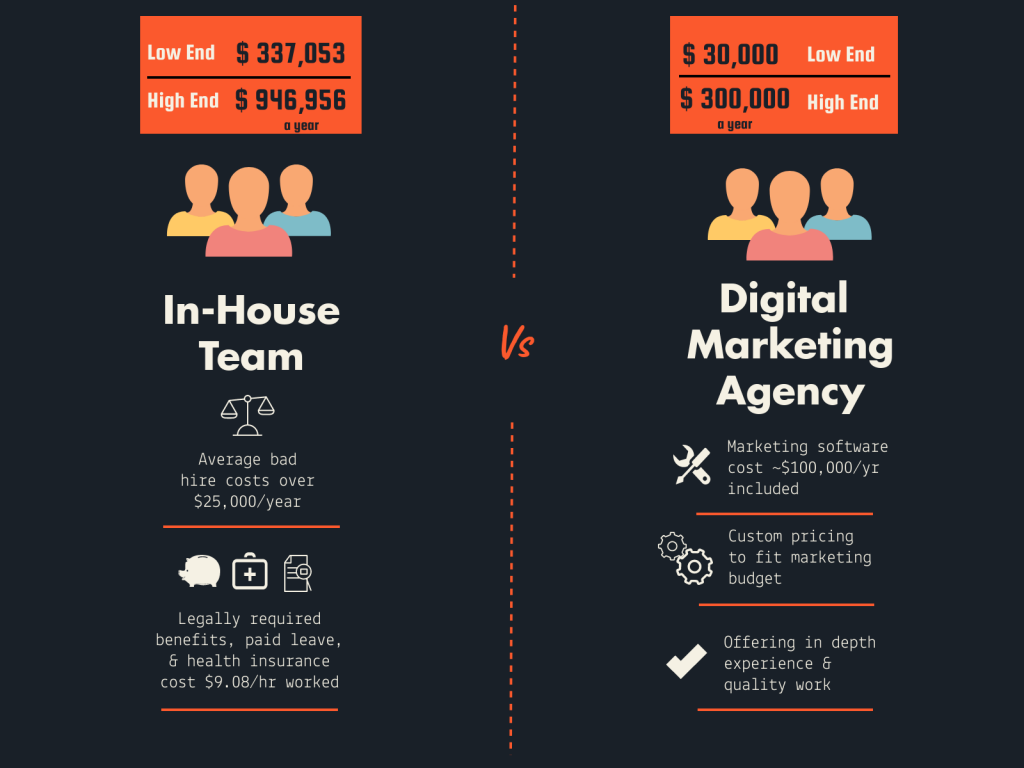 Hence, there are various reasons why you need to hire an ecommerce marketing agency, and enumerating these reasons helps you gain insight into what you want for your business. The explanations regarding why you might need the services of an e-commerce marketing agency include the following;
1. Lack of expertise
As a small company, you often find it challenging to hire the types of folks needed to manage your e-commerce operation as these folks need not a single skill but training and expertise across multiple areas such as analytics, marketing, finance, SEO, and more. Thus, hiring your own people means hiring multiple employees, which is very expensive. It's also wasteful as it's unlikely you can find enough work to keep these employees working full time and, hiring part-time workers with sufficient expertise is often challenging. Even in the gig economy, you'll likely find it difficult to find and integrate gig workers to form a sound strategy.
Hiring the services of a professional e-commerce marketing agency allows you access to all the various experts you need without the high costs.
2. Lack of capacity
E-commerce operations often involve peaks and valleys when it comes to workload. Hiring enough staff to meet peal needs is wasteful and hiring staff to only handle your average workload means you can't meet deadlines to get your holiday promotions up in time to get the most bang for your buck. If your organization has loads of work to finish before a set deadline, like a holiday, but you lack the necessary/appropriate resources and time to complete the job, you need to hire a professional e-commerce agency with sufficient staff to handle both peak and average needs or hire an agency during peak times to supplement your own staff.
3. In-house staff isn't up to snuff
Maybe you hired in-house staff to manage your e-commerce operation but they consistently fail to meet deadlines, performance goals, or deliver sufficient returns to keep your business in the black. It's time to consider another route, such as hiring an agency specializing in e-commerce to help you reach your goals.
4. Your current agency isn't delivering
Maybe you have an agency handling your e-commerce but they're not delivering either. Your current agency might lack the right skills, resources, knowledge, and expertise. If they lack these vital qualities, your business won't achieve projected results. Sometimes, businesses think it's better to use a single agency to handle all their marketing needs. And, that might work for you if the agency has folks who specialize in various marketing functions. If your agency isn't delivering, it's time to consider making a change.
What do e-commerce marketing agencies do?
1. Website strategy/design
Your company's website is your online store window, which is the most crucial element of your online marketing efforts. If you're not careful, some quirks on your website can damage the credibility of your online store and your search engine optimization. Providing a superior customer experience not only benefits your organization in visibility (by improving SEO) but creates an experience that draws customers back and entices them to recommend your site to others. A poor experience does the exact opposite.
Your website also needs to provide motivation for visitors to buy. That means (at a minimum) you need:
images of exceptional quality
easy filtering to aid visitors in finding what they want
accurate descriptions
comparison tools
shopping cart integration from companies like Shopify to sell

to do much of the heavy lifting
2. Social media
To make lasting sales on social media, you must have a thorough knowledge of how each platform works so you can optimize your social media strategy. You also need valuable content shared on a consistent basis to build your community and encourage engagement that amplifies your message beyond that community. You also need the expertise to guide you into the right social media platforms to match your target market and develop a strategy that works with the platform/ target market combination.
You need the option for social media packages that include the following; animation, custom graphic design, videography, community management, and photography.
3. Search engine optimization(SEO)
This SEO is the most critical long-term ROI investment you can make for your business. Without it, prospective customers may never get to know or see any of your advantages because they never even know you exist. SEO ensures that your website pops up near the top in online searches related to your products.
SEO generates more sales, traffic, and interest. A desirable SEO package includes;
Citation building
Keyword Research
On-page Optimization
Goal tracking and analytics
Link Building
Content Creation
Content Planning
Monthly Analytical Report
Conversion Optimization
Customized Interactive Reporting Dashboards
Online Reputation Management
4. Search engine marketing(SEM)
The similarity between SEO and SEM is just keywords. SEM involves paying a search engine to position your website in front of potential customers; it's almost the same as pay-per-click advertising. With SEM, you choose the keywords associated with your business's products, and then craft advertisements around these keywords. You need experts to help you figure out keywords, how to bid, and how to create quality ads.
What makes a good e-commerce marketing agency
1. They want to understand your brand
The right agency wants to understand what your brand/company is all about truly; they are curious and ask vital questions so they can accurately articulate your company vision.
They eagerly want to be part of your brand; they help you identify strategic opportunities and make your company's goals(both short and long-term) their central focus. If you find any agency that can nail this, stick to them.
2. Result driven
The right e-commerce marketing agency should seek to achieve the best results possible. After all, you invest time, money, and resources into the agency in hopes they meet specific objectives.
Any agency you should consider seriously can provide data to support the results they achieve for other clients, even if they don't provide the client's name. Ask them for case studies or evidence of how they analyze their customer's online activity. A good agency will provide detailed reports, analysis, recommendations, and data.
3. They have a strong company culture
A successful agency is dependent on its staff and how well they will work together with your team. The company culture and values should reflect your own culture and values. Their employees should enjoy working for the agency and supply their enthusiastic best to meet your goals.
On a final note
A great e-commerce agency, like Forge Digital Marketing, has experts that work with you to craft excellent solutions for your business and help it thrive in this digital age. Do your due diligence before hiring any agency to ensure they offer the expertise, options, and benefits discussed in this post.
Need marketing help to support business growth?
We welcome the opportunity to show you how we can make your marketing SIZZLE with our data-driven, results-oriented marketing strategies.  Sign up for our FREE newsletter, get our FREE guide to creating an awesome website, or contact us for more information on hiring us.
Hausman and Associates, the publisher of MKT Maven, is a full-service marketing agency operating at the intersection of marketing and digital media. Check out our full range of services.