The legal industry is one of the most competitive industries in the world. It's also one of the most expensive markets to play in, with some of the nation's top law firms charging more than $2,000 an hour, as recently observed by Bloomberg. Even digital marketing law firms is expensive, featuring some of the most costly keywords in Google Ads. Law firms also need specialized content marketing to ensure their content provides value to their target market resulting in a higher rank in search results and more traffic sent to their website from all digital marketing activities.
This means that law firms must use super-savvy marketing tactics to generate new business and maintain client relationships. But how do you compete against other law firms? If you're like most firms, then your marketing budget was cut during the challenging economic period we still face. So how do you generate leads without spending more money? In case you're wondering, the answer is content marketing, especially specialized content marketing designed just for law firms.
What is content marketing?
Content marketing is about creating valuable content for your target market to help your firm build trust and drive conversions over time. Content marketing is the mainstay of most digital marketing strategies. You need a constant stream of content for social media, your website, email marketing, and anywhere else you can post content online. Here are some reasons why content marketing is so essential for law firms today.
Valuable content drives organic search
Google has made it clear that content marketing is a priority by including the creation of valuable content on your website and the engagement your content receives on social platforms as one of the most influential factors in its search engine algorithm.
Their latest updates are all about helping users find content more efficiently and effectively, which means that law firms need to adapt to these changes to stay competitive. The following are just a few examples:
Google's Panda update penalizes thin or low-quality content (i.e., not helpful).
Google's Penguin update penalizes sites with duplicate or copied text from other sources (i.e., plagiarism).
Google's Hummingbird update requires that content creators understand the intent behind their search queries better than before, so they deliver what users look for using keywords that express this intent. As people ask different questions, you have more opportunities to answer them with high-quality content on any relevant topic.
Clients Google their problems before they hire an attorney
Let's face it; clients Google their problems before hiring an attorney. I mean, Google is now a verb because it reflects this tendency across all industries for users to start their search for anything on Google. People want to know their rights, whether they can settle out of court, and how much it will cost them to retain an attorney. So, in creating specialized content marketing campaigns to reach prospective clients, answer their questions in a way that motivates them to learn more about your firm.
You need content marketing if you're a law firm looking for new leads and clients. You need a strategy in place so that when people search for information related to your industry, you're one of the first results at the top of Google's search page and on social media platforms like Facebook and Twitter as well.
An SEO agency like The Page One Lawyer, which specializes in marketing for law firms, can help you get to the top of Google's search results so that when your potential clients are looking for a lawyer, your firm will be one of the first ones they see.
The Page One Lawyer helps law firms with their SEO campaigns, ensuring they get the most out of their websites and content marketing. From on-page optimization to off-page strategies like link building, The Page One Lawyer is committed to helping your firm succeed in today's competitive marketplace.
Content marketing improves SEO and generates new clients
Any law firm serious about attracting new clients and generating leads must have a solid online presence. But for your firm to succeed online, you must first understand the basics of digital marketing and, more specifically, search engine optimization or SEO.
SEO is one of the most critical aspects of digital marketing because it helps improve your website's ranking in search engines like Google and Bing. It does this by optimizing a website for specific keywords, ensuring that websites are easily found by people looking for legal help or advice on any other topic when searching online.
According to a Martindale-Avvo survey, 43% of consumers use search engines as their primary source of information when researching potential legal issues or solutions. As you can see below, there's a huge impact of search rank on the amount of organic traffic visiting your site (and organic traffic is commonly more than 50% of the traffic visiting your website, compared with only about 15% that visit from paid digital advertising).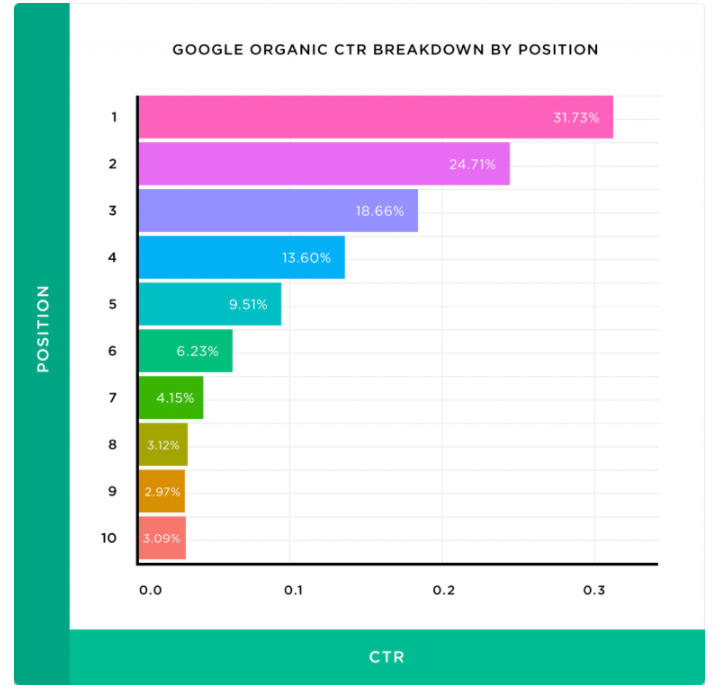 Informative and helpful content can attract b
acklinks
Backlinks are links that point to your website and are a valuable metric for measuring your content's success as they are a big factor in the Google ranking algorithm. When you attract backlinks from other sites with a good reputation (called domain authority because it's based on the number and quality of backlinks they attract), search engines know you produce quality content.
Backlinks can be internal or external. You can earn an internal backlink when someone links to your website from another page on the same site. External backlinks come from other websites and are one of the most critical factors in search engine rankings. According to an analysis by Ahrefs and Backlinko, the top result in Google has an average of 3.8x more backlinks than the sites appearing in positions #2-#10.
The more high-quality content you produce, the more backlinks you naturally attract over time. If a lawyer publishes informative blog posts or white papers about new laws affecting their industry and then shares those articles with relevant industry publications, those publications may link back to them as part of their own coverage.
Using different types of content may improve social media visibility and traffic
You can use multiple types of content as part of your specialized content marketing strategy to help your law firm grow its audience and increase traffic.
Here are some ideas for how you can use content that will improve social media visibility:
Publish blog posts about recent developments in the field or changes in the law that affect your practice area. This will make you look like an authority in your field and give people interested in the topic more reasons to follow you. The 2021 Legal Technology Survey Report found that 88% of legal professionals who write blogs do so for client development.
Share pictures or videos of events or activities at the office. This will show potential clients that the people at your firm are friendly and inviting, which could make them more likely to want to work with you.
Post photos of clients who have completed their cases, testimonials about how happy they were with their experience working with you, and contact information if they're willing to provide it. This is a great way to show off what makes your firm special.
Attorney marketing Is different
Law firm marketing differs from other businesses because of the relationship between lawyers and their clients. When you hire a lawyer, you are entrusting them with your life, your future, or your livelihood (maybe all three). You're entrusting them with your future, family, financial security, and more. That makes this a very consequential decision. In marketing parlance, we call these types of products, specialty products or even unsought products. You don't choose a lawyer based on how you feel or superficial elements such as the color palette or a cut puppy. These decisions involve a significant effort to make a decision, involving a lot of research.
So how does this affect law firm content marketing? Well, first of all, it means that trust is a huge factor when it comes to attorney marketing. Lawyers must build trust with their clients for them to succeed in their practice. This means creating specialized content marketing campaigns that demonstrate your command over the topics important to prospective clients.
It also affects how they communicate with their clients and how they write about themselves online, all things that need special attention when creating content for attorneys' websites or blogs.
Conclusion
At the end of the day, marketing for attorneys is about building relationships. You need to build trust and credibility with potential clients through your specialized content marketing, so they come to you first when they're ready to hire someone.
Need marketing help to support business growth?
We welcome the opportunity to show you how we can make your marketing SIZZLE with our data-driven, results-oriented marketing strategies.  Sign up for our FREE newsletter, get our FREE guide to creating an awesome website, or contact us for more information on hiring us.
Hausman and Associates, the publisher of MKT Maven, is a full-service marketing agency operating at the intersection of marketing and digital media. Check out our full range of services.