SEO without a sound content marketing strategy is like a person without a spirit. Both are dependent on each other. Thus, to bring the best results and send the most organic traffic to your website, SEO and content marketing must go hand in hand. However, if you don't know how to create a successful content marketing strategy that ensures you show up in related searches, read on!
Here, we use five reasons to help you understand how content marketing strategy supports your brand's SEO. But first, we briefly share the concepts of content marketing strategy and SEO. So, without any further delay, let's delve into this discussion.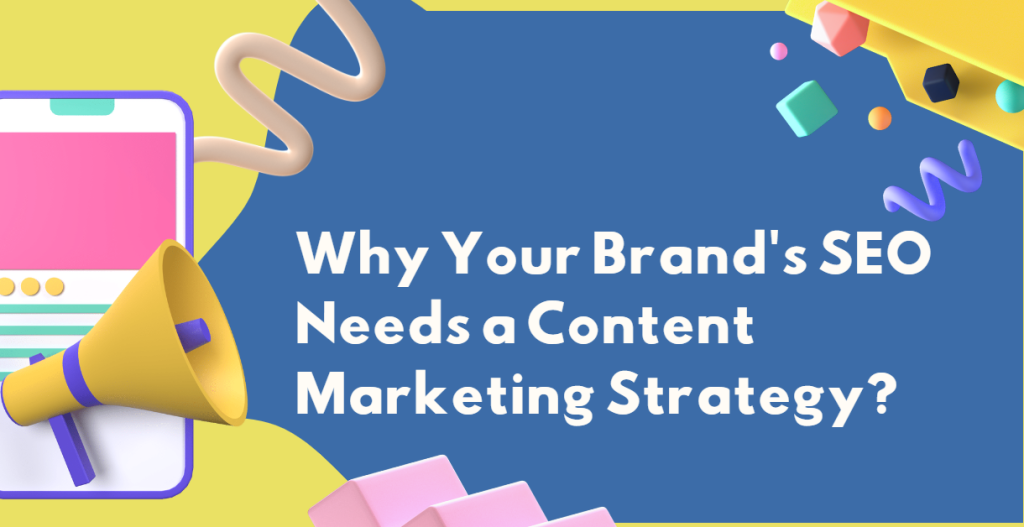 What Is SEO?
Due to the popularity of SEO, several sources define this term differently. So, before discussing our version of the SEO concept, we borrow its definition from the most popular source. This way, you will understand the concept of SEO better.
According to Search Engine Land, the definition of SEO is as follows (Land, 2010):
SEO stands for "search engine optimization." In simple terms, it means the process of improving your site to increase its visibility when people search for products or services related to your business in Google, Bing, and other search engines.
Based on this definition, we know SEO improves your rank in search engine results so you're content appears closer to the top for related keywords. As you can see below, when you improve your search rank, you increase the chances users will click on your content. We call this organic traffic and, for most business sites, organic traffic represents 53% of all traffic to a website (75% for B2B websites) as compared with only 15% from paid advertising. Thus, SEO deserves serious consideration from any website owner.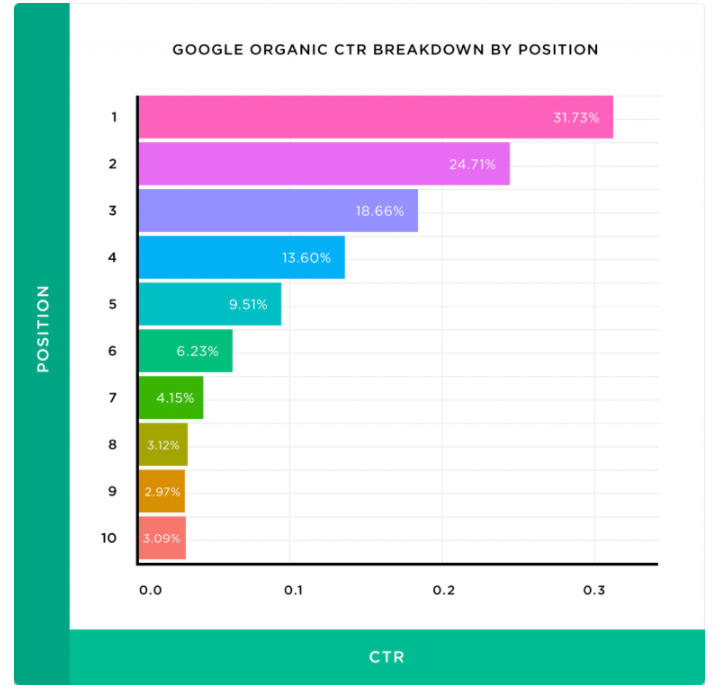 SEO is based on a complex, multi-factor ranking algorithm, which isn't published but SEO experts provide good insights into the most influential factors in determining rank. Each search engine has its own algorithm but Google, as the big tuna of search engines, offers the best starting place in developing a content marketing strategy to improve your SEO.
Among the most influential factors in the rank your content achieves are:
engagement on social media platforms in the form of comments and shares
backlinks, especially from other websites that rank well
elements that support the value of your content such as time on site and low bounce rates
match to the keywords entered into the query as shown by your H1, H2, and H3 tags (title, headings, subheadings), alt tags on your images, meta description, URL, and used liberally (although not too much and used naturally) throughout your content
linking to high-authority content published by others, just like citing a newspaper or magazine
You should see in this list how content influences your SEO since many of these ranking factors are a function of creating valuable content on a consistent basis. Now, let's move on the content marketing.
What Is content marketing?
Content marketing is a strategy for consistently creating and sharing valuable content on your website, social media, email newsletters, SMS (short message services), and other content platforms. Today, we'll focus on your website but other forms of content are also important for success and may contribute to your SEO. Common forms of content are audio (podcast), video, text (blog posts, website content, etc.), infographics, and images.
Creating content aims to draw in and engage a target market, which ultimately drives profitable customer action.
How content marketing strategy supports your brand's SEO
By now, you should truly understand the concepts of content marketing and SEO. Now, let's discuss the importance of having a content marketing strategy that supports your SEO to help you rank higher in search. BTW, you can check out how your site already does by using one of several tools available for free or at a low cost. The first option is the Google Search Console, available free of charge. You must first install the Google Analytics tracking code, which is added to your pages by copying the short Javascript provided by the platform into the <head> section or using the Google Site Kit to add the code (although I find this slows down the backend of my website).
And for that, we consider the top five reasons.
1.   Improves brand's rank in search engine results pages (SERPs)
As we've discussed earlier, the 'content' in content marketing comes in many forms and you find the best results when you mix up your posts with a variety of content. For instance, blog posts, newsletters, social media, and website content come under content marketing strategy. So, when you produce high-quality content for your blog post, newsletter, social media, or website, you basically invest in a high-quality content marketing strategy.
Thus, when you produce high-quality content on a consistent basis, other blog owners want to link to your brand, as linking to high-authority content improves their rank. And when others provide links back to your website in their content, this helps pass the link juice. Hence, your brand's rank improves.
Creating valuable content on a consistent basis requires more than a hope and a prayer. It requires a well-constructed content marketing strategy including a content marketing calendar to keep you on track. Click this link to find a content marketing calendar template to help construct your calendar. Complete the calendar, following the recommendations below for post frequency on various social media platforms. To determine the optimal frequency for email marketing, experiment to find the sweet spot between losing subscribers and reducing clicks.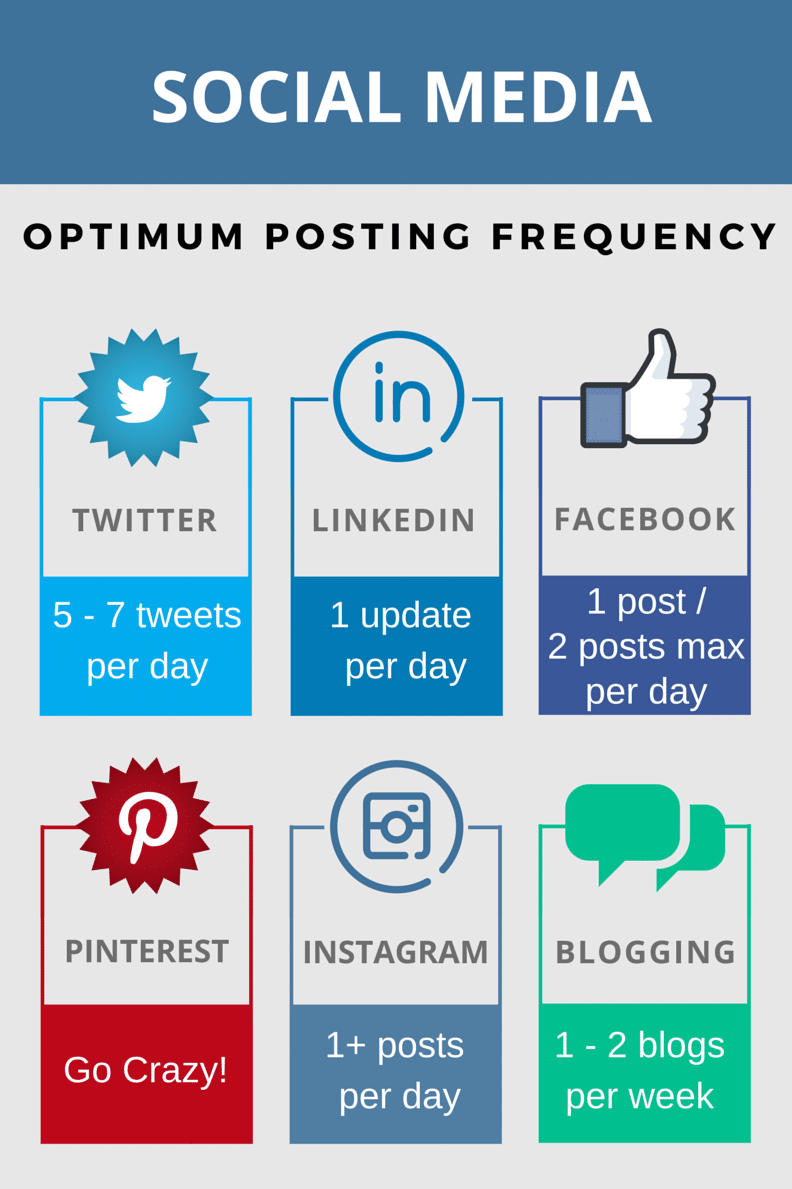 2.   Enhances the brand's organic reach across social media
Besides benefitting SERP rank, a valuable content marketing campaign can also increase your organic reach across social media. How? Let's prove this claim through an example.
The content over social media is like a mini digital billboard, whereas the news feed is like a digital highway. So, when you produce high-quality content according to the preference of your audiences, they are more likely to share that content over social media platforms, such as Facebook, LinkedIn, Instagram, etc to amplify your message and reach new users.
Thus, producing high-quality content can increase your brand's social media reach. And that's how you can build an organic social media reach through content marketing.
3.   Increases the brand's exposure through PAA
People think that organic traffic is all about the traffic coming from organic listings of SERPs. But that's not the case.
In fact, a study by Eric Enge shows that the 'People also ask' (PAA) section has an occurrence rate of 48.4 percent, which is the most among the other Google's SERPs features (Enge, 2021).
Figure 1: Click on the source to get the link to this image
This study shows that in addition to the traffic from organic listings, the 'People also ask' section can significantly improve your content's exposure. But how can you rank your content in the 'People also ask' section? The answer to this question lies in adding a proper 'FAQs' section in your content.
The 'People also ask' section provides the answers to the most common questions of millions of people. So, if you prepare the 'FAQs' section of a blog post, website, or newsletter with the same strategy, your content will rank in the 'People also ask' section. Thus, a high-quality content marketing campaign can increase the exposure of your content without the traffic from organic listings.
4.   Ranks brand content in featured snippets
Whether your content marketing focuses on creating content for a blog post, newsletter, social platform, or website, producing descriptive content is a top priority. Why?
Well, a descriptive piece of content can rank in the 'featured snippets' section (such as the one below), which occupies the 0th position in Google's SERPs. So, if your content is descriptive, it may rank even higher than the first result of SERPs.
But how can your content rank in the 'featured snippets' section? The answer to this question lies in producing content for long-tail keywords consisting of a phrase rather than a single word.
In fact, a study states that 55.5% of the content gets featured in the 'featured snippets' section (usually only a single post attains this rank) when optimized for a query of 10 words (Southern, 2020). However, the same study also suggests that if you optimize your content for single keyword searches, the likelihood of getting your content ranked in the 'featured snippets' section drops to 4.3%.
Thus, if you produce descriptive content and optimize it for relevant long-tail keywords, Google considers your content to rank as a 'featured snippet'. And that's how a high-quality content marketing campaign can help your brand's SEO through featured snippets.
Becoming the featured snippet is a two-edged sword, however, as featured snippets often answer the user's query without requiring them to visit the website. This hurts your performance, which might reduce your rank.
5.   Builds brand authority
It's the year 2023 and several marketplaces are now hyper-saturated. Due to hyper-saturated markets, countless rats are pursuing a limited supply of cheese. So, the only way to survive in this era of hyper-saturated marketplaces is to invest in building brand authority. And that's where content marketing will come in handy.
Content marketing can help you build your unique brand identity. How? Let's find out.
When providing high-quality content to your audiences becomes your habit, people start to trust your brand for a particular niche, especially if they see your content show up in featured snippets. This builds brand authority and improves loyalty to your site and helps you convert visitors.
Thus, when a brand becomes authoritative, its popularity increases, which means it gets more organic traffic. And better organic traffic results in improved SEO performance. So, content marketing strategy is a cyclic effort.
Some pro tips for creating high-quality textual content
Creating high-quality content is the key to a successful content marketing strategy. So, here are some tips that come in handy for creating high-quality textual content.
1.   Add visuals
Adding visuals is a great way to increase content quality, especially if the content is in text form. Therefore, the first tip for creating high-quality content is to include relevant visuals in your content. Experts recommend adding a visual on every screen as visitors scroll down your content. I prefer using visuals that add to the content, such as infographics, data visualizations, and examples rather than just pretty pictures.
However, if you include visuals without the copyright owner's permission (although most website owners create visualizations to gain backlinks so usually attributing the image with a link is sufficient), your content may face issues as Google becomes more facile at detecting copywriter violations. Using images without attribution also makes you look less legitimate. Therefore, you should create visuals yourself, use free images from sites like Pexels (with attribution), or glean them from other websites (I love Google image search for this) with proper attribution. But if you can't, you can search for visuals that need no attribution by purchasing a subscription or buying images from places like Dreamstime.
2.   Content readability
Besides visuals, the content itself must be highly readable. Otherwise, readers will not engage with the content, which ruins the quality of the content. So, the pro tip number 2 is to create easy-to-read content. Use headings, subheadings, and lists to encourage visitors to read your content and make it easy for them to find what they find valuable in your post.
But sometimes, writer's block can stop the flow of creative juices, which makes it challenging for writers to write something engaging. In such a situation, writers can use AI-based paraphraser tools like Paraphraser.io and Rephrase.info. You can even use a product such as ChatGPT to produce a draft of your content although copying a post produced by this tool can result in a penalty from search engines. With tools like these, you can rephrase your existing content for better fluency without making the effort to write it all from scratch. Updating old content is another strategy for writing new content without as much effort.
3.   Content uniqueness
Undoubtedly, easy-to-read content and visuals are great techniques for increasing content quality. But if you created content that doesn't provide unique value over content already available from other websites, it negatively impacts the overall quality of content. Therefore, pro tip number 3 is to focus on unique content production.
When it comes to creating unique content, research plays a vital role. Therefore, you should research your topic extensively because doing so decreases the likelihood of including tired content. However, if you want to include something from an existing source, you can use double quotes and cite its reference. Doing so will prevent your content from falling prey to plagiarism even after including information from existing sources.
Conclusion
Content marketing is one of the most powerful ways to establish yourself as an authority in your industry, grow your audience, and inspire action. However, despite being powerful, content marketing is useless without a good SEO campaign. On the other hand, SEO is one of the most effective ways to increase a brand's popularity in search engines organically. But SEO is useless without a proper content marketing strategy.
Thus, if you want to learn the relationship between the content marketing strategy and the SEO of a brand, then read the above discussion.
References
Enge, E. [@stonetemple]. (2021, August 3). New data on the frequency of search features from @seoClarity. Based on sampling 2.5M search queries on 7/29/21.Twitter. https://twitter.com/stonetemple/status/1422549473457278980
Land, S. E. (2010, 13 December, 2022). What Is SEO – Search Engine Optimization? Search Engine Land. https://searchengineland.com/guide/what-is-seo
Southern, M. G. (2020). Data-Backed Ways to Optimize for Google Featured Snippets. Search Engine Journal. https://www.searchenginejournal.com/data-backed-ways-to-optimize-for-google-featured-snippets/
Need marketing help to support business growth?
We welcome the opportunity to show you how we can make your marketing SIZZLE with our data-driven, results-oriented marketing strategies.  Sign up for our FREE newsletter, get our FREE guide to creating an awesome website, or contact us for more information on hiring us.
Hausman and Associates, the publisher of MKT Maven, is a full-service marketing agency operating at the intersection of marketing and digital media. Check out our full range of services.