Many folks don't even consider a blog part of their social media strategy and there are lots of social media folks putting together social media strategies that don't include a blog. Instead, they advocate using social media such as Facebook, Instagram, or the social media du jour. But, a blog is better than Facebook or any of the alternative social media options and I'll go through reasons why you need a blog, as well as offering some practical help should you decide to start a blog or a website with frequently updated content (some firms eschew a blog in favor of a media page, for instance).
A blog is a critically important element of your social media strategy. Not only does it anchor the rest of your social media strategy, it provides a number of other benefits. In the next section, we present just a few of the reasons why a blog is better than Facebook, although we could have used any social network and Facebook, in this case, is really a placeholder for any social network.
Why a blog is better than Facebook
First and foremost, a blog is better than Facebook because you own it; you own the content, you make the rules, you determine the direction taken in content both in terms of structure and philosophy, and, you decide when anything must change.
With Facebook, the rules change, and ever-changing algorithms determine when your content shows up for your fans unless you pay for advertising on the platform. Even in paid advertising, I've had posts that didn't make it through the review process until I filed an appeal. In several cases, I'd paid for advertising with the same content within a month or so of duplication. Hence, the algorithm doesn't work effectively and seems somewhat capricious.
Some changes Facebook makes require an entirely different strategic direction for your Facebook strategy. For instance, recent changes brought on by Covid-19 resulted in failure to post millions of innocuous posts because the algorithm used to sniff out content that violates community standards caught up a lot of other content in its net when Facebook's human content moderators were laid-off due to the pandemic. If your content strategy relied on getting those posts in front of your network, too bad.
Then, too, you face the changing whims of users, and their attitudes toward Facebook cloud the reputation you're trying to build for your brand. Just last week, Facebook faced serious criticism for its failure to hold the Trump campaign to its community standards. The situation because so heated that Facebook employees held a virtual walkout. The situation will likely escalate after a user copied and pasted exact posts from the Trump campaign only to see their posts deleted for violating community standards.
Do you really want to face reputational issues with having your brand linked to Facebook?
What happens if your target customer decides they've had enough and leave Facebook?
Sure, I still use Facebook (as well as a number of other social networks) and use them for my clients. I would NEVER, however, rely on any network or combination of networks as my only channels for communicating with consumers and other stakeholders. I always use a blog in addition to these other marketing channels.
Here are 5 more reasons why a blog is better than Facebook.
1. SEO (Search Engine Optimization)
Google, Bing, and other search engines use a sophisticated algorithm to determine where a website's link shows up in search results (SERPs). And, without visitors to your website, you don't attract new visitors (as your place in SERPs declines), resulting in lower sales.
Sure, you can now sell on Facebook through the Marketplace, but you face a plethora of others doing the exact same thing. And, unlike search, where you similarly face huge competition, an algorithm aligns the goals of users to content best suited to address their query. That means you have some control over the ability to cut through the clutter.
And, search engine traffic is FREE! But, it's not easy.
The Google Algorithm contains over 200 variables. It's a stirring mystery as to what those factors are and which have the most influence on SERPs because none of the search engines publish this information. Plus, ranking factors change all the time; some changes are minor, while some represent a sea change.
The Google Algorithm appears to include social media engagement as a measure of your online reputation, so that's a point in favor of Facebook and other social platforms.
But, many of those ranking factors relate to your website. In fact, one of the most influential factors using in ranking across search engines is the site's content. Valuable content produced on a consistent basis (a blog), is critical for SERPs. Other measures in the algorithm reflect elements of your blogging success, such as backlinks. Further, a blog is great link-bait — encouraging other blogs to link to you, but also encouraging visits from social networks.
2. Greater value
It takes space and flexibility to create value to visitors. Facebook, Pinterest, and Twitter all have limitations to the size and/or form of posts that limit your ability to provide value. A blog gives you as much space as you need and as much flexibility as you want to create content that your target audience likely finds valuable. Videos, music, images, and writing that entertains, provides information, or supports your target market are easily accommodated on your website.
Further, getting people to your website is only one factor in business success. Your real goal is to create value for your company that comes when you encourage a purchase. Hence, you must create content designed to drive visitors down the funnel toward a purchase, which is really hard to do with independent posts on social platforms. Check out this infographic to see how you lose visitors at each stage in the funnel and how even a small improvement in driving visitors to the next stage results in big returns.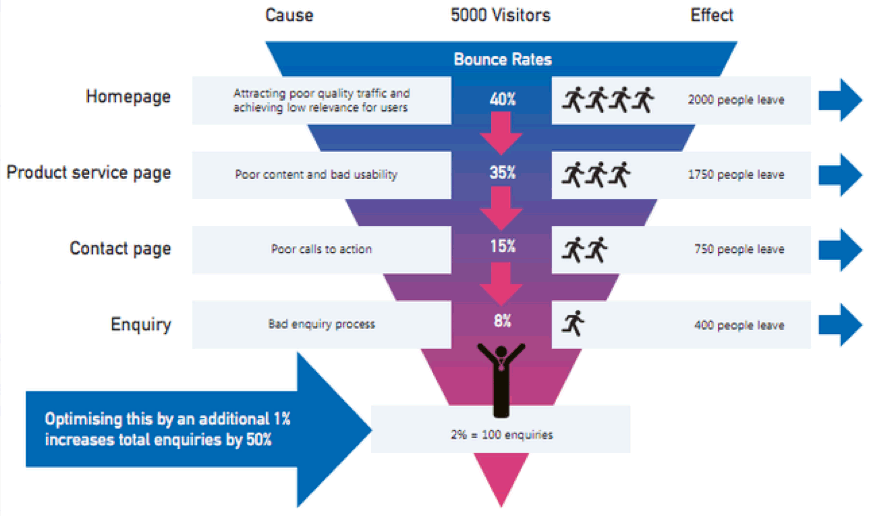 3. Evergreen
Facebook, Twitter, and most other social platforms feature feeds where content is quickly replaced by newer content. This puts a huge emphasis on timing publication of your posts to reach as much of your target market as possible before the content gets pushed down by newer content.
The content of a  blog is there forever and is indexed in Google so it's accessible whenever users search for content.
4. Community building
Sure, Facebook, Twitter, and other social networks support a community. But, a blog gives you the best tools for linking with visitors. Through RSS feeds and newsletter subscription options, you build your community through permission marketing.
Plus, you can segment your visitors and craft content designed to appeal to that segment. The ultimate result is creating a segment of one and marketing to a specific individual. For instance, Amazon and Netflix use your history to suggest new products for consideration. This increases your average order size and, over time, makes them your first choice since they reduce your search time by making great recommendations. You also feel like you're important as an individual to these massive companies, which increases loyalty.
5. Control
Your blog gives you total control over the look and feel of your pages, which provides total control over your brand. Facebook only gives you a limited ability to brand your products on your own terms and their terms of service specifically deny firms any opportunity to post a call to action in their branding, such as on your cover image.
Integrating a blog and social media
Of course, you're not limited to a single form of social media — you should use a blog AND Facebook and other social media platforms. Integrating across these platforms provides superior reach and engagement.
Here are some ways to integrate across social platforms:
Include links to your Facebook, Twitter, etc prominently on your blog
Post content from your blog to your other social media platforms
Include links to your social media platforms on your RSS feed, your email newsletters, and subscription forms.
Include links to your website and other social media platforms on all marketing collateral — infographics, YouTube videos, Slideshare presentations, images, etc.
Use a plugin that brings comments from your Facebook posts to your blog posts — this heightens your SEO and encourages visitors to engage with multiple platforms.
Creating a website/ blog
OK, so in the bad old days when the Internet was first born, coding a website was a skill not many people had and took years to learn. Now, that's simply not true. With a good CMS (content management system), a theme that approximates your vision for your website, and some writing skill, you can create a website in an afternoon without writing a single line of code. I've even put together a step-by-step guide with screenshots that walks your through the process and even negotiated some discounts for the products you need for your website (you can get started for about $100)*.
A warning here. Don't be tempted by sites like Wix, Squarespace, etc. They appear easy to use but are, in fact, challenging when you want to match the vision in your head. They also have bad SEO.
Need marketing help to plan your business strategy?
We welcome the opportunity to show you how we can make your marketing SIZZLE with our data-driven, results-oriented marketing strategies. Sign up for our FREE newsletter, get the 1st chapter of our book on digital marketing analytics – FREE, or contact us for more information on hiring us.
Hausman and Associates, the publisher of MKT Maven, is a full-service marketing agency operating at the intersection of marketing and digital media. Check out our full range of services.
*some products recommended involve sponsored links. Although I highly recommend these products, I offer alternatives that don't involve revenue for my business.