Ever hear of HARO? In the ever-evolving landscape of digital PR, staying ahead of the competition and gaining media coverage is a challenging task. Well, you should check it out and learn how to use HARO for digital PR to help support your brand. With the advent of technology and the internet, new opportunities emerge all the time for businesses to connect with media professionals and secure valuable press coverage. One such platform that gained immense popularity in recent years is HARO (Help A Reporter Out).
In this article, we delve into what HARO is, how to get started, and how to effectively use HARO for Digital PR.
What is HARO?
HARO is an online platform that connects journalists with relevant experts/sources. A source refers to a person who provides expert insights to journalists. Since online journalism exploded the need for sources on almost any topic you can imagine, the task of finding relevant experts to help with a story exploded as well.
Journalists use HARO to find experts to provide relevant insights to their upcoming articles. Journalists benefit from receiving quality responses for their articles, while experts gain authoritative backlinks (and backlinks translate into better SEO, more organic traffic, and higher authority), valuable media coverage, and exposure in return. It serves as a win-win platform for both the journalists and the experts.
HARO offers four distinct pricing tiers, beginning with the basic plan, which doesn't cost you anything. Premium paid plans start at just $19 per month and offer additional features you might find useful. The basic free plan covers all the essential features, so we don't recommend purchasing a higher-tier plan unless you need more features than those offered by that plan.
How to get started with HARO for digital PR?
Let us have a look at how to set up your HARO profile as a source, and respond to relevant queries in 5 easy steps. Once you sign up, you get email alerts three times a day containing information about reporters' needs that fit your area of expertise. With paid plans, you have more control over the types of prospects sent to your inbox, such as filtering opportunities based on keywords, mobile alerts, and a profile to pitch your expertise, as well as the ability to search for media opportunities online. Higher priced subscriptions provide more of the same benefits including early access to media requests based on more keywords.
1. Sign up as a Source:
To get started with HARO, you need to sign up as a source on the platform.
Your registration process involves providing some basic information about yourself and your company, as well as specifying the topics where you feel you can make a significant contribution to a journalist.
2. Monitor Daily Email Alerts:
Journalists submit their queries, and HARO compiles them into daily emails, known as "HARO alerts," which are sent out to all registered sources. HARO sends you three emails every day (Monday – Friday) at 5:35 a.m., 12:35 p.m. and 5:35 p.m. EST.
These emails contain a diverse range of queries from various media outlets, covering an array of topics.
3. Identify Query to Pitch:
Upon receiving the email alerts, you can review the queries in more detail by selecting those find you feel align with your expertise or business niche and your needs. For instance, some queries might come from reporters working for outlets that won't provide value or help you reach your goals. Don't respond to queries for which you cannot provide any value, as it wastes your time and that of the reporter.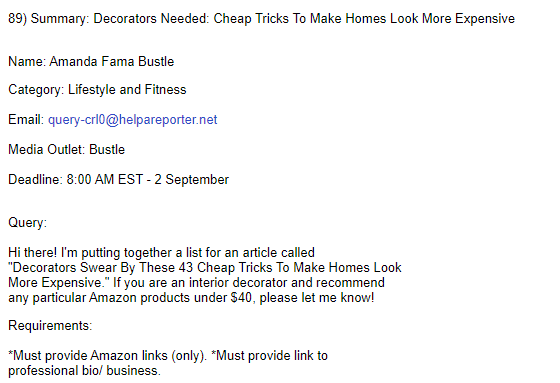 4. Responding to Queries
When responding to the HARO queries, always lead with your expertise, as it encourages the journalist to read your pitch further. Ensure that your pitches are bold, direct, factual, and free from grammatical errors. Also, add a creative subject line to increase the open rate for your email.
Send your pitch as early as possible as the journalists usually run short on time and have tight deadlines, so they likely choose the best option from among those submitted first, that's where a paid subscription helps because you have notification of a query before it's shared with unpaid subscribers. You can also send a follow-up email, in case the journalist missed your initial email.
5. Winning the HARO Pitch:
Journalists, upon receiving responses from the sources, review the submissions and select the ones they find most relevant and suitable for their stories. If your pitch is chosen, the journalist will contact you if they need additional information or want to set up an interview. Once a journalist incorporates your input into their article or story, you obtain a backlink to your website which helps gain media coverage and brand exposure.

Benefits of Using HARO for digital PR
Using HARO as part of your Digital PR strategy offers a multitude of benefits. Let's explore some of the advantages:
Access to High-Quality Media Opportunities: According to a study by Zestard Technologies, 74% of the published HARO queries had a DR of 70 or above. HARO provides you with access to obtain authoritative backlinks from high-quality websites. This exposure can lead to media coverage and help you reach a broader audience.
Establishing Credibility and Expertise: HARO allows you to choose from various categories and industries when signing up, ensuring that you receive source requests that are specifically relevant to your expertise. This targeted approach means that you can focus on providing valuable insights to journalists who are specifically looking for information in their niche. Being featured in well-known media outlets enhances your credibility as an expert in your field. This can positively impact your brand image and build trust with potential customers and clients.
Cost-Effective PR Solution: HARO is a cost-effective option, as it is free to use. While there are premium versions available with added features, the basic version provides ample opportunities for PR without any monetary investment. If you are seeking media coverage without a hefty PR budget, HARO is just perfect for you.
Networking Opportunities: Through HARO, you have the chance to connect with journalists and reporters in their industry. By consistently providing valuable inputs and insights, you can build a positive brand reputation, increasing their chances of being selected for future media opportunities.
SEO Benefits: Apart from media coverage, another advantage of being featured in articles is the potential SEO benefit. Backlinks from reputable websites can improve your online visibility and search engine rankings, driving organic traffic to your website or business. HARO is a popular platform used by SEO Professionals to build links manually and naturally.
Best Practices for Using HARO for digital PR:
It is essential to use HARO strategically to maximize your chances of success. Here are some best practices:
Create an Informative and Credible Profile: When signing up for HARO, craft a detailed and comprehensive profile that showcases your expertise and credentials. Journalists often review source responses based on the provided profile, so make sure to fill in all the details appropriately.
Choose Relevant Queries: Focus on responding to queries that align closely with your expertise. Avoid trying to force a fit where your expertise doesn't naturally fit, as journalists are looking for valuable and relevant insights. You might cut your chances of success when a more appropriate query appears.
Craft Concise and Compelling Pitches: Journalists receive numerous responses to their queries, so it's crucial to stand out from the crowd. Craft concise, well-written pitches that clearly convey your expertise and value to the story. Provide to-the-point answers that address the specific questions or topics mentioned in the request. Avoid using jargon or technical language that may be difficult for journalists to understand.
Respond Quickly: HARO queries often have tight deadlines, and journalists may review responses as they come in. Aim to respond as quickly as possible to increase your chances of being considered.
Provide Unique Angles: Avoid generic responses and strive to offer unique insights or angles that other sources may not provide. Set yourself apart from other sources by providing valuable insights, data, or real-life examples that journalists can use to enhance their stories. Offering a unique perspective or an innovative approach to a topic can significantly increase your chances of being selected.
Follow Journalists' Guidelines: Pay close attention to any guidelines or requirements set by journalists in their source requests. Some reporters may request that sources reach out to them in a particular way or format their responses in a specific manner.
Be Authentic and Transparent: Authenticity is key when using HARO for Digital PR. Be honest about your affiliations and avoid exaggerating your expertise or credentials. Journalists value transparency and are more likely to engage with sources who are genuine and trustworthy.
Monitor Your Mentions: After sending your pitch, keep an eye on the media outlet where the story is published. Engage with the audience and promote the coverage through your social media channels to extend its reach.
Leverage HARO Analytics: HARO offers analytics for its premium users, providing valuable insights into the success of your pitches and responses. Analyzing this data can help you fine-tune your approach and make necessary changes wherever required.
Summing Up
PR professionals and experts are required to embrace innovative tools and platforms to stay relevant and competitive. HARO is one such amazing platform for individuals and businesses to obtain high-authority backlinks and gain media coverage.
Hausman and Associates, the publisher of MKT Maven, is a full-service marketing agency operating at the intersection of marketing and digital media. Check out our full range of services.



Boni Satani is the co-founder at Zestard Technologies. With over 12 years of experience in SEO, Boni has helped many national and international businesses increase their online visibility and reap high ROI. He frequently blogs for the Search Engine Journal and YourStory. You can find Boni on Twitter and Linkedin.