Friday was the LAST hurrah for Universal Analytics, a tool of Google Analytics for insights about your website. Fear not! Google Analytics 4 (GA4), which replaced Universal Analytics, is a powerful tool for analyzing data and gathering insights about your website. However, it's a huge leap forward by Google Analytics for insights into not only your website but your apps and integrates more completely with your Google Ads account to incorporate data from search ads on the platform.
Below, you can see the home page of the new platform, although some of you might already know the platform as you likely ran it in parallel with your Universal Analytics account to ensure the accuracy of the new platform before the May 5 deadline that sunsetted Universal Analytics. This dashboard uses the Google Merchandise Store sample data provided by Google to help you learn how to use GA4. All you need to access and play with this data is available for free to anyone with a Gmail account from this site (scroll down about halfway to see the link needed to access the data).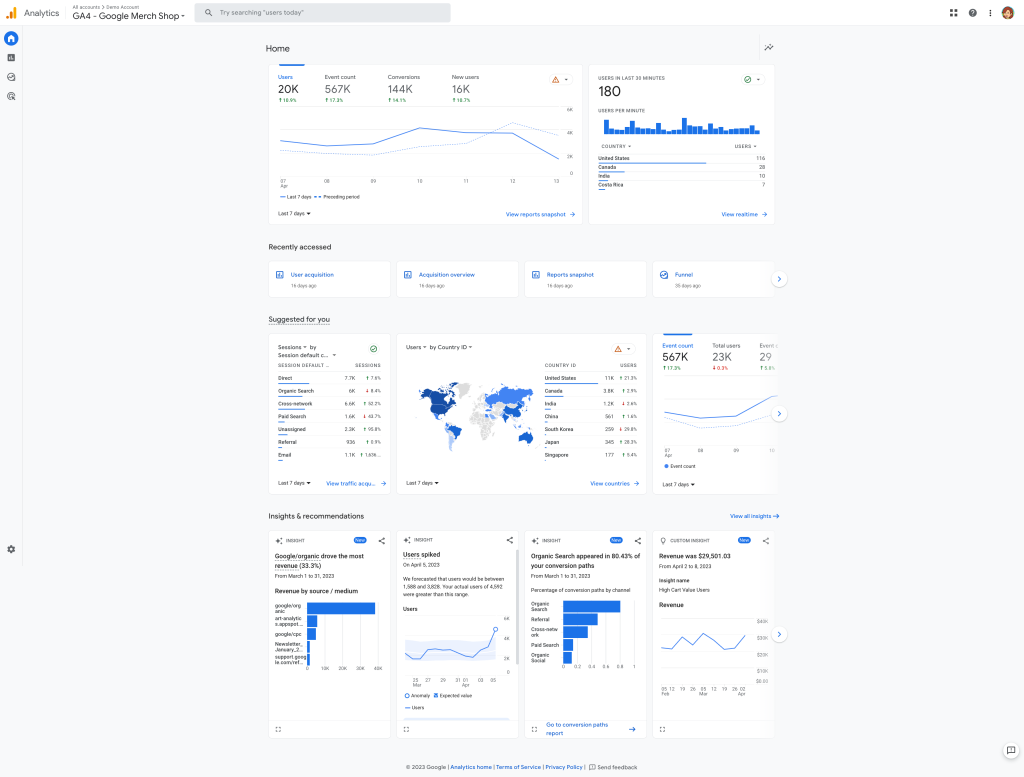 Here are the steps to analyze data with GA4
Once you're ready to set up your own account to use Google Analytics for insights, here are the step you must take. If you feel you need more help, Google offers a training course (available for free) that also provides a free certification that you passed the training. You can access this course here.
1. Set up GA4
First, you need to set up a GA4 property in your Google Analytics account. This involves creating a new property and adding the tracking code to your website or app.
You'll need a Gmail account then scroll to the analytics set-up page, which looks like the image below (although I've only copied the most salient parts of that screen for now). First, set up an account then create a property. The platform walks you through a series of text boxes where you enter things like your website address (or app) and answer a few questions.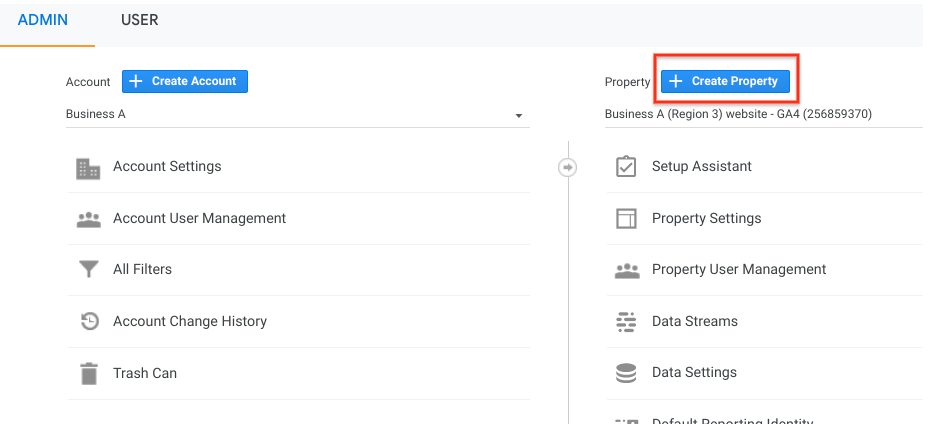 The platform then generates a piece of JavaScript (a tracking code) that you must copy and paste into the <head> section of your website. Each time a browser hits that code, which reflects a website visit, the information is added to your analytics. The platform contains all the information about visits to your website (or app store). Today's data are only available as "Real Time" for about the last 30 minutes, but data from prior periods are available indefinitely.
If you don't know how to add the tracking code, you can turn the code over to your developer and s/he will add it for you. It's a simple process that only takes a moment. There's also a plugin called Site Kit by Google where you can enter the code without fear of messing up your website. I found that Site Kit slowed down my website so I prefer to add these tracking codes myself.
We'll talk more about this setup later in the tutorial so you can appreciate the versatility of the platform.
2. Define your goals
Determine what you want to achieve with your website or app and set goals accordingly. Goals could be anything from increased sales to more engaged users.
Most firms have multiple goals they want to achieve; goals from the top of the sales funnel, middle, and bottom of the funnel or what Kaushik calls consideration stages (as you can see in the image below).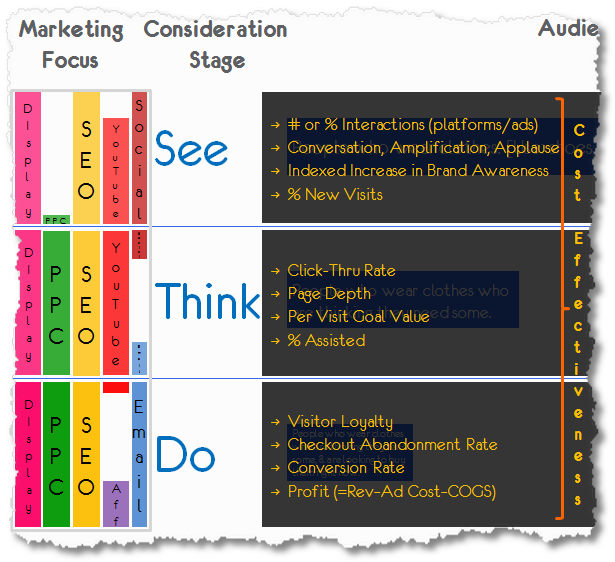 Without clearly defined goals, the amount of data available through Google Analytics can paralyze you so you can't use Google Analytics for insights.
3. Set up events
Events and conversions allow you to track specific user interactions on your website or app. Set up events and conversions that align with your goals.
Setting up events is a little more complicated. Below are instructions from Google Analytics about setting up events in GA4.
Step 1: Create a GA4 Event tag
Start by creating a Google Analytics: GA4 Event tag for the new custom event.
In Google Tag Manager, click Tags > New.
Enter a name for the GA4 Event tag at the top (e.g., "GA4 Event – Signup newsletter").
Select Google Analytics: GA4 Event.
In Configuration Tag, select your Google Analytics: GA4 Configuration tag.
In Event Name, enter a name for the event (e.g. signup_newsletter). This will create a new custom event and the name will appear in your GA4 reports. To create a recommended event, use one of the predefined event names.
Step 2: Create a trigger
Next, create a trigger to send the event when someone clicks the button.
Click the Triggering box in your GA4 Event tag.
Click + on the top right.
Enter a name for the trigger (e.g., "Trigger – Signup newsletter").
You can choose the conditions for sending the event. The following example sends the event based on the button label:
Click the Trigger Configuration box in your trigger.
Choose All Elements.
Click Some Clicks.
Set the following trigger condition: "Click Text contains Sign up for the newsletter".
Save all your changes.
If you want the event to trigger when someone views a page (e.g., on a confirmation page), you could use a Page View trigger instead.
Step 3: Preview your changes
Before you publish your new event in Tag Manager, click Preview to see the data that are recorded when you click the "Sign up for the newsletter" button.
Repeat the process for all your goals. Below is a recommendation of the events you might consider setting up.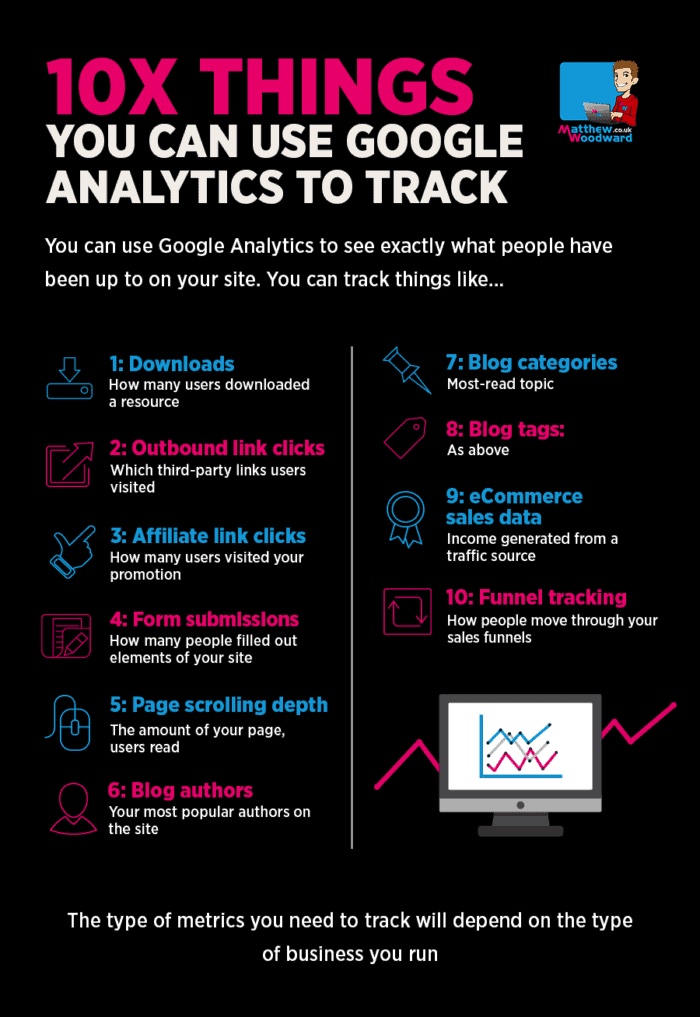 Then, when you view your Google Analytics data, you'll see events listed in the results by the name you provided during setup.
4. Analyze Google Analytics for insights
As you can see from just the home screen for Google Analytics from the beginning of this post, there's a bunch of data on the home page. In addition to information about performance against your events, there's data on user acquisition, page performance, demographics and geographics, and much more. Hence, you need a system for what information you should consider in developing insights from your Google Analytics.
But, the left menu bar helps you uncover even more data. Let's explore these menus to give you a better idea of what information is available.
The reports menu offers information on where visitors came from, how engaged they were with your website, and demographic information about your visitors in terms of age, gender, geographic location, language, and interests.
The exploration menu allows you to analyze data in an ad hoc manner. You can create custom reports and visualizations to explore your data such as the ones below:
Analysis Hub: Analysis Hub provides a set of pre-built reports that allow you to analyze your data in a more structured way.
Custom Reports: Custom reports allow you to create custom reports that are tailored to your specific needs.
Funnel Analysis: Funnel analysis allows you to analyze how users move through specific sequences of events on your website or app.
User Explorer: User Explorer allows you to analyze individual user behavior on your website or app.
I love the custom reports option and funnel analysis to provide deep dives into my data. For instance, using these reports I can determine whether younger visitors show a higher conversion rate than older visitors. I can do the same for any demographic or geographic variable. I can also determine which source of visitors features the highest (and lowest) conversion rates. As we'll see in the next section, this data is critical to using Google Analytics for insights that can help improve the performance of my online marketing.
It takes a little practice to set up these analyses because they aren't part of the standard Google Analytics reporting but you can save and re-run the reports each time you want them (probably daily or at least once a month).
The advertising menu is one of the great things about GA4 over Universal Analytics because it has an enhanced link between Analytics and Google Ads, which allows you to better assess the performance of your search and display advertising to help improve performance.
5. Apply insights to improve performance
Use insights to improve your website or app: Use the insights you gather from GA4 to make data-driven decisions about how to improve your website or app. For example, if you find that users are dropping off at a particular point in a funnel (cart abandonment), you can adjust your website or app to address reduce the abandonment issue and improve your revenue.
Gleaning insights involves more than just looking at the data. It requires an understanding of how visitors move through your website (the customer journey) to determine what roadblocks they encounter. It also requires making some assumptions about what contributes to these roadblocks as Google Analytics doesn't provide this information. I find the Insights available on Google Analytics less than helpful in even identifying issues let alone solving them.
Besides breaking down your data by segmenting visitors, as mentioned above, I also find it very helpful to track trends rather than get consumed with the data points offered for any given day. Hence, comparing conversion rates during a sales event with sales before the event helps you learn how your market responds to discounts so you can use the information in planning future events.
Using Google Analytics for insights: advanced tools
Remember, we said we'd return to the setup portion of the platform? Well, that's what we're doing now.
You can provide access to other users to enable them to build insights related to their responsibilities. Hence, your content creators (or at least their manager) need access to evaluate which pages perform best and which email messages generate conversions. If you have product managers, they need access to evaluate the performance of their products.
Google Analytics, through the same administration panel we showed earlier, allows you to provide limited access to not only protect proprietary data you don't want spreading indiscriminately but to help them use Google Analytics for insights without the distraction of data unrelated to their area of responsibility. Google provides various levels of data access to help with this task and all you need to do is provide email addresses and access levels for anyone you want to have access. By creating different properties, you can provide access to certain pages or sections to specific individuals.
Another great aspect of the admin panel is you can identify company emails and Google automatically removes visits from those email addresses from your visitor data so you have cleaner data to work with.
Conclusion
I hope you found this tutorial valuable in helping you glean insights from your website and app traffic. If there are topics you want to see covered on this site or you have any questions about this post, please feel free to enter them in the comments section below.
Need marketing help to support business growth?
We welcome the opportunity to show you how we can make your marketing SIZZLE with our data-driven, results-oriented marketing strategies.  Sign up for our FREE newsletter, get our FREE guide to creating an awesome website, or contact us for more information on hiring us.
Hausman and Associates, the publisher of MKT Maven, is a full-service marketing agency operating at the intersection of marketing and digital media. Check out our full range of services.