Sorry, I did warn you. If you're reading this hoping to learn how to code a website — you're in the wrong place. But, if you want to learn how to create a website design that helps you reach your marketing goals — then read on.
Website design for dummies
I once went to a seminars titled website design for beginners. I didn't understand anything after the introduction. I promise this website design discussion won't be like that. If you want to learn more about website design for dummies (and other aspects of social media) grab our FREE ebook — 66 pages of website design goodness.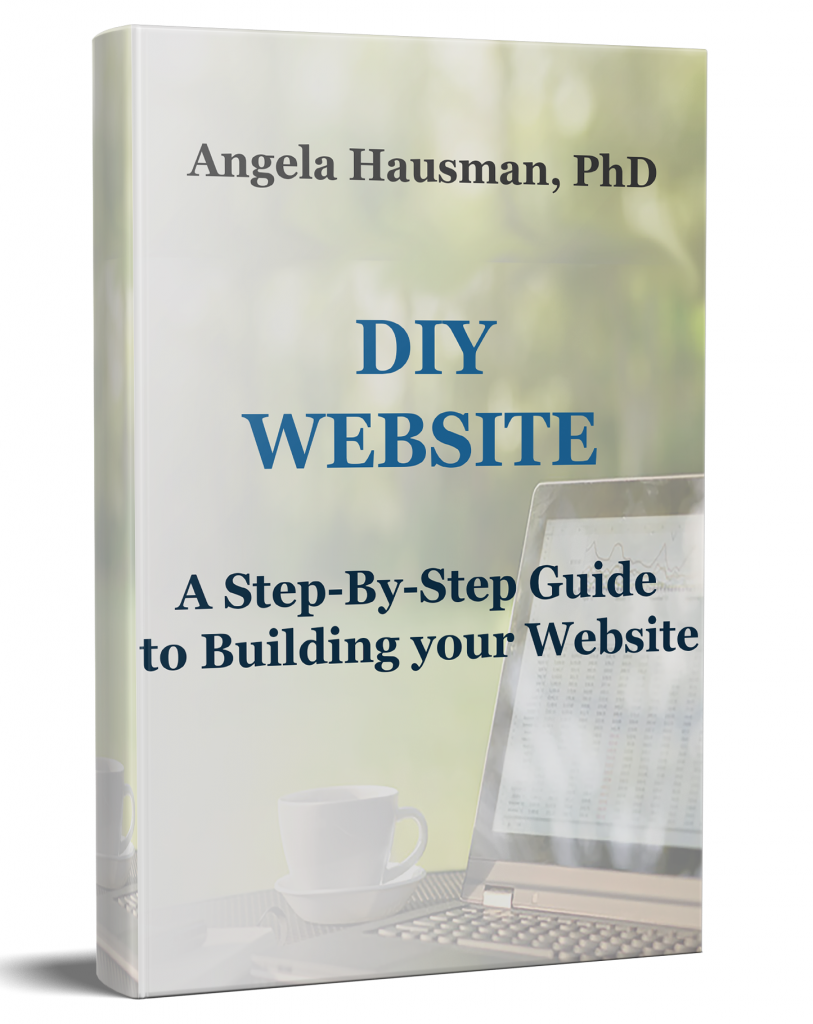 Step 1: Set objectives
Trust me. Your website design (or re-design) will go much better if you establish clear objectives. Are you building an e-commerce site? a branding site? a community site? a membership site? You'll save yourself a lot of problems and headaches if you are clear on your goals.
Step 2: URL (Domain)
If you don't already have 1, go to GoDaddy and buy a URL — basically an address where your website will live. DO NOT — I repeat DO NOT — accept the free URL offer from your hosting company (see next section). That's because it's a hassle to take the URL with you when changing hosts. Spend the extra $20 and get it through GoDaddy — by the way, I have discount codes. If you're interested just click on the ad below.
But, don't just buy any old domain. Your domain is an important part of your SEO (Search Engine Optimization — basically getting found online). So think about the things your target market might search for hoping to find you. In my case, my target audience is looking for marketing and social media advice — hence, Hausman Marketing Letter. Use Google's Keyword tool (it's FREE) to identify phrases that fit your target audience, account for a large # of searches, and don't have high competition.
Save these searches as you'll use them later on when creating content and other elements of your website. The more you use your keywords (actually a keyword phrase) the better SEO value.
Step 3: Hosting
Another major decision. Here you're looking for a reasonable price, fast page loading, lots of space, and good customer service. My recommendation for smaller websites is HostGator and LiquidWeb for larger sites. This site is hosted on LiquidWeb, but I have other sites hosted on HostGator and they're good (plus they're less expensive).
Step 4: Website Design
I'd take a little time sketching out what you want your website to look like — the homepage, the menu, other pages, tools, etc. Think about how customers want to navigate through your site. Think about your goals.
For instance, I recently redesigned my website – do you like it?
Originally, the website was mainly a blog designed to help visitors and build authority in the marketing and social media space. Recently, I've been trying to get more leads from the site. So, I redesigned the website as more of a corporate website with the home page stressing my products and services, and the blog still providing great content. That way I'm still meeting the goals of visitors looking for great tips on marketing and social media while giving businesses an easy way to learn about how I can help them make their marketing SIZZLE.
Other considerations include:
Graphics and color scheme

Branding
Conversion
Integration with social media
Navigational links
Legal disclosures
Step 5: Building the website
Website design is much easier now than even a few years ago when I first created Hausman Marketing Letter. And, you don't need to learn to code (although a little HTML helps).
Today's website designs are flexible — and be careful of hiring someone who is crafting a custom-designed website. While that might sound like a great idea, think about changes you'll want to make to your website over time. A customer website requires you to hire a developer every time you want to make a change to the layout and that gets expensive and time-consuming.
I recommend WordPress. It's a FREE CMS (content management system) and it's the world leader in this software. Check out my YouTube channel for a video that shows you how to install WordPress on your site — it's like magic and I'm truly amazed every time I do it.
You'll also need a theme to add more features to your website. WordPress comes with the default theme, but it's not that great. Plus, then you'll look like every other website on the Internet. I use a theme from Genesis, which is fabulous. It's very stable and secure. It's also very flexible.
Website design: Navigation
Probably the most critical element of your website design involves navigation — helping folks discover all the great things on your site. Here we talk about the user experience and website design has a huge impact on whether your users have a good experience on your site or not.
Here are some tips for building a positive user experience into your website design from Google developers — and they should know what they're talking about:

If you don't have time to listen to the whole video, here's a summary:
Be fast – visitors don't have much patience, so you need to ensure your pages load FAST. And use a plugin to check for broken links (I use a broken link checker) on your site as these are really annoying to visitors and make you look unprofessional.
Make it easy for visitors to engage with the site – pre-fill forms, integrate with Facebook so users don't have to register each time, only ask for the minimum amount of information you need.
List items in a logical order. Think about how consumers will use your site and recognize that most visitors read from left to right, top to bottom. Try to put things consumers want where it's easy for them to find. Google uses the example of putting a remember me box AFTER the login button.
Let a little of the branding personality show through. Be a person. Relate to visitors as individuals. Be a little playful and make sure your site conveys trust and professionalism to visitors.
Encourage conversation. Make them part of your team. The first step is listening about what folks are saying about you.
Own your mistakes, don't hide them. If folks are unhappy, apologize and give them a fix.
Color, image, white space — use all these elements freely in your website design. Don't try to cram your website full of text and ads. White space invite reading. Images convey a huge amount of information and are pleasing and inviting. The same is true for color. Just be careful to not make it too wild and stick to a particular branding. If you can't afford to create all your images, there are lots of sites for buying or borrowing (legally) images from the web. I use 123rf.
Web design: Conversion
Unless this is just a vanity website, your web design is supposed to support your business. That means you want visitors to enjoy themselves, but you also want them to support you — buy products, make donations, use services, etc. So, your web design needs to balance user experience with conversion. Here are some tips for navigating that balance:
Judicious use of ads. I personally avoid most advertising on this site and turn down people every week who want access to your dollars (you're welcome). I only use 2 small ads, which are Google Adsense so they're for a product you're likely interested in already — at least in theory. Ads just clutter up your pages and make them look too commercial.
Onpage SEO is important. Be sure to optimize your pages to bring as much traffic as possible to your website.
Make sharing easy. Include easy-to-use buttons to allow visitors to share your content on social networks and join your social networks. Great plugins like Social Profile Widget make this easy and professional. (Social media has an ever-increasing impact on SEO).
Entice visitors to subscribe to your newsletter by offering great, free content. I invite visitors to subscribe by offering an ebook to guide you in developing a website. Grab yours today. Of course, that also means you can't spam newsletter subscribers with ads and pressure to join your coaching program. Newsletters must also provide value to subscribers. That way, newsletters provide another opportunity to deepen your relationship with website visitors.
Invite readers to enjoy other content. I use Outbrain to suggest additional posts related to the post visitors are reading. It's a great plugin. I also share my best content — as assessed by visitors — on my homepage to steer readers to this great content. Not only does this help build your brand, it keeps visitors on your page longer, which helps your SEO.
Legal disclaimers. New federal regulations require websites to identify when they're making money from the advice they're giving. When I have a relationship with a company, I disclose that information. To cover other situations, such as affiliate links, I include a blanket statement indicating I make money (a VERY tiny amount) from links on the site, but that I would only recommend products I feel are good and appropriate for the reader. And, I'm just as likely to recommend products I make NO money off — including all the links in this post.
Need marketing help to support business growth?
We welcome the opportunity to show you how we can make your marketing SIZZLE with our data-driven, results-oriented marketing strategies.  Sign up for our FREE newsletter, get our FREE guide to creating an awesome website, or contact us for more information on hiring us.
Hausman and Associates, the publisher of MKT Maven, is a full-service marketing agency operating at the intersection of marketing and digital media. Check out our full range of services.