How is your website performing for your small business? If you're not reaching your goals or find website performance declining over time, it may be time to refresh your web design to meet the modern user experience. Recent changes to Google's search algorithm, termed Core Web Vitals, emphasize the need for a website that's fast and provides a superior user experience. You can gain insight into how Google rates your website across these metrics by viewing them on your Search Console under the Core Web Vitals Report.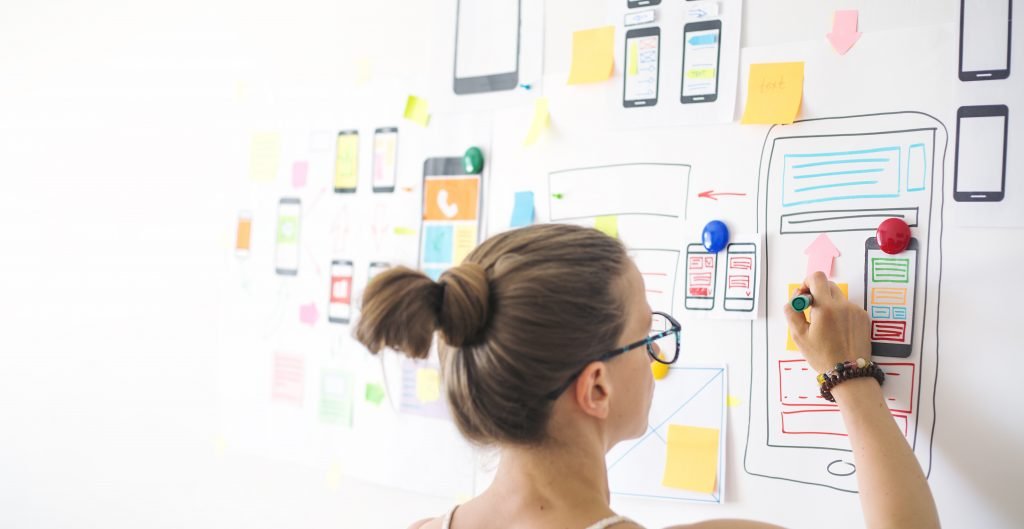 In the digital age, a web presence is vital for marketing and customer experience, yielding higher profits and helping to grow your business. and improving how you do business. If you don't already have a great website, I wrote an ebook that walks you through the steps involved in building a website with tons of images and videos so that anyone can build a great website without writing a line of code. And, if you need any more incentive, recognize that:
63% of consumers use websites to find or engage with businesses [source]
30% of consumers don't trust a brand lacking a website
local search drives — 88% of those who find a business through local search visit or call within 24 hours [source]
75% of users admit to basing credibility on web design [source]
Problems with poor web design
According to sources:
visitors determine whether your site is good or bad within 50 milliseconds so you must make a great first impression
if you don't perform well on mobile, 61% report they won't return and 40% visit a competitor instead
57% of users won't recommend a brand with a poorly designed website
94% of negative feedback as related to web design
So how exactly can you improve your website? Let's look at some ways to improve your web design.
Web development
Outsourcing your Web Development needs to a third party capitalizes on their experience, skills, and understanding of user experience to make your website rock. By using a firm specializing in web design you can rectify any mistakes on your existing website and implement any changes you need to make, such as improving SEO, managing security, and enabling a mobile responsive site that allows for ease of use via mobile devices. If you need a complete web design, rather than a simple tweak, you really need the experience of a specialized firm to avoid missteps that might damage your reputation far into the future.
While these are minor SEO factors, including them is a no-brainer. Here are some elements you must include in your website 
Contact details. It is often the small things that get overlooked, such as letting your visitors know how to contact you. Have clear and concise contact details on your website that don't require much effort on the part of your visitors.
If you include links to your social media accounts (both follow and share buttons are required), an email address, and a contact form, make sure they contain clickable links that work, so check the links periodically as some social services require you to reauthorize links periodically and wonky mistakes might make links unusable. Ensure your address and phone number connect with mobile devices to allow automatic mapping and dialing to encourage users to connect with your business.
Call to action (CTA). Do you ask your visitors to perform an action when visiting your website? If not, then you're wasting a valuable resource.
Including a prominent CTA increases CTR (click-through rate) by 370% and boosts sales by 1617%, according to sources. CTA buttons outperform both images and text in terms of CTR and conversion according to the same source. Yet, 70% of SMEs (small and mid-sized enterprises), lack a single call to action and many of those including a CTA host multiple CTAs on a single page (don't do that).
Privacy statement. Some countries require more than a simple statement of privacy protection, such as opt-in for cookie tracking, a statement is a minimum expectation.
With these required elements in place, let's talk about how to improve your web design by adjusting key elements that impact performance.
Navigation
So many websites and blogs are hard to navigate. It may seem easy to you and make sense in your mind, but if users can't find what they're looking for, they'll bounce. In fact, bounce is a clear signal to search engines that you have a poor website and they'll lower your rank on results pages so no one can even find you.
Have a menu or top navigation bar that is fuss and clutter-free and has lockable links to each major part of your website. For example, if you have a website whose landing page is selling your book or course you need a menu item for that element, as well as your blog and other key elements. Make sure it is easy to find key pages instantly and have a search function on your home page. The harder it is to find something, the worse the user experience is and the more likely visitors will navigate away from your page quickly.
In designing your navigation, think about how visitors use your site. For instance, list major product categories so visitors can navigate to pages showing products in that category. If you offer search, consider all the ways a visitor might search for suitable products, not the way you want to categorize them. For instance, some visitors might find the brand important but if the brand isn't important for most visitors drop this filter in favor of something more critical. For instance, when searching for dresses, the length might be critical instead of the brand name.
Refresh design
What was once a great design back in 2015 might look dated in 2021 or sacrifice more critical factors. The digital world evolves quickly, and as such, failing to accommodate this by using outdated technology or design on your website hinders its speed and capabilities. For instance, sliders were all the rage years ago and were a great way to show off different products or capabilities. Now, we recognize sliders for the bandwidth hogs they are and no one uses them anymore because they slow your site down.
So make it a priority that you are always looking at how you can improve the design of your website, adding plugins and features that benefit the user and have functionality at their heart.
Refresh images
Your website needs to visually engage visitors, especially those hero images featured on your home page and landing pages. Long chunks of text or product/service descriptions that don't include images or videos to break up the blocks of text are extremely off-putting, as are old, outdated images or, even worse, broken images. Go through each part of your website methodically to find old images or broken image links and update them or replace them wherever possible. Use this time to tweak or refresh any text elements, update any information that changed, or include reviews. You need to keep this type of information fresh and up-to-date to appeal to potential buyers and allow them to get a positive image of your company.
Advertising
Avoid having intrusive ads or banners that pop up encouraging people to complete some action, such as subscribing or following your brand, as overly intrusive ads are annoying, especially the ones that block users' view of the content until dismissed. Mobile users especially will leave a site if they are inundated with ads or banners that detract from their ability to view a website.
Instead, consider using exit intent ads that only pop up when it's determined that the visitor plans to exit the site. Since the user was likely leaving anyway, exit intent ads result in less annoyance, although they also result in a lower response rate. A particularly effective exit intent ad offers a discount to the user leaving without a purchase or one who left an item in their cart. These ads deliver between 3 and 10% higher conversion than other advertising.
Conclusion
Web design is critical for the success and growth of your business. It also isn't a set it and forget it factic. You must constantly analyze and refresh your web design to deliver on your promise to visitors, to allow easy navigation, take advantage of new technologies and standards, and optimize conversion.
Need marketing help to support business growth?
We welcome the opportunity to show you how we can make your marketing SIZZLE with our data-driven, results-oriented marketing strategies.  Sign up for our FREE newsletter, get our FREE guide to creating an awesome website, or contact us for more information on hiring us.
Hausman and Associates, the publisher of MKT Maven, is a full-service marketing agency operating at the intersection of marketing and digital media. Check out our full range of services.


;