One of the most expensive and time-consuming ways to market your business is using a visual marketing strategy. Consider the way you feel when you see those giant billboards, like the one below, advertising your favorite food or another product. It creates a strong, immediate desire for the product by driving emotions and promising immediate solutions to your problems. If that's how you feel about billboards on the side of the road, imagine how people would feel if you had a better visual marketing strategy for your business.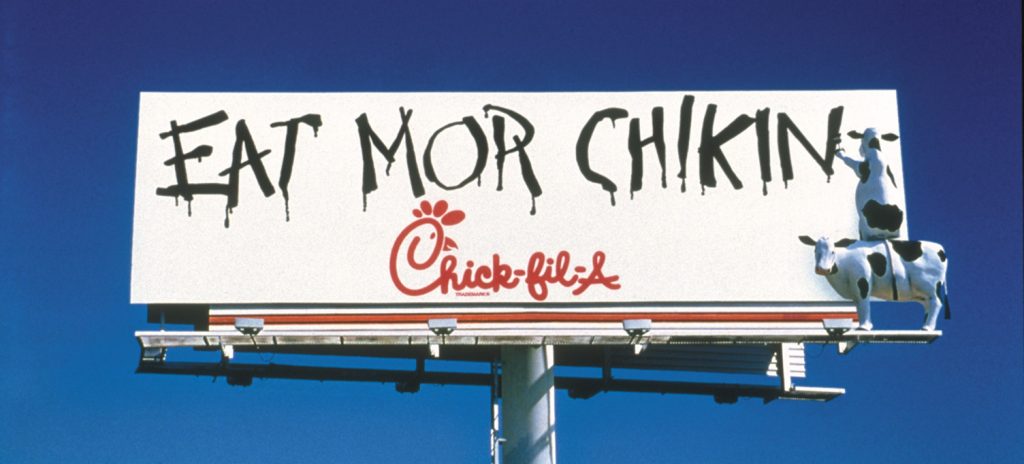 Creating visual content is a slog, especially if you don't have a graphic designer on staff as it's difficult to produce and requires an advanced skill set that includes design and experience with tools like Adobe Illustrator that you can't fake. That doesn't mean you shouldn't bother with visual marketing, it means you might consider some alternatives that fit your skill set while still allowing you to create visual assets.
For instance, you might create VIP badges as part of an event because you know people who see your branding strapped to the chest of all attending staff can't avoid making positive associations with your brand. These badges also help people to learn your name. You could also create good letterhead and visual email signatures as part of your visual marketing strategy.
Read on to learn more about why you need a visual marketing strategy and how you can implement one even if you're not a graphic designer.
Why you need a visual marketing strategy
Avoid information overload
How many pieces of junk mail and email do you get every day? How many newspaper ads do you see when you read the morning news? When we open our phones to send text messages, we get notifications of ads posted on social platforms. In fact, the average consumer in the developed world sees between 4000 and 10,000 pieces of advertising a day, even with ad blockers, streaming services for TV and radio, and other efforts we make to avoid seeing promotional materials.
We currently suffer from information overload, and given the way the online and offline worlds create more ways to spread promotional messages, more than ever you need to ensure that your business messaging cuts through the clutter so your target marketing receives the message rather than passing by on their way to something more entertaining. Using a visual marketing strategy to create an unusual image, one that prompts an emotional response, or one that makes your target market stop in its tracks means you now have the opportunity to impact their attitudes and behaviors.
Visual marketing also makes an impact without the need for processing the information through the most effortful channel, the cognitive processing route, thus limiting information overload.
Consumers don't have time to waste
Businesses have to move quickly if they want to stay relevant to their target market. This means that you have less time than ever to make an impact. Did you know that you only get 10 seconds to communicate your proposition if you want somebody to consider making a purchase? They are going to look at a picture of what you have to offer and make an instant decision, so you need to make sure that, in those first few seconds, their impression is a good one and is conveyed accurately.
You have to produce content that users can consume quickly. Writing long posts or ones comprised primarily of text requires users to stop long enough to read the message. Plus, without a visual component, most users simply skip over your posts, which means you wasted your time and money. Images process faster than words. We can flick our eyes over an image with better awareness and recall of the message. If you want your target market to process your message, visual marketing works much better. Visuals are processed faster because they have the benefit of evolution behind them compared to words, plus everybody wants something for their eyes to feast on.
People scroll through their TikTok feeds and their Instagram stories faster than you think they do, and when it comes to content consumption, speed really does matter. This also means you have to ensure that your visual marketing videos – even the thirty-second ones, are high-quality so users don't get confused by your messaging. Technology really advances quickly, which means you need your marketing messages to process quickly and easily for consumers if you want to impact sales.
Everywhere you go, visual marketing stands out. You remember billboards, traffic signs, and safety signs because you see them all the time, you can easily process the message without overtaxing your brain, and your brain is hardwired by evolution to privilege images over text. When you realize that people get more from images than they do from text-heavy content, you see why visuals help increase understanding. It's no wonder that people say "a picture paints a thousand words".People can see an image and understand what's required of them more than they can decipher instructions from the text. That's why assembly instructions include pictures and companies create videos to demonstrate their product's usage rather than simply write usage manuals.
Sometimes you don't even realize you're taking in the information from a visual message, so imagine how people feel when they remember your business but they can't remember why. For example, when I taught Consumer Behavior a few years ago, we showed ads for pharmaceuticals to folks and asked them to recall which conditions the drug was used. In a scary percentage of cases, informants incorrectly matched a branded drug with the diseases it treated.
Watch your engagement improve when you use a visual marketing strategy. The study reported in that link shows that the inclusion of an image increases website click rates by up to 47% when compared with posts containing only text. While both posts might convey the same message, images have a much more powerful effect when compared to words. It's why we offer people stickers or badges or put up posters when we want to get people's attention. We know that big blocks of content don't have the same effect, but we know that images do.
Users are also more likely to share your content. There is a reason that Instagram stories became much more popular, and that's why the Instagram platform now looks more like TikTok than ever. People like to flick through videos more than they like reading articles. If you know that people share more of your content when it's visual and in video or picture form, you're poised to improve your traffic as a result.
Building a visual marketing strategy
Building a visual marketing strategy isn't that different from building the rest of your marketing strategy, except you need to create the visual collateral needed to implement your strategy. Here are some tools to help if you don't have a graphic designer.
Canva
Canva is a great option for the graphically untalented. The company offers a free version or, if you choose, they offer a paid version with more flexibility. You can even use a free account and then pay for images and other assets on an as-needed basis.
Canva takes much of the onerous off you in designing visual elements. In creating social media posts, for instance, Canva offers templates already optimized for the size required for most popular social media platforms. All you have to do is choose a template, replace elements of the template with your own assets such as changing to branding colors and fonts, add images from their library or upload your own, and you're done. You can then download the visual element or upload it directly to the most popular social media platforms. You can even print out your design for use offline.
For me, the most valuable elements of Canva are:
it's easy to use without much of a learning curve
it features a wide range of templates and images that fit most business and personal needs
Canva incorporates common design concepts so even the most inept user can create a product that looks good
You can create a wide range of different projects such as presentations, videos, and much more
Of course, Canva has some pretty serious limitations. It isn't completely flexible. Adding some types of images doesn't end up looking that good, as the image might get squashed or stretched. In some cases, the current image size means you can't fit the entire image into the space provided and image edits aren't possible on the platform.
Adobe Express
Formerly Adobe Spark, Adobe Express is a free tool for visual design that combines some elements of Photoshop, Premiere Express, and a few other apps that make up the Adobe Creative Cloud. Adobe Express is similar to Canva in that you have templates but it offers a little more flexibility in image handling so it overcomes one of the biggest drawbacks of Canva. For instance, you can remove the background or an object from an image. You can combine visual elements to create a logo or another image more easily than in Canva.
Learning Adobe Express takes a little more time and effort than Canva, which you can expect from a tool with more flexibility.
Adobe Creative Cloud
The unmitigated leader in graphic design tools, in my opinion, is Adobe Creative Cloud. The apps that make up this tool offer unlimited flexibility to create everything from a complete website (using Dreamweaver) to a feature-length film (Premiere Pro) to images (Indesign and Illustrator) to photo editing (Photoshop). These are the same tools used by professionals around the world. To broaden the appeal of this tool, Adobe recently added a bunch of tutorials to help newbies learn how to use the platform to create almost anything they want. Third-party providers also offer templates you can customize to create some types of visual elements. For instance, the cover for my ebook on website design was created using Adobe Photoshop and a book template.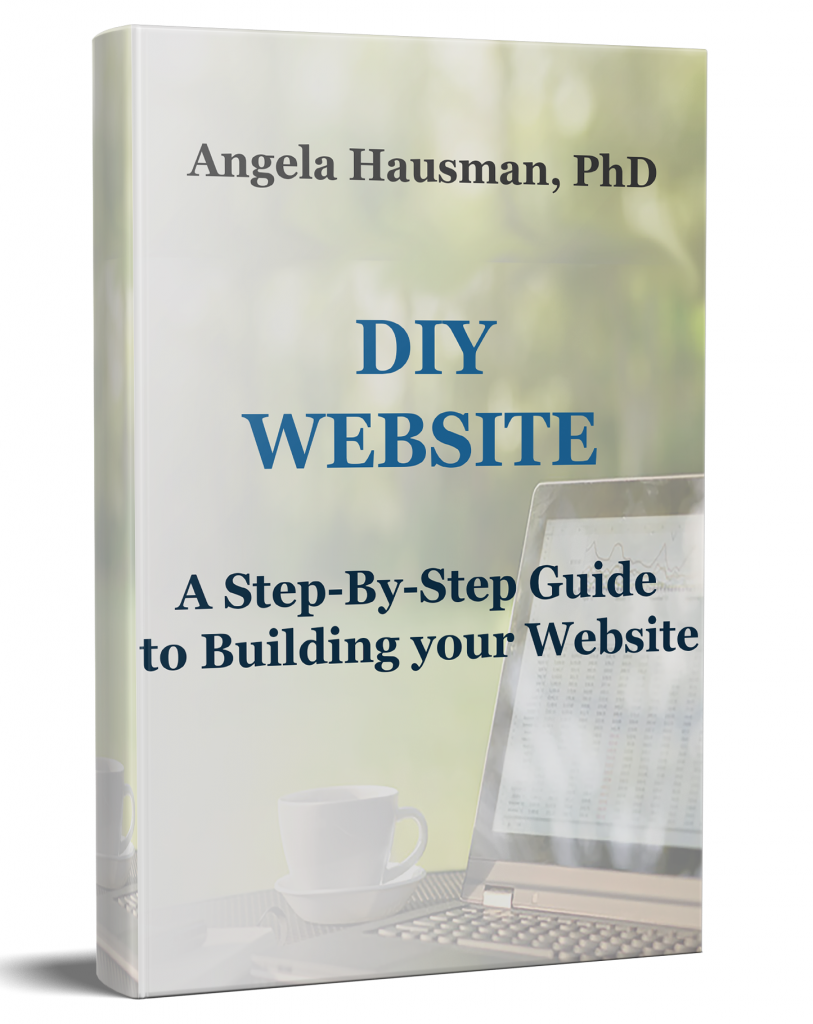 Of course, all this power and flexibility comes with a pretty hefty price tag ($49.99/ month or $19.99/ month for students and teachers with a 1-year commitment). There's also a very steep learning curve. That means, to justify the cost and effort, you really need to have a substantial need for a lot of elements to satisfy your visual marketing strategy. 
Another element to consider before jumping into this powerful tool is you won't have the design help offered by templates that are a major part of the other tools. That means you also need to master elements of composition, color combinations, etc to turn out designs that look good. Adobe Creative Cloud does work with Adobe Stock, which contains a ton of impressive images you can use in most Adobe apps.
Conclusion
I hope you can now appreciate why you need a visual marketing strategy and have a starting point for creating the visual elements needed to create the assets you need to bring that strategy to life. I'd love to see how your efforts paid off. Simply share some of the visual products in the comments below.
Need marketing help to support business growth?
We welcome the opportunity to show you how we can make your marketing SIZZLE with our data-driven, results-oriented marketing strategies.  Sign up for our FREE newsletter, get our FREE guide to creating an awesome website, or contact us for more information on hiring us.
Hausman and Associates, the publisher of MKT Maven, is a full-service marketing agency operating at the intersection of marketing and digital media. Check out our full range of services.