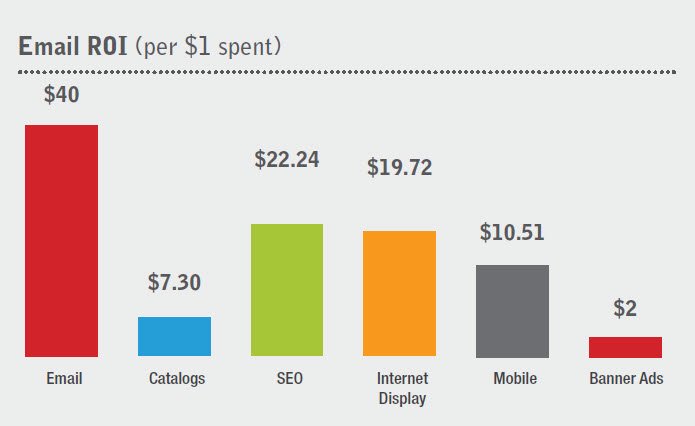 Businesses want to save time whenever possible since saving time translates into saving money and making more money for your efforts. And, when it comes to making money, email marketing has the highest ROI of any of the other marketing efforts listed above. Yet, email marketing is time-consuming, requiring frequent touches to ensure efficacy as you send emails, monitor performance, and work toward lead nurturing with the right message for each stage in the marketing funnel.  Email marketing and its close relative, SMS marketing (text messaging), call for utilizing marketing automation to increase sales with less time and effort.
Finding ways to automate your omnichannel marketing strategy is no longer an option in most businesses since effective nurturing requires a wide range of channels with seamless consistency across channels to reinforce messaging. With omnichannel marketing, you must pay close attention to coordination across each channel so your customers receive a seamlessly integrated experience. Here are some tips if you're new to the processes involved in utilizing marketing automation for higher returns.
1.   What is marketing automation?
Marketing automation allows your business to use programs or software that assist in the marketing process. According to Hubspot:
At its best, marketing automation is a combination of software and strategy. It should allow you to nurture prospects with highly personalized, useful content that helps convert prospects to delighted customers.
From a practical standpoint, utilizing marketing automation involves:
Collecting email addresses (email automation) and mobile numbers (SMS)
Sending personalized emails or messages to specific people based on rich information about their needs and where they are in the decision-making process
Sending deals or other messaging designed to motivate customers to behave in a certain way, such as making a purchase or repurchasing products
Check out this graphic showing the process of marketing automation
A number of different programs manage the automation process, including top products such as Hubspot, Salesforce, and Marketo. Although each offers certain benefits, most offer a means to collect and manage contact information, maintain a record of previous messages and responses to those messages by individual subscribers, a system to use that tracking information to select the most appropriate message from a series developed by the user, and track the overall performance of the program. Some integrate with social media to improve performance with insights from posts on that platform or offer other valuable features to help when utilizing marketing automation.
2.   The benefits of marketing automation
The customer journey isn't linear and often occurs haphazardly over time, which requires multiple touches by the brand to keep their brand front of mind, to motivate purchase, and to slowly move the customer along their journey. Hence, most companies, especially B2B companies, develop lead nurturing programs with messages tied to the customer's product of interest, where they are in the purchase decision, and their behaviors. Take a look at this graphic of a conversion funnel to see how this process might work.
Hence, as the customer moves from awareness to purchase and finally loyalty, a large number of touchpoints from different departments contribute to the journey and successful completion of the journey. Drop the ball at any point, and you might lose the customer forever or, at a minimum, face opportunity costs (reductions from your profit potential) from your failure. Utilizing marketing automation manages this process without stretching the business and without introducing a gap in the process when someone drops the ball.
Take a look at the graphic below from Prisync, which shows how relatively small increases in retention produce dramatic increases in profitability. Customer retention leads to higher sales. Your returning customers increase your profits, bring in money equivalent to lowered costs, and are worth 10 times the money of one-time purchases. By gearing your business and automated marketing towards customer retention, you can make more money.
Although I don't include the details here, the same result comes from effective lead nurturing in terms of a small increase in successful nurturing of 2% generating an additional 100 sales (Coast Digital)
Successful marketing automation generates success for businesses and increases their revenue. That's why, according to Social Media Today, about 75% of businesses currently use marketing automation
Automated marketing allows you to gear your business towards your customers and send them applicable messages. As they receive these messages, they appreciate your business and have positive experiences. With this in mind, it's time to look at ways that you for utilizing marketing automation to increase customer retention.
3.   Utilizing marketing automation
As shown in prior images, marketing automation involves multiple steps including:
Build targeted lists
Segment your audience based on behaviors and/ or characteristics of the lead
Execute the campaign by developing relevant messaging and sending appropriate messages to each segment of your list at the appropriate time
Analysis
Many marketing automation products help collect emails from prospective buyers by generating subscription forms for digital platforms or adding prospects from offline sources, such as trade shows.
Segmenting your audience guides the selection of the appropriate message from templates created by the user. For instance, a subscriber who filled out the form on your page for Product A gets emails notifying them of sales of Product A, new products related to Product A, and other promotions related to Product A. If the subscriber entered a birthdate when filling out the form, you send birthday greetings on the appropriate schedule.
Similarly, your automation system tracks the subscriber's history of interaction with prior emails to determine the optimal time to send the message, for instance. Or, if the system shows the subscriber only opens emails with an offer, don't waste time and chance the subscriber will unsubscribe by sending emails that don't match that preference.



4.   Marketing automation workflows
Let's take a look at how to set up marketing automation now that you know how valuable this tool is for improving performance. This is where workflows come in. Workflows inform your software what it should do in certain situations. Think of it as different commands or email triggers that tell your software to send emails or messages to people that meet different conditions.
For example, you could have a workflow, such as this when a customer orders a product from your business.
The software detects the order
The customer receives a text message confirming the order
The product leaves the manufacturer and enters the mail system, triggering an email to the customer containing the tracking number and estimated delivery date
An email notifies the customer when their order arrives
Follow-up emails ask for reviews, ensure the customer is satisfied, and offer links, such as instructional videos, FAQs, or customer service, and periodic emails ask for repeat orders.
This links messaging to the customer's specific needs while maintaining good communication between the customer and your company.
Here's a concrete example that's common in e-commerce applications when a customer leaves your site with items in their cart, called cart abandonment. Notice this workflow involves multiple channels including email, Facebook retargeting, and search retargeting to remind the customer to return to their cart to complete their order.
Workflow automation provides flexibility and multiple channels to communicate with customers. This way, you automatically send customers information and messages based on different situations. This allows you to meet the needs of your customers while encouraging them to continue interacting with your business.



5.   Tips for utilizing marketing automation
While it's nice to know about different types of automation and some of the workflows, you should apply these tips to maximize the effectiveness of your marketing automation.
Create appealing message templates for a broad range of situations
Give customers the information that they want
Continue to improve
For example, the image above gives an example of effectively using push notifications. They use images that catch the eye, offer a link that invites the customer to act, and use colors that complement each other. This message appeals to people visually while providing the information in an easy-to-read way.
Customers subscribe to your emails or follow your social media pages because they want you to send them important information. Make sure to incorporate information such as deals, changes, and new products into your automated messages. This appeals to customers and encourages them to open your messages while reducing unsubscription rates.
Finally, you should always seek to improve your automated marketing. If you notice that something doesn't work, make changes to it so that your system improves over time. Use the data you collect to inform which changes are necessary. Always listen to your customers and improve your business to serve them better.
These tips help you optimize your marketing automation.
6.   Conclusion
You can use marketing automation in ways that save you time, effort, and money.
Customers like it when businesses can reach out to them through multiple channels. By using marketing automation, you send important messages to customers, continue to gain customers, and increase your customer retention. This leads to more sales, less work for you, and more money for your business.



Today's guest post is brought to you by Laura Narušytė  
Laura Narušytė is an experienced digital marketing and SEO specialist at Omnisend – Ecommerce Marketing Automation platform. When not blogging, she likes to read about SEO, digital marketing and e-commerce trends, technology, and personal productivity. Follow her on Linkedin
Need marketing help to support business growth?
We welcome the opportunity to show you how we can make your marketing SIZZLE with our data-driven, results-oriented marketing strategies.  Sign up for our FREE newsletter, get our FREE guide to creating an awesome website, or contact us for more information on hiring us.
Hausman and Associates, the publisher of MKT Maven, is a full-service marketing agency operating at the intersection of marketing and digital media. Check out our full range of services.