Customer demands dictate the way retail businesses operate and today's shoppers shift much of their shopping online, as you can see in the graphic below. And, while the pandemic may have escalated this shift somewhat, you can see the trend continuing into the future with strong growth in e-commerce sales. If you ever considered building your own e-commerce store, now might be the right time. By using technology, you can build your online store faster and easier than ever before.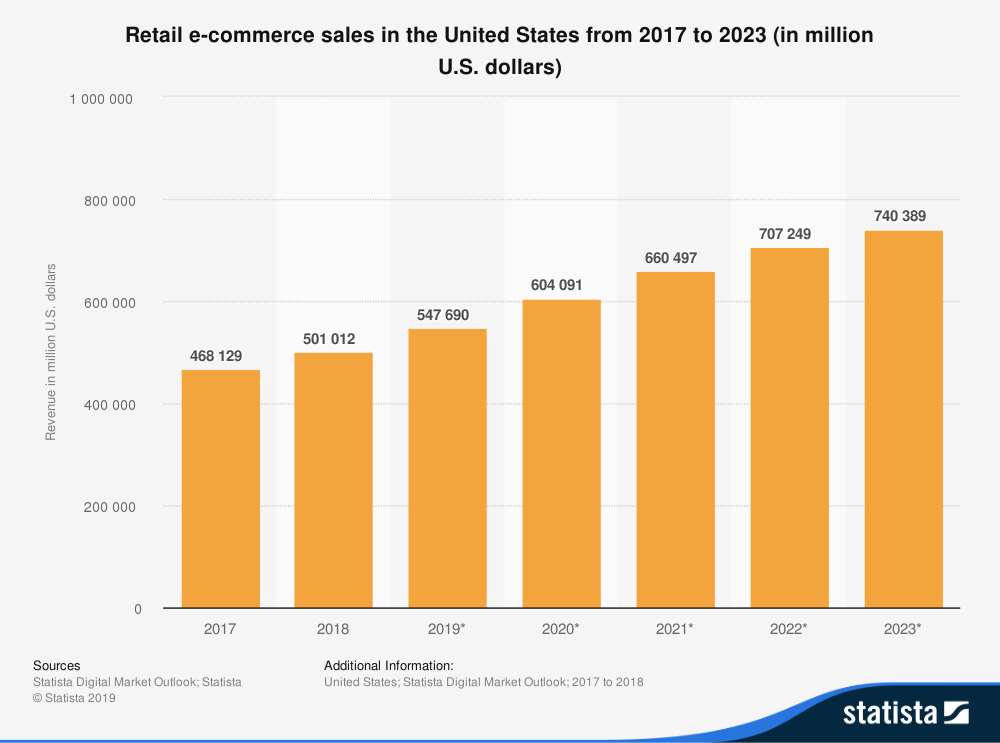 Today's business strategies are crafted based on customers' needs and shopping habits, rather than the models build based on what a business wanted, what they were good at, or how other businesses in their niche operated. With the rapidity with which new retail businesses emerge, reaching customers where they "live" is one of the most challenging tasks faced by both new businesses and long-established ones. In order to keep your business afloat and even to keep up with your competitors, it is imperative that modern-day practices, such as using technology designed to enhance performance, no matter what sector, business size, or whether you operate online or off. Digital marketing is now more important than ever before for reaching customers, but the question is how to use it for your business.
Using technology to build your e-commerce store
Sure, you can survive (maybe) with a simple website connected to an e-commerce platform such as WooCommerce to set up sales and product pages needed to convert visitors. But, using advanced technologies, you stand out from the crowd of other e-commerce stores competing for attention. Using technologies to help meet ever-changing customer needs and manage your internal operations effectively and efficiently increases your chances of success.
Using technology to create a great customer experience
Retail needs more effective financial and marketing strategies. Personalized shopping experiences are now increasingly important for today's consumers, along with shopping experiences they can't get elsewhere. It is imperative that businesses stay up to date with the latest developments, especially technology and how it impacts the retail industry.
Customers may care more about the shopping experience than about the products or brand recognition, according to recent studies. In addition, the data provides information on what makes a good shopping experience, including familiarity with customer history, apologizing for mistakes, providing a seamless experience both online and off, and tailoring the experience to the needs of all generations.
Here are some examples of technology changing the customer experience for shoppers:
VR (virtual reality) now allows shoppers to see furniture in their room, try on clothing using avatars with their body dimensions and coloring
Chatbots are AI-enabled robots capable of simulating human interactions online to deliver on-demand customer support by answering questions, offering advice, or helping customers solve problems
Voice-enabled devices make the entire customer experience hands-free. Using your voice, you can get information, (Alexa, what's the weather forecast for today?), send voice and text messages to your contacts, and, in devices integrated with a visual screen, even shop products without touching the device
Smartphones get smarter every year and can do more to support the user experience. Ensuring your website is mobile-friendly, you provide the best user experience on these smartphones
HI-speed internet and cloud computing mean faster delivery of content to a user's device which provides a better customer experience
Reach retail customers using technology
U.S. retail market saw significant changes over the past 30 years. It's increasingly difficult for retailers to keep up with these changes as well as the enhanced competition as technology shrank the world bringing in a host of new competitors. As shopping malls lost their sheen (many malls now face closure due to low demand) and online stores exploded, keeping up with trends is essential for survival. Shoppers play a crucial role in retail businesses, given that shopping is such a cultural phenomenon. Besides technology, we're going to discuss what kind of methods you can use to succeed.
Loyalty and promotional SMS – To entice customers, you should upgrade from traditional marketing methods to more effective ones such as sending out email messages or SMS (short messaging services) text for both customer service (ie. "we received your return and will credit your account"), reminders ("you have an appointment at 10 am tomorrow") or to promote your brand (ie. "a product you were interested in is now on sale until Friday"). You can send emails or text messages to your customers for a wide variety of reasons such as these, including marketing your products, sales, and loyalty programs.
You can gather customer feedback during and after a campaign by using modern SMS marketing solutions, such as StreamShare. Always comply with industry regulators, and update your text messaging strategies if or when newer technologies become available.
Proximity marketing can modernize your brick-and-mortar store – Retailers face a variety of challenges when dealing with the speed of online shopping, as well as how e-commerce affects their brick-and-mortar stores. The best way to achieve both customer satisfaction and reach your customers is to integrate the advantages of online shopping into your store. Providing online shoppers with a personalized shopping experience while digitizing a brick-and-mortar store is an excellent use of proximity marketing. Utilize effective solutions like WiFi-based proximity marketing for improving the in-store experience as part of proximity marketing strategies. You can also use beacons to enhance the physical shopping experience by offering coupons when shoppers are near a specific location (such as offering a coupon when a shopper tries on an outfit) or provide additional information about nearby products (such as stating the country of origin of a product or it's commitment to sustainability).
Establish an extensive customer database
It is very important that all retail marketing strategies are based on data that is methodically gathered and analyzed. These analytics make a huge difference when reaching out to customers with personalized offers. For effectiveness, retailers must create a comprehensive relational customer database because purchased lists no longer have any value for digital marketing since new rules make it illegal to content people who didn't ask for your content. Hence, permission-based marketing now rules in digital spaces (snail mail using these lists is still an option).
Relational databases combine information about customers from multiple databases. For instance, a customer database might content billing information that's very sensitive, while another database might contain less sensitive information about their purchase behaviors such as prior purchases, product pages viewed, items left in a shopping cart. Importantly, this less sensitive information is available for marketing decisions, while protecting personal information to only the finance area. The two are associated using a key, such as a customer number. By combining these databases (using coding from SQL or Python) you can send a specific customer a text or email telling them a product they viewed in the past is now back in stock.
Conclusion
As a retailer, you must understand that technology is necessary to succeed, and without it, customers will turn to other brands for the best shopping experience. We use technology for personal reasons, such as shopping, so we want it to work in harmony with our other uses. Thus, retailers who find a way to seamlessly integrate their technology-based messages and offers with how customers use technology in their day-to-day lives will always stay one step ahead of their competitors. Keeping up-to-date with future developments is an essential part of any business strategy.
This guide should have shown you how important technology is for any business, especially retail stores in these modern days. In fact, a brick-and-mortar store isn't likely to do very well now, if they don't make use of the benefits that technology has to offer. Do you have any other tips that could help? Please share them below.