The entertainment sector is a vast and complex industry that ranges from escape rooms to boys' bands from actors to theater companies. It's tough for any business to understand how to grow a steady and reliable presence in a diverse sector facing huge competition. And, the industry faces increasing pressure from new forms of competition such as TikTok and YouTube that replace traditional entertainment media. As a performer, the tried and true use of agents and managers to secure work is now supplanted by social media. For instance, Justin Beber found his success through sharing YouTube videos of his songs. Using social media to grow in the entertainment industry is no longer an option if you want to succeed as a performer or a business.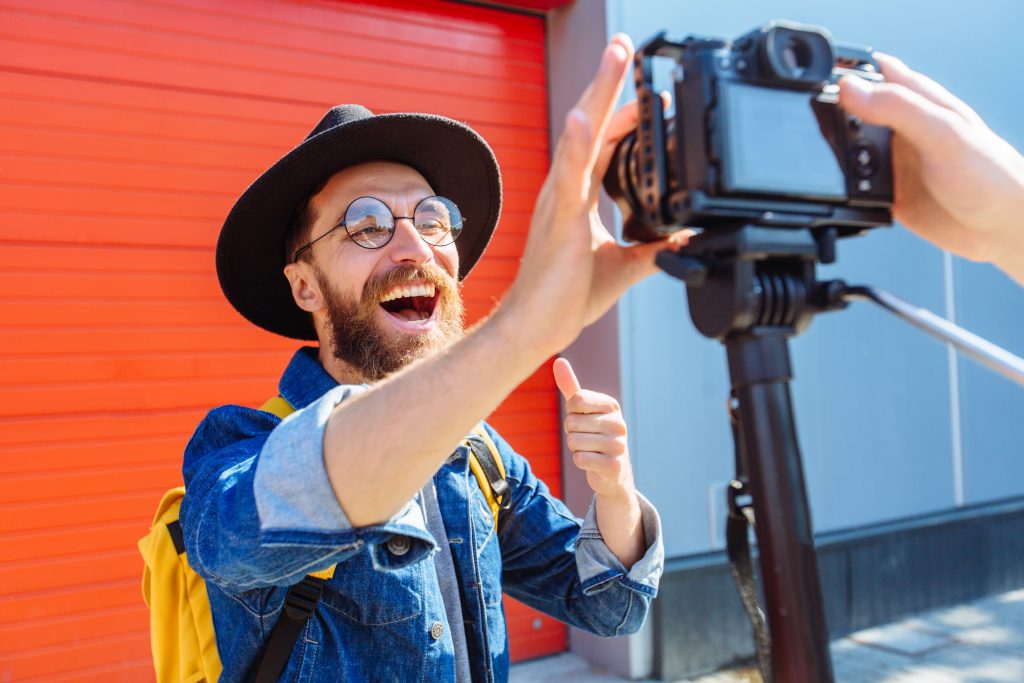 However, social media as a marketing strategy is instrumental in building brand awareness and success. Indeed, most people utilize social media for amusement, information, and networking purposes. According to data, social media users spend on average 2 hours and 27 minutes browsing their favorite platforms every day.
Some of the major platforms, including Instagram, TikTok, and YouTube, have over a billion users every month with these video platforms slowly replacing traditional TV viewing, especially for younger audiences. In other words, while the industry faces stiff competition, entertainment businesses can't afford to miss out on the opportunity to talk to their audience groups online and show off their talents. So, how can the entertainment sector get noticed on social media and build a strategy that drives attention and customers?
Here are some of the best tips in the entertainment industry, which apply to both large brands and small and independent ventures.
Using social media to grow your business
Social media works to grow your business regardless of industry. Even B2B brands find success in using social media to grow their business.
Of course, using social media effectively means understanding which social platforms offer your brand the best opportunities (since you likely won't have the bandwidth to effectively run campaigns on a bunch of social media platforms) and using each platform the right way. Here's a nice graphic to help you make decisions about which platform(s) to use.
Choose one or a small number of platforms and focus all your energy on building engagement across those platforms. Choose the one(s) that help you reach your target market and fit your brand.
Your first step in using social media to grow your brand is crafting a social media marketing plan. Here's what you need to get started:
Know your target marketing
Using social media to grow your brand starts with understanding your target market and knowing how to reach them. Different users hang on different social platforms and use each social platform for different tasks. For instance:
LinkedIn is mainly a business platform so sharing advice about business and seeking new employees (or employment) dominate on this platform.
Pinterest is for sharing images, especially focused on ideas for solving consumer problems, such as building a menu for a holiday dinner. Pinterest users skew heavily female.
Facebook is the largest of these social platforms and one of the few boasting older consumers. Posts share images, memes, and short text messages.
Instagram focuses on images and short videos (Instagram Reels). Owned by Facebook, this platform tends toward fashion (including makeup, clothing, accessories), cute animals, and other highly visual topics. Most images contain people.
Twitter is slowly declining as a platform, although it still has a large following. After expending text limits to 280 characters (from 140), the platform features posts with more substance. Twitter is still heavily used in the entertainment industry as a way to feature new performances and in political discourse.
TikTok is a newer platform with a younger audience than other platforms. It consists of short videos, often shot in a casual atmosphere with a smartphone.
YouTube, owned by Google, features longer videos that include entertainment, instruction, and other, weighted topics, as well as gaming videos such as those shared on Twitch.
Craft a content strategy
Consistency in posting is critical for using social media to grow your brand. Below, you can see insights on how often to post across various platforms.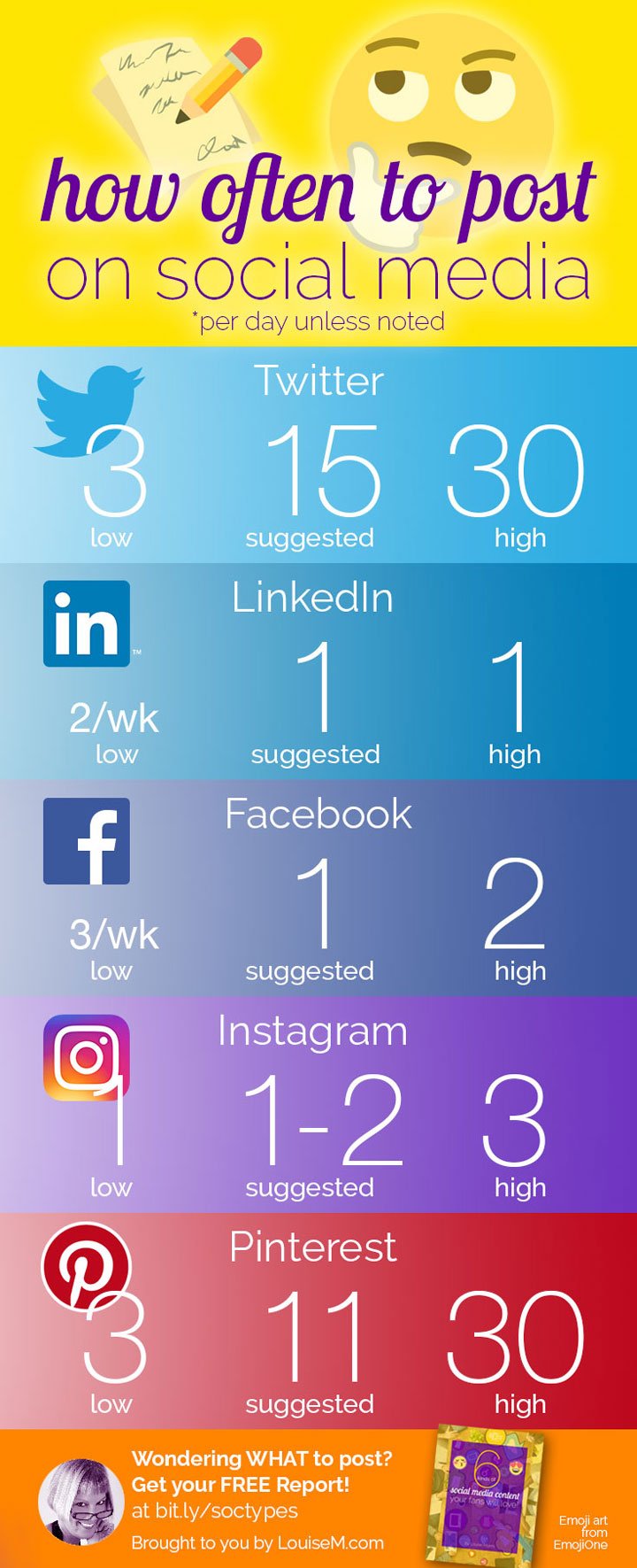 It also helps to develop a content marketing calendar to ensure you have sufficient content for your chosen platforms as well as some tool for market automation to reduce the effort needed to continuously post content.
Metrics and evaluation
No marketing strategy is complete without developing a set of key metrics (key performance indicators) and establishing dashboards to continually monitor performance.
Implementing your social media to grow strategy
You have any number of tactics you might use to support your strategy. Below, I discuss just a few of these tactics.
Create your own shareable items
A shareable item gives your audience group the perfect excuse to take a cute selfie and upload it to their favorite platform, from Facebook to Snapchat. Entertainment businesses have a huge range of options when it comes to fun and exciting items to share on social media.
Escape rooms or independent music bands, for instance, can create personalized merchandise for their brands. Using a vinyl cutter or laser engraving technology helps you create these items at a low cost. Here are some examples of sharable items to consider:
Tee-shirts or hoodies with vinyl silhouettes and heat press
Simple wooden keyrings
Branded signs to buy as souvenirs
Personalized items with the recipient's name
Not only do these sharable items help build your brand on social media (and you can host contests to encourage users to share images of them with your items) but they can also act as a revenue stream if you sell these products at events/ performances, at your location, or on your website. Concert t-shirts, for instance, are collector's items that promote the band, as well as list future concert dates.
Use local social media advertising
Entertainment ventures or bands are often tied to a specific venue. Therefore, it might make sense to create small social media campaigns to reach out to the relevant audience group in the same geographic area. Social media advertising is hugely effective for small brands as the budget is customizable, and you can target a specific audience, and you only pay to reach that audience. For example, if an entertainment business runs a special offer for a limited time, they can tailor their ad campaign to target users in the right geographic area according to their demographics and interest settings. As you are in charge of the budget, there is no risk of overspending.
Share candid and unique insights
Most entertainment ventures or artists worry about managing social media comments. As a result, they tend to reduce post frequency. Yet, social media can be used as a force to grow your brand awareness. Take a look at the South Korean band BTS, which has been active since 2013. The band turned to the Korean web platform Weverse to share their content with their fans. The band also shares its news on Twitter with millions of fans. More recently, BTS broke records when individual members launched their Instagram profiles, allowing them to share their behind-the-scenes photos with fans. The result? Fans are engaged and informed at all times. Besides, BTS remains in charge of the content, avoiding unnecessary rumors, scandals, and harmful publications. While it seems like a success story from an international entertainment figure, it's important to remember that BTS gained popularity online by sharing its self-filmed content on social media when the band was in its infancy.
Conclusion
In conclusion, social media could be the platform that boosts brand awareness and revenue for many entertainment companies. It doesn't need to break the bank or start from an established place of fame. Social media can pave the way to your bug success when used strategically.
Need marketing help to support business growth?
We welcome the opportunity to show you how we can make your marketing SIZZLE with our data-driven, results-oriented marketing strategies.  Sign up for our FREE newsletter, get our FREE guide to creating an awesome website, or contact us for more information on hiring us.
Hausman and Associates, the publisher of MKT Maven, is a full-service marketing agency operating at the intersection of marketing and digital media. Check out our full range of services.