Social media gave businesses free access to one of the greatest marketing tools available; a tool to help them compete with much larger brands. In the days when traditional media (TV, radio, print) was the only option, you not only paid massive fees to reach a broad audience, you wasted a lot of that money when your message reached the eyes and ears of folks who weren't ever going to be interested in your brand. Not only is social media marketing (SMM) more affordable for small brands, it's more targeted so you waste less money reaching folks who don't make up your target market. So, today, we'll discuss using social media to drive sales. If your business isn't using social media or does not have a comprehensive social media marketing strategy integrated with the rest of your marketing plan, now is the time to fix that.
Social media is not only about growing your fan base, it's about generating meaningful leads that lead to increased sales. That means listening on social platforms, not just talking. Use social media to improve your understanding of customers and prospects as well as learn about their questions, displeasure, and unmet needs regarding your product niche. The scope of social media for gathering insights about people and customer habits is far greater than any other means for developing customer insights. Social media also helps you learn about your competition to stay ahead of them and differentiate your brand from theirs. Therefore, sit down and think about how you can utilize this tool to generate sales as you read this post.
Using social media to support your goals
Social media isn't the panacea some assume. So, let's look at some of the goals supported by an effective social media strategy:
Increase awareness and positive image for your brand
Gain support from influencers and other users to encourage users toward making a purchase.
Support customers by answering queries and sharing helpful resources to enhance their enjoyment of your product
Offer customer support through the platform
Build engagement that not only spreads your message to new audiences but builds an emotional connection with consumers
In some cases, social selling might deliver sales for your brand
Provide evidence of your commitment to social causes and demonstrate actions supporting your social responsibility
Tools to achieve your social media goals
Create great content
Posting awesome content on a consistent basis is the key to any digital strategy but it's the hallmark of a great social media strategy. When it comes to posting on social platforms, you must post content that's interesting, entertaining, or informative. More than that, your content must:
fit the platform norms (ie. Instagram focuses on pictures (not images) while Facebook posts containing an image gain more attention)
provide value, social media isn't PR, it's a persona conversation with your followers
focus on the users, not yourself. If you are posing something directly salesy, it is probably best to concentrate on the problem you are solving, rather than going in with the hard sell. Only 20% of the content your post (at most) can focus on you, the remainder must be interesting to users.
use stories. Customers like stories, so if you can upload several posts over the course of a few days, share stories about you (backstage access), your employees, or your customers.
meet the optimal posting schedule, which varies by the platform as you can see below. Posting too frequently may irritate users while posting too infrequently fails to deliver value for your brand. Consistency matters. Focus on high-quality posts at key times, such as when people are waking up with a cup of coffee and flicking through social media, lunchtime, and after work. Do not inundate the feed with post after post. Tools like Hootsuite and Buffer are low-cost options to automate your posts. Automation ensures you meet your desired posting schedule (posting at times when you are most effective) while reducing the effort needed.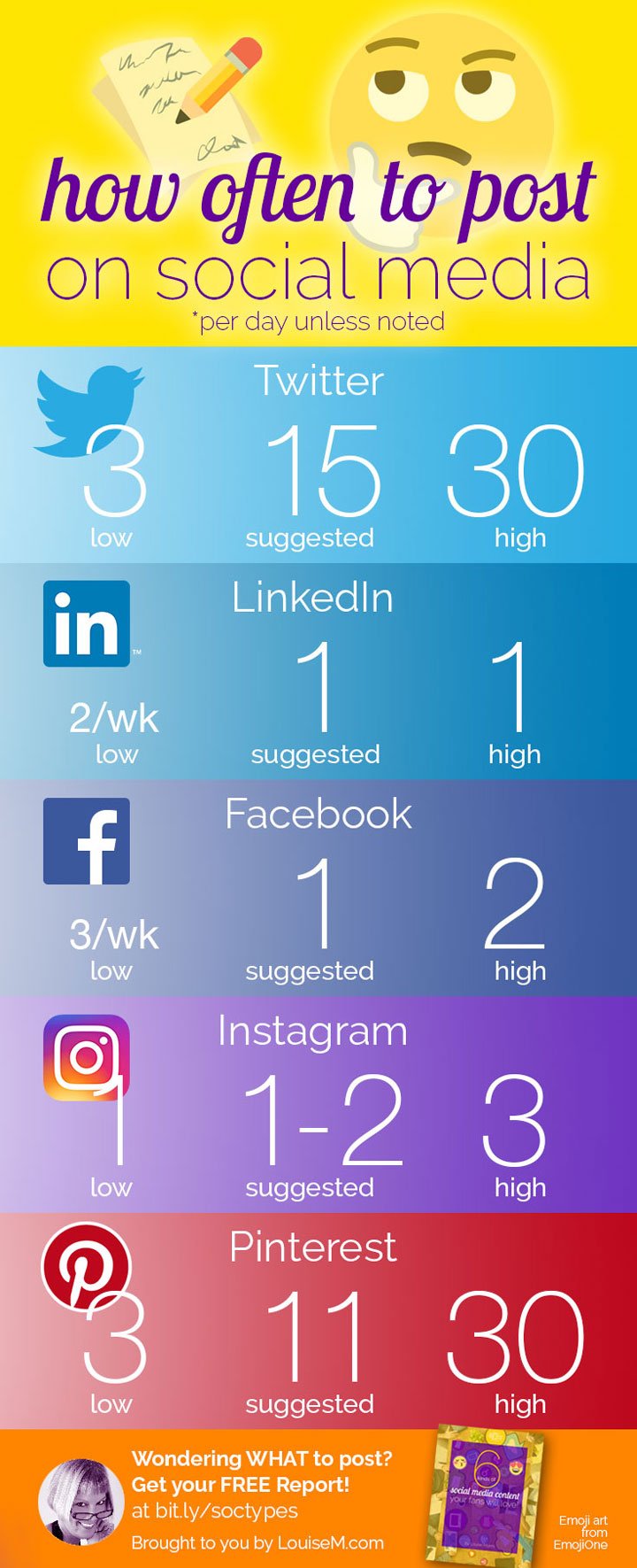 match your target market. There are hundreds of social platforms out there. Focus your efforts on the ones frequented by your target market. Below, you can see information to help you choose the right platform based on age. You'll find other images like this that offer insights across other demographic and geographic variables.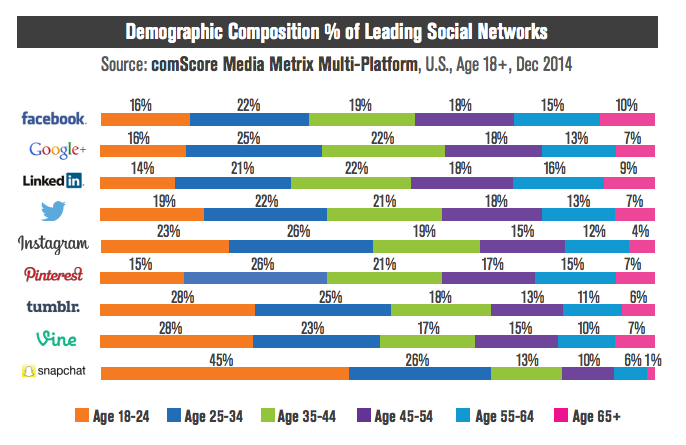 Branding and core values
First of all, you need coherent branding across all your public and private communication efforts. This includes not just visual elements of your brand like your logo and style guide, but more substantive branding elements such as your core values and messaging. Consistent branding not only reinforces your brand across platforms but also builds trust.
You need to think about the message you send out to your customer base and prospective customers. You can use social media to create an awareness of a particular value or issue supported by your brand, such as Ben and Jerry's support of local farmers and sustainable business practices. This core value was so closely associated with the brand that when sold, a stipulation in the contract ensured the buyer to adhere to the support. Of course, it's not enough to say you support certain values, you must demonstrate it through your actions.
Core values create a bond with the customer when they share your values and more than half of consumers will pay more for brands that live their values. Sharing messages that support your values may break your bond with a certain type of consumer while strengthening the bond with others. But not taking a stand on an important social issue might alienate everyone, so there's no way to avoid committing to a cause one way or the other. If you live a constant set of values, you stand the best chance of survival. This way, you can use social media to garner interest, build trust and loyalty to your brand. If you struggle in this respect, why not get help from an internet marketing agency that is an expert at creating excellent brands.
Pay it forward
Social media, unlike traditional media, is a two-way street where communication flows in both directions. NEVER stop listening to comments on your social platforms as well as mentions of your brand on other sites. If you see criticism of your brand, don't hide the post as that just encourages further conversation about the negative comment. Instead, own the problem and offer a solution to fix it. An apology goes a long way, especially when it's timely.
Positive mentions of your brand also deserve attention. Thank those who post positive reviews as these are a gift. When users comment on your posts, use this as a way to begin a personal conversation with them. If users don't make comments, ask questions to begin a conversation. By engaging with users who like your brand, you turn them into advocates who spread the word to new users. The best of these are users who answer questions or offer advice about your brand. These are worth their weight in gold.
Conclusion
Social media marketing is a great tool to support your market performance when used correctly. Hopefully, these insights help you build a better strategy that translates into sales.
Need marketing help to support business growth?
We welcome the opportunity to show you how we can make your marketing SIZZLE with our data-driven, results-oriented marketing strategies.  Sign up for our FREE newsletter, get our FREE guide to creating an awesome website, or contact us for more information on hiring us.
Hausman and Associates, the publisher of MKT Maven, is a full-service marketing agency operating at the intersection of marketing and digital media. Check out our full range of services.