Google Analytics is one of the most popular forms of digital analytics software that is available today. This free tool gives you the ability to assess a vast amount of information about your website's performance including information about visitors, page performance, conversion, and how well various marketing strategies contribute to your success. Using Google Analytics to analyze your performance provides many insights that help you optimize performance. However, the vast amount of data available sometimes results in paralysis and insights never emerge. Developing an analysis plan and creating KPI-rich dashboards translates into an easier time analyzing Google Analytics data and provides better opportunities to use the data to fuel growth by improving your marketing campaigns. If you want to get more insights from Google Analytics, there are a number of different ways that you can go about it. So, let's take a look…
Set up Google Analytics
Google Analytics (GA) works by installing a small snippet of Javascript on each page of your website. If you never wrote a line of code before, this might seem intimidating but you can add the snippet without any coding knowledge. Let's walk you through the steps needed to set up a Google Analytics account.
You'll need a Gmail account to sign up for Google Analytics so, if you don't have one, get yourself a free email account. Next, toddle on over to Google Analytics to sign up for an account. You'll see a screen like this:
Start by creating an account (using the blue button in the first column and following directions), Next, create a property using the blue button in the middle column. You want to choose the first option, the GA4 setup assistant — currently, a few versions of the GA tool work but they plan to eliminate all of them except GA4 in the next few months. Finally, use the blue button in the last column to set up a view — commonly all website data. Larger businesses might want to include views for specific product lines or geographic locations if they want managers to focus on analytics related to their area of responsibility so they should selectively add users in Google Analytics. You can set permissions for individuals using their email addresses so your staff can only see certain parts of the data.
Once you complete the setup, Google generates a snippet of Javascript. You don't need to understand or modify anything in the code, simply copy and paste it into the <head> section of your website. Each time someone visits your site, this code triggers GA to begin tracking clicks, time on page, and collect visitor information. If this all sounds like Greek to you, upload a plugin to help with this task. MonsterInsights (free) helps you link your website to your new GA account; making it easy to start collecting data from your website. Within 24 hours you'll start seeing data from your website. GA always reports data for prior days, although they do provide some limited real-time data.
Learning GA
Learning GA isn't straightforward. Here's what you see when you review your results in a default GA dashboard.
First, you face the daunting task of deriving insights from a massive amount of data like that shown above. There's also a left toolbar that changes the metrics displayed and a variety of reports are available to display data. Custom reports are easy to generate plus sharing reports crafted by other users, many of which
are available on the platform, extends your insights with more nuanced dashboards. For instance, there's a dashboard crafted by SEO experts to assess that aspect of your performance. Each of the elements available on the report can be modified easily by the user to aid in their analysis. For most reports, which are interactive, you can change the date range and add secondary variables to the analysis. There's no one RIGHT way to analyze the data, so you must develop a plan based on your individual needs.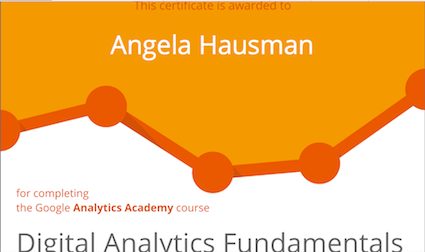 Before you develop your analysis plan, you should get some training so you can extract the necessary insights from GA. Google offers free training on how to get the most from the platform and, if you take the quizzes associated with the training, you get a certificate, like this one. There's a more advanced certificate available that requires additional learning that includes Google Data Studio, which is primarily a data visualization platform using your data as input.
In addition, Google offers a couple of sets of data you can use (free) to learn GA by practicing with the data sets. Play around with these datasets to gain a better understanding of how to use GA to develop insights that can help you optimize your digital performance.
Develop a GA plan
Faced with massive amounts of data, you must develop a plan if you want any hope of managing your analytics task.
What you analyze is a function of what you need to optimize your business performance. For instance, an e-commerce site might use different KPIs (key performance indicators) than a blog. So, before you start, determine the best KPIs to track. These might include:
SEO measures such as organic traffic, time on site, bounce rate, engagement (ie. comments, visits from social)
Page performance measures, such as pageviews
Channel performance including visits from social, direct, and referral
Conversion measures such as conversion rate, conversion value, cart abandonment, ROAS (return on advertising spend, available when you link your Google Ads account to GA)
Visitor characteristics, such as age, gender, device used, geographic region, affinity groups
Figure out what's important to you in achieving your business goals and build a plan to assess those metrics.
GA insights
To provide a more nuanced view of performance and guide decisions to optimize performance, you need to dig into the metrics more. Below are some ways to glean deeper insights from your GA data.
1. Assess your top conversion paths
Whether you sell products from your website or use it for some other purpose, you have goals. These goals might include conversions such as gaining email subscriptions, downloading a white paper, viewing a video, or clicking to another site, for instance, to download your app from the Play Store. Analyzing how many conversions occur, as well as what contributed to each conversion is critical if you want to grow your business.
The first thing that you need to do is to take a look at your top conversion paths. Visitors don't always behave in the way you want them to when they visit your website. This is why it is critical to understand your conversion path. Figure out how your visitors are converting, rather than just assuming that they are converting in the manner you expect them to. Also, monitor where a disconnect occurs that thwarts your conversion. For instance, shopping carts are abandoned. Learn where this abandonment occurred to help you determine a solution that reduces abandonment. Check your pages involved in conversion to determine if any of the problems shown below lead to abandonment.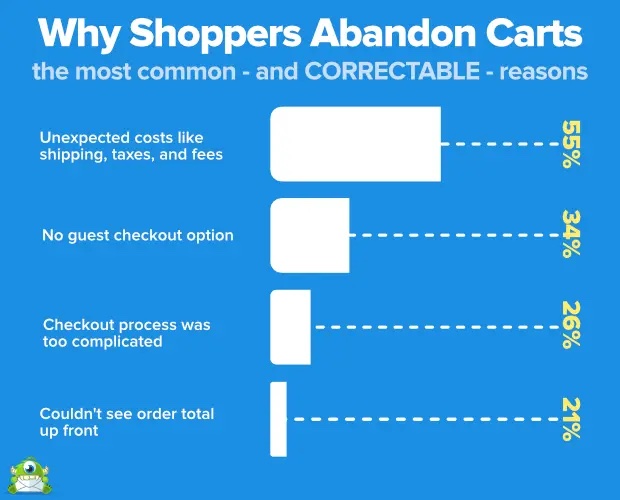 2. Assess historic traffic trends
The next step is to compare historical traffic trends. A lot of people are only concerned with the traffic their website experiences at the moment. However, you need to assess how traffic changes over time and you need to identify patterns based on past website visits if you want to gain the valuable insights you need to keep moving your website forward.
Start by comparing traffic metrics (visits, time on page, bounce rate) across time periods such as week over week, month over month, and year over year. Graph the results as that makes it easier to detect true variation versus normal blips in performance. Look for patterns then investigate why these trends exist, even if the trend is upward.
Next, perform the same kind of analysis on individual pages, especially critical pages such as landing pages to monitor performance over time. Fix or eliminate pages that don't perform well and use insights gleaned from high-performing pages to guide your ongoing content marketing efforts.
3. Assign monetary values to your goals
In Google Analytics, it is important to set goals. You can establish up to 8 goals in the free version using the option titles GOALS available in the 3rd column on your admin panel (the one you used when you set up GA). Access the admin panel by selecting this option from the left sidebar menu.
You can set goals for most types of conversion, such as gaining new subscribers or selling a product. GA provides templates for common goals, such as watching a video or creating an account that walks you through the process of setting a goal with a few pieces of information (such as the thank you page that confirms a purchase). You can also create custom goals, for instance, a template doesn't exist for subscriber goals.
Once created, these goals show up on your analytics reports, making it easier to interpret the data. Assigning a monetary value to goal completion also allows you to determine the ROAS of your marketing efforts to determine which ones develop best for your brand.
4. Set up intelligence events
While you should check the performance of your website on a frequent basis, it is unlikely that there are going to be massive deviations from one day to the next day. This is why Intelligence Events are important. This is a feature that enables you to set up custom parameters so you can monitor any site activity that is unusual, ensuring account managers get alerts about it.
Certain events are of primary concern for your brand. By adding a tracking code to your links, you can easily assess the performance of these events such as [source]:
tracking outbound link clicks to other websites, such as the app store or your YouTube channel.
Understanding how many users clicked on mailto email addresses or click-to-call phone numbers. This can help you to better understand the number of inquiries you get from your site.
Tracking PDF and other media downloads.
Measuring interactions with video content, such as time spent watching a video.
Tracking exactly where users drop off when filling in fields on your forms or checkout
Monitoring the clicks on unique elements of a page, such as the "contact us" call to action on your about page.
Collecting data about how many users filled in and submitted a form, although I would always recommend sending users to thank you pages whenever possible.
Just like setting goals, GA provides an easy process to walk you through creating events called Google Tag Manager.
5. Use audience data to create custom visitor segments
You likely have customer personas reflecting your target market(s). You need to assess how well your website does in attracting that persona, what they do once they get there, which segments convert at higher rates, and which ones spend more on your site. GA provides tools to break down nearly any metrics (ie. conversion, time on site, etc) based on demographic and geographic variables. For instance, here's data showing pageviews by gender and age.
6. Channels
Where does your traffic come from?
This is a critical concern since it takes time and money to build and maintain marketing campaigns. You want to know which campaigns deliver and which don't perform as well so you can make informed decisions about which campaigns to continue, which need some changes, and which you should simply stop. GA offers great reports to show not only which channels send traffic to your site but what happens to traffic from each channel once it gets there. You can even determine which channels deliver the highest conversion rates. Using multi-channel attribution modeling, which is part of GA, you can even assess the contribution of each channel involved in a conversion that occurs over multiple visits.
7. Add annotations to reports
Finally, add annotations to your reports. These are simple notes but they make a huge difference in helping others understand what they're seeing when viewing a report. It's all about good housekeeping. Annotations are notes that explain increases or decreases in traffic. They might appear in a speech bubble icon along the bottom of graphs on Analytics or you can create a report in a PDF or document format that integrates text and metrics/ graphs from GA to help others gain insights. GA makes these external reports easy by allowing you to download entire reports or individual graphics in various formats. You can even download data for further analysis using tools like Microsoft Excel. This gives context to all of your reports.
Conclusion
So there you have it: seven ways that you can get more insights via Google Analytics. If you follow the advice that has been provided above, you can make sure that you get more insights into your business to improve performance.
Need marketing help to support business growth?
We welcome the opportunity to show you how we can make your marketing SIZZLE with our data-driven, results-oriented marketing strategies.  Sign up for our FREE newsletter, get our FREE guide to creating an awesome website, or contact us for more information on hiring us.
Hausman and Associates, the publisher of MKT Maven, is a full-service marketing agency operating at the intersection of marketing and digital media. Check out our full range of services.