Have you heard about user-generated content (UGC) and felt excited about the prospects of other people helping to market your product or service? Well, you're not alone. Everyone loves the idea of gaining followers, customers, and influencers to help offset the work involved with running a successful video marketing campaign. User-generated video content supporting your brand can do wonders when your goal is building brand awareness and increasing revenue.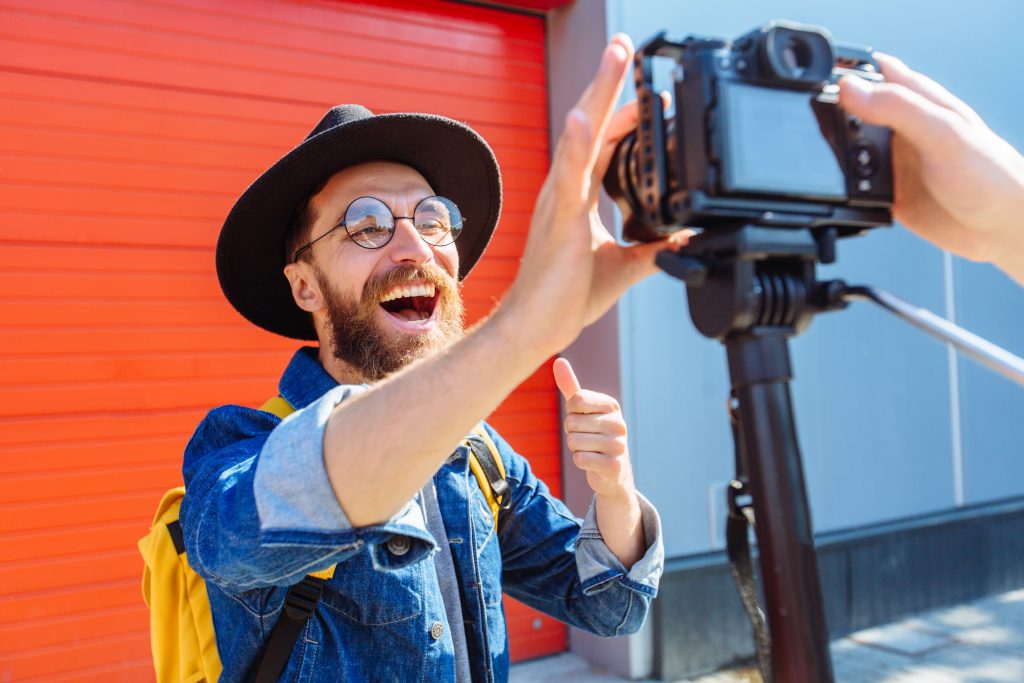 Not only does UGC help create awareness but, according to the Nielsen Consumer Trust Index, over 90% of your audience trusts UGC more than your brand's marketing efforts. However, there's a lot to think about when incorporating a user-generated video content strategy into your overall video marketing efforts. You must do it in a way that respects your fans, followers, and customers.
Don't worry! In this article, we'll show you how to get user-generated video content and how to do it properly.
What is user-generated video content?
User-generated content is any content created and shared by your brand's followers or customers. User-generated video content refers specifically to video content shared by your customers and fans.
Examples of UGC might include:
A YouTuber raves about their results using a product
TikTok user posts about their favorite product you make
Someone tweets their positive experience while using a certain product
A brand reposts a happy customer's IG Story
Someone posts an unboxing video showing their excitement in getting your product
An influencer shows how to achieve a particular effect with your fashion or make-up
Other user-generated video content helps customers get the most from your products, for instance, when someone posts a video showing how to assemble a product. One of the key aspects to what defines user-generated content is this: you don't pay for this content. The fact that it's generated by third parties who don't work for your company makes this type of marketing some of the most refreshing and authentic advertising your brand might ever get.
Why should you take user-generated video content seriously?
UGVC is organic and free. Not many other organic methods have the same level of potential that user-generated video content offers. If you take the tips we listed below and use them properly, you can expect to create an ever-increasing flow of leads and sales from a growing base of raving fans.
You'll discover that using user-generated content results in the following benefits:
Driving qualified, ready-to-buy visitors to your website
Collecting real, authentic online reviews of your product or service
Supercharging your video marketing plan without any ad spend
Building a loyal base of followers that eventually turn into customers
Focusing on those four benefits is a genuine way to get more leads for your business. The reason for that is because the very nature of third-party recommendations equates to honest sharing of your brand's best qualities. Don't you trust personal recommendations from people who already used a product you're considering more than a direct advertisement from the product's brand?
Most other people feel the same way you do. In fact, 86% of consumers rate authenticity as a deciding factor when selecting brands to purchase from.
Don't abuse the power of user-generated content
One last thing before we move into the process of generating this type of video content: exercise care when using content without permission. Your user-generated video content plan might backfire if you don't give proper credit and/or surprise a follower when they discover you used their content in a promotional manner.
It takes time and effort to create video content. Be courteous and ask permission when you want to repost someone else's work. Even though they created unsolicited content about your brand, take the time to foster additional trust by reaching out to them first.
Let's now talk about the steps to take when you want to generate user-generated video content to add to your video marketing plan.
Creating a strategy for user-generated video content
Don't assume that UGVC simply materializes out of thin air. Instead, you must create a strategy designed to motivate creation, reward influencers who create video content, and share that content effectively. So, let's work through the steps in this process.
Choose your user-generated content plan's goals
Work your user-generated video content plan strategically. Brainstorm the purpose of user-generated content advertising. Here are four potential use of UGC to consider:
Showcase how to use your product
Create inspirational content
Help followers make their final buying decision
Share genuine customer reviews
Most likely, your plan will encompass all of these goals at different times. Many other goal possibilities exist for your UGVC marketing plan. You might use this strategy to raise more overall brand awareness by measuring an increase in likes, mentions, and comments.
Of course, your ultimate goal should include increasing leads and sales conversion numbers.
Choose social media platforms wisely
Setting goals helps you select which social networks might work best. Building an understanding of your target market and where they hang out helps you choose between TikTok, YouTube, and Instagram or some combination to help reach your goals.
TikTok's culture is all about sharing short-form video content. The platform continues to grow as of mid-2021 and content is plentiful. Find customer videos, engage with them in the comments, ask their permission to reuse their videos, and credit them on your profile when doing so.
Seek out influencers sharing reviews on YouTube, for example. Do the same on Instagram, Twitter, and Facebook to create a winning strategy.
Educate users about the type of content you prefer
Your brand ambassadors want to please you for their own reasons, such as to build their brand or gain recognition. By selectively sharing content they create, you encourage content that supports your goals.
Use hashtag campaigns or social contests to increase users' motivation to create videos. Starbucks does this every December when they use their #RedCupContest hashtag. Fans submit coffee photos in hopes of winning a Starbucks gift card. Another example is the #SeeAustralia hashtag campaign run by Tourism Australia that encouraged their followers to share vacation experiences.
Use these user-generated content examples to brainstorm similar ideas for your brand. Ask yourself how you can encourage fans and followers to post video content for you to repost.
Share content created by followers
Don't play favorites when employing your user-generated video content marketing strategies. Yes, you'll have a few specific influencers who produce a greater quantity of content that reaches a wider audience in exchange for payment or other rewards.
However, you should strive to include as many of your followers as possible in your sharing strategy. You reach a larger base of new customers over the long haul with this strategy. Showcasing different types of people from various parts of the world only serves to attract more people who relate to them. If you want to open up your brand's exposure to new avatar channels, then this is a great way to strategically make it happen.
Foster community via user-generated content
Unlike running paid ads, using content marketing, or creating your own videos, using user-generated video content inside a video marketing campaign helps build a stronger bond between you and your audience. Many brand followers find it rewarding to see their testimonials, product reviews, or other positive videos shared by your company.
If you show up to shower fans with recognition, answer their questions, and reveal the human side of your brand, you can expect to make more consistent first-time and repeat sales inside a cohesive community.
Examples of 4 types of user-generated content
Now that you understand the main benefits of deploying video marketing content that includes a healthy dose of user-generated content, let's dive into four ways to put this idea to use.
1. Host contests
Contests are fun ways to offer fans and followers extra incentives for contributing their video content throughout their social media platforms. Yes, your followers create UGVC because they enjoy giving back to brands that make them feel good and solve their problems. They also do it because they understand that sharing content across your social accounts drives additional traffic back to their profiles. But contests result in more likes, shares, and comments across all their social posts.
The Swizzel's Squashies candy brand provides an example of this strategy. They run a summer contest where participants post videos revealing what they're doing during the summer months.
2. Share product reviews
Consumers trust product reviews. People want to see real customers providing honest feedback about your brand. Look for those reviews and get permission to repost them to your social accounts.
Don't be afraid to include reviews that highlight both positive and negative experiences with your product or service. If you're open about where your company must improve, you'll discover that prospects appreciate honesty. It fosters additional trust and leads to more sales as a result.
More reviews help your brand in other ways, such as increasing trust in the eyes of Google, which then nets a higher surge of organic website traffic.
3. Partner with influencers
Continuously search for and partner with influencers on social media. They bring with them a built-in audience of greater size, exposing more people to your brand. You'll see a surge of traffic, social media engagement, leads, and sales each time an influencer participates in your user-generated video content plan. Their followers respond to the video content, share it themselves, and your brand benefits from expanded reach.
4. Use social channel takeovers
There are several ways to run a social channel takeover. You can share any number of content types. However, video content is especially relevant when using this strategy.
A social channel takeover allows you to partner with customers or influencers in a personal manner. A customer, for instance, can "take over" your social media platform and post content that reveals an inside look into what it's like to experience your product or service.
Imagine the sense of community, openness, and trust that comes from letting a customer or influencer host your account and offer third-party opinions and recommendations while showcasing your product.
An Instagram, YouTube, or Facebook Live presentation works beautifully for a social channel takeover. This type of video marketing takes your need to overtly sell out of the equation. In its place sits a customer or influencer having fun showcasing your brand in an enjoyable way for your entire audience.
Conclusion
Now it's your turn! Are you ready to start using user-generated video content as a structured strategy inside your video marketing campaigns?
Take the above ideas and brainstorm how to add them to your brand's marketing plan. The interesting thing about user-generated content is that it adds fun to your marketing. The best fun of all? Watching that swell of new and repeat sales materialize as a result of your user-generated content focus.
Need marketing help to support business growth?
We welcome the opportunity to show you how we can make your marketing SIZZLE with our data-driven, results-oriented marketing strategies.  Sign up for our FREE newsletter, get our FREE guide to creating an awesome website, or contact us for more information on hiring us.
Hausman and Associates, the publisher of MKT Maven, is a full-service marketing agency operating at the intersection of marketing and digital media. Check out our full range of services.