If you're a marketer today or you're studying to become a marketer, you must work to upskill in digital marketing since every year a larger percentage of a brand's marketing budget is spent on digital marketing and away from the more traditional marketing tactics you might have learned in school. If you don't believe me, check out the graphic below. If anything, the pandemic accelerated the transition toward digital marketing and no one expects a reversal in the trend in the foreseeable future.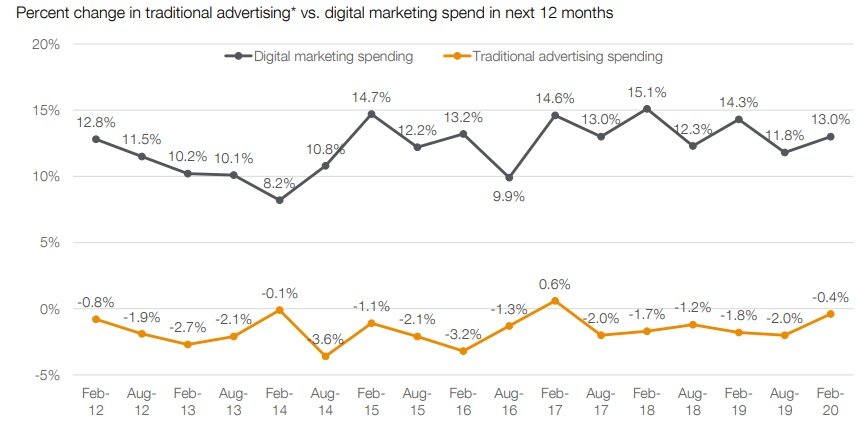 Digital marketing
The rationale for this transition toward digital marketing is based on several factors that impact consumer markets. Among those factors that make traditional advertising less appealing are:
The near-collapse of print advertising as newspapers close their doors or merge and a plethora of niche TV stations replace magazines
Cord-cutting and other television viewing habits mean fewer eyeballs on your commercials. Streaming platforms allow users to skip through commercial advertising; some like Netflix and Hulu Plus strip out ads before streaming them into viewers' homes. The one exception to this trend comes from the sports world where viewers want to watch in real-time, which means exposure to commercials. At some point, streaming services will become the dominant form of live viewing for sports content.
Those still paying for cable or over-the-air broadcasting often time-shift by recording programs for later viewing. This allows them to skim past commercials by fast-forwarding.
Increasingly, users opt for paid audio services such as Sirius/ XM or connect mobile devices to their cars to listen to paid services such as Apple Music and Pandora.
Many communities now forbid outdoor advertising so options for billboards and other forms of outdoor advertising are disappearing.
Meanwhile, a number of factors argue for spending more of your budget on digital marketing. Among these are:
Folks use digital platforms for shopping, among other tasks. Experts expect to see 300 million online shoppers in the US alone by 2023, generating $1.06 trillion in 2022.
Digital advertising is more cost-effective. Rather than pay $6 million for a single Super Bowl ad, you can spend that money on search advertising (PPC) or on a social platform to reach more consumers. Although the Super Bowl attracts a large and diverse audience across broadcast and digital platforms, as well as attracting media attention by introducing new commercials during the game, its audience is too broad and, since consumers need multiple exposures to a message for it impacts their purchase intentions, a single ad is like spitting into the wind. While the required number of exposures needed to achieve recall varies between 7 and 10, there's good evidence that a single exposure does little.
Advanced targeting is possible with digital marketing. Advertising on social platforms allows brands to select members of their target market to selectively receive their message. Since billing is a factor of exposure, you only pay to reach prospective buyers rather than a massive number of interested users.
Sixty-five percent of US consumers looked up a price online from a physical store for comparison.
Upskill in digital marketing
Hopefully, I've convinced you of the value of digital marketing and you now plan to include it as part of your next marketing plan. Well, that's great.
But you can't just start digital marketing with your existing staff. Digital marketing takes a unique skillset if you want to succeed so you need to either hire trained staff or use an agency to help you manage your digital marketing. Here's a comparison of those options.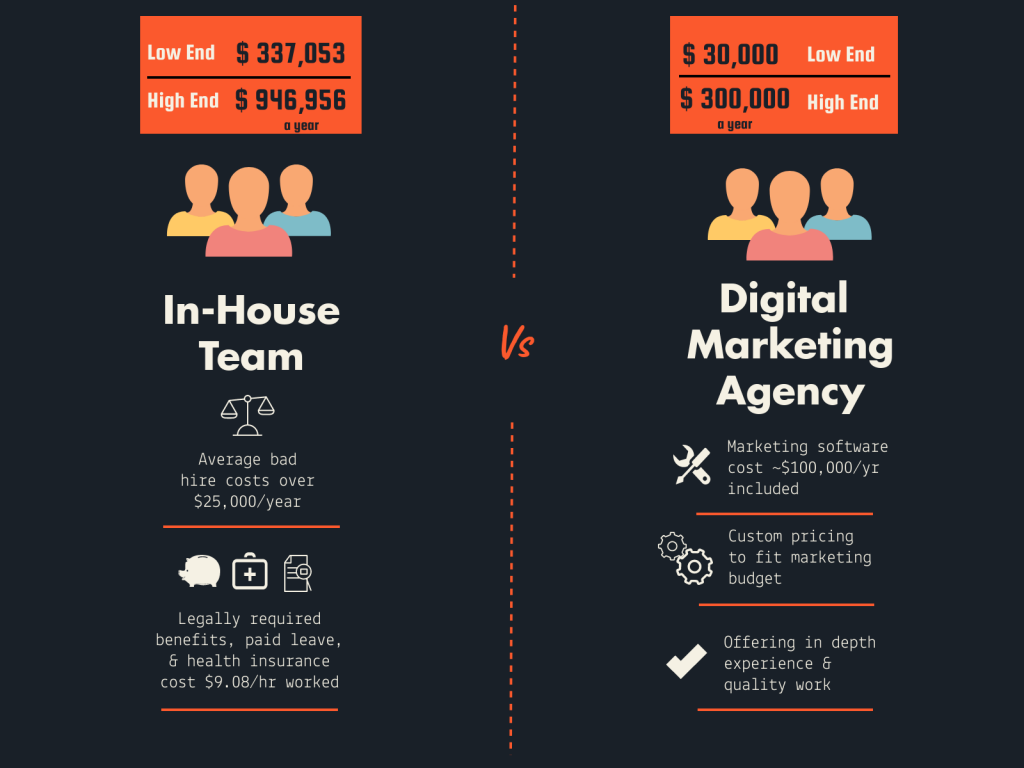 It's not easy to find the right people to run your digital marketing and you can't just hand off this important task to your nephew because he's an influencer on TikTok. You need folks with the right combination of skills, including:
SEO – search engine optimization – for both on-page and off-page as well as local SEO
Content creation, since content is the single most important factor impacting SEO. You need a variety of types of content, such as video, images, and text. That means you need people who write well, have basic video editing skills, and have some experience with images.
Technological skills such as using a content management system such as WordPress, writing code to customize websites (usually HTML and CSS), and knowledge of software used to support digital marketing
Analytical skills to derive insights from website data (usually Google Analytics) and from social platforms
Mobile marketing
Digital advertising
Email marketing
Project management to keep projects on track
Yet, these skills are in short supply, as you can see below, with the greatest need for analytical, mobile marketing, content marketing, and social media marketing skills. If you can't hire folks with these skills due to the short supply, your only choice is to upskill in digital marketing to meet your own needs.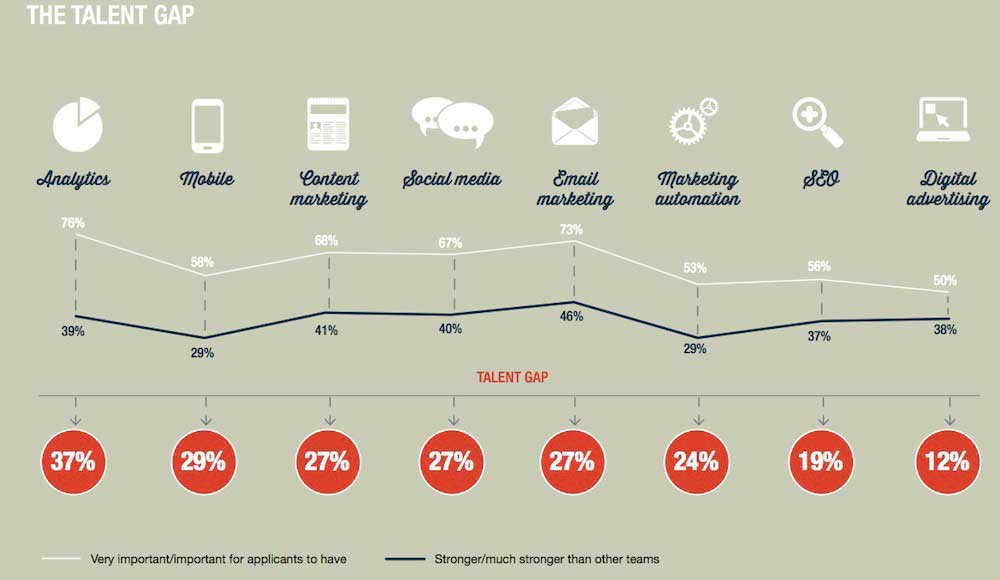 How to upskill
As I mentioned, you can't meet your digital marketing needs by using existing staff (probably) or hiring a family member who has experience on social media. You need folks with a combination of skills that include traditional marketing concepts such as segmentation, along with those trained in the business application of digital marketing. So, where do you begin with your efforts to upskill in digital marketing?
I'm glad you asked. Here's my advice.
1) Do research:
The first step when you want to upskill in digital marketing is to determine which skills you already possess and which you need to work on. There are a lot of different aspects to digital marketing, so it's essential that you have a good understanding of what you need to know. Take some time to read articles, watch videos, and talk to other businesses that have already implemented digital marketing. This gives you a better idea of what skills you need to develop within your staff or hire from outside.
Once you build your digital marketing strategy, you'll have a better idea of what you need. There are just too many potential tactics you might use and, especially if you own a small business, you can't effectively implement all of them. Decide which tactics offer the best return on your investment, then build the skills needed to accomplish those tactics. For instance, you might choose only 1 or 2 social media platforms so you can do a great job on them versus using a number of social platforms that you can't adequately maintain. You might also find from research that your target market predominately uses a desktop/laptop to interact with brands (this is common in B2B product markets) so you can de-emphasize your mobile efforts.
2) Develop a solid foundation:
Once you completed your research and did the planning, it's time to start developing a solid foundation with any skills you lack. This means learning the basics of digital marketing and getting comfortable with the different tools and strategies. An increasing number of universities offer training either through degree programs or certificates. At Shenandoah University, I run a popular digital marketing certificate program where students develop a broad range of digital marketing skills over the course of 2 semesters. You can also find a number of programs from for-profit companies that offer training either online or in the classroom, although online programs dominate. For instance, check out this best online SEO course.
You can also upskill in digital marketing by reading books and online blog posts (including those published on this site). Some people work well with the freedom to choose what they want to learn and where they want to learn it, while others need the structure provided through a program.
3) Get hands-on experience:
Once you have a solid foundation, it's time to start developing some hands-on experience. There are many ways to do this, such as working with a digital marketing agency, taking on internships, or even starting your own digital marketing campaigns. Non-profits often need help and you might volunteer for a local non-profit to learn by doing.
Similarly, you can start something on your own or find a local group through Meetup where you can learn by doing.
That's what I did when I first started to upskill in digital marketing. I built my own website with someone familiar with that task who took me on as a mentee. Then I read everything I could find as I built the website, social platforms, email marketing program, and related activities. Since I have total freedom to do whatever I wanted and very little to lose if I did something stupid, I was able to learn a lot from both my successes and mistakes. I continued to read voraciously to learn more and, since digital marketing always evolves, I continue to read a lot from the experts. This leads to my next point.
4) Stay up-to-date:
Digital marketing is an ever-changing field, so it's important to stay up-to-date with the latest trends and developments. The best way to do this is to follow digital marketing blogs, attend conferences, join a few local Meetup groups, and participate in online forums. As digital marketing transforms itself, continue working on your own website to optimize performance. For instance, a recent change by Google meant speed was more important than in the past. Google offers a Core Web Vitals report as part of the Search Consol provided free of charge to website owners that offers suggestions for speeding up your site.
Another great tool for staying up-to-date, especially on website design issues, is to view the websites for your competition. Using developer tools offered through Chrome, you can see the code underlying the website so you can mirror website development trends you like.
5)  Practice, practice, practice:
The only way to get better at digital marketing is to practice, try new things, and learn from your experiences. In addition to setting up your own website and experimenting with different digital marketing techniques, you should monitor performance carefully to learn what's working and what isn't. Plus, you'll learn valuable analytical skills. None of your work really matters if you don't learn from your efforts.
For instance, you can create a dashboard in Google Analytics to track your website performance. By analyzing performance, you learn which pages work and which don't both in terms of driving visits to your site and reaching your goals. You can run A/B tests for everything from your website to email campaigns to learn which subject lines work or how to construct a call to action.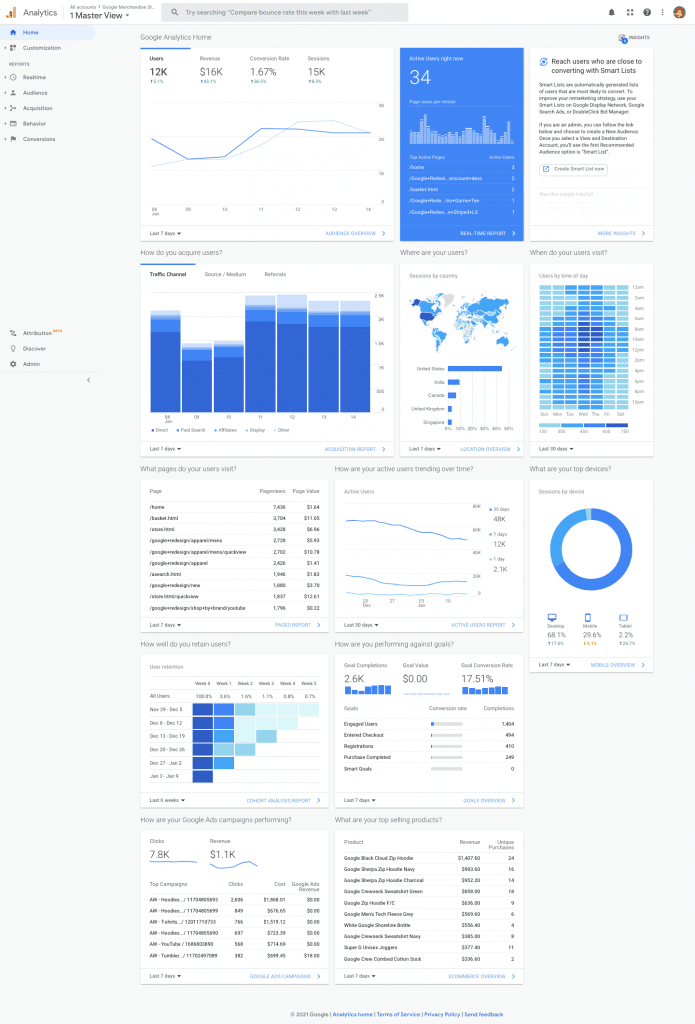 6) Get in touch with an expert :
Many digital marketing experts are happy to take on an intern or mentor a newbie. Just, recognize that their time is valuable and offer something in return for their mentorship. For instance, if you know accounting, you might offer to use those skills in exchange for the chance to upskill in digital marketing. Some even have formal training programs you can join, sometimes for a fee. if doesn't hurt to ask and you may find an expert to help you learn the craft.
Conclusion
Implementing digital marketing into your business can seem like a daunting task, but if you take the time to prepare and develop your skills, you'll be well on your way to success. By following these tips, you'll be sure to set yourself up for success.
Need marketing help to support business growth?
We welcome the opportunity to show you how we can make your marketing SIZZLE with our data-driven, results-oriented marketing strategies.  Sign up for our FREE newsletter, get our FREE guide to creating an awesome website, or contact us for more information on hiring us.
Hausman and Associates, the publisher of MKT Maven, is a full-service marketing agency operating at the intersection of marketing and digital media. Check out our full range of services.