Search engine optimization (SEO) requirements are ever-changing, requiring a significant amount of time and effort spent on creating online content that is current, relevant, valuable, and engaging. While challenging, it's essential you adapt your content to today's SEO ranking factors as sites that are well optimized get more traffic which means more engagement, more leads, increased brand awareness, and ultimately, more revenue. Today, my goal is to produce a comprehensive list of the SEO ranking factors you MUST include in your SEO strategy, things like domain, content quality, backlinks, and user interaction that determine where you rank in search results (SERPs). Knowing where you rank and understanding SEO ranking factors will help you track and improve your SEO standing.
To view a list of 23 SEO ranking factors, check out the nice graphic at the end of this post and read on to learn more about how to rank better on Google.
The Google algorithm
SEO ranking factors are a function of the Google algorithm, a complex combination of ranking factors and weights used to determine how to rank content from around the internet. This complex algorithm changes over time as the desires of users change, how they search changes (ie. voice-enabled devices like Echo change the nature of search), and as Google attempts to fill holes exploited by blackhat SEO experts attempting to gain higher rank without providing more value to users through tricks rather than substance.
Examples of blackhat SEO are:
duplicate content rather than creating fresh, valuable content
content spinning, which uses software to paraphrase content so it doesn't appear as duplicate
cloaking where the spider used to rank content sees different content than the average user
keyword stuffing your content so the result is overoptimized for machines and provides little value to users
You might ask why we focus so much on the Google algorithm when there are many other search engines out there. The reason is simple, scale. Google is the largest of the search engines, accounting for over 92% of global search traffic. As the big kahuna, many other search engines use a variation of the Google algorithm.
Why SEO is critical for success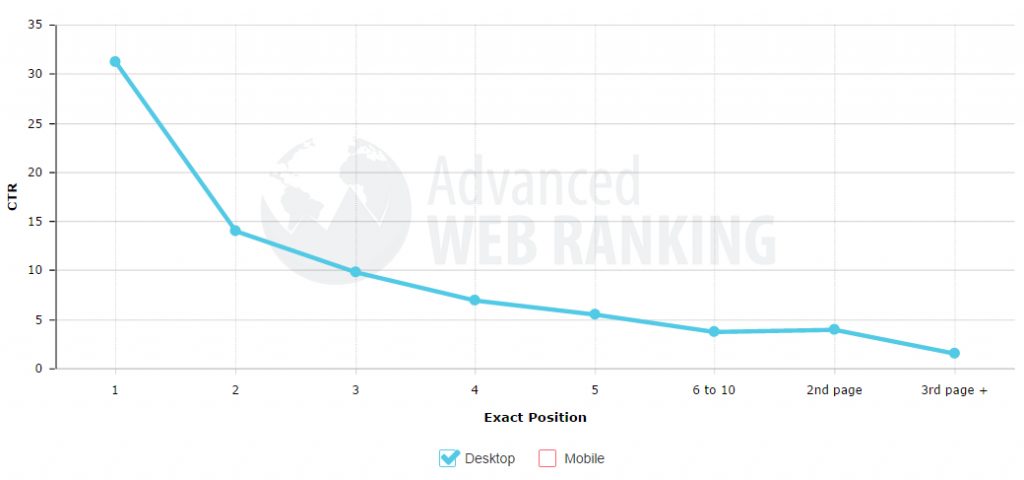 The image above shows the impact of search rank on clicks to your content. As you can see, most clicks go to results at the top of the SERPs and clicks drop dramatically after the 3rd rank position and plateau quickly such that very few clicks go to content on subsequent pages of search results.
Of course, there's a lot of competition for those top spots, with other brands producing content based on their own knowledge of the algorithm. From a user's perspective, this ensures they quickly and easily find the answers to their queries but it's a nightmare for brands that need visitors as the first step toward conversion. That's why you need to learn as much as possible about SEO ranking factors and use that information to guide content creation.
As a final caveat regarding the importance of SEO ranking factors, keep in mind your goal is to convert visitors not just attract as many clicks as possible. Thus, you must consider your target market and focus your SEO strategy on attracting those folks to your website.
SEO ranking factors
Below, you can see the top 23 SEO ranking factors for 2021. Check out the image and we'll take a look at some of the most influential factors to help you create better content.
Content marketing
Content is king when it comes to SEO and is not only a critical ranking factor but critical for converting visitors once you get them to your website. Never lose sight of this ultimate goal of creating a website in the first place and never sacrifice conversion for short-term goals such as attracting as many visitors as possible.
To increase your ranking, create content that's valuable to your target market on a consistent basis. That means using a variety of content types (video, images, podcasts, and text) as well as different levels of content such as detailed posts full of stats, introductory posts for newbies, and posts that help readers fit things together. Remember that readers don't read your website like a book, from beginning to end, so assume each post stands on its own.
Valuable content often correlates with length and we find longer posts do better in ranking than shorter posts.
Backlinks
Backlinks occur when other websites link to your content in their own. Just as citations are currency in academic publication, backlinks tell search engines that your content is valuable. Gaining organic backlinks requires a sound strategy with great content at its core. Outreach to other bloggers helps bring your content to the attention of others in the hopes they'll link back to your content.
Guest posting is another source of backlinks. By creating content for other websites you earn the right to include a link back to your website. However, comments often don't earn any "link juice" as they're commonly no-follow.
User interactions
Another endorsement of your content comes from the way visitors interact with that content. Visitors who bounce (I came, I saw, I hated) suggest that your content lacks value, while visitors who return, who stay on your site for multiple pages, and stay longer not only demonstrate you produce quality content (an SEO ranking factor) but are more likely to convert.
Other user interactions that help you rank better include:
Direct visits
CTR (click-through-rate) on social, ads, and search results
Engagement in the form of comments and likes
Keywords
Keywords (actually keyword phrases; ie. SEO ranking factors is the keyword for this content) are what underpins your entire SEO strategy. Keywords used in your content tell the Google bot (spyder) what your content is about. Google "reads" your content and your provided keywords to categorize your content in its massive database of all the content on the internet. When a user's query appears to include your chosen keywords or synonyms, Google displays your content in a rank order based on other factors in the algorithm.
There are inherent rules for using keywords in your content. First, you should use a keyword only once across your website so you're not competing against yourself. This might seem antithetical, but that's the advice of true SEO experts such as Moz and Yoast. Next, don't overoptimize. Recommendations for keywords suggest using the keyword only once per 200 words on the page. Finally, use keywords organically so they make sense to your readers.
Keywords should also appear in major headings within your content and fit with your domain name.
Need marketing help to support business growth?
We welcome the opportunity to show you how we can make your marketing SIZZLE with our data-driven, results-oriented marketing strategies.  Sign up for our FREE newsletter, get our FREE guide to creating an awesome website, or contact us for more information on hiring us.
Hausman and Associates, the publisher of MKT Maven, is a full-service marketing agency operating at the intersection of marketing and digital media. Check out our full range of services.