Traditional advertising tactics just don't work in social media — at least that's what most folks working in this area believe. And, I agree with them. Using social networks as a tool for blasting noise, self-promotion, and generally disrupting the flow of conversation can devastate your brand. Supporting the declining role of traditional advertising in 2023, we see the vast difference in the cost to reach your audience in both traditional and digital which hugely favors digital advertising tactics (see image below). Yet, companies still spend nearly 50% of their marketing budget on traditional advertising modalities, like the ones below.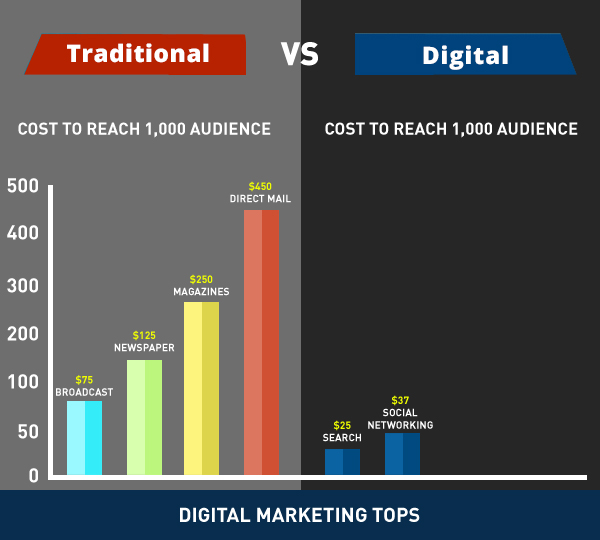 But, does that mean we can't learn ANYTHING from traditional advertising?
My answer is NO! And, here's why I think traditional advertising still has something to say about how we SHOULD do social media marketing — new media.
Contribution of traditional advertising to digital marketing
I spent a summer working for a major advertising agency in a program designed to transfer knowledge between academics and practitioners. The agency divided departments into digital and traditional advertising but the two sides of the house rarely talked. Instead, traditional advertising ran the businesses with the smaller digital team working in nearly total isolation, almost as an afterthought. Of course, that was several years ago but even then, the traditional side of the business was struggling; losing clients and facing challenges to keep the ones they had, let alone attracting more clients.
My continued involvement with advertising agencies tells me that, despite reapportioning efforts toward digital marketing, the two parts of an advertising agency don't talk to each other any better than they did in the past. In fact, as digital grew more important and consumed a larger share of the advertising budget, the fractioning became even more serious. Now, we see agencies that only do digital marketing and these companies splinter into different channels such as social media advertising, email marketing, and influencer marketing. These splinter groups don't effectively coordinate an entire campaign, losing some benefit that comes from a single campaign across multiple channels. And, that's the first lesson we should take from traditional advertising.
Integrated marketing communications
This is a concept easily applicable to digital marketing from traditional advertising – integrated marketing communications or IMC. IMC means you send a single message about your brand through multiple channels (media) including some you might not think about as channels, like retail displays. IMC creates a single image of the brand regardless of where you see it, even though implementation is tailored to the unique characteristics of each channel. Applied to social media, IMC means your Tweets fit the image on your brand from your Facebook page and your Instagram images match those you Pin on Pinterest. Yes, each media has its own rules about what works — for instance, images work better on Facebook and links on Twitter — but the overarching message and branding is the SAME.
Integrating your communication also involves bringing traditional advertising into the mix rather than running separate campaigns, as you can see in the image above. For instance, using QR codes to link your traditional advertising to your online properties such as your website means you have a coordinated campaign where every element fits together. Not only should you coordinate messaging and branding elements of the campaign across all your marketing channels but you should coordinate timing so every aspect of your marketing fits together to reinforce your messaging.
Push versus pull strategies
In traditional advertising, when we talked about push versus pull strategies. Translating this concept, we talk about whether the firm sought to push the product down the channel of distribution by advertising to channel partners or pull the product through the channel by increasing consumer demand.
But, we can adapt the notion of push/ pull strategy by thinking about it in terms of communication rather than product movement. Thus, a push strategy involves pushing corporate messages through social networks, such as when Hubspot posts numerous status updates touting their products. A pull strategy entices consumers to the brand on digital platforms with content that provides value to the user without any direct benefit to the company.
Put yourself in the shoes of your target audience. What would you like to get from a brand? In the case of California Tortilla, you get coupons and Taylor Swift shares cuts from albums prior to release. Do these entice consumers to read and share their links? Yes — give me more.
Yet, I met with a prospective client the other day and he said he's uncomfortable sharing posts that don't contain a call to action that supports the brand. Other researchers suggest between 80% and 95% of your digital marketing content should provide value and only the small, remaining percent might be somewhat promotional.
The advertising process
Finally, traditional advertising contributes a process for creating digital marketing that seems pretty reasonable. This process is:
Set goals – in traditional advertising, these goals are commonly set based on the hierarchy of effects. I proposed a hierarchy of effects for digital media in an earlier post (see below). You should have concrete goals and metrics to assess each stage along this hierarchy.
Determine your advertising budget. Commonly, I use the objective-task method which builds a budget based on the amount necessary to reach your goals. Experts recommend you allocate 7-8% of your revenue toward your marketing budget. About 15% of that money should take the form of advertising, although B2C companies commonly need a bigger advertising budget than B2B firms.
Create your advertising message
Create your messaging strategy – here I like to think about keywords for posts and types of content
Select your media. Today, there are so many options, but think about where your target audience hangs out (and when)
Reach and frequency. These concepts from traditional advertising translate well into digital marketing as goals and assessment metrics, except think about these in terms of message amplification by your social network, such as creating engagement.
Determine your ROI. And, despite some doubters, digital marketing is well ahead of traditional advertising in terms of understanding ROI. That's because I can look at individual messages to see which ones did better than others. I can do A/B testing to try out different types of messages to see what works best. And, if I move beyond vanity metrics, such as the number of Fans, I can learn a lot about ROI using tools readily available, such as Google Analytics and Facebook Insights for Business.
But, some aspects of traditional advertising just don't work well in digital marketing
Models and celebrities not performing well
Maybe we all suspected this, and the Dove "Campaign for Real Beauty" underscored our discontent, but skinny models DON'T sell products anymore and using celebrities to tout your brand doesn't deliver the same way in digital marketing. Instead, focus on influencers with high levels of engagement across your target market.
Researchers at Warwick Business School found evidence dispelling advertiser's beliefs that skinny models sell because consumers aspire to be like those slim women they see wearing the advertiser's clothes, drinking the advertiser's water, or driving the advertiser's car. Instead, Dr. Anson finds viewers feel scorn for the model as a means to cope with their own imperfections. And, these negative feelings transfer to the product, making the brand less desirable. The same is true of attractive celebrities — they just don't sell products well on digital platforms.
While prior research produced mixed results regarding the effectiveness of attractive models/ celebrities in advertising, the Warwick study was unequivocal — and may explain prior results. The researchers found attractive model/ celebrity images produced a negative brand image when used as the primary image, the effect of attractive models/ celebrities used subtly in the advertising had a positive impact on brand image. Traditional advertising relies heavily on such models. celebrities to sell their brand, which this study shows doesn't do what we think it does.
Product placement not performing
The other nexus of traditional advertising, product placement, isn't fairing much better. According the Dr. Tom, of Cal State, product placement's heyday is long over. Product placement, the art of placing brand images in favorable positions in TV and movies, is losing its effectiveness from overuse. In Skyfall, the James Bond movie, for instance, much of the production cost was underwritten by brands through product placement. They even replaced James Bond's ubiquitous Vodka Martini with Heineken — almost a sacrilege — to the tune of $45 million! Yet, the return wasn't good.
Dr. Tom argues product placement was effective when introduced because it was novel — for instance Reece's Pieces in ET. Today's consumers, according to Dr. Tom, are more sophisticated and their decision-making more conscious. The effectiveness of traditional advertising tools, such as product placement, will continue to diminish, says Dr. Tom.
And, product placement can backfire. When Denzel Washington became intoxicated by drinking too many Budweisers in Flight, Budweiser felt the negative effects — even though the product placement was unauthorized.
What the decline of traditional advertising means for digital marketing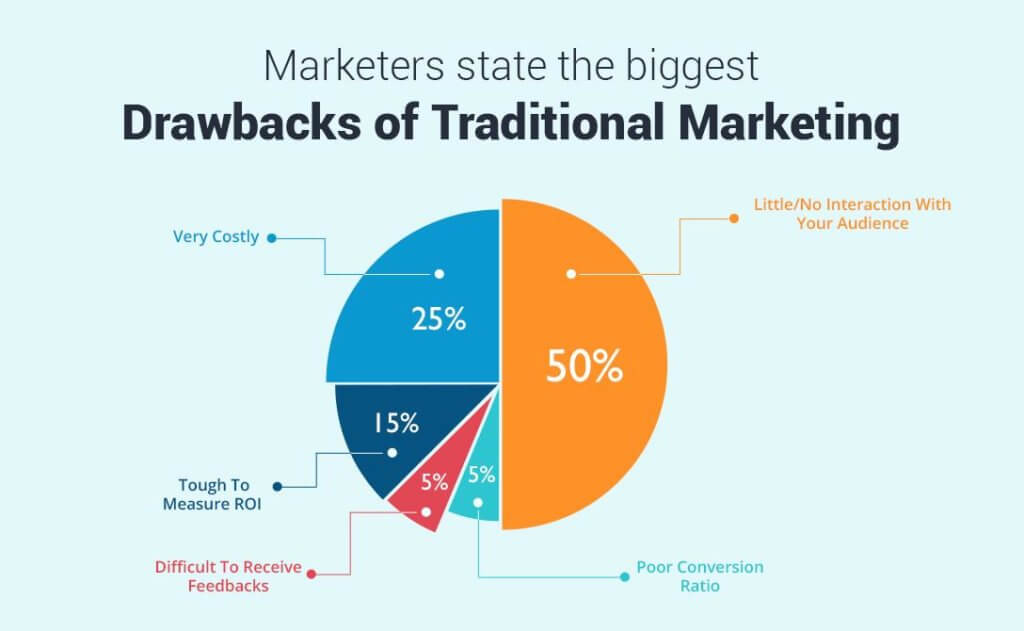 Don't think the decline of traditional advertising means an automatic win for digital marketing — the massive celebration by my digital marketing colleagues is premature.  That's because many of these digital marketing "gurus" remain trapped in the paradigm of traditional advertising and their social media marketing efforts look just like traditional advertising only they use social media as a channel for their brand messaging. I've worked with clients who went ballistic when they saw me posting content that didn't directly mention their brand — insanity.
The effectiveness of social media marketing relies on a different paradigm than traditional advertising — one where the brand builds a community with its target audience. The brand authentically builds trust and rewards its community, which encourages the community to support the brand through repeat purchases and recommendations to the consumer's network.
I don't spend time promoting myself or my company on my social networks. I create valuable content and hope to attract visitors and clients who appreciate my insights. For instance, I wrote a 66-page ebook to help small businesses create their website without requiring them to write a single line of code. Now, I offer website design as a service, so why would I just give away this book that's chock full of images and clear directions necessary to build a website even if you're a novice? First, it shows my expertise in designing websites. Second, it helps me gain subscribers to my email marketing so I can share updates from my website to build a connection with business owners. Finally, most folks who download the book can't afford my services (I don't offer those cheap $100 websites). But, if I help them build a website so they can make some money, maybe they'll come back to hire me for content creation or digital marketing strategy in the future. BTW, if you want a copy of the book, here's the link.
You give something valuable away and your community supports you in exchange. This paradigm is very different from that used in traditional advertising — where the brand talks about itself and doesn't consider its community at all.
Wanna make your marketing more successful — start listening and stop talking.
Conclusion
Digital marketing, even advertising on social platforms, seems very different from traditional advertising, and it is. But, you can still salvage a few aspects of advertising to help you succeed with your digital marketing efforts.
Need marketing help to support business growth?
We welcome the opportunity to show you how we can make your marketing SIZZLE with our data-driven, results-oriented marketing strategies.  Sign up for our FREE newsletter, get our FREE guide to creating an awesome website, or contact us for more information on hiring us.
Hausman and Associates, the publisher of MKT Maven, is a full-service marketing agency operating at the intersection of marketing and digital media. Check out our full range of services.