Trade shows are a great way to introduce your market to the products you offer and really show your stuff with adequate trade show management. According to a press release on PR Newswire, the average ROI (return on investment) for trade shows is $5 for every $1 your organization spends. You get these high returns because, when you take the time to speak to customers directly and show the world what your business is all about, it opens up all kinds of new and interesting opportunities to convert customers. Today, we'll show you how to get the most from these opportunities by doing great trade show management.
Trade show management
Below, you can see the steps involved in successful trade show management from exponents.
We'll start with the first step and guide you in making good choices as you plan your event.
Thoroughly plan your event
Getting a high return from your trade show starts with choosing the right events, then thoroughly planning and budgeting for the event.
Choosing the event
Choosing the right event is important for your success because the wrong event costs too much and generates too little return. When looking for the right event, think about these factors:
Does the event normally attract members of your target market and are those attracted influential over buying decisions?
How many people that represent your target market commonly attend the event?
What costs are associated with attending the event? We'll detail some of these decisions in a later section.
Are there competing events that might siphon off a number of folks from your target market?
Are there external factors that might impact attendance, such as transportation problems or other conventions that might make it hard to make hotel reservations?
Have you attended the trade show before? Often, attendees form expectations of which companies to visit during the event based on past participation.
Will you likely face stiff competition from other companies at the event?
Once you determine which events represent potential, remember that everything is negotiable. A key element in the negotiation must include your placement within the venue as you want to ensure you have sufficient foot traffic to your booth and no direct competitors nearby. Also, avoid unfavorable locations such as near the bathrooms or areas with extensive overcrowding such as near the food court, where visitors might overlook your booth due to too much crowding.
Strategic plan development
Set concrete objectives
Setting some objectives is definitely important when you're attending a trade show with your business. You want to make sure that everyone is pulling in the same direction and working towards the same ends. Once you have one or a few objectives, such as obtaining X leads, list all related metrics and where to collect them. For instance, you might get a total count of leads by counting the number of attendees who dropped a card in the fishbowl or filled out a contact request. Recognize that this number is likely inflated as many of those folks were just hoping to win whatever you were giving away.
Budgeting
Set a realistic budget based on researching costs to ensure you can afford the show and it offers a reasonable ROI. You need to plan for some or all of the following as part of trade show management:
Fees charged by the organizer
Publicity (see a later section)
Swag (see a later section)
Electricity and WIFI if not provided by the organizer. Read your contract thoroughly to see what's included as often electricity isn't.
Props required for the event. Again, your contract specifies what's included (often just a table and a couple of chairs).
Travel and transportation for people and stuff, such as samples, brochures, table displays, etc.
Lodging if the event requires an overnight stay.
Food for your staff and any food you plan to serve at the event.
If you plan to host current customers, you might need a suite along with food and other perks. I've been to some events where companies throw elaborate parties for existing customers that represent serious profits for the business. These parties are often off-site at an entertainment venue, include food and drinks, and may include entertainment.
Staff salaries
Planning
You want to plan out every detail of the event and include a timeline. Train staff attending the event and set contingencies for the unexpected, such as travel or delivery delays. An often overlooked aspect of trade show management is after-event management. For instance, you need to pack up everything and get it to the next trade show or back home so plan for someone to pack and pick up everything left over.
Design
You need eye-catching exhibits at your trade show to attract attention from passers by. So make sure that you create good tabletop retractables and banners that make people want to stop and check out what you have to offer. You might want a display monitor or a working model to show off the operation of your product, especially if it's not something people clearly understand.
You might want to dress up your booth with other design elements or even use a robot that wonders around the venue to attract attendees to your booth.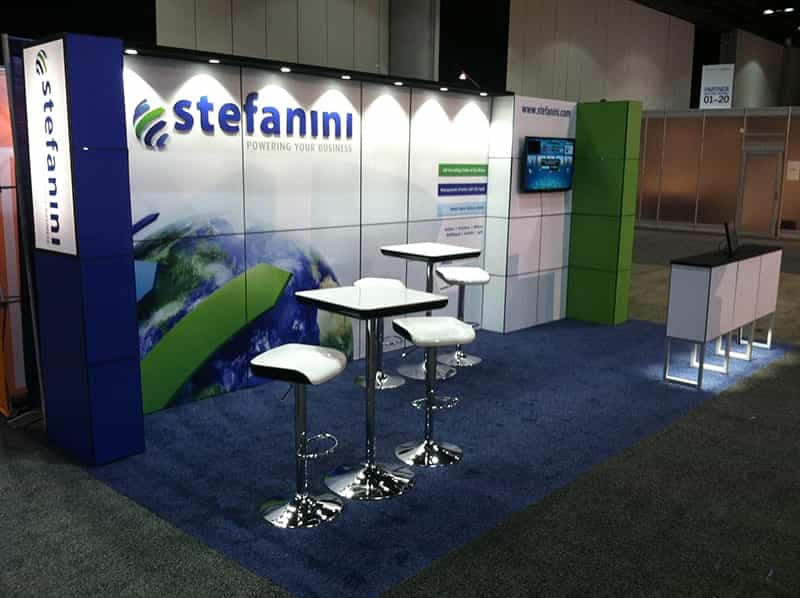 Consider lighting and flow through your booth area. The last thing you want is for a line to form outside your area with people clammoring to get in. Sure, a certain amount of electricity will attract other attendees but too much and many will simply move on if they see this congestion. Ensure adequate lighting so attendees can see every corner of your booth area well.
Graphics
Ensure everything from you messaging to your print to your display reinforces your brand with common elements. Printed items should look great without blurry or pixelated images and text.
Marketing
Stay Active on Social Media
Sharing your participation in the trade show and building excitement for the event on social media is definitely a good idea. The event doesn't only take place in the event hall; it's also happening on social media and other platforms. By engaging people on social media, through email marketing, on your website, and ensuring your participation in prominant in promotions for the event ensures everyone knows where to find you. So, stay active and promote your location and activities on the social media platforms that are most important to your brand.
And, don't forget to use social media at the event. Promote your chosen hashtags for Instagram and Twitter prominantly in all your marketing material and at the event. You might even set up a photo booth or create interesting backdrops that encourage attendees to take selfies they share on Instagram along with your hashtag.
Your people are your marketing
Your staff shoud know your product backwards and forwards so they can answer any questions and promote your product in its best light. They're selling so train them to interact with attendees not just sit there waiting for someone to ask a question.
Follow up
Once everyone is back home, it's important to follow up with those attending the event. If you promised to send them a sample or other promotional materials or to follow up with a phone call, be sure that happens soon after the event. Send leads to the appropriate sales person responsible for contacting the attendee and ensure they're entered into your lead management software, such as Salesforce, to ensure they receive appropriate email followup.
Give Something Away
Giving something away is a very good idea if you want to increase engagement and encourage more people to approach your exhibit. You might collect business cards for an hourly drawing to receive some prize they see as valuable. Handing out swag bearing your company name and logo is also a great way to ensure you attract others to your booth and that your name sticks with attendees once they get back home. If the swag is something they'll use every day, you spread the name of your company to other prospective buyers who didn't attend the event.
Assess performance
You must also track performance to ensure you achieved your goals at the event. Collect metrics such as leads, lead to conversion ration, people talking about this metrics from social media, increased inquiries and visits to your website, improved CTR (click-through rates) on your digital advertising or any other metrics that relate to your goals. Learn from your experience so the next trade show is even better.
Conclusion
Trade show management is a big project that requires a lot of effort but, with careful planning and great execution, the rewards are great.
Need marketing help to support business growth?
We welcome the opportunity to show you how we can make your marketing SIZZLE with our data-driven, results-oriented marketing strategies.  Sign up for our FREE newsletter, get our FREE guide to creating an awesome website, or contact us for more information on hiring us.
Hausman and Associates, the publisher of MKT Maven, is a full-service marketing agency operating at the intersection of marketing and digital media. Check out our full range of services.