It's only just the summer, yet 2020 feels like a very unusual year. The Coronavirus pandemic is the biggest challenge that many consumers and businesses faced this year, but other issues, such as the ongoing Brexit debacle, the US elections, the Black Lives Matter movement, and the economic downturn that left large swaths of workers without income also created challenges for global economies. As a result, 2020 is a strange year for many businesses, that face a number of challenges ranging from cash flow issues to staffing problems. On top of all of this, online habits changed significantly thanks to the rise in remote working, the recent lockdown, and changing technology. While you may not consider recent trends in SEO and their impact on your business with everything else you're facing this year, that impact still happens. You must adapt to these changes you must if you want to grow your business.
If your business already works hard in its efforts to recover from the challenges brought in the past 7 months, then you don't need the extra pressure of researching the changes in online marketing and what these changes mean for your website. Thankfully, we put together a list of some of the most important developments in SEO this year so that you don't have to do a lot of research and can quickly develop strategies on how to adapt your digital marketing strategy.
More competitive keywords
With most consumers stuck at home and nervous about venturing out to shopping centers and stores, online shopping is at an all-time high. Business owners who never imagined e-commerce strategies for their operations were forced to adapt to a world where physical retail was impossible. As a newbie online marketer, your first job is to get your SEO (search engine marketing) house in order, since search engines use complex algorithms to determine which website links show up first in a users' search result. And, that's some pretty tough competition, with almost all the clicks going to content within the top 3 search results, as you can see below.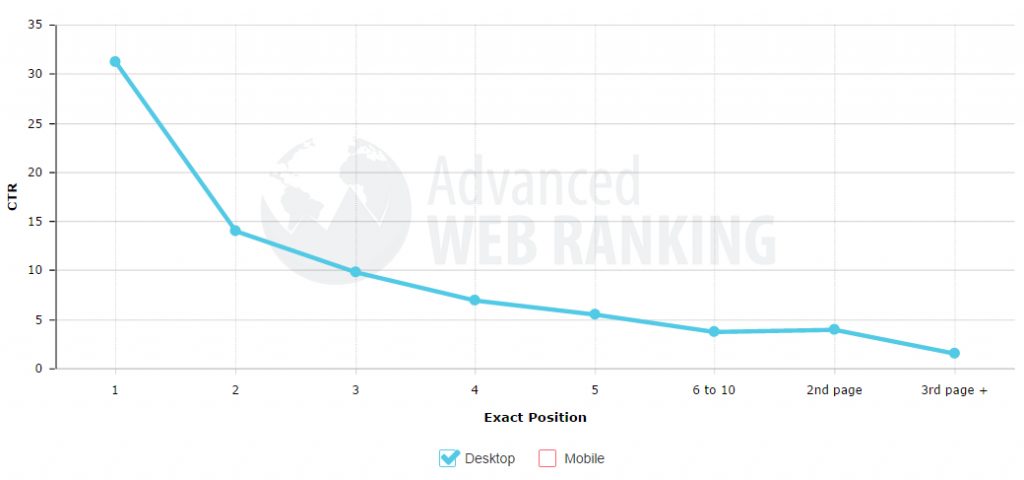 With vast increases in the number of online searches as consumers sought new options for curbside pickup or delivery, competition for keywords used to signify intent increased dramatically. Utilizing local and hyperlocal marketing, as well as filtering keywords to find less competitive words where you might rank higher in search are critical in this scenario.
Adding to the challenge of competing for keywords, voice search adds an entirely new dimension. As keywords transitioned over the last decade from a single word to a phrase that more accurately captured user intent, the increased use of voice-activated devices such as Google Home and Alexa on devices from mobile phones to dedicated devices like Alexa Dots, require a different SEO strategy. Keywords are not only longer when using a voice-activated device but resemble natural language better than the stilted language used when typing a search.
Businesses must adapt their keyword strategies to this new environment if they want to attract traffic to their websites. Pivoting your business quickly seems tough, but working with an experienced partner like Cake Commerce, an experienced retail marketing agency, helps you make changes to your online keyword strategy or even set up a new e-commerce site with effective SEO to begin selling online.
Written content remains king
Not a new trend in SEO, content remains king, and crafting valuable content on a consistent basis still figures prominently in Google's search algorithm as well as the algorithms of its competitors. Creating high-quality, relevant, and informative blog posts and online articles are still the best ways to rank in Google's algorithm. BTW, we talk about Google since about 90% of searches still happen using that search engine. Further, given Google's dominance, most search engines mirror factors considered impactful in Google's algorithm.
Quality content also gets shared, earning exposure to new prospective buyers as well as gaining engagement on social, which also helps your rank in search. Finally, high-quality content earns quality backlinks for your website, giving you yet another boost in rank and earning more traffic, which you can funnel through and hopefully turn into a sale.
According to experts from a leading agency offering SEO services in Dubai, updating old content also plays a major role in improving performance. They point out that there is a shift towards creating content that helps tap into the user's intent. A lot of changes in the content strategy result primarily due to the advent of voice search. This has moved the focus to long-tail keywords in content pieces.
Video marketing is the biggest trend in 2020
Over the past few years, video marketing fragmented across channels with new channels like TikTok and Instagram's new video channel, Reels, that reduce the dominance of YouTube, but 2020 proved that anticipation of its demise was vastly overestimated.
As these statics on video marketing highlight, the video marketing sector is flourishing and looks set to grow even bigger over the coming years. For businesses, this presents an opportunity to grow your reach and offer a unique way to present your service or product offering to prospective buyers. It's surprisingly easy to create professional-quality video content using tools most of us have on hand. For instance, modern smartphones have incredible cameras that go anywhere. A tripod, a green screen, and a circle light give you a production studio for less than $300 (not including the phone). Or you could easily pick up a quality camcorder to expand your video options.
Of course, everyone needs video editing to enhance the professionalism of their product. Macbooks come with iMovie, which produces videos quickly with limited training, but you really need professional editing software, and it's hard to beat Adobe's Premiere Pro, although the price tag is a little frightening (you get the entire Adobe Creative Suite for about $49/month). Learning Premiere Pro takes some time but the quality of your product afterward is well worth the time and effort.
If you want to make a real impact and create regular, insightful video marketing content, without the steep learning curve, consider working with a professional video marketing team or bringing production in-house.
Conclusion
We discussed a few trends in SEO for 2020 and, with many new businesses dipping their toes into the digital waters during the pandemic, these simple, yet relatively easy SEO tips provide a great start for your new online business.
Need marketing help to support business growth?
We welcome the opportunity to show you how we can make your marketing SIZZLE with our data-driven, results-oriented marketing strategies.  Sign up for our FREE newsletter, get our FREE guide to creating an awesome website, or contact us for more information on hiring us.
Hausman and Associates, the publisher of MKT Maven, is a full-service marketing agency operating at the intersection of marketing and digital media. Check out our full range of services.