Running a business is hard; you know that better than anyone else. From growth and expansion, changing legal issues, maintaining profit margins to building fresh marketing plans, you have so many plates constantly spinning. If you want to establish a successful and respected business, you eventually reach the point where you need to streamline your marketing to keep that critical piece of your business running like a well-oiled machine.
As your company grows and becomes more successful, you'll find yourself tasked with a number of different processes, functions, tactics, technologies, and people, including customers, with constant demands on your attention. At some point, you can't operate as a one-man band anymore and must streamline your marketing or face the threat of collapse. With all this in mind, it's important to run your marketing function as efficiently as possible to reduce being overwhelmed and stressed with the pull from many different directions at once. Streamlining your marketing also improves the overall success of your business. So how can you improve your efficiency and productivity and save time doing so, this list should help…
Streamline your marketing
The right skill for the right job
As you can see in the graphic above, marketing is increasingly technical; requiring specific skills. Among the top skills necessary as we move into the next decade are:
Mobile marketing, including SMS (short message services, such as WeChat)
Marketing automation, which we'll discuss in a moment
Social media, including mastery of new platforms such as TikTok and Instagram Reels
Website design and optimization
Digital analytics
Content marketing
Surprising on this list is the decline in the importance of video marketing skills.
Obviously, no single individual can master all these skills and, as an entrepreneur, you make have other skills that contribute to success without possessing the necessary marketing skills. Luckily, when you streamline your marketing you not only gain the necessary skills but reduce the demands on your time, as well.
You can hire staff training in certain marketing skills to help streamline your marketing. However, managing everything in-house is a lofty and, often, unattainable goal, especially in the early days when money is tight. Many businesses benefit from outsourcing marketing to an agency or even outsourcing projects to those with the appropriate skill level. This strategy can help you reduce costs, focus on the important stuff like growth without affecting quality, and improve productivity, as you can see below.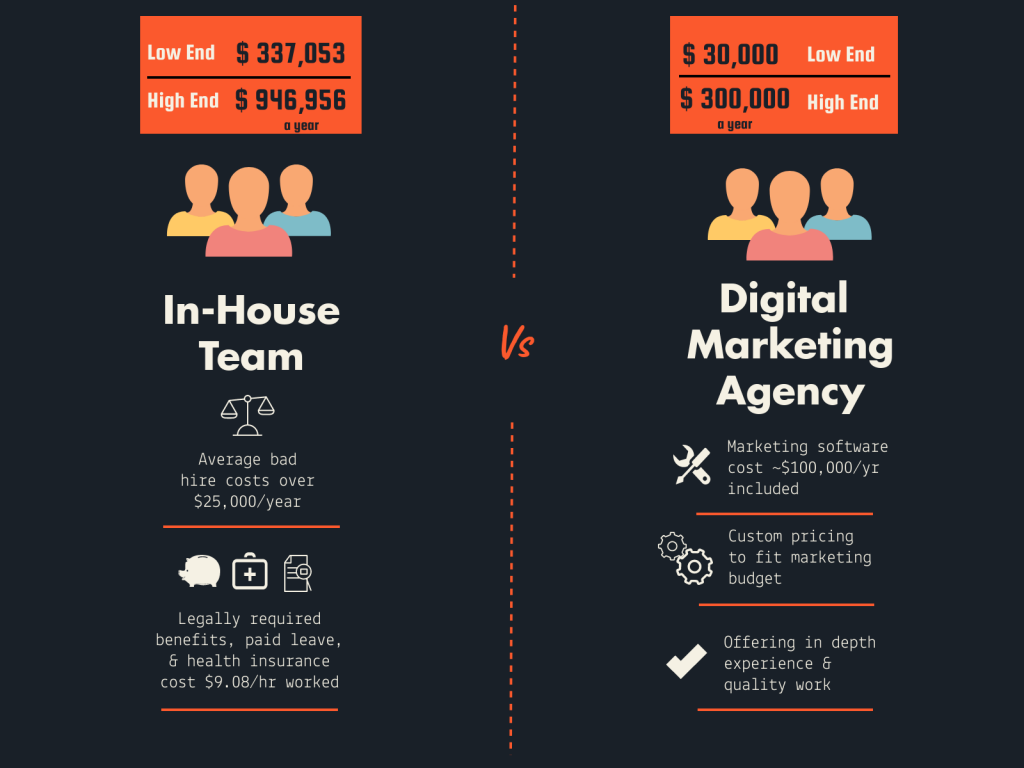 These cost savings come from economies of scale; apportioning expensive software tools and employee salaries across a number of clients. Outsourcing is especially valuable when you don't require full-time staff or your needs change from one time to the next. For instance, maybe you currently need a web designer but you won't require one on an ongoing basis. An agency makes a lot of sense in this context.
Another option is to outsource tasks using platforms such as Fiverr to accomplish certain time-limited tasks. For instance, you might hire a gig worker for a specific task that doesn't repeat every day. or even every week.
Marketing automation
Some marketing tasks repeat frequently and automation allows you to focus on tasks that require constant attention. For instance, you must create content for all your social platforms on a consistent basis but adding posts consistently is time-consuming and inefficient. Automation helps you streamline your marketing. Using a tool like Buffer to post content to social platforms allows you to schedule an entire week of posts in an afternoon and feel confident the posts will publish according to your preferred schedule. If you want to know the optimum number of posts for each platform, check out the graphic below.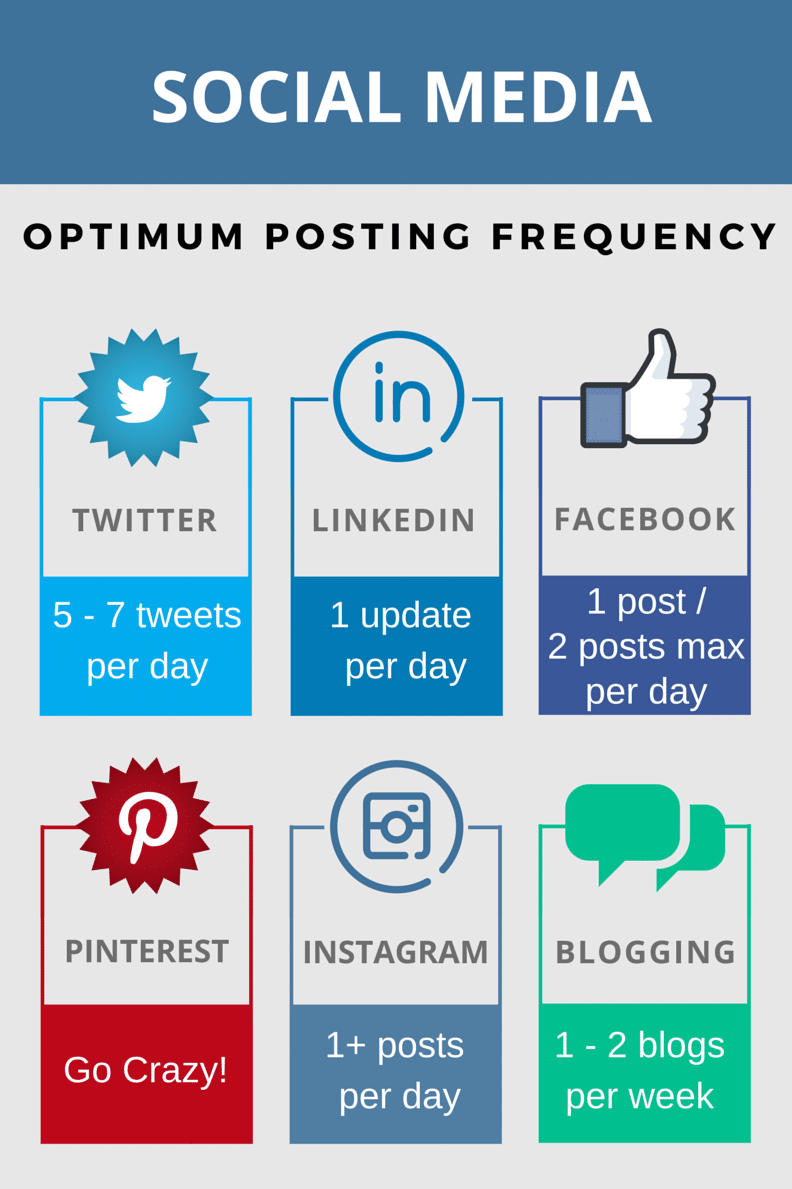 You can even find easy-writer software to help create long-form content, such as blogs. A content calendar also helps ensure post consistency by bringing together assets required for daily posts.
Of course, marketing automation isn't a set it and forget it tactic. External events, especially breaking news or threats to your reputation, require you to pivot away from your planned content to create more sensitive posts. For instance, after the terror attack at the US Congress in January, posting negative content about Congress or its people in the immediate aftermath looks insensitive.
Email marketing automation is another tool to streamline your marketing. You can set up a series of lead generation email messages designed to encourage conversion.
Workflow apps
Surely you must have heard of workflow apps such as Basecamp, Trello, and Slack. Workflow apps allow you to manage team projects within a single cloud application. Most workflow apps provide shared access to resources, identify necessary tasks and timelines, offer a team communication platform, and track progress to enhance efficiency. Many businesses started to implement workflow apps for additional tasks in addition to product development, as they efficiently help to keep track of your employees without having to waste time with meetings that merely chart progress or hash out problems. Instead, you can clearly delegate work and oversee its progress in real-time. From marketing to sales to HR, workflow apps take a lot of the work and a lot of the time out of running a team, which only has a net positive for your company's efficiency and productivity.
Improve intelligence
There are loads of very time-consuming tasks you must carry out on a regular basis as a business owner. Collecting and collating activity data is a long and laborious task conducted by multiple systems. A revenue intelligence system automatically collects your activity data is part of the sales process from customer-facing teams. This eliminates the need for manual data entry and creates an accurate CRM (customer relationship management process). This collaboration between sales and marketing teams allows you to capture all your siloed revenue data to focus on analytics derived from trusted data. This streamlining provides the opportunity to grow your business faster and more effectively. For trusted automated revenue intelligence that helps your business become more efficient and streamlined try a tool such as vertify.com.
John Wannamaker famously said he knew he was wasting half his advertising dollars but he didn't know which half. In the days of traditional marketing, you simply didn't have the data necessary to determine what was working and how to optimize the ROI of all your marketing tactics. In the digital world, that's no longer the case. You now have access to very nuanced data about your website, your social media campaigns, your SEO (search engine optimization), advertising, keyword strategy, etc. Armed with an analysis of this data, you can stop wasting money on your marketing campaigns.
Final thoughts
Not only does it make sense to streamline your marketing, but it's also essential for your very survival as you grow beyond a certain point. I hope you found these tips helpful as you work toward greater efficiency and effectiveness in your business.
Need marketing help to support business growth?
We welcome the opportunity to show you how we can make your marketing SIZZLE with our data-driven, results-oriented marketing strategies.  Sign up for our FREE newsletter, get our FREE guide to creating an awesome website, or contact us for more information on hiring us.
Hausman and Associates, the publisher of MKT Maven, is a full-service marketing agency operating at the intersection of marketing and digital media. Check out our full range of services.