Although the pandemic caused a major shift in economic and political agenda, it has not been entirely all doom and gloom. Statistics indicate that although 2020 and 2021 were filled with drastic changes impacting retailers, small businesses that adjusted well reaped immense benefits. For example, by the end of 2021, small businesses made revenue of $6.6 trillion – an amount that beats financial crisis logic. However, the explanation stems from excellent retail marketing that ensures growth in times of uncertainty. Below are a few tips to help grow your retail business so you, too, can capture some of these immense rewards.
Mostly, adaptations involved moving some or all of their operation online to allow for low Covid transmission both among staff and consumers. Some businesses began delivery (or took advantage of 3rd parties such as Uber Eats) while some introduced curbside pickup. These strategies allowed them to thrive because they made consumers feel safe shopping. Of course, that meant they already had an e-commerce site or were nimble enough to get their inventory online quickly. Below, you can see the advantage for those participating in online retail.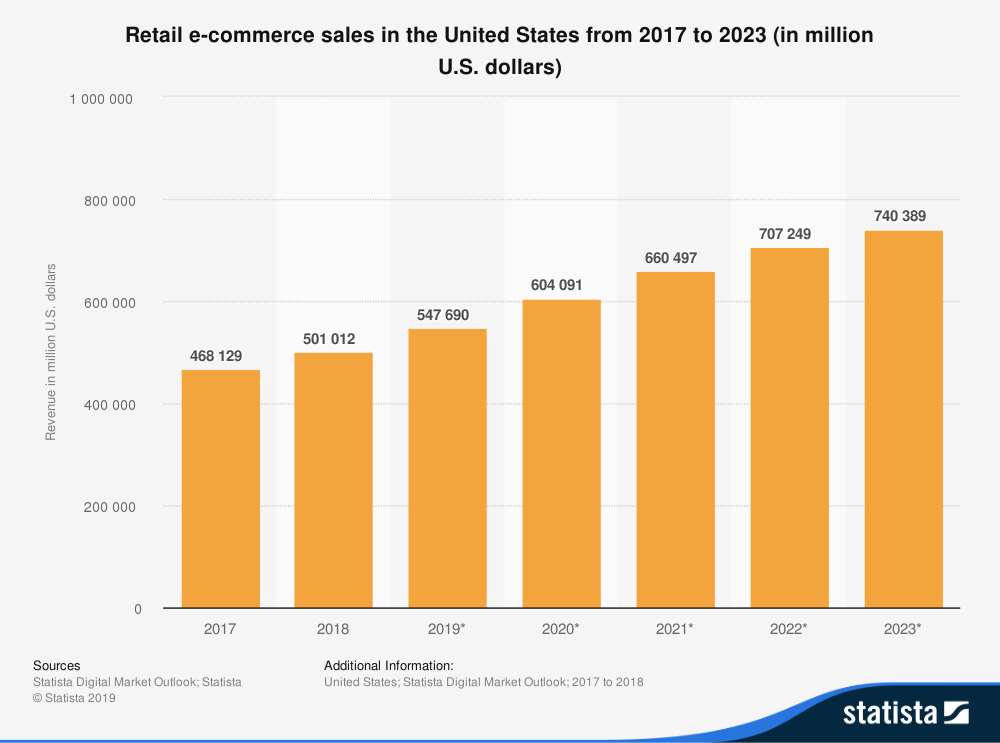 Note that these figures predate the pandemic, reflecting normal growth in e-commerce. The real growth during the pandemic was even larger than projected, reaching 22% of all sales,  and is expected to continue into the foreseeable future.
Grow your retail business
Retail sales both online and offline were steady at 3.7% but the pandemic shortages and other cultural shifts caused post-lockdown buying to grow to over 7% in 2020. While this isn't expected to continue, the estimated growth of retail is expected in the range of 6-8%, reaching $4.9 trillion in 2022 [source]. If you can't grow your retail business in this environment, we're here to help with these tips.
1. Consider opening a new branch – with storage and market acceptance in mind
One notable way for business expansion is to add new locations to the existing ones. This is an excellent way to grow your retail business as consumers generally won't travel more than 10 minutes for routine shopping and no more than 20 minutes for something more unique. With more than one location, you can access a wider market from different locations, which is especially important if your shop occupied the same location for many years while the customers you count on moved or spread out.
However, opening a new branch for a small retail business is hard work. There is more to it than meets the eye. Given the expense involved in opening a new location, you must consider the following:
Do you have the finances necessary to build out and support a new location without strangling the existing location(s)? Starting a new location is much like starting a new business so plan for the costs associated with building out the location plus months of cash flow until the location can self-fund. You also need to increase your marketing budget to make new markets aware of your store opening.
Where your target market lives in relation to your existing store. You don't want to cannibalize shopping from your existing store so your new location should tap a new market rather than exist as an option to your old one.
How much competition do you face in a proposed location? You want an anchor store that attracts your target market to the area while not offering direct competition within say a 5-10 mile radius of your proposed location.
The traffic flow into and out of your proposed location. Few consumers will fight to get into or out of a location that doesn't have a light on a busy street, for instance. Also, consider traffic past your proposed location as consumers passing your building act to help advertise your store, especially if it's foot traffic. Finally, think about when traffic passes your business. Locating in the flow of morning traffic might work for a cafe but commuters are reluctant to stop for other types of retail until returning from work in the evening. If you locate close to a condensed work area, you might also see some shopping during lunch hour. Until workers return from working at home, you must adjust your decision-making relative to location. It's a tough decision as we're still transitioning to a new way of work.
Consider the type of retail space offered. In the past, malls were popular but now only tweens hang out there to see each other and few consumers choose to shop at a mall. Instead, multi-use venues are favored. These venues offer entertainment, living space, retail, and recreation all in one location. Of course, this brings in lots of consumers but also increases competition as even without direct competitors you face competition for share of wallet from other businesses and share of time from fun activities surrounding your business.
Plus, you must consider the opportunities within the particular space available and how much it might cost to improve atmospheric elements such as lighting and smell.
Regarding storage, in particular, you may have to consider finding small storage units as a backup if you obtain a smaller space than you would have wanted. More importantly, you must conduct research to find out if the addition will be accepted at the new location you desire. Keep in mind that the strategies that worked in the existing location may not exactly cut it for the new place. This is a decision to be well-thought-through and researched with real observations and data, not assumptions, before committing funds to the commencement of a new branch.
2. Get creative with your sales and marketing activities
With the help of technology, there are several lessons to learn about sales and marketing. The internet provides a creative platform to define your business's marketing landscape at a very reasonable cost and extensive reach, especially among younger consumers. It is true that many small businesses fail to adequately take advantage of the internet and digital marketing, but those that do it right record positive outcomes. Another debate in this space is the increased competition on these digital platforms, making it challenging for new businesses to succeed with their sales and marketing activities.
Below, you can see the top 4 opportunities in digital marketing (in 2013, but these remain unchanged). We cover the opportunities available in e-commerce in the next section. Here we introduce social marketing, content marketing including SEO, and mobile marketing.
This is where creativity comes in. You can consider using local influencers to push your message to the market. You can also engage actively in Facebook groups in your community.
Social media marketing is a great tool for reaching and engaging new customers while maintaining communication with existing customers across social platforms. Since most consumers spend at least part of their day trolling social networks, you have a great potential reach to grow your retail business. Posting interesting, insightful, and educational content attracts users to follow you, building a community that both supports your growth and spreads the word about your business to their connections. You can even use social media posts as a way to demonstrate your shared values with your community, which impacts their intentions to buy from you. For example, you can show your staff reading at a local elementary school or an event sponsored by your company to support a charitable project.
Content marketing involves creating such content to share across not only social platforms but on your website. This content, when deemed valuable by users, helps your content show up earlier in search results when users want to explore products to help solve their problems. We call this strategy SEO or search engine optimization. Since links that show up near the top of a results page send more traffic, and thus more potential buyers, to your page, SEO is a critical tool when you want to grow your retail business online.
Mobile marketing is growing every year as the share of smartphones increases across the globe and users, especially younger users, expand their use of mobile for everything from playing games, using apps to make online purchases, and searching for purchase options, to ordering food and even making phone calls (although texting is more common among younger users). Creating an app to grow your retail business is certainly one option, although it's hard to gain traction since users limit the number of apps they use on a regular basis. For instance, the Starbucks app now accounts for 26% of all orders to the food giant. SMS or short messaging service (texts) is also a great tool to grow your retail business as you can use them for everything from communicating with customers about their orders to offering discounts. Another way to use mobile marketing is via a beacon set up in your physical store. These beacons can notify shoppers about discounts for specific products or provide additional information about products based on the location of the shopper in your store and nearby inventory.
 3. Broaden your business's online footprint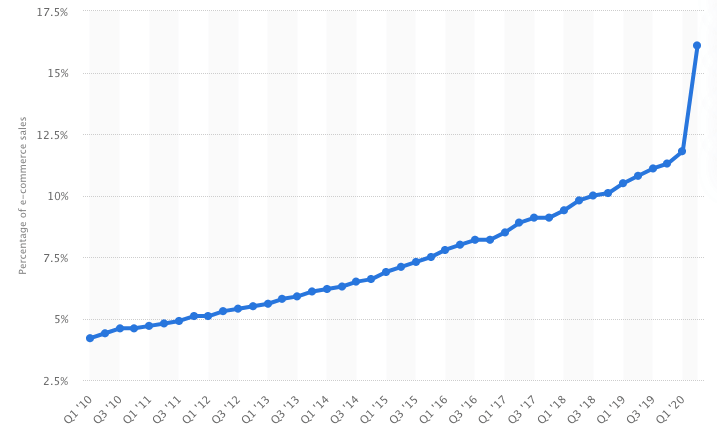 We have already shown how e-commerce sales grew over the past decade or so. Above you see another graphic making it obvious that you need e-commerce to grow your retail business because it's both more affordable and has a wider reach. Plus, e-commerce is available 24/7 and users can shop in their pajamas whenever the urge strikes them.
Reports say 36% of businesses make their sales solely online. This is commendable because five years ago, it was only 22%. However, the opportunity for online sales continues to escalate because people favor mobile and online shopping. If you aren't already making the most of your online shopping opportunities, you can use those to grow your retail business substantially at less cost than most other growth strategies.
Conclusion
Indeed, business growth is gradual. It takes detailed planning to arrive at desired results. Hopefully, these suggestions provided valuable insight as you plan to intensify your retail activities.
Need marketing help to support business growth?
We welcome the opportunity to show you how we can make your marketing SIZZLE with our data-driven, results-oriented marketing strategies.  Sign up for our FREE newsletter, get our FREE guide to creating an awesome website, or contact us for more information on hiring us.
Hausman and Associates, the publisher of MKT Maven, is a full-service marketing agency operating at the intersection of marketing and digital media. Check out our full range of services.