Do you feel you're not generating enough ROI from digital marketing efforts?
Or, worse, do you not know the true ROI from digital marketing?
Then, you need these tips for generating ROI. Also, check out the list [at the end of this post] to see other great tips for getting the most return from your digital investment. Feel free to share it, embed it, vote for tips, or add your own.
Tips for generating ROI from digital marketing
1. Measure, monitor, improve
Well, first you need to know 2 things:
Your current ROI
Digital actions that contribute to ROI — and here you need to consider the entire scope of customer engagement with your brand — from awareness, through conversion, to loyalty (and maybe advocacy). Check out this great image showing how businesses generate ROI from their digital efforts.
Once you have this information, set up a dashboard in Google Analytics or whatever platform you use to monitor key metrics related to business performance. At a minimum, your dashboard should contain:
visits (sessions)
time on page
engagement with each social platform — shares, likes, comments, RT
page value from multichannel attribution modeling
AOV (average order value)
Conversion
Cart abandonment rate
loyalty (percentage of visits with 1, 2, 3, … prior visits)
Page exits from landing pages
You should also create reports for these metrics based on platform (ie. organic, social platform, direct …), key demographics and geographics of interest to your brand, age, gender, and, if they're valuable, interest categories.
Now, run your dashboard at least once a week. Periodically, say every quarter, compare performance with performance in prior quarters. Try viewing data in a longitudinal fashion to get more insights.
2. Optimize content marketing strategies
In the post-Panda world, content is king.
Translated, that means you need to create valuable content on a consistent basis — at least once a week, according to Hubspot.
Here are some action items to help optimize your content marketing:
start with a content marketing calendar to keep you on track to produce quality content on schedule. Check out the link to get some great templates to get you started.
share content across social platforms — Buffer recommends sharing multiple times across each platform and I posted their schedule here along with some other great content marketing advice.
Monitor the performance of your content and sharing tactics. Then, use metrics to guide the creation of better content.
Use a variety of content types — video, image, text.
Create content suitable for each stage in the conversion process identified in the graphic above.
3. SEO
Search engine optimization ensures you get the most value for your content and I'm often surprised how few bloggers really understand how to do good SEO or even understand the importance of SEO for reaching their ROI goals. I think that's because, pre-Panda, it was your developers who controlled SEO, but now it's your content marketers and others involved in your digital marketing.
Here's a crash course on SEO:
Select keywords [actually keyword phrases] that match search terms for your target audience. Use Keyword Planner, a free Google tool within their advertising platform. Look for keywords, you'll need 20+, that have high search traffic and low competition. There's no magic formula here, just try to balance out these two criteria.
Use keywords liberally throughout your site and in your content — just beware of keyword stuffing 
Install, or have your developer install, a good SEO plugin for your blog. I use Yoast's SEO Plugin, but I've also heard good things about the All in One SEO Plugin.
Work to get authentic backlinks to your content. Use the link to get ideas on how to generate backlinks.
Rinse and repeat.
4. Know the facts about what works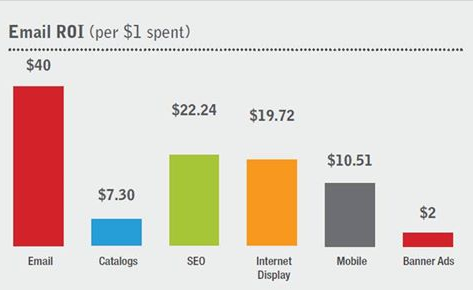 Notice the high ROI from email marketing, although several marketing tactics seem to be missing from this graph. I suspect some, like content marketing, have such wide effects on ROI that their value couldn't be adequately captured.
Now, you might argue that email marketing isn't true digital marketing, but you'd be wrong.
This means your digital strategy MUST include ways to build an email list of subscribers as well as a means to energize that list with periodic emails designed for their particular stage in the buying process.
So, bite the bullet, find yourself a good email client (I use AWeber, but Constant Contact is also good), develop premium content, like ebooks, to drive subscriptions, and develop a strategy for sending unique branded content to subscribers.
5. Remember digital is still marketing
Doing everything digital perfect is great, but, remember, digital marketing is still, first and foremost, marketing and you can't sell an overpriced, crappy product, with poor customer service. Promotion is still only ONE of the 4 Ps.
Digital marketing is but one part of the marketing ecosystem that requires constant attention to every aspect of the system identified in the infographic below.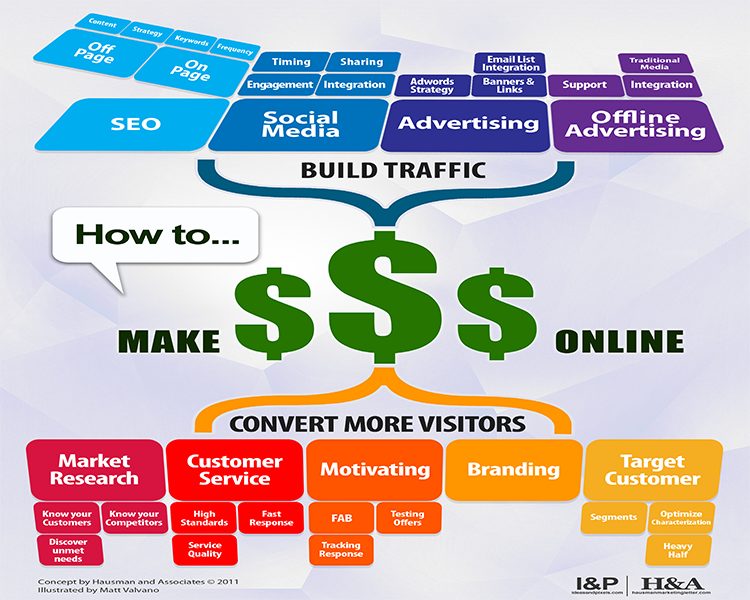 Need marketing help to support business growth?
We welcome the opportunity to show you how we can make your marketing SIZZLE with our data-driven, results-oriented marketing strategies.  Sign up for our FREE newsletter, get our FREE guide to creating an awesome website, or contact us for more information on hiring us.
Hausman and Associates, the publisher of MKT Maven, is a full-service marketing agency operating at the intersection of marketing and digital media. Check out our full range of services.