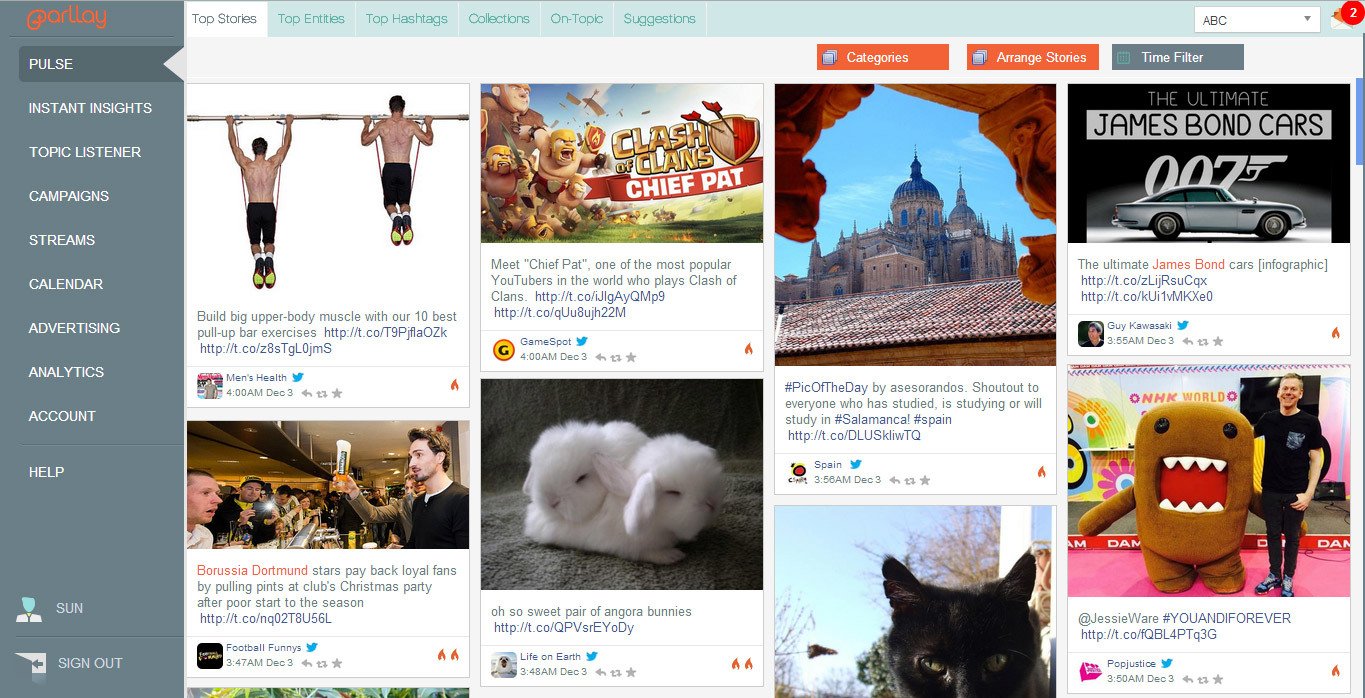 Since we've been talking about content marketing all week, it seems fitting to use this as our topic for This Week in the News. If you missed my posts earlier in the week, check them out:
one on analytics for content marketing and
one on building a content marketing plan
Content marketing is huge — especially with changes to the Google Algorithm over the last 2 years. Hence, a huge number of posts published in the last week related to content marketing. I'll try to distill out some of the best from lesser known blogs, since you've likely read what the big boys have to say about content marketing if that's a topic near and dear to your heart.
Where Social Media and SEO Fit in Today's Content Marketing Mix
By Lee Odden
Today's TopRank Online Marketing Blog boasted this headline, which fits with something I read while researching my posts this week — content marketing isn't king; promotion is.
Odden demonstrates the relatedness between content marketing and other elements leading to successful content marketing.
While there is growing synergy between search, social media and content marketing, they don't often function collaboratively in organizations. There are also some misconceptions about what content marketing really is.

Optimized, socialized, publicized and influencer activated content is essential for reaching information hungry, multi-tasking audiences who are bombarded with new messages every day. In order for brands to be credible and prominent on the search and social web for their customers, they'll need to understand the best of each discipline and how to put them together. SEO can deliver content-rich answers to buyers at the moment of need, and social media can provide the means to connect and engage. Both publicity and influencer relations provide credibility and reach. All rely on content to achieve success.
Odden goes on the discuss the conundrum of what takes precedence — content or keywords. A few years ago, most SEO experts agreed that keywords took precedence, resulting in content stuffed with keywords and, potentially, unintelligible to human readers. Hummingbird and Penguin fixed that.
Instead, content must provide value to your target market and keywords must match what they're looking for. Using keywords in a natural way within the content and avoiding stuffing are important for appealing to prospects and spiders (robots that crawl the internet to rank content on keywords) alike.
The take away from this discussion should be that SEO still matters, it's just different than it was a few years ago. Odden advises:
Google is a battleground for SEOs and those with real, on the ground experience that have been able to adapt successfully can become some of the most valuable marketers you will ever find.
You can say the same thing for social media and Odden did. Brands envisioning social media as merely link-building are missing the boat. Social is a serious outlet for distributing content and amplifying your message through engagement with your social communities.
Brands need to spend time building, engaging, and converting across their social platforms. They also need effective metrics to monitor performance across different social channels and search to determine which tactics work best with their particular target market.
Buffer published an eloquent post today outlining the 5 most critical metrics for monitoring social performance. Be sure to check it out and add their dashboard to your Google Analytics.
Facebook: Content Creation, Content Marketing, GrowthHacking And Inbound Marketing
By Dallas Salazar
On Seeking Alpha Salazar talks about recent changes at Facebook that involve content marketing.
I'm not quite sure why a site and author focused on IPOs, equity, and other financial issues is talking about content marketing, but there you have it. Everyone feels the need to jump on a hot topic, whether it fits their market or not.
Here's his summary:
Summary

FB's Instant Articles is its entry into a very lucrative, fast-growing space in which it has until now only been an indirect player.
FB's Instant Articles are genius in that it will allow it to eventually become the Pangaea of publishing.
If so, the company stands to benefit greatly from creating its Grand Bazaar marketplace of content – content that it can monetize and choke into potential market share.
If FB sees the results, I think it will see it could alter the entire content creation and content marketing space.
Continue to be long FB as a core position.
LinkedIn did a similar thing recently with Pulse, designed to increase time on site to improve SEO.
ThinkContent: The 3 Commandments of Content Marketing
By Amber van Notten
On NewCred's blog, van Notten provides insights from the recent Think Content conference. Based on presentations from leading brands, van Notten developed 3 insights to help brands do content marketing better.
Brands need to be better — they need to earn eyeballs, not pay for them as with traditional media where someone else created content and brands paid to support the content. Without great content, no one will ever see your brand message.
Brands need to be real — including allowing two-way conversations and actually listening to your community. User created content is a great tool to keep things real in content marketing.
Brands need to be ready (for mobile). In an important phenomenon, more users now view your content on mobile than computers. You need to be ready for that. For instance, I had a totally unsatisfying experience on Oriental Trading's website yesterday trying to order party supplies on my iPad. It was totally NOT mobile-friendly.
4 Tools to Manage Your Content Marketing Efforts
By Lucinda Watrous
On Advanced Web Ranking blog, Watrous introduces tools to help manage your content marketing efforts.
As content marketing moved beyond keyword stuffing drab, boring content with little reader value, the time (and money) necessary to do a good job with content marketing rose exponentially. To manage these costs, new tools make things easier and faster.
TrenDemon
With research showing only 23% of B2C marketers claiming to be successful at measuring content marketing ROI, and only 21% of B2B marketers saying the same thing, it's clear measuring ROI is a pain point for many.
TrenDemon is the perfect tool if you've been struggling to quantify ROI of your content marketing efforts. The tool analyzes your content and provides real-time, personalized recommendations to help boost your conversions.
ClickMeeting
Is web conferencing software designed to help your content teams coordinate effortlessly — just like they were in the same space rather than being spread all over the planet.
CoSchedule
CoSchedule is a platform that allows you to work your social media activity into your editorial calendar, right within the WordPress platform. Multiple people can access the calendar if need be, and tasks can be assigned so you can easily see who is responsible for what. By managing your editorial calendar and social media posts in a single place, you save time.
CoSchedule also makes it easy to re-share old posts on social platforms.
Curata
Curata offers content curation software and a content marketing platform to make your content management more efficient. It helps you cut through the "noise" on the Internet and find out what's most likely to be relevant and interesting to your audience no matter your niche. Then, it gives you the chance to go through the list of resources, take notes and organize all so you can choose what to share, what comments to add, and where you want to share it.
Need help?
We welcome the opportunity to show you how we can make your marketing SIZZLE with our data-driven, results-oriented marketing strategies.  Sign up for our FREE newsletter, get the 1st chapter of our book on digital marketing analytics – FREE, or contact us for more information on hiring us.
Hausman and Associates, the publisher of Hausman Marketing Letter, is a full service marketing agency operating at the intersection of marketing and digital media.