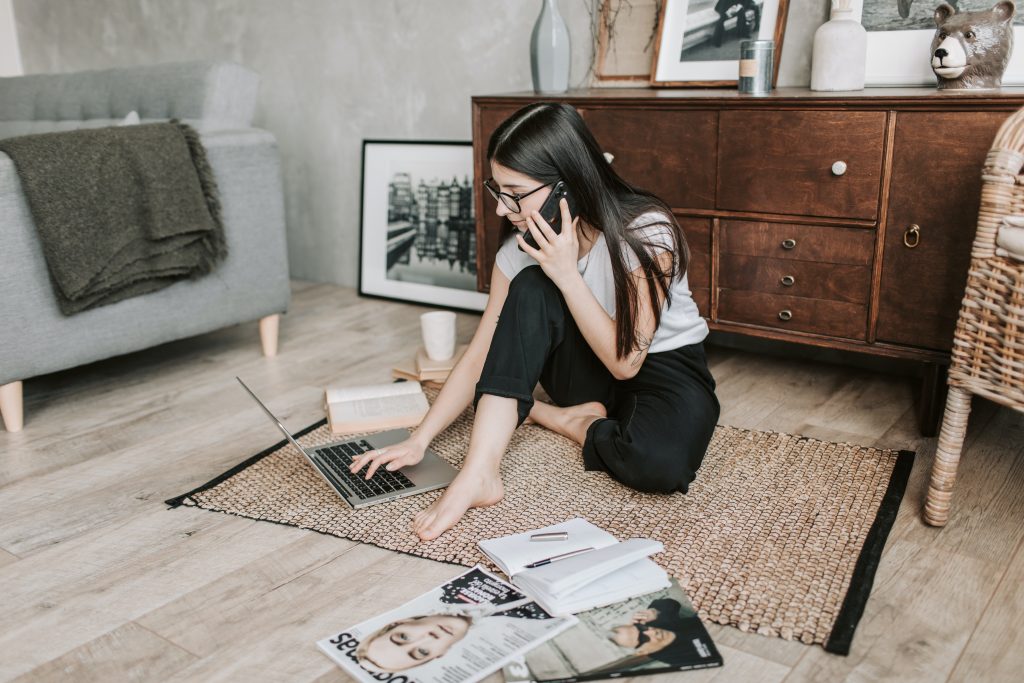 Approximately 56% of consumers consider print marketing as the most trustworthy form of marketing, according to DMR. With most companies shifting their focus online, marketers overlook the importance of print marketing by prioritizing digital marketing techniques and traditional advertising from radio and TV. While we cannot ignore the significant role email outreach, social media marketing, and SEO play in creating brand awareness, there are several arguments supporting print marketing in the digital age.
In today's increasingly digital economy, your customers likely become saturated with large volumes of social media advertisements and email marketing ads. By embracing print media, you reach prospects, engage customers, and convert leads into profitable sales in a manner that's increasingly novel. That's because print publications provide consumers with a lasting brand experience you can't replicate online. Read on to understand the role of print marketing in the digital age.
Printed materials have room in professional settings
Different types of print publications like brochures, business cards, flyers, and posters are must-have items in the professional workplace. These items are useful in various business interactions. They are both tangible and portable and allow you to easily and quickly communicate your brand story to prospects. For instance, giving out business cards is the most convenient and professional way to exchange contact information at conferences, expos, and other networking events.
Also, printed media gives potential clients and investors something they can take back to their offices or homes when you want to encourage recall and customers want time to process information about your brand. That way, they recall your brand after your initial meeting, giving them incentives and tools to contact you for business.
For instance, a trade show requires printed materials as visitors don't have time for long-winded conversations that allow you to adequately present your products. And, the ROI from trade shows still figures favorably as a marketing tactic.
Personalized print media
Personalization is an essential part of marketing across all industries. In fact, a recent article from Forbes revealed that 85% of consumers feel inclined to open personalized mail. Consumers love individualized experiences, and that makes print marketing a valuable advertising tool.
When you focus on creating personalized advertising campaigns, you likely see an increased response rate. Whether you send a customized postcard or another form of direct mail, you know your target customers see your message and read it. You also don't have to feel stressed about your print ad campaigns hiding behind spam filters or ending up in promotional tabs provided by email programs such as Gmail as tools to clean up a user's inbox. Using printed mail, you give your audience a personalized and memorable experience with a strong call-to-action message.
Millennials still read print
It's a common misconception that consumers, especially millennials, prefer digital to print. After all, millennials and Gen Z coming of age right behind them are digital natives and, as such, are more familiar with the internet, smartphones, and computers.
There's still room for print marketing in the digital age based on recent research showing that consumers appreciate printed materials, as 92% of individuals, age 18-23 say print is easier to read, based on a study by Sappi. Unlike online ads, printed marketing publications have fewer distractions and provide a more in-depth understanding.
Other benefits linked to reading printed media include better reading comprehension, minimal eye strain, and headaches. After spending hours looking at a screen, consumers experience digital information overload. As a result, they reach out to print media to unplug and consume information with ease.
Today's connected consumers enjoy multitasking across different devices, or, as in the image above, combine screens with printed advertising materials.
Print supports local business marketing
Print marketing is a perfect option to reach customers within your location if you run a small business that depends on local traffic. It also supports your digital marketing efforts when combined with other local marketing efforts such as local search engine ads and geo-location services. While you could use direct mail, brochures, and posters to promote your small business, opting for flyers should be a top consideration.
Aside from being cost-effective and easy to produce, there are many ways you can use flyers for marketing. Regardless of your business operations, you can use them to build your brand, announce an ongoing sale or event, and promote a new product. You can even incorporate incentives like coupons and vouchers within your flyers to attract target consumers.
Improves customer engagement
The tangibility that comes with printed marketing materials improves customer engagement over email and social media ads. Print media, like brochures or magazine advertising, provoke consumers to engage with the written content. Ideally, consumers feel empowered to take action after reading an advertisement on printed media. They're also more likely to reference print publications from time to time.
For example, when you receive a catalog or leaflet at a busy time, you can place it on the desk or coffee table and look at it during your free time. This is something you cannot replicate online unless the customer chooses to bookmark the adverting page. But even after bookmarking an advertisement page, a large percentage of people don't look at it again.
Increases brand awareness
In addition to customer engagement, print advertising enables you to reach your specific audience. this is especially true with magazine advertising, which benefits from the niche target of the magazine.
You can also design and place brochures, flyers, and posters in places with selective audiences matching your target market. For instance, you can display custom-designed leaflets and posters in a gym to advertise your massage services.
The ability to leverage your data of targeted consumers makes print ideal for brand recognition when you place your brand in the right place for your target market. What's more, the sensory appeal of print publications like colors, images, font, texture, and smell help you attract the attention of target consumers and establish your brand's reputation in a way not possible with digital advertising.
Print marketing is a trusted and cost-effective way to reach your target audience and build trust among your prospective customers. However, you should not use print as a substitute for digital marketing, but rather as a strategic partner. When you create a cross-channel marketing campaign using both print and digital, you ensure optimal return on your investment. For example, using branded packaging and printable receipts in your e-commerce business is an excellent way to enhance customer experience and satisfaction.
Need marketing help to plan your business strategy?
We welcome the opportunity to show you how we can make your marketing SIZZLE with our data-driven, results-oriented marketing strategies. Sign up for our FREE newsletter, get the 1st chapter of our book on digital marketing analytics – FREE, or contact us for more information on hiring us.
Hausman and Associates, the publisher of MKT Maven, is a full-service marketing agency operating at the intersection of marketing and digital media. Check out our full range of services.