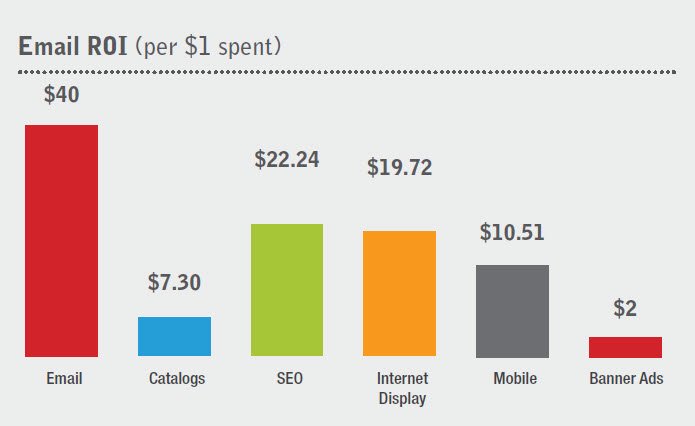 Notice how the ROI of email marketing blows every other marketing channel out of the water. Of course, part of the ROI equation involves the costs and email marketing is a clear winner over catalogs and online advertising with a very low cost per subscriber. Despite this fact, email marketing is still a critical tactic for the success of your marketing strategy. Today, we'll talk about email marketing strategy and how to get the most from your email marketing efforts.
Elements of email marketing
Email marketing is really a series of related tactics that must work together in a cohesive manner to achieve your goals. Here are the main elements of email marketing:
Choose an email platform
Strategies to attract new subscribers to your email list
Efforts aimed at reducing churn (subscribers leaving your list)
Email marketing campaigns that drive traffic that converts
Monitoring that generates insights to optimize performance
Don't forget mobile
Of course, hidden within each of these elements are a myriad of decisions that determine the ROI of email marketing campaigns you create. So, let's start by breaking down these elements and the major decisions facing business owners as they craft winning email marketing strategies.
Crafting a winning email marketing strategy
Obviously, crafting a winning email marketing strategy involves planning for all 4 elements that make up email marketing. Building your strategy involves:
developing a deep understanding of your target personas, especially the problems solved by your brand
crafting a content marketing strategy for email marketing as well as subscription drivers
knowing how your competition constructs their email marketing efforts
mastery of the technical aspects of email marketing on your chosen platform
utilizing a conversational style that resonates with subscribers
I put together some great resources for building a winning strategic plan, so check it out.
Choose an email platform
Email platforms vary dramatically and choosing the "right" email platform makes a huge difference in your options and costs. Changing email platforms isn't easy, especially if you have subscription forms in a variety of places as you must change each and every one when you change providers. Your costs depend on the size of your list, with larger lists incurring higher (in some cases significantly higher) costs.
All the email platforms I review offer metrics, automation, and templates to get you started. Most offer pop-up forms, as well as subscription forms and most, integrate with social platforms to collect subscribers there.
Below, I offer a SHORT review of some commonly used email platforms:
Constant Contact is a leading email platform. The advantages of Constant Contact are its ease of use and the number of email templates available. The software also offers e-commerce for a small transaction fee.  Constant Contact also offers training and support. Pricing for Constant Contact starts at $20/month and charges a small fee when the number of images you store in your account goes above a limit. (which is a little wonky).
Moosend is also highly recommended, although I never used this software myself. Moosend has a forever free option if you have less than 1000 subscribers and offers all the bells and whistles of similar platforms. Paid versions start at $8/ month (with an annual contract) to offer landing pages and other options.
MailChimp is a favorite of small businesses as it's free version offers a good array of features and allows for up to 2000 subscribers. I will say, as a long time user, they recently tightened up restrictions on the free version to increase profits and seem poised to do so again.
Attracting new subscribers
Your subscriber list is second only to your customer list in terms of value to your organization. A robust list with high open and click rates is worth its weight in gold. New subscribers join your list because they get something valuable in exchange. Commonly, that value comes in the form of ebooks, webinars, data, or access to free or discounted products.
WARNING — the US, EU, and many other regions assess severe penalties for sending email messages to individuals who didn't opt-in to receive your communications.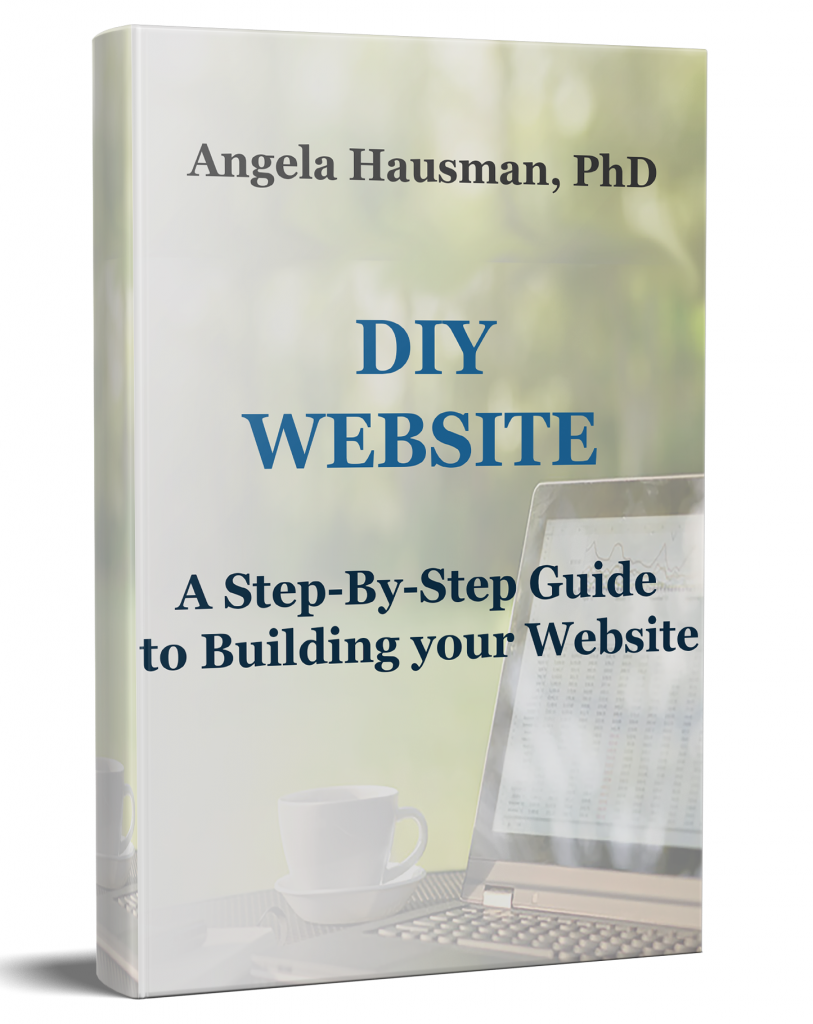 Many businesses, mine included, generate lead magnets such as ebooks as an incentive for interested folks to join their email list. This tactic has the added benefit of packing your list with folks who represent prospective buyers. Thus, the size of the list is less important than who's on the list, a factor we'll return to frequently during today's discussion.
I offer this free ebook that walks business owners through the process of creating their own website without the need to hire a developer or designer. It's been very successful in driving subscriptions and you can get your copy here.
My recommendation is to provide a high-quality ebook or another offering, not just a teaser to hock your consulting or products. Provide good value to subscribers. Ensure your lead magnet is actionable, attractive, delivered seamlessly, and isn't so long as to discourage readers. Ensure you're attracting the right subscribers by matching your lead magnet to the type of customer you want.
Reduce churn
Churn happens when subscribers decide to unsubscribe from your newsletter. Some churn is inevitable as readers no longer need the information you share. But, a more serious driver of churn is content that doesn't excite your subscribers, and reducing churn from this source is critical to the success of your email marketing program.
There's something else I call silent churn, which involves subscribers who simply ignore your emails, not bothering to even take the time needed to unsubscribe. Monitor your list to evaluate both churn and silent churn as increases in either suggest you need a massive change in your email content.
Driving traffic and conversion
The ROI of email marketing revolves around building a subscriber list comprised of your target personas, getting subscribers to open and click on your messaging, then driving website visitors to convert. Ultimately, your conversion rate is the key metric for evaluating email marketing performance. I've seen relatively small lists of highly targeted subscribers produce very high conversion rates and ROI, while must larger lists comprised of untargeted subscribers generate little or no ROI. So, don't be fooled by large subscription lists.
Personalization in email marketing means more than simply adding the subscriber's name and other personal information to the message. It means sending the right message to subscriber groups based on their individual characteristics. Email marketing ROI comes when you operate a reasoned drip campaign that sends targeted messages to subscribers based on their needs, desires, and where they are in the decision-making process.
Some brands segment email lists based on the type of lead magnet that generated the sign-up. Other's segment lists based on the source of the subscriber, for instance, whether they're a customer, attended a workshop, saw the brand at a trade fair, etc. In any situation, you should segment lists based on the specific product of interest to the subscriber.
The better you are at segmenting your list and the more you tailor content to the segments, the higher the ROI of email marketing you'll receive.
Monitoring
As with every digital marketing strategy, the key to optimizing the ROI of email marketing is monitoring and tweaking performance based on key metrics. As I mentioned earlier, list size is a vanity metric that has almost 0 correlation with ROI. Hence, why even monitor this metric. In fact, since cost correlates with list size, a larger list is actually a negative unless it converts well.
For this reason, email managers cull their list from time to time; removing subscribers who never or rarely open email messages. I mean, why continue sending newsletters to the subscriber unless they plan to buy from you at some point. Vanity?
Open rates and click rates are better metrics as they indicate opportunities for your business. Often, companies run A/B tests comparing various components of their messages to optimize the ROI of email marketing campaigns. Among the elements you should test are:
Best day to send
Best time to send
Subject lines
Calls to action
Colors for major elements like headlines and buttons
The optimal number of emails/ month (Moosend recommends 2-5/ month)
Not every business in every industry finds the same answers to these elements. And, don't forget, advice on blogs about when and what time to post drive everyone to those times and days, reducing the performance for everyone who follows that advice.
Avoiding spam
Once a major factor in open rates, spam isn't the big problem it once was. That's because most email platforms guide you in ways that reduce the chance your email ends up in someone's spam folder or gets reported as spam.
A bigger problem today is Gmail. In its infinite wisdom (not), Google started segmenting your inbox in Gmail so that most emails coming from email marketing end up in the Promotions tab and NO ONE ever checks their Promotions tab. Sure, you can include instructions for subscribers to "white list" your content so Google delivers it straight to the inbox, but almost none of your subscribers will take the time to do that.
Thankfully, many subscribers use Outlook or Mail rather than view email from a browser. The email clients don't segregate emails so your subscribers see you in their inbox.
Testing
Set up A/B testing so each test varies from another by a single element. Trying to test multiple elements at once is complicated (although it can be done) and may obfuscate correct interpretation. For each test, carefully record key metrics and follow clicks through your website to evaluate conversion not just open and click rates from each test. Using a campaign-specific URL allows you to track each individual test from click all the way to conversion.
Mobile-first
As with anything on a digital platform today, mobile-friendliness is paramount. In fact, more than half of all emails are opened on a mobile device. When designing email messages with mobile in mind, ensure you follow best practices for font and width of your emails so they're readable on a mobile device without having to pinch or rotate the screen to read the content (you'd be surprised how many brands violate this principle).
Android devices default to not displaying images so be sure your content works without the image. Sure, users can request the image, but many won't so assume Android users can't view your image.
Ensure buttons are far enough apart to allow users to accurately click on their desired content. As many as 50% of all mobile clicks may be accidental, according to Google.
Conclusion
I hope this helps as you build your email marketing strategy. If you have questions, leave them in the comments and I'll get back with you. Meanwhile, if you have suggestions for future posts, please reach out via the contact me option or enter your ideas in the comments below.
Need marketing help to support business growth?
We welcome the opportunity to show you how we can make your marketing SIZZLE with our data-driven, results-oriented marketing strategies.  Sign up for our FREE newsletter, get our FREE guide to creating an awesome website, or contact us for more information on hiring us.
Hausman and Associates, the publisher of MKT Maven, is a full-service marketing agency operating at the intersection of marketing and digital media. Check out our full range of services.