"In 2023, e-Commerce retail purchases are expected to rise from 14.1% to 22%." Below, you can see the pre-pandemic estimate for the growth of online retail. The pandemic, however, accelerated this increase with most experts predicting that the growth in e-commerce has changed permanently. That's a huge potential for online retailers out there. But how do you ensure that you are making the best use of your e-commerce UX?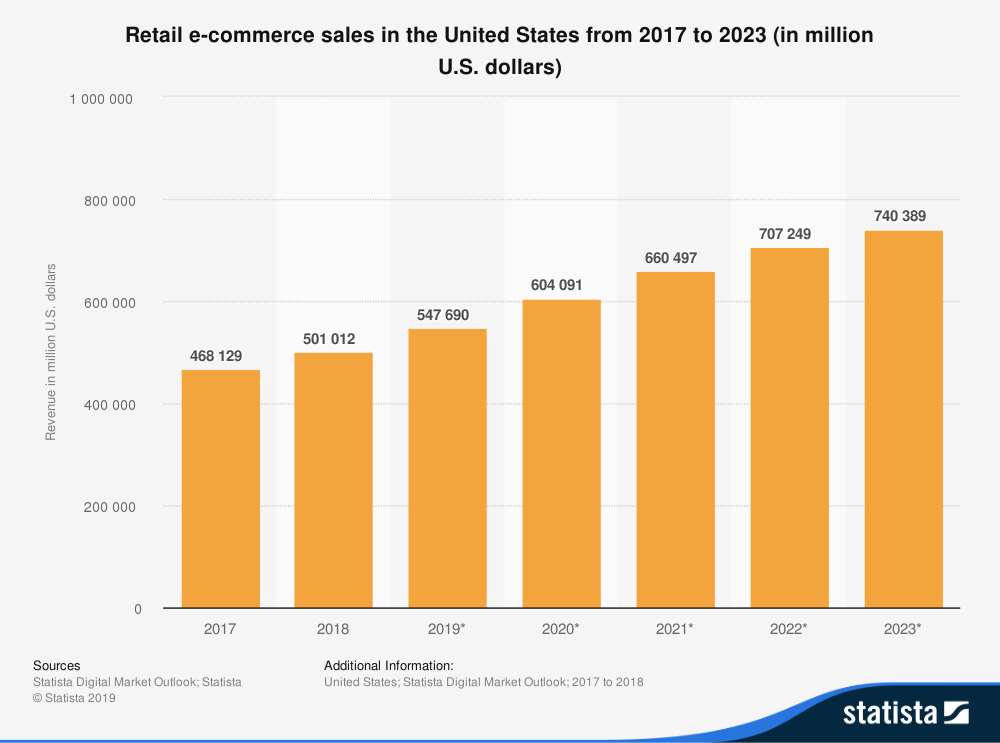 E-commerce UX solutions
Well, the answer to the question of best e-commerce UX lies in product detail pages aka PDP.
When a visitor arrives on your site, he or she browses your different landing pages before selecting a product that interests them. It's now crunch time, and having a responsive, ROI-delivering eCom product page helps attract new customers and retain old ones. As visitors do not have the ability to physically see, feel, or use your items before purchasing, the look and content of your PDP decide if a lead will convert or not. You must ensure that the page is not overly simple or overburdened with content.
To get you started, here's a run-down of the best practices for mastering the e-commerce UX design of your PDPs and eventually boosting conversions.
Your go-to checklist for designing the best e-commerce UX with PDP
1.    Use good-quality, multiple, and clear images
According to research, content that is accompanied by relevant imagery receives 94% more views than content that is not.
When you consider the PDPs from the e-commerce sector, this number is much more important, as you can see from the image above. Visitors can see the details of your product by looking at the image on your product pages. As a result, one of the handiest best practices while creating PDPs is to utilize a high-resolution, zoomable, and clear image just over the fold. Additionally, using multiple images taken from various perspectives to offer visitors an overall view of the merchandise provides better results.
Images deliver a significant impact on the usability of your site and the entire UX, alongside conversions and revenues. You should keep download time in mind when creating product page pictures. Remember that not everyone has a high-speed computer. A slow internet connection might have a detrimental impact on the end result for images requiring large downloads.
However, note the image size. We do not recommend using large sizes since it may slow down the load speed of your website.
Make use of visual commerce by inviting your consumers to post images of themselves using your items on your site, as well. CGC (consumer-generated content) serves as social evidence to influence and inspire others to purchase.
2.    Create compelling CTAs
The call-to-action (CTA) button is near the top of the checklist, as it's one of the most significant items in eCom PDPs.
A CTA might be anything from an add-to-cart button to a buy-now tab. To work effectively, your CTA should stand out, clearly identify the action taken, and stand out from other clickable elements to avoid accidental clicks.
Make the CTA compelling copy so a buyer is motivated to click on it. CTAs should pique a visitor's interest and encourage them toward a conversion objective. For instance, if your customer is a luxury buyer, try using words like 'Explore More' or 'Discover' instead of the regular 'Buy Now". Using a button rather than hyperlinked text increases CTR (click-through rate) by 28%.
Keep two things in mind when choosing a hue. To begin, consider if that particular shade elicits the desired emotions in your targeted customer base. Second, how will it match with the remainder of the page's color theme? The CTA should, ideally, be unique and creative so that it attracts the customer's attention.
Keep CTAs dynamic and test them with your target market. Try changing colors, positions, decoration, and button text until you find the right combination for your market. Remember that certain terms have various meanings in different nations when deciding on the content.
3.    Embed customer reviews
The number of online scams is on the rise. As a result, establishing credibility and trust with clients is critical for e-commerce businesses.
Including a small guarantee message, highlighting social media mentions, or displaying safety logos or trust seals can help increase conversions and customer trust in your online business.
Customer testimonials and reviews, in addition to the trust seal, play an important role in the purchase decision: According to the BrightLocal Local Consumer Review Survey 2015, 91 percent of 18 to 34-year-old consumers trust online reviews as much as personal recommendations. You might also ask visitors to rate reviews. This ensures that the most beneficial reviews are at the top of the list.
4.    Never ditch the UX research
Always remember to conduct periodic, detailed research on how your UX performs. You can then develop strategies for how to create excellent product-detail pages after reviewing the results of your research. For instance, you might get an idea of what to include and what not to place on your website. After all, the product page is a workhorse that has a lot of responsibilities and tasks to complete, such as resolving customer inquiries and preparing shoppers to purchase.
As a result, it's vital for websites and apps to get these pages correct. You can then classify your available features into must-have, nice-to-have, and fancy elements – necessary for well-designed product pages.
Do you wish to know how to get started with UX research? Maze's guide on UX Research is your go-to resource.
5.    Use videos to spice it up
Customers can't physically experience your goods, therefore a demo video or an explainer is a fine way to show it off in its entirety. When you attempt to market something complicated, a well-made clip can deliver a large recall value. In fact, instructional videos are even more important. Shoppers who saw videos on product pages were 144 percent more likely to add a product to their cart, according to Stacks & Stacks. 
6.    Showcase detailed and authentic product descriptions
The best eCom product descriptions make an immediate impression. They deliver value, elicit excitement, and convert visitors to consumers in an instant. An effective description not only appeals to the eye but also provides comprehensive information and addresses the following questions:
How is your product different from those of your competitors?
Usage of Product Intelligence in order to check the features, which control-click behavior.
What's the modus operandi of your product?
How does this product work?
Is there a backstory?
To ensure that the page ranks well when it comes to SEO, keep your content concise and include crucial keywords.
A majority of buyers will return a product if the real item is not very similar to the description they read on the page. Hence, keep the information authentic.  Personalized descriptions depend on customers' psychographic profiles, demographics, and reasons for shopping intent.
So it is all about minimizing the common gap between customers and products by optimizing descriptions as per your brand's tone and language.
7.    Use community Q&A
Should your tone be solemn and official, or lighthearted and funky? It's critical to understand your customers' preferences when it comes to tone. Also, you need to use a common language in order to get them to connect to your content and purchase your products.
For this purpose, incorporate a community Q&A section. Put yourself in the shoes of your customer and surf your website. Assume you're visiting for the very first time and would like to know more about the item you're considering purchasing. You'll pose a query or look to check if anyone else has asked it over you and how the response was. Customers can get more information from the Q&A area without having to contact customer service, know someone who has the item, or hunt for solutions on other pages. People can learn more and engage with each other quickly by participating in a community Q&A.
If a consumer has a query about your product, it's likely that other customers have the same question. You may help them by dedicating an area to answering their inquiries or using a chatbot to provide a more personalized solution.
7.    Close the gap between benefits and features
What is a feature? It is a fact regarding the product or service that you want to highlight. Meanwhile, a benefit primarily addresses how a specific feature benefits your customer. Since users buy solutions to their problems rather than products, it's important to sell based on benefits and explicitly show how you solve a common consumer problem.
Inform them "why" they should buy this product and "how" a certain feature provides benefits. You can reduce buyers' remorse and ease post-purchase dissonance with product descriptions that bridge the gap between features and benefits.
8.    Use jargon only when speaking with sophisticated buyers
Excess usage of jargon that your clients don't fully comprehend can cause misunderstanding. It makes more sense to avoid jargon since visitors won't express interest in your product if they don't comprehend what it is about and how it can solve their problem.
However, you can effectively incorporate the jargon if you believe it makes you appear more knowledgeable and better informed. And you are correct. The use of jargon in these situations enhances perceived trustworthiness. This is particularly true when trying to reach sophisticated leads.
9.    Make the size selector and other filters easier to use
An important decision criterion for anyone visiting your website to buy a product is size, color, and other key features. For this reason, include size selectors or size charts, since sizes vary greatly across brands and geographic regions. Across the size range, a size chart shows the ideal consumer body type for that size. Small, large, and extra-large, for instance, are defined differently by individuals all across the world. Give people a size selection as well as a size guide or chart with measurements in different units.
Other filtering options reduce cognitive load and help visitors find exactly what they're looking for quickly. Don't force visitors to search through hundreds of options when they already have a picture in their minds of what they want. Ideally, you should allow visitors to use filters so the face a choice between less than a dozen options.
Conclusion
People like e-commerce websites that communicate to them directly.
As a successful e-commerce website, you must first figure out what your customers want and then tailor your site to meet their needs. Thousands of e-commerce stores have tried all of the above pointers. However, this doesn't convey that you should apply every suggestion without first trying them on your site.  Each eCom business is unique, with its own targeted customer base, products, and expertise, among other things.
Now, if you simply copy what a different brand implemented without conducting any tests, your conversion percentage will decrease.
Need marketing help to support business growth?
We welcome the opportunity to show you how we can make your marketing SIZZLE with our data-driven, results-oriented marketing strategies.  Sign up for our FREE newsletter, get our FREE guide to creating an awesome website, or contact us for more information on hiring us.
Hausman and Associates, the publisher of MKT Maven, is a full-service marketing agency operating at the intersection of marketing and digital media. Check out our full range of services.