You've probably heard the saying that "content is king" and nowhere is that more true than in SEO. Valuable content in SEO is the currency that drives traffic to your website, valuable content is the currency that moves visitors toward conversion, and valuable content is the currency that builds success for your brand both online and off. Below, you see how leaders in content marketing provide tangible results for the brands in terms of both traffic and conversion.
Many people think content is an afterthought in search engine optimization. That couldn't be further from the truth. If you're not creating quality content, your SEO campaign will never reach its full potential. That's why it's so important to understand everything about content marketing before getting started with your campaign.
How valuable content in SEO works
SEO or search engine optimization is essentially a ranking algorithm that sorts related content to deliver the best search results at the top of the page. We know that content showing near the top of search results (SERPs or search engine results pages) get the lion's share of clicks. If you don't believe me, here are the results from one of the top SEO experts.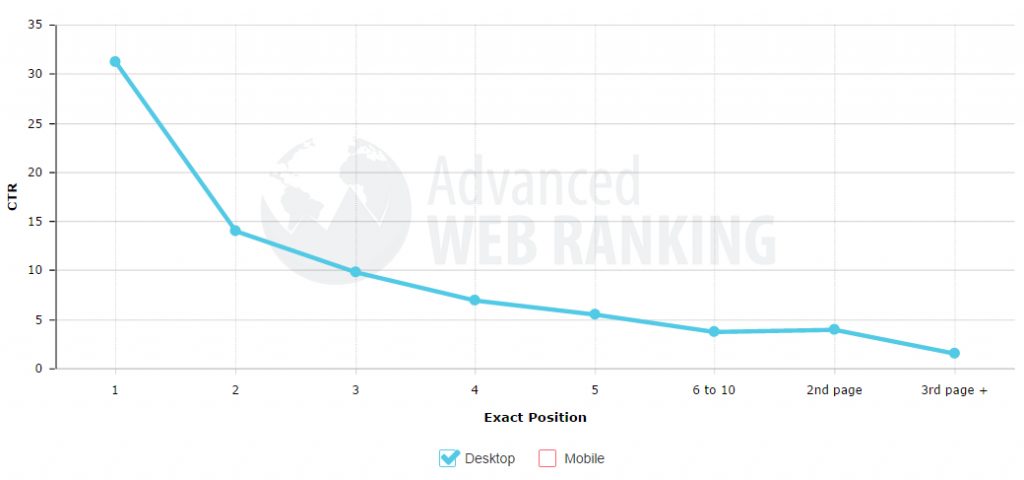 The ranking algorithm is a complex set of factors (variables) and associated weights, hence some factors have a greater impact on your rank than other factors. The Google ranking algorithm (and we focus on Google since it still receives about 90+% of all search traffic) isn't published but SEO gurus use experiments (called Monte Carlo simulations) to test how various tactics impact rank. Based on these simulations, we find the most impactful factors in terms of rank are (according to ahrefs) :
Backlinks are a means to demonstrate to the Google bot that your content has value. When these backlinks come from related, high-quality websites is the biggest factor and the preferred means to build backlinks is by writing valuable content other websites want to link to. Reaching out to specific websites and writers to share your content is an acceptable means to glean more backlinks.
Relevance to the query entered by users. Google uses keywords as a means to ensure the results are relevant to users, which is why it still captures most search traffic.
Freshness, which means you should post content on a consistent basis so you always have something new to share. I also recommend deleting or updating old content to make sure it's still fresh.
A security protocol called HTTPS to ensure visitor safety
Mobile-friendliness, most developers recommend developing with a mobile-first strategy
Page speed, although this factor is decreasing in influence currently
Intrusive interstitials are a negative ranking factor. Intrusive interstitials block the view of a page until closed with an ad, a subscription form, or other annoying content. Don't add these.
Now that you have a better idea of SEO ranking factors, let's dive into some of the essential benefits of valuable content in SEO.
What Is valuable content?
Valuable content is well-written, has a purpose, and is relevant to the interests of your visitors. Quality content doesn't just focus on your website and its products. It should help the reader or viewer accomplish something, whether that's education, entertainment, or information.
Valuable content must be relevant to the search term someone uses in Google. Otherwise, no one will find your site content. If you want people to come back again and again, then quality and value are your top priorities when creating blog posts and other types of web pages for SEO purposes. You can tell if your content appeals more to readers by looking at Google Analytics to see which search terms brought them to your site and how long they spent on your site before leaving. Your bounce rate is a negative indicator of providing valuable content.
If you want to know what types of content your target marketing views as valuable, look for the content that gets the most traffic, the longest time on site numbers, and, if you offer conversion online (such as sales or subscriptions, which content offers the highest conversion rate. You can also check out Google Trends to see what topics are currently trending in search or Twitter trending topics for ideas when creating fresh content.
Why valuable content in SEO is important?
Quality content is the most critical part of SEO. It affects every area of your site, and it helps you in so many ways:
Content builds trust and authority with search engines, which leads to better rankings.
Content helps build links from other sites, which helps the rank for your content.
Content attracts users to your site, which helps with conversion rates.
Due to its importance, almost all marketers have a content marketing strategy. According to the 12th B2B Content Marketing Research report by the Content Marketing Institute, around 73% of the respondents have a content marketing strategy.
Valuable content focuses on the right keywords
In addition to incorporating the right keywords into your content, you also need to ensure that they are relevant to the content. Using a keyword is no use if it does not fit with the thesis behind your content. You cannot go with any random set of keywords. Data shows that almost 95% of the total keywords have less than 10 searches a month. This means you must find and select the keywords that can get you the most traffic and incorporate them into your content effectively. Google offers its Keyword Planner (accessed through Google Ads) as a free tool to assess the search volume and competition associated with relevant keywords to help you choose the right ones. There are also paid tools you can find through a search.
However, keyword research can be challenging. You can collaborate with an SEO consultant if you need help with the research. A consultant can help you with high-quality keywords using which you can create compelling content that ranks high on search engine results. You can learn more about an SEO consultant's services to determine when to hire them and for what tasks.
You need to use keywords effectively. You need to use keywords in titles, subheadings, and body text, as well as within links on other pages of your website and any images (alt tags) or videos you use.
Valuable content helps increase CTR
CTR (click-through rate) is the number of times your ad or organic content is clicked. In advertising, Google Ads provides CTR metrics or you can use Google Search Engine Tools (free) to assess CTR based on the number of impressions your content received.  A low CTR can indicate two things, your content is not appealing enough to attract clicks or is too generic. In either case, adding valuable content will help improve this metric significantly.
With valuable content, you can increase the number of clicks by improving your rank on search engine result pages (SERPs). This is because people often click only on the first few results of SERPs. According to the data, the #1 result on the SERPs gets 10 times the number of clicks as the #10 result.
Valuable content helps generate backlinks
Quality content can help generate more backlinks, which is a great way to boost your site's rank on Google, as mentioned above. Backlinks are the most significant factor in SEO. However, data shows that 66.31% of web pages don't have a single backlink, and 26.29% have less than 3. Getting backlinks from authority sites can get you ahead of all these web pages in the SEO game.
Here are some ways you can build links to valuable content in SEO:
Write high-quality blog articles about topics relevant to your industry, then submit them to directories such as EzineArticles and GoArticles. Be sure to include a link back to one of your website pages in each article! This will provide readers with valuable information while allowing you to get exposure on someone else's website, which is also great for building links!
Guest blog on another person's site by contributing original articles or commenting on existing ones. If they allow comments on specific posts already published there, then do so by either mentioning something positive about their post or offering constructive criticism, if needed.
Valuable content helps improve user experience
Valuable content is essential to users and decreases bounce rates. When you think about the quality of your website, it's not just about how well it looks or sounds. It should also be about how user-friendly it is. For example, if a site takes a long time to load or doesn't work correctly on mobile devices, people will likely leave without sticking around for long. This impacts your site's overall user experience (UX) and can lead to fewer conversions and less traffic from search engines like Google or Bing, which means lower rankings!
The better your UX (user experience) is, the more likely people will stay on your site rather than leave after reading only one paragraph worth of content. Valuable content that supports a good UX also builds trust with your visitors that translates into higher conversion rates. Below are ways to use content as an integral part of your UX.
Conclusion
Quality content is a vital part of any SEO campaign. The general idea is that if you have high-quality content on your website, people will be more likely to visit and link back to it. The quality of your site's content directly impacts user experience as well. Visitors who come across poorly written or inaccurate articles will likely leave the site without clicking on anything else.
We hope this article has helped to demystify the concept of quality content for you. Using the tips and techniques outlined above, you can now confidently create high-quality content to help your SEO campaign succeed in today's competitive environment.
Need marketing help to support business growth?
We welcome the opportunity to show you how we can make your marketing SIZZLE with our data-driven, results-oriented marketing strategies.  Sign up for our FREE newsletter, get our FREE guide to creating an awesome website, or contact us for more information on hiring us.
Hausman and Associates, the publisher of MKT Maven, is a full-service marketing agency operating at the intersection of marketing and digital media. Check out our full range of services.