Due to the various lingering effects of the COVID-19 pandemic, e-commerce is thriving to an extent that people in 2019 couldn't imagine. Shoppers of all generations and walks of life became accustomed to buying online to avoid exposure to a deadly virus. Even items that are among the least likely for consumers to buy online, saw massive increases in online purchases. Of course, much of the increase in online purchases came in the form of curbside pickup, which was used by 85% of shoppers. Operating a successful e-commerce store became the nearly universal challenge of 2020.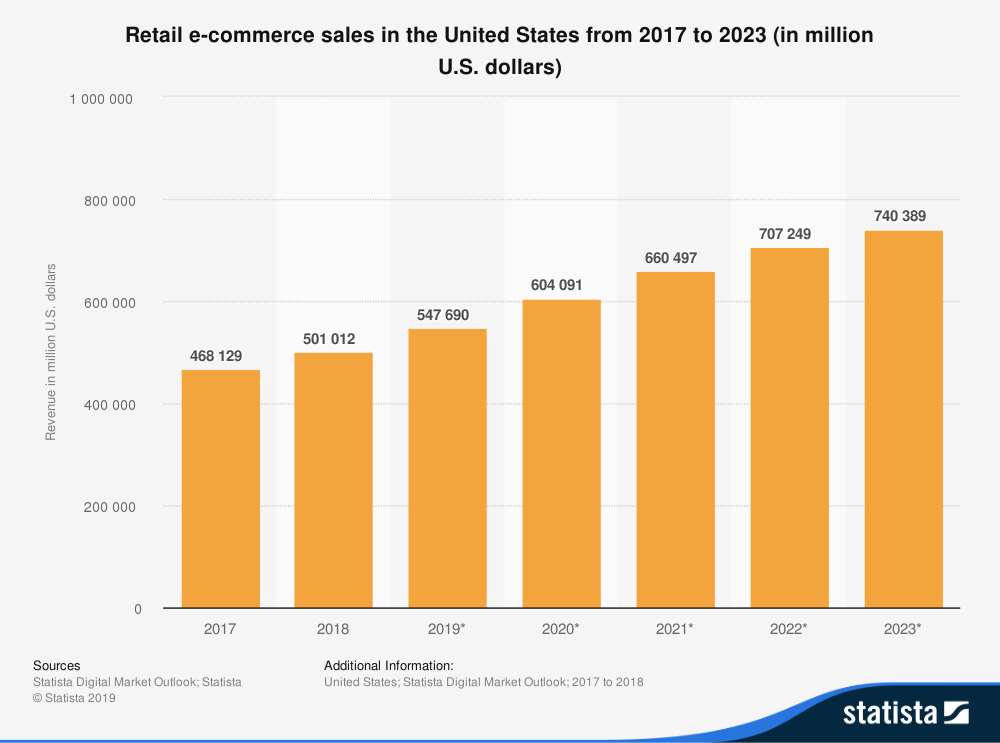 Looking at forecasts for e-commerce shopping published by Statista (see the above graph), we see they're still very bullish on increased use of e-commerce sales for the predictable future. Given this, you might think that it's a great time for online merchants and for those who considered moving part of their sales online. Well, that's partially true. While the best stores did incredibly well and made a lot of money, there are plenty of stores that didn't fare so well. Many went out of business fairly quickly, while others struggled to keep going; aided by financial support from governments anxious to maintain some semblance of normalcy as part of the ultimate recovery efforts after the pandemic. Running a successful e-commerce store takes careful planning and flawless execution to attract and convert customers. Today, we discuss 4 problems businesses encounter in trying to run a successful e-commerce store.
Running a successful e-commerce store
If you run an e-commerce business in these global circumstances, then you already know the challenge you face each day — and if you don't have such a business but intend to create one, you must avoid problems common with this business model. To help you build a successful e-commerce store, we collected these 4 aspects of e-commerce that potentially damage your efforts to attract and convert customers. Let's get to them.
1. Nail the technical basics
Once upon a time, it was possible to cobble a store together from scrap and wire and have a realistic chance of success. The Wheel of Retailing is a concept encompassing the evolution of retail stores from humble beginnings, such as a stall in a flea market or farmers market, to massive commercial success. Below, we share an image that visualizes this concept.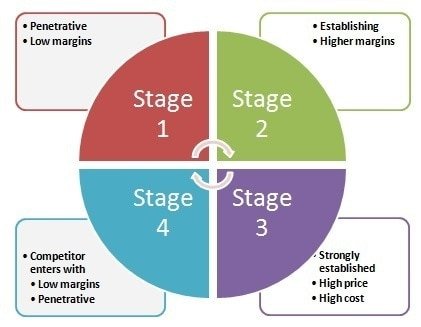 As you can see, the concept works due to two key factors: low margins and overhead resulting in competitive prices and relatively limited competition resulting from the low prices. The same factors attract new businesses to e-commerce, especially given the massive reach possible using 3rd part retailers, such as Amazon and eBay. Yet, you can't run a successful e-commerce store by simply relying on location to deliver customers to your doorstep. Instead, you must understand the basics of using e-commerce to attract prospective customers.
In the early days of e-commerce, Google wasn't anywhere near as good at discerning between good and bad store experiences. With less competition online, it was even possible to push a site to the top of search rankings (SERPs) through contrived methods like keyword stuffing. But things changed hugely since then. Today, Google looks closely at a huge range of factors, using them to sort the wheat from the chaff — and if an e-commerce website falls short of expectations, it won't rank well and fail to attract a sufficient number of prospective buyers. Even utilizing Amazon as a conduit for running a successful e-commerce store became more challenging as increased competition makes it difficult to cut through their internal algorithm to show up in product searches on the platform.



You need to master the technical basics of a modern e-commerce store or face dwindling into obscurity. That means building on a high-quality e-commerce platform, which sounds complicated but really isn't (plenty of online systems are geared towards beginners). It means ensuring that site hosting can handle the required level of traffic without a significant slowdown. It means ticking all the SEO boxes (providing metadata and a sitemap, using an SSL certificate, achieving mobile responsiveness).
If you need help, I even created an e-book that steps you through the process of building a website, with plenty of screenshots to step you through the process. Then, use something like WooCommerce and its plugins to add an e-commerce store to your website.
2. Do something unique
Brick-and-mortar retail made it possible for retail businesses to get ahead through smart (and often expensive) geographical positioning. If you could secure a prime spot in a busy area, you could charge more than other merchants and still drive plenty of traffic to your store. Online, though, location is essentially irrelevant outside of fulfillment areas that ensure prompt delivery — and most successful e-commerce stores operate either nationally or internationally, making this insignificant as a differentiating factor.
Suppose that you sell phone cases (extremely popular, but everywhere), charge average prices, offer typical shipping options, featuring generic copy, and market through occasional digital ads with a middle-of-the-road budget. How far will you get? Not very far. The chance of a shopper picking your store over your competition is fairly low. Just one search query yields a massive number of suitable stores, whether on Amazon or your own website. Searcher ultimately picks something that stands out near the top of search results, as mentioned above.



A successful e-commerce store, then, has unique elements. They sell products that aren't easy to find elsewhere. They undercut their rivals in terms of price, quality, positive reviews, exquisitely crafted descriptions and product images, or some other factor that's important to consumers. They offer more shipping options, as well. They set themselves apart in compelling ways, allowing them to carve out substantial portions of their targeted niches — and if you want to do well, you need to do the same. Below, you can find factors that increase online sales based on customer surveys.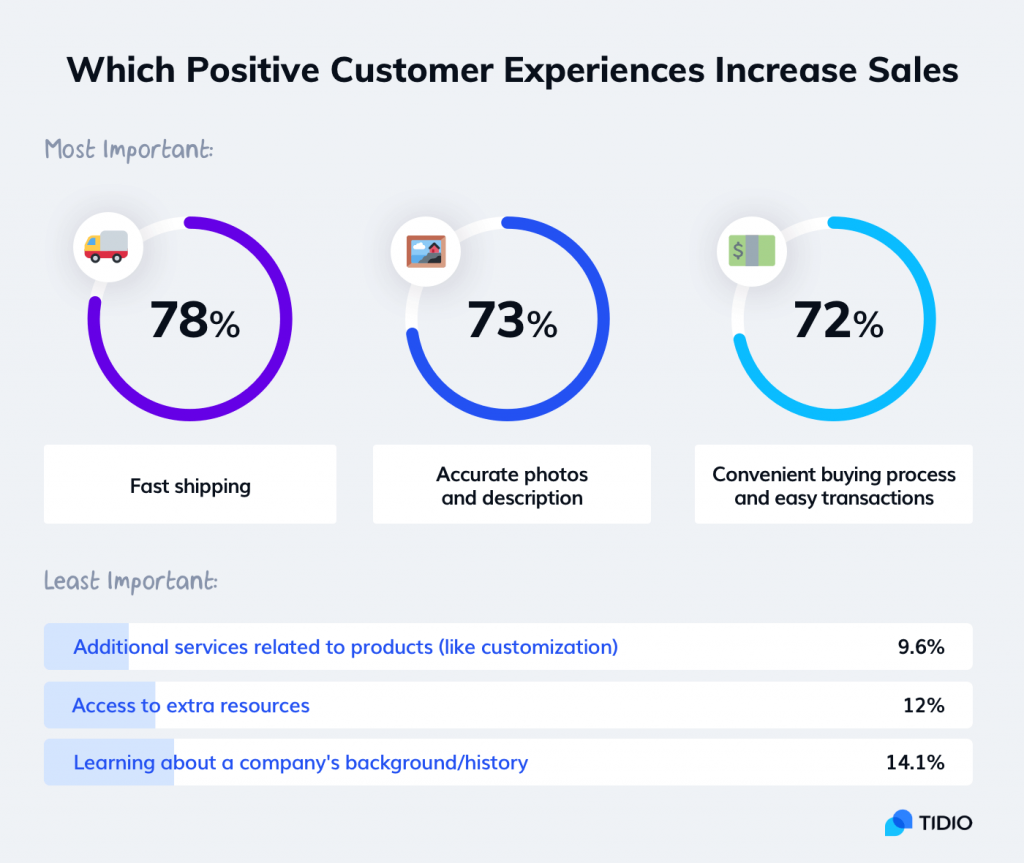 3. They create meaningful brands
The unique elements we just looked at are extremely difficult to achieve. Finding products that can't be purchased elsewhere is quite the feat, for instance, usually requiring in-house research and development coupled with fresh production. So how are you really supposed to make your operation different if you can't be exceptional in one of those ways? Branding is the key.
Having a brand is all about making your business more than the sum of its parts: giving it a personality, cultivating its overall style, and making it about something more than just profit. A successful e-commerce store today pursues an overarching cause that goes beyond making money. They not only state values for something like protecting the environment, helping the disenfranchised, or addressing income inequality but live these values through donations of time and money. Younger consumers, especially the emerging cohort labeled Gen Z (born 1995-2010), support brands that share their values, even expressing a willingness to pay more for their products.
Showing personality (see below) is all about content marketing: writing blog posts, articles, and social media posts that carry across a particular tone. Is your brand funny? Dry? Warm? Old-fashioned? Almost any trait can make for a solid brand if presented positively, so it's less about choosing the perfect personality to craft and more about authentically showing who you are. Coming across as true to yourself will earn you a lot of support and loyalty.
4. They incentivize reviews and recommendations
Lastly, a successful e-commerce store finds it highly challenging to earn new business. You might rank well for a key term on a given day, but dip in the rankings the next following an algorithm update and see your lucrative traffic dry up. And since repeat business — as valuable as it is — is not guaranteed regardless of the quality of your service, you need a steady stream of new customers. Plus, your quality also impacts repeat purchases.
Efforts to address this issue inevitably push you towards reviews and recommendations. Even if you only convince a handful of customers that your brand is something special, that small group can double in size through the careful use of reviews and recommendations from users. When someone you trust tells you to check out a brand, you give the brand the benefit of the doubt and that increases your intent to buy or at least check out the brand.
Organic referrals come from social media shares, whether it's sharing your social media post or sharing your website content on social. Note below how effective engagement such as this transmits your message reach and these tacit endorsements drive purchase intent among those reached.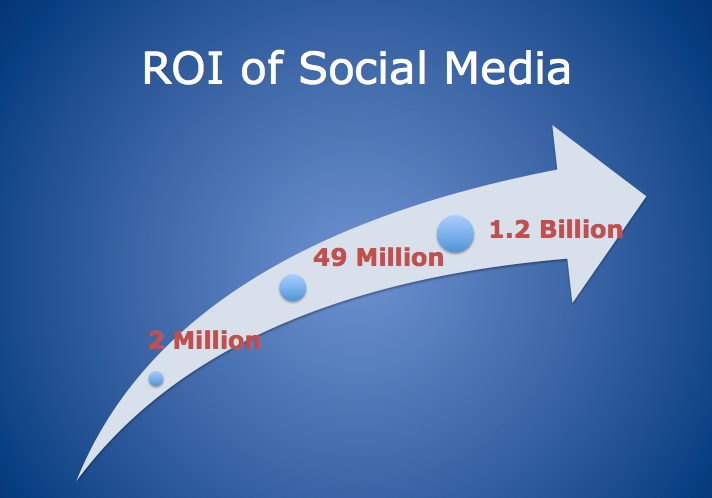 But, reviews and recommendations don't often occur in sufficient numbers organically. You must encourage customers to post reviews and share recommendations with their social platforms by following up with buyers and making it easy to share their evaluations. For instance, Amazon often sends an email or two (don't overdo it) after you receive your purchase asking you to post a review. The email even links directly to the page to make it easy to submit a review.
Instagram followers might receive an incentive in the form of a contest or even just recognition for sharing images about the brands they consume. For instance, I once got a retweet from Google Analytics about a review of the product posted on my blog, which sent massive traffic to my website. This encouraged me to share other positive posts about the brand.
Influencers are "hired" by a brand to recommend and promote the brand to their massive numbers of followers; earning a steady income from their association with the brand.
Conclusion
I hope sharing these 4 tactics for attracting and converting consumers helps you build a successful e-commerce store. If you have questions or comments on this post, please share them below. Also, I'd love to hear recommendations for future posts on topics important for your business.
Need marketing help to support business growth?
We welcome the opportunity to show you how we can make your marketing SIZZLE with our data-driven, results-oriented marketing strategies.  Sign up for our FREE newsletter, get our FREE guide to creating an awesome website, or contact us for more information on hiring us.
Hausman and Associates, the publisher of MKT Maven, is a full-service marketing agency operating at the intersection of marketing and digital media. Check out our full range of services.