Creating a successful content marketing strategy for a small business involves careful planning, understanding your target audience, and consistently delivering valuable content. In other content on this site, we discuss the planning and targeting aspects of marketing strategy on any platform in depth, so today, we'll focus on why you need to produce quality content, how to produce it on a consistent basis, how content marketing differs across platforms, and tools that help you create a successful content marketing strategy.
First, let's look at the biggest challenges when it comes to creating a successful content marketing strategy from a survey conducted by Optin Monster.

With this in mind, let's move on to today's discussion.
Why you must produce high-quality content
SEO
SEO or search engine marketing is critical for the success of your brand online regardless of niche or market. The SEO algorithm used by various search engines determines where your content ranks on their platform when users make queries related to that content. Rank determines how much organic traffic visits your site (as you can see below) and, since organic traffic represents about 53% of all traffic sources for your website (75% for B2B websites), SEO is an important part of your digital marketing strategy. In contrast, paid online advertising only represents 15% of your website visits leaving only 30% of traffic coming from all other sources, including email and social media (which also requires content marketing – more on that later).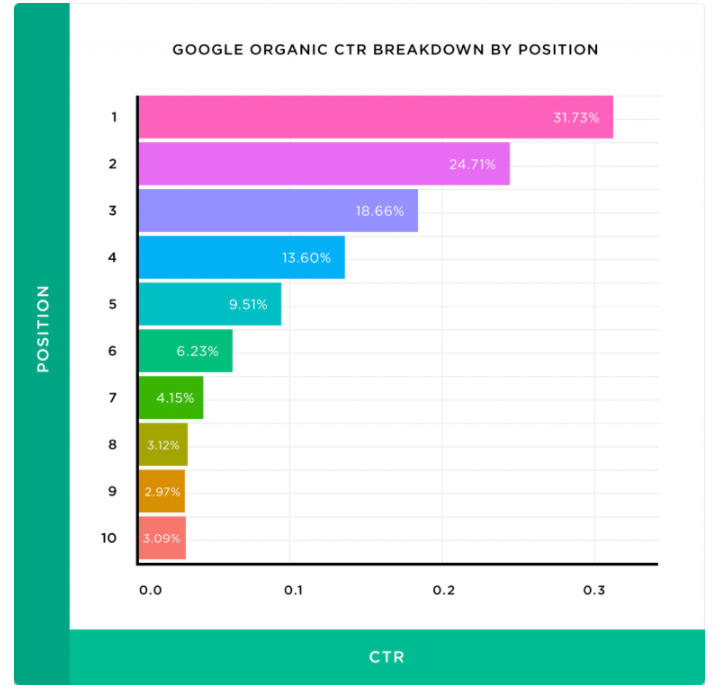 Now that you understand the impact of SEO on digital marketing success, let's transition to discussing how content marketing impacts SEO.
Producing high-quality content impacts SEO through the following ranking factors (all have a disproportionate impact on rank compared with other ranking factors like site speed and mobile-friendliness).
quality content produced on a consistent basis helps improve your rank directly
you get backlinks when your content provides value and when these backlinks come from highly ranked websites, it impacts your rank even more.
since the robots that constantly scan the internet to find new content can't determine quality, SEO algorithms use quality signals such as

repeat visits
time on site
low bounce rate — visiting a single page of the website before exiting
number of pages viewed per visit
wordcount, with posts between 1500 and 3000 words earning a higher rank
keywords match user intent as reflected in the query, exact matches have an even greater impact. With voice search, these queries get longer so you need longtail keywords.
original content, although duplicate content doesn't hurt as much as in prior versions of the algorithm
using images, lists, and links to high-authority websites that show you did your research
Conversion
The conversion process isn't instantaneous and isn't always straightforward, as you can see below.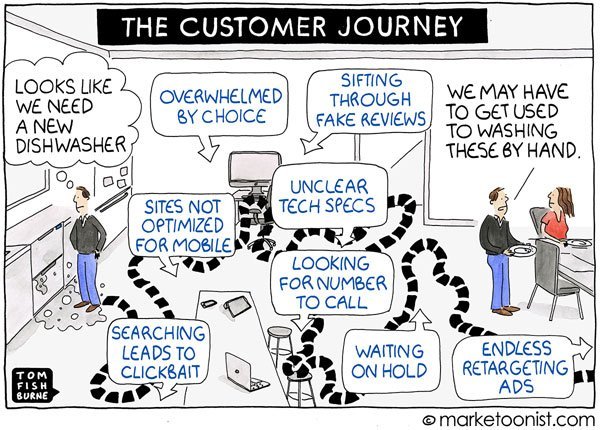 Developing content that fits each stage in the conversion process and motivates users toward conversion is a key element of high conversion rates. In the image above, you can see multiple opportunities where content marketing might lead to a different result. For instance, offering a prominent option to contact the company so visitors don't have to search for it. Better yet, use a chatbot to offer answers to questions anytime users access the website. Reduce choice by offering opportunities for visitors to filter results based on criteria that matter to them. Further, you can offer content with real reviews (for instance, Amazon routinely eliminates reviews it finds aren't honest) and transform specifications into someone users can understand.
There are lots of ways to craft content to help visitors move toward conversion and using the right incentives and tools of influence leads to higher conversion rates.
Social media
Social media is another big source of digital marketing success. While some firms may sell through social platforms like Facebook Marketplace, most businesses use social media to create brand awareness, influence brand attitudes, and remarketing to entice website visitors back to finish or make a purchase. And, that takes a successful content marketing strategy.
But, the strategy for social media content marketing is very different. The key is to create content that optimizes reach based on the convoluted algorithms used by individual social platforms. Your goal is to get users to engage with your content. While improving reach is beyond the scope of this article, there are things to keep in mind when creating engaging content on social platforms, such as
Most platforms require an image with the exception of X (formerly Twitter) where images are optional.
Your content is limited to a few words so make them count. Don't post so many words that it requires a read more that hides additional content.
Aim for authenticity, be yourself and be a real person
Don't sound like a press release, your content should make you seem friendly and approachable
Talking endlessly about you is doomed to fail, focus on providing value through entertainment or information
Share snippets of your blog content on social media
Keep on the optimal schedule when it comes to sharing content on your social platforms (see below). TikTok sharing schedule is once or twice a day.

Image courtesy of Louise M

encourage user-generated content including using influencers to create content
respond quickly to queries or comments
content that supports your customers works great
host competitions and polls
use salient hashtags, pick only a few for each post on Instagram and X, using a ton of hashtags is so 2020
Email marketing
Of course, you need content for your email marketing programs. Email marketing is a different animal as it's challenging to get users to open and click on your email content. Below are some ideas for improving that.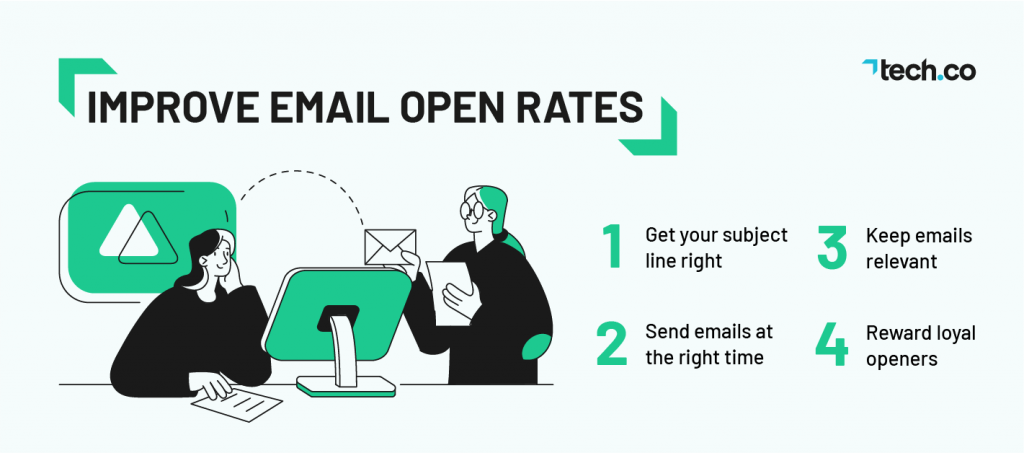 Once your email is open, consider how to generate clicks from the content. First, I hate email messages composed primarily of images. Many folks must agree before images are displayed in their email and previews, which is a way many folks determine which emails to open, usually don't display images.
Some businesses send an email every day while others send emails less frequently. I tend to send out my messages once a week. You should test different schedules and monitor open rates and churn (unsubscribed) to determine the optimal schedule. Next, I tend to include a couple of messages divided into blocks to make it easy for subscribers who scan the email looking for elements that interest them. I include an image to support the text and buttons to encourage clicks.
Creating a successful content marketing strategy
A big part of any successful content marketing strategy is knowing WHAT to post. Obviously, you must use correct spelling and grammar. Writing on social media is less formal so slang and intentional grammar lapses are allowed but blog posts should follow most grammatical rules. Your images and video should be clear with good audio but you don't need film-quality video or photographer-quality images.
A bigger problem is determining WHAT to write about. Here's some advice.
Check out what your competitors are posting, which is a major advantage of digital marketing. What types of posts gain the most engagement? The least? How do users respond to their posts? Don't try to reproduce what your competitors post but use it as a guide.
Choose your content types that fit your skills and business needs. Posting a variety of content keeps things interesting and you should consider the norms of each social platform. For instance, Instagram requires an image with certain dimensions while TikTok and Instagram Reels require short videos. YouTube requires longer videos.
Choose platforms that match your target market. Don't overcommit by trying to appear on a bunch of platforms. Instead, choose a few, especially as a small business with limited resources. Focus on doing a good job on those before you think about adding additional platforms.
Keyword and topic research are important for creating a successful content marketing strategy. Keyword research should guide your content creation on your website. Choose keywords that match those likely used by your target market when searching for products like yours. Topic research, such as trending topics on X, helps you create content that users are likely to find interesting and offers ideas for content creation.
Optimize your content for SEO by using keywords effectively in website content (i.e. in headings, alt tags on images, and about every 200 words of your content). Reach out to other websites to offer guest posts or request links to your best content, although the algorithm punishes link exchanges. Encourage visitors to stay on your site with links to similar posts buried within your content and clear navigation to help them find more interesting content.
Share your content across platforms. Not only does this reduce the effort needed to meet minimum posting standards, but it also creates more readers for each piece of content
Constantly monitor the performance of your content to make informed decisions about future efforts. For instance, the image below (from Traakr) shows the performance of your content on social media so you can make better decisions on the types of content and marketing efforts to use in the future. On Google Analytics, you have access to information on which posts perform best and worst to inform topics for future content creation. By assessing the types of content and sources of content that result in conversion, you can assess the ROI of your marketing efforts and determine which efforts to continue.
Allocate your budget wisely, focusing on content creation, promotion, and measurement tools. Adjust your spending based on the performance of different channels.
Keep up with industry trends, algorithm changes, and shifts in consumer behavior. Adapt your strategy accordingly to remain relevant.
Tool needed for a successful content marketing strategy
For a successful content marketing program, you need a few tools to ease the burden and generate good results. Here are a few of my favs.
Marketing automation
Think about it. If you publish content on Facebook every day, that means you must stop what you're doing (usually at the optimal posting time), create the content (if you haven't already created it, then the pressure is on to meet the deadline), login to the platform, and post the content. While that might not take much time if you have already created the content, the interruption at a specific time can kill productivity.
Instead, use a marketing automation tool. For small businesses, I recommend either Buffer or Hootsuite as they're priced well for your limited budget. Using this tool, you can schedule a bunch of social media posts to various platforms so the content posts automatically at the optimal posting time. The tools even offer some metrics to help you evaluate your performance and can suggest times for posting that work better.
Content marketing calendar
A content marketing calendar makes creating content on a consistent basis much less challenging. I even developed a template to help you create your own content marketing calendar. You can download it for free!

A calendar helps relieve the worry about topics for the constant stream of content you must produce every day. Instead of staring at a blank screen you simply consider the date and predetermined topic for the day. Some firms have days dedicated to certain content. For instance, Moz, an SEO firm, offers Whiteboard Friday involving an expert standing at a whiteboard and delivering a lecture about digital marketing and SEO. Some schedule a YouTube video that drops on a certain day every week. Start your calendar with this content, then the places you'll share the content, and then fill in with fresh content ideas.
Don't forget to consider content designed for each stage in the conversion process to ensure you have something for every visitor that moves them toward conversion. Also, don't think of your content calendar as static. If something in the environment offers an opportunity, don't ignore it. You can shift posts around. By the same token, a post you wrote might seem insensitive given what's going on outside the company. You might skip this content.
Curating content from other sources is also a great way to meet the demands of consistent content, especially for social platforms (penalties for duplicate content make it unsuitable for websites). I use Feedly, which is a free tool that curates content from desired websites. Linking it to Buffer allows you to quickly and easily schedule shares across your social platforms. Curating content is also a great way to build relationships with other website owners.
Image creation
Unless you're a graphic designer or photographer gifted in creating images fast, you need some help from time to time. Luckily, you aren't expected to produce magazine-quality images and theater-quality movies. All you need are:
a modern smartphone to capture decent images and video
some lighting but a ring light should do the trick
a microphone will help if recording audio
a decent backdrop or suitable backgrounds
something to stabilize your camera
You can invest in Adobe Creative Cloud to edit images and videos but that tool is expensive with a long learning curve. Adobe Express is a free alternative and, because it doesn't have all the bells and whistles, doesn't involve as much commitment to learn how to get decent-quality images and video. Canva is another alternative for creating images and short videos. Both now offer some AI enhancements.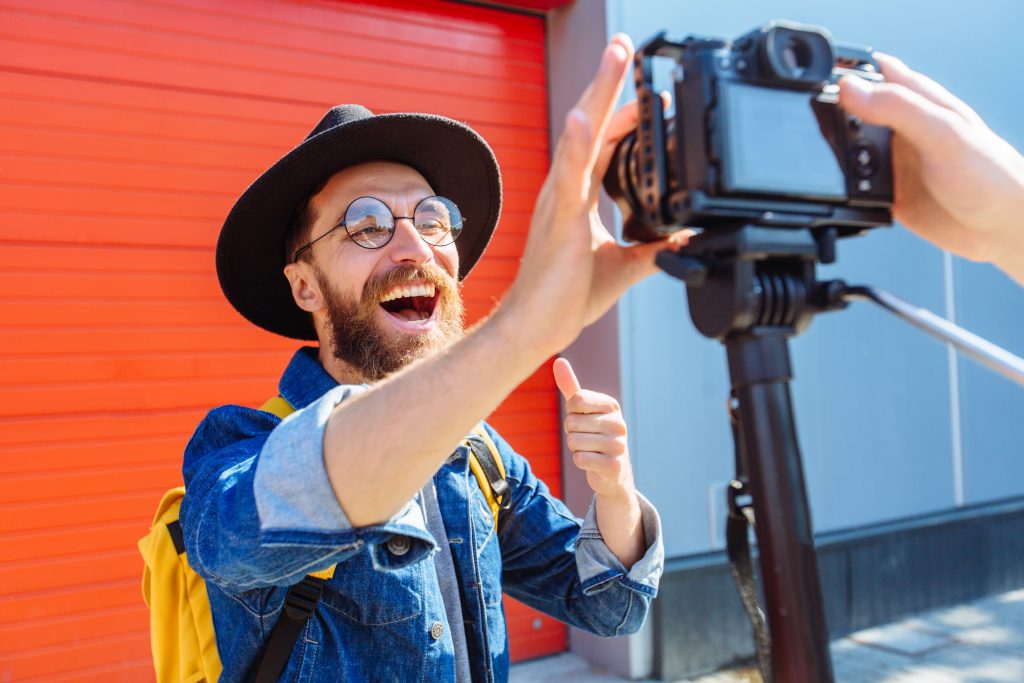 Text creation
Google Docs is free or you can get Microsoft Word for creating larger blocks of text, although I like to simply type into my WordPress backend to create blog posts like this. Most social platforms make it easy to add whatever text you need to your posts.
Spelling and grammar are a different story. I pay for Grammarly to check my spelling and grammar. You can't use it mindlessly but it catches a lot of errors you might otherwise post. The paid version that I have checks everything from my email messages to my website to my social posts as I write.
Email marketing
Email marketing tools run the gambit from MailChimp, which is free but lacks power and offers serious limitations, to powerful CMS tools like Salesforce. Hubspot bills itself as a universal tool for digital marketing. It handles email marketing plus helps with marketing automation and other common tasks. It has a bit of a price tag, though.
Analytics
Some of these tools are among the most expensive options to support digital marketing. They also take a certain skill to build insights from the data they provide. Some tools you might consider are:
Google Analytics, which is free and powerful. You must link your website to the platform using a small piece of Javascript provided by the platform installed in the <head> section of your website.
Moz is a great SEO tool but a little complicated to use.
SEMRush is another great SEO tool that's a little easier to use
Conclusion
Remember that content marketing is a long-term strategy, and it may take time to see significant results. Consistency, quality, and adaptation are key factors in building a successful content marketing strategy for a small business.
Need marketing help to support business growth?
We welcome the opportunity to show you how we can make your marketing SIZZLE with our data-driven, results-oriented marketing strategies.  Sign up for our FREE newsletter, get our FREE guide to creating an awesome website, or contact us for more information on hiring us.
Hausman and Associates, the publisher of MKT Maven, is a full-service marketing agency operating at the intersection of marketing and digital media. Check out our full range of services.