In the first quarter of 2019, users had a choice of between 2.6 million Android and 2.2 million IOS apps they could download onto their mobile devices. Yet, despite this wealth of opportunities, the average mobile consumer only actually uses about 10 apps per day and about 30 per month [source]. The average smartphone has between 60 and 90 apps available from among the millions the owners might choose to download onto the device [source] even though newer smartphones can hold many more apps than this number. Thus, the competition to first get users to download your app, then use the app frequently is stiff; which means marketing a new app is crucial for success.
The sheer volume of apps in major categories such as health, finance and entertainment mean that oftentimes, marketers work in highly saturated markets, further increasing the emphasis on marketing them successfully.
Whether you're working alongside app developers and manufacturers or you're designing and launching an app yourself, take note of the following tips to ensure your marketing strategy achieves its goals.
App analytics for existing apps
The more data, the better your decision-making. And, metrics related to existing products are among the best data available.
If you already have an app, you likely already launched and wish to tweak it to meet updated technological capabilities or expand your existing market. Alternatively, you may want to launch a whole new application targeting the same client market to benefit from your existing loyalty and brand image. With an existing product, app analytics help identify key performance indicators (KPIs) to highlight opportunities for improvement. Data obtained enables you to investigate aspects such as app attribution to learn how subscribers discover you and how well existing marketing campaigns perform in relation to your goals. Analytics also identify metrics such as cost per acquisition, average revenue per user, and the lifetime value of app users to help better forecast future revenue and expenses to build your budget for marketing a new app or even whether the development of a new app makes sense in light of projected profitability.
Empowered with these metrics, you're in a better position to make decisions regarding marketing a new app resulting in improved profitability
Define your target
Competition is fierce, so if you don't have one or more apps you can use for comparison, then the first step you in developing a new app is to conduct thorough research regarding your app's target market to identify a profitable niche and understand what potential users want in a new app.
Notably, a 'niche' market no longer means a small one. Some niches – take 'reducing belly fat' in the fitness sector – have tens of thousands of searches. Through surveys, online polls, and comparison with competitors' target markets, you can flesh out features/ benefits for an app that likely appeals to your chosen demographic and their psychographic profile.
The difference between demographics and psychographics is easy to define: the former relies more on objective data such as age, income levels, education level, and the like, while the latter is centered around personal characteristics, such as values, interests, lifestyles, and behavior.
Develop an app, or any product really, without a clear understanding of its marketability is a total waste of time and money. It's like putting the cart before the horse, which you can imagine doesn't work. In fact, experts now recommend developing a thorough marketing plan for your new app, including market research, before writing the first line of code.
Rely on SEO
SEO refers to search engine optimization and reflects your ability to track visitors to your website or another platform. Once you attract visitors, your focus shifts to converting them, but, in all likelihood, generating more visits generates more profit.
In order to make the most of SEO, you must build a small website or landing page at a minimum, as the starting point in driving traffic to your app. The better the design, content, and visual impact of your site, the more success you'll enjoy since good SEO elevates your links in results when users search for your products and users click links that show up higher in their results much more frequently than those lower in the results list, as you can see below.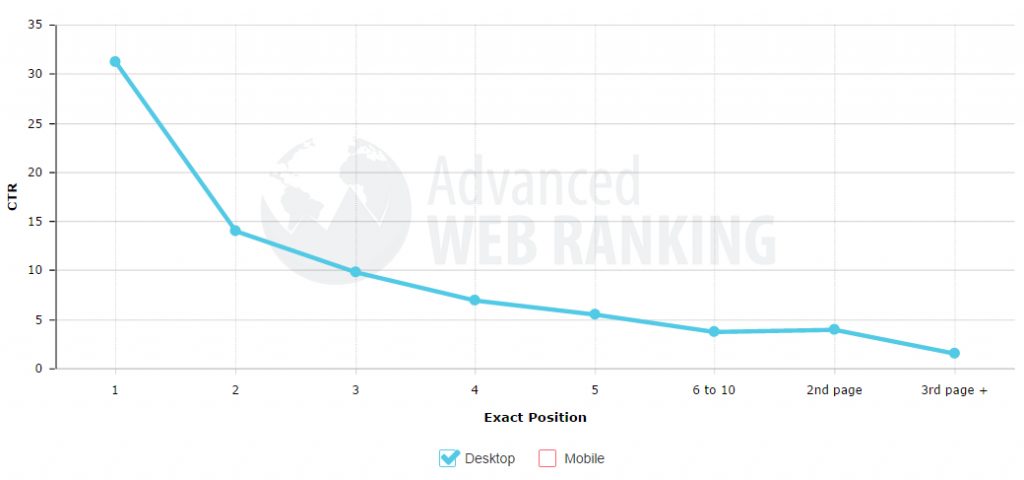 Use traditional tools such as Google's Keyword Planner to find keywords, but also look for LSI keywords – these are synonyms that are closely related to your main keywords. These appear in the dropdown window when you type your keywords in the search bar. Another important SEO strategy for mobile apps is to build backlinks to your site, using tools such as Cognitive SEO to check for pages that link back to your competitors' sites.
Increase time on page
Time on page is both a signal to Google that your content is relevant to users (generating higher positions in results lists) and increases the likelihood visitors convert, since time on page indicates interest.
If users click onto your page but frequently bouncing away, you're missing opportunities and must fix whatever leads to this result. Perhaps your content doesn't specifically address the user's problems or needs, maybe your content isn't inviting featuring images and white space that encourage readers, or navigation failures result in a poor experience.
If you have a blog, featured content should include information on the specific issue or need you are 'fixing' or fulfilling, and show your app can solve the issue. After all, users buy solutions to their problems, not products.
To boost credibility, you include useful information that is not directly related to your app, since 80% of your content should provide value to users, rather than reflect blatant self-interest. Try to update your content regularly, providing authentic value so that your audience keeps returning.
Improve app visibility in app stores
Whether you have a website or landing page, the app store is where users must go to download your app. Hence, you must ensure your visibility on both Google Play (for Andriod) and Apps Store (for Apple), which comes from a high rank in app store search results.
Strategies to achieve this include using a highly focused/specific title, publishing keywords to describe the issues your app fixes, selecting a visually impactful icon, and taking screenshots of your app's vital features.
You should also ensure that your app is in the right category. You might be tempted to put your app into a category with fewer competitors, but ultimately your visibility suffers long-term if you choose this route. App stores have quite sophisticated browsing and filtering search result algorithms, so instead of trying to 'fool' them, work alongside them by placing your app in the right spot.
If you have the budget for it, consider paying for services such as Apple Search Ads, which have an average conversion rate of around 50%. Finally, interact with your users, reading their reviews, and taking both positive and negative reviews into account so you can refine your product if needed.
Measure KPIs
Regularly analyze your KPIs so you see if your app is performing as expected. You can obtain vital insights on everything from the number of daily active users, the app's stickiness and retention rates, the number of monthly active users, and the like. Your churn ratio (the number of customers who stop using your app) is also something you must monitor regularly, since you may find that, as the months or years go by, your ratio goes up, which is an indicator you must update your app or improve marketing.
Conclusion
Apps have very specific marketing requirements for many reasons – one being the sheer number of apps that are created and downloaded every day. Your search should start with your target market and end with the constant measuring of your KPIs. Building a landing page or website, creating cracking content, and investing time in finding optimal keywords are all steps you can take to boost your SEO and reach a much wider audience than if you rely on app store searches exclusively.
Need marketing help to plan your business strategy?
We welcome the opportunity to show you how we can make your marketing SIZZLE with our data-driven, results-oriented marketing strategies. Sign up for our FREE newsletter, get the 1st chapter of our book on digital marketing analytics – FREE, or contact us for more information on hiring us.
Hausman and Associates, the publisher of MKT Maven, is a full-service marketing agency operating at the intersection of marketing and digital media. Check out our full range of services.