When you own a small business, you struggle to have enough resources (time, money, talent) to help your business survive and grow. Sometimes, especially early on, you end up doing all the jobs on your own, leaving little time for other things in your life like family and friends. Even if you have partners, there's always too much to do. Business owners need to concentrate on the core purpose of their business, rather than wasting their time with repetitive and time-consuming tasks if they want to succeed in the long run. Not only is there too little time to get everything done, but there's also never enough money to fund all the worthwhile projects you need to make your business stand out from the competition. So, stop wasting money and time on tasks that don't contribute to your success.
Stop wasting money and time
Answering phone calls
Phone calls are one of these annoying, yet critical, elements of running any business but answering the phone is imperative for the success of a small startup business, where your reputation can take a big hit without a history of great service. Still recovering from the pandemic, many businesses struggle to hire enough workers and train them to answer customer phone calls with complete answers and courtesy. Moreover, having phone calls interrupt you when you're trying to work can disrupt your effectiveness and efficiency, leading to mistakes and late delivery on your promises. And if you get a high volume of calls, you can spend a big chunk of your day answering the phone instead of doing other things.
Handing this task off to someone else can save you time and allow you to concentrate on more valuable tasks, which saves your reputation. By hiring a virtual reception service, with a cost-effective virtual number solution, you can stop wasting money when you don't have enough call volume to justify hiring employees to simply answer the phone while allowing you to complete necessary tasks free from interruptions. A virtual receptionist can take messages so you can deal with them later rather than interrupting client meetings or completing needed tasks. A virtual receptionist can even answer routine questions and schedule appointments for you. Because a virtual assistant works for several clients at a time, the cost is spread across multiple companies so you can stop wasting money and time. I heard a number of complaints since the pandemic that phones go unanswered and, in many cases, this leads customers to switch to a different provider.
There are other ways to address customer issues, such as using a chatbot, which uses AI (artificial intelligence) to address customer queries and complaints and learns over time to broaden the types of queries it handles. Online appointment setting is also an option for the busy small business owner who doesn't want to miss an opportunity to make a sale.
Dealing with mail
Both physical mail and email can take up a lot of your time. You have to check what you received, organize it, send a response when it's required, and perhaps even go to pick up or drop off packages. Adobe did a survey in 2019, finding that the average employee spent over 3 hours per day on work email and several hours over the weekend dealing with this task. The weekend and vacation email problem became so bad that some countries now forbid companies from sending work emails to employees during their personal time.
When you look at this email situation plus snail mail and packages, mail takes up a lot of your time, but you don't necessarily have to do it yourself. You can delegate these tasks to someone else, whether it's an employee or a service that can take care of this for you. There are mail management services that you can use, and you can hire an assistant to manage your emails for you. As far as snail mail and packages, many transportation providers offer tools such as postage meters and pickup to make handling these time-consumer tasks easier.
Data entry
Data entry is repetitive and tedious. Such repetition can lead to mistakes that cost you money. Plus, reentering data that doesn't require entry both reduces mistakes and helps you stop wasting money. If you have a lot of data entry to do, it takes up valuable time that you need to focus on growing your business. You can hire someone to do data entry that you can't eliminate, even hiring someone on a gig site, like Fiverr, to save money.
Better still, use tools that seamlessly integrate with systems so you avoid data entry. For instance, you can use HR tools that take data entered by employees and share it across your various systems rather than forcing manual reentry into each system. Integration tools between buyers and sellers, such as EDI, transmit data through secure online portals to eliminate data entry and resulting mistakes. EDI not only transmits orders but can automatically send them to your operations folks so they can schedule manufacturing or shipping, generate the orders for raw materials and subassemblies necessary for JIT manufacturing, and generate online paperwork such as shipping, accounts receivable, and invoicing.
Social media management
Promoting your business through social media is essential, but it can also take up more time than you imagine. You might start off doing it yourself and everyone who uses a social platform thinks they're an expert at generating revenue from the tactic or they know a cousin, child, or sibling who uses social media and works cheap. But getting social media right is tough if you're not a social media expert. Getting someone else to manage your social media content and calendar will save you time and ensure that it's done right. It's important to have a solid social media marketing strategy but also someone to carry out all of the admin of running your accounts. So, stop wasting money on people who say they can do social media for you and hire an expert or agency. Note below how hiring an agency can actually cost less than hiring an in-house social media employee who doesn't deliver on the promise of social media.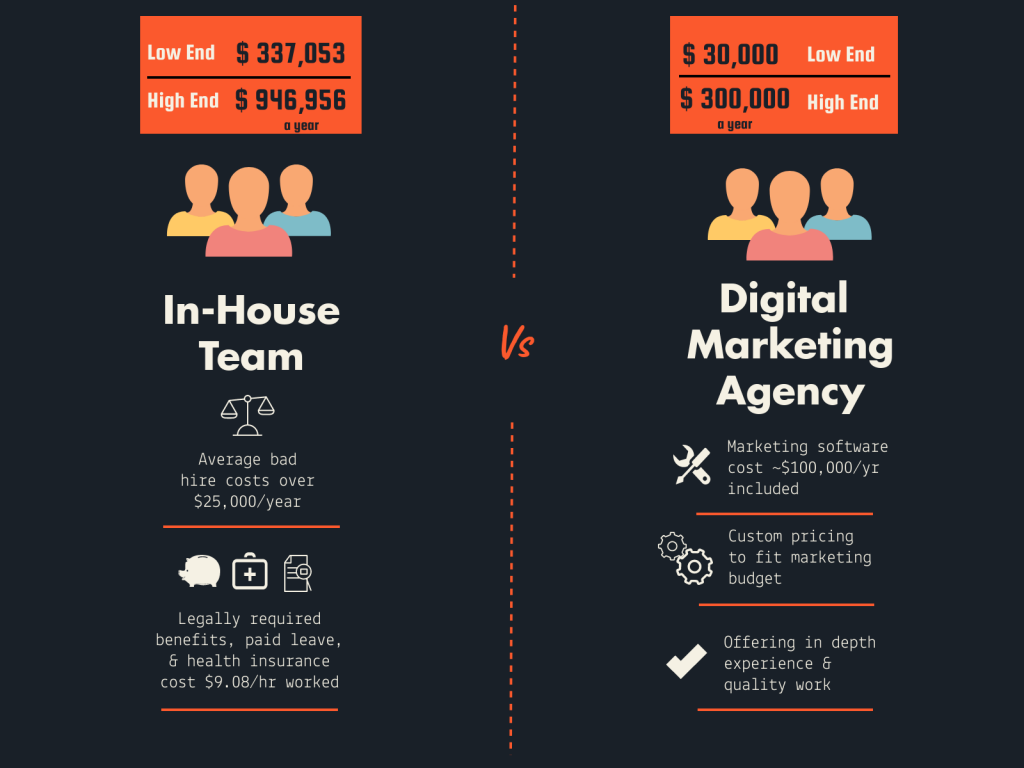 Conclusion
There are many other tasks you can change in order to stop wasting money and time that's better spent on other activities. I simply shared some common tasks that waste time and money. You might consider an audit of your operation to identify tasks specifically for your business that waste time or money. As part of the growing pains of running a small business, some tactics aren't based on a considered analysis but a snap decision to fill an immediate need. Stop wasting money by conducting an audit then building a thorough strategy based on solid information then implementing that strategy in a consistent way.
Need marketing help to support business growth?
We welcome the opportunity to show you how we can make your marketing SIZZLE with our data-driven, results-oriented marketing strategies.  Sign up for our FREE newsletter, get our FREE guide to creating an awesome website, or contact us for more information on hiring us.
Hausman and Associates, the publisher of MKT Maven, is a full-service marketing agency operating at the intersection of marketing and digital media. Check out our full range of services.